Grabbo leads his hardest ride yet and the carnage is monstrous.
As the third VIP Experience of 2022 rolled into our base at Wallerawang it was evident this group were up for mischief. All 10 riders knew each other or at least knew Ben Stevenson, the protagonist in this story.
Actually, I knew they were going to be a handful when I called Ben a few weeks before the ride to get the lay of the land. I like to call all my customers to figure out what they want from their VIP Experience and to ask if they want to focus on coaching, bike setup, testing the GASGAS Enduro range or just crushing as many kilometres as they can. Ben's response: "Nah don't worry about the coaching and bike setup, some of the boys haven't ridden for years, we just want to ride and have a good time!"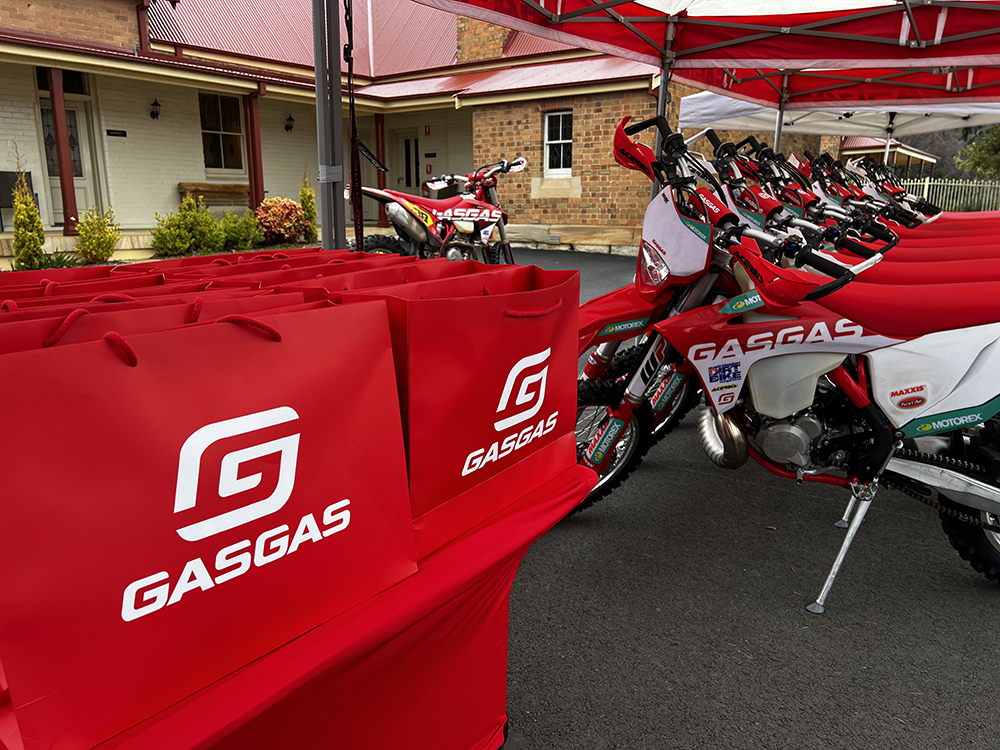 Our third VIP Experience started like the other two, as riders checked in at 5pm and we enjoyed a few drinks and some nibbles while admiring the bikes. Once the entire group had arrived we went through the protocol for the weekend, scaring the shit out of some of them, and then headed on in to the restaurant for dinner.
Because this is a VIP experience we don't just fill our riders up with a sausage sizzle or homemade beef stroganoff, they get the full hog (literally). We dine at one of the best restaurants in the area, on both nights, where our riders can choose from any entrée, main and desert. I'm talking scallops, scotch fillets, lamb cutlets, sticky date puddings and even an affogato, which was Ben's favourite (he had it both nights). Of course that meal is accompanied with beer, wine and spirits. We're here for a good time not a tight time.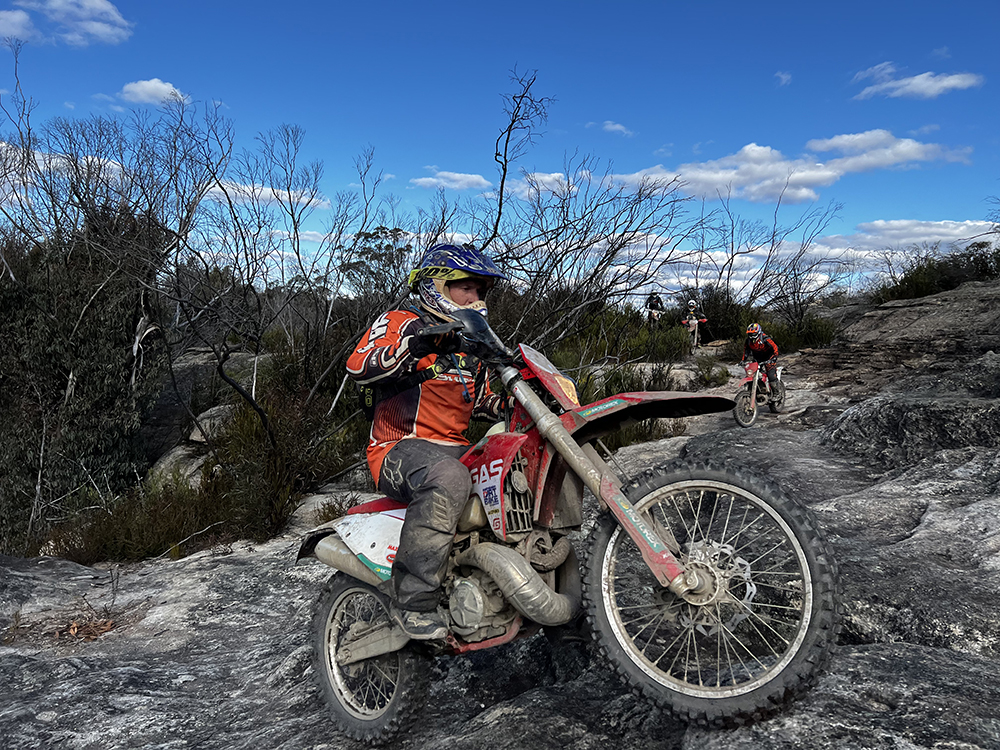 We do warn our riders that we try to pump out 100km of singletrack on both days though and we have sections that require team work to pull and push each bike through. Typically this puts the fear of God into them and they're in bed, sober, before 9:30pm, but not this group. They were loving the banter and fine-dining, and so was I. It was hilarious to hear the shit talking before we'd even turned a wheel.
JURASSIC PARK
I like to torture some of my riders who ask for it, in a section dubbed Jurassic Park. It doesn't take a genius to work out why it is called Jurassic Park. It's gnarly, prehistoric and deadly if you don't watch where you're going but I'll get to that soon.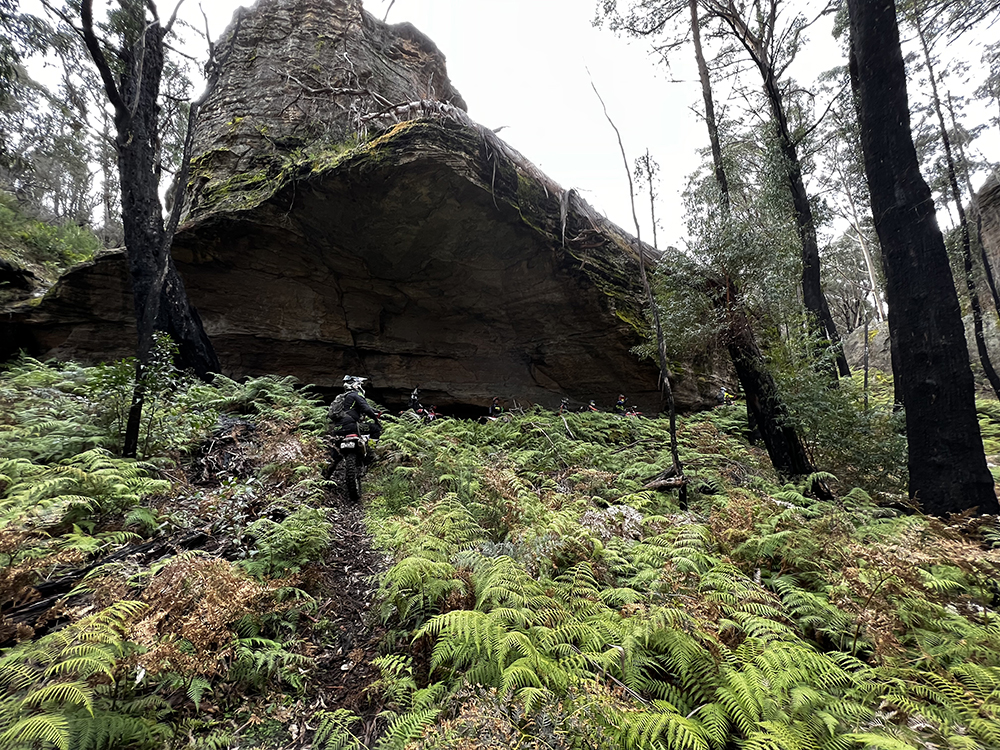 The day started like always on a VIP Experience, with bacon and egg rolls, cereal, fruit and coffee. Once the riders had filled their stomachs we filled the bikes and headed off. With loads of rain in the area in the lead up to the ride, my regular test spot was under water so we ventured to my back-up test loop. Here we spent an hour or so swapping bikes and trying different setups until everyone was happy. That's where the real fun starts.
I have a short, hardish test loop I like to do straight-up to get a gauge on how everyone can handle some tricky terrain. The group limped through but were full of bravado so I decided that after our lunch stop we'd hit Jurassic Park. Lunch is a great view that overlooks the Wolgan Valley towards Kurraco Ridge. After a few chicken wraps we were on the trails and headed into what would be some of the hardest terrain these riders had ever ridden.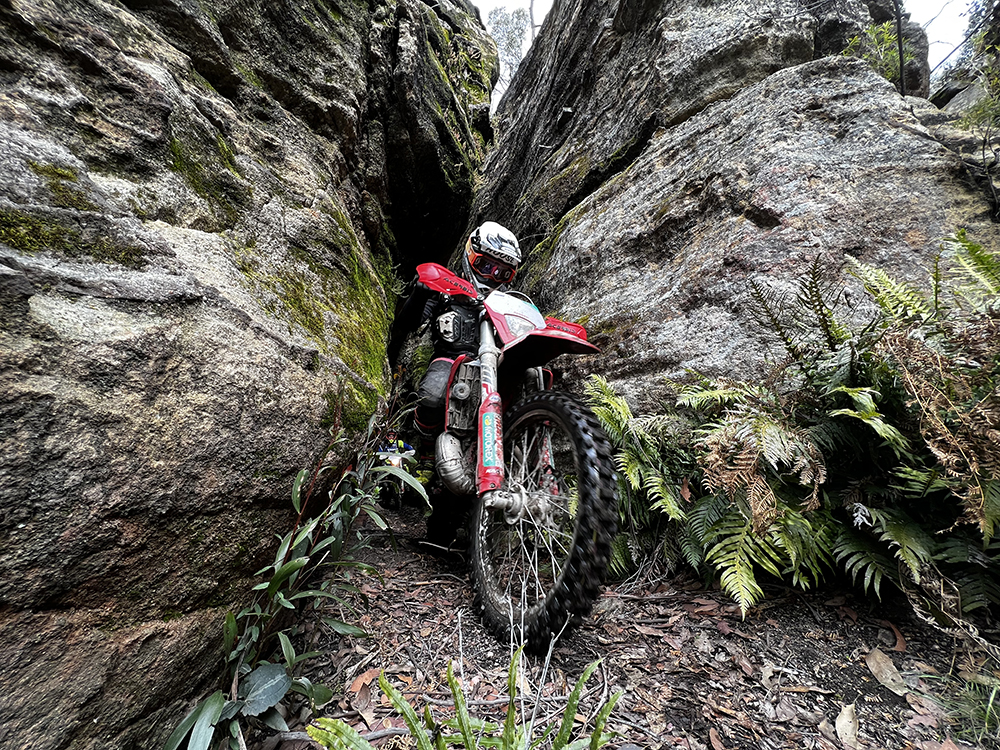 As we wound down into Death Valley through chest high ferns and amazing rocky outcrops the group began to realise what goes down must go back up. We snaked away along the bottom of the valley until we reached two large, slippery logs, awkwardly spaced. There's not enough space to pop over one log, land straight and go again. You have to come up to the log side-on, wheelie the front-end over then pivot the rear-end over without going over the 'bars. Then you have to reposition yourself and go again for the second log.
Ben was first up and mastered the first log before mistiming the second and landing under the bike on the wrong side. Once we removed the bike from on top of him we dragged both bike and rider over. Next up was Andrew Freeburn or "Freebs" as he was affectionately known. Freebs sidled up next to the log, lofted the front wheel and completely looped it out! It was hilarious but on his second attempt, he nailed it.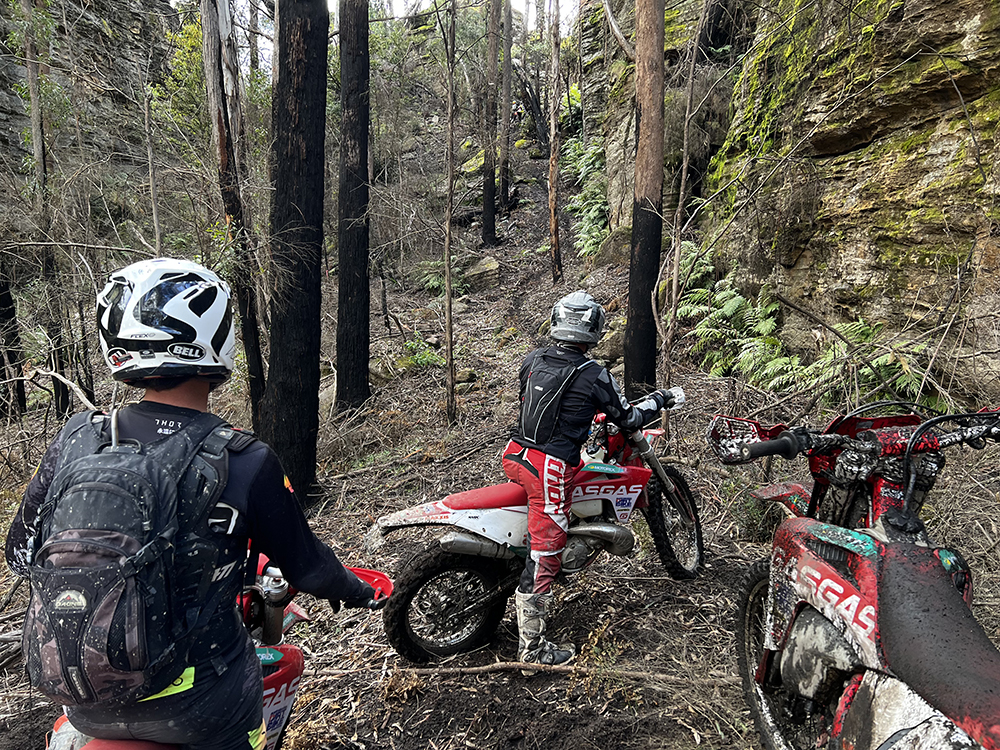 By the time my third rider was up, Adrian Dibley or "Dibs", I thought I'd better give them some instruction as despite Ben stating they wanted no coaching, I wanted to be home for dinner. I explained how to pop the front wheel and pivot over the log and after a few attempts Adrian had worked it out, with some pulling and pushing from yours truly.
After we got all 10 riders over the log obstacle we began ascending. Some knew something was coming and got very nervous, others were just doing their best to get up and we hadn't hit the hard bit yet. I pulled up and informed all the riders we had a slight pinch coming up. Yep, that's a vague term and a few of the boys laughed before Brett Pollard said "A pinch? If you pinch something it becomes very steep. I don't like the sound of this!"
The trail shot up a near vertical climb that required you to pivot right three-quarters of the way up, negotiate some tree roots, a few rock slabs and a crack in the wall. I told them to follow me. I managed to get up in one go and raced back down to start helping. One-by-one everyone started to attempt the hill.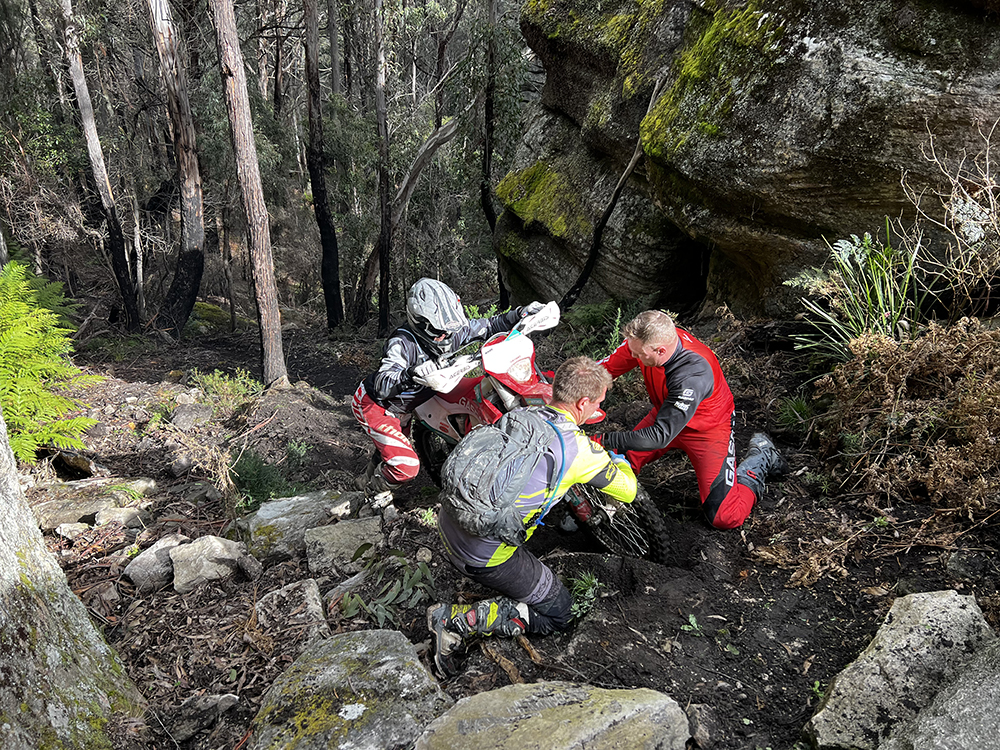 Some made it to the pinch that pivoted right where we could help and others only got halfway before turning around and trying again. It was a good lesson in crawling the rear-wheel and using that friction point to slowly get over the last bit. Riders were cooking themselves as they pushed and pulled their bikes up this gnarly hill. Some of the group helped, the rest sat back and laughed, it was gold.
Then it was Freebs' turn, he had one go but only made it halfway so he turned around and had another crack. That was when his life flashed before his eyes. I was trying to make the top pinch easier for some of the riders so I was clearing the track when a large boulder came loose. It was about the size of a bag of cement and gravity was dragging it towards the bottom.
Screams of "oh no!" were caught on camera as Freebs began his second attempt. He couldn't see the rocks tumbling towards him until he came around the tree that was halfway up but it was too late by then. Freebs couldn't stop so all he could do was try a last-minute evasive manoeuvre.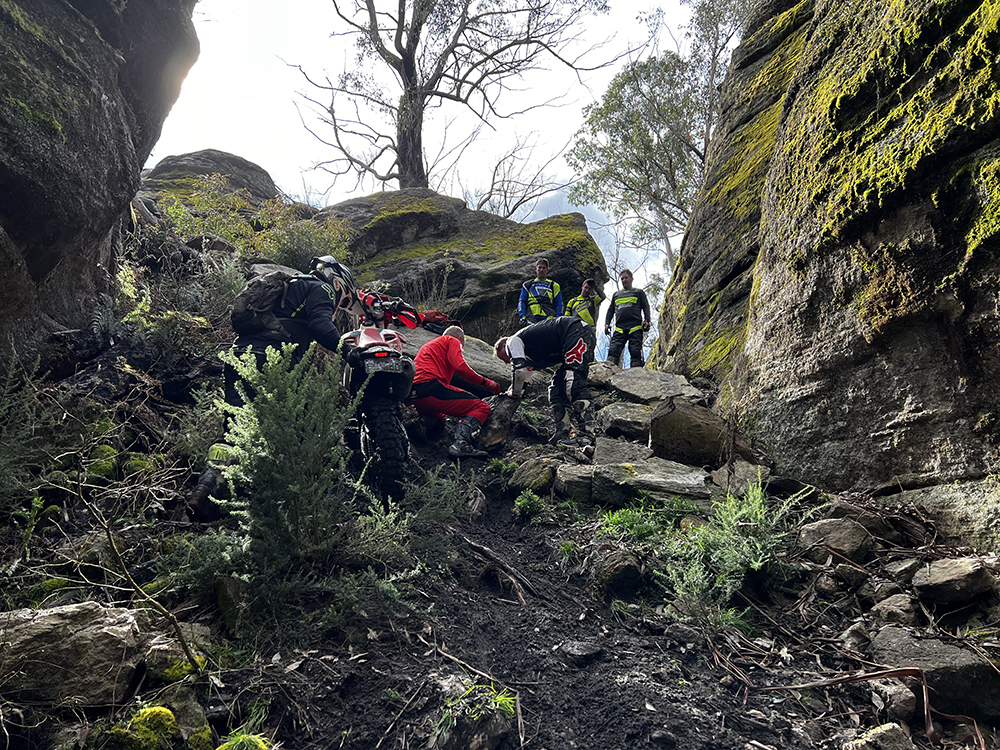 He managed to move about three inches to his left which was just enough to get his front wheel out of the way of the boulder but it smashed into the frame and right side of the bike. Freebs somehow stayed upright as he was spent spiraling off the main line. The rock just happened to be on a down-bounce when Freebs came into contact with it. The Dirtbike Gods were watching over him that day.
Once Freebs' heart rate had returned to normal we got him out of that hell-hole and hit singletrail all afternoon until we got back to base at 4:30pm for an ice cold beer.
WAR OF ATTRITION
After a few cocktails and affogatos on the Saturday night, Sunday started much the same way with bacon, eggs, cereal and fruit. I like to attempt all the really hard stuff on the Saturday afternoon when riders have enough energy so I try to keep it relatively tame on the Sunday. We hit a fast jump track and flowing single all morning before stopping for a pub lunch. We had already lost one rider to fatigue before the day got underway but we always offer a way out after lunch for those that have used up all their energy the day before.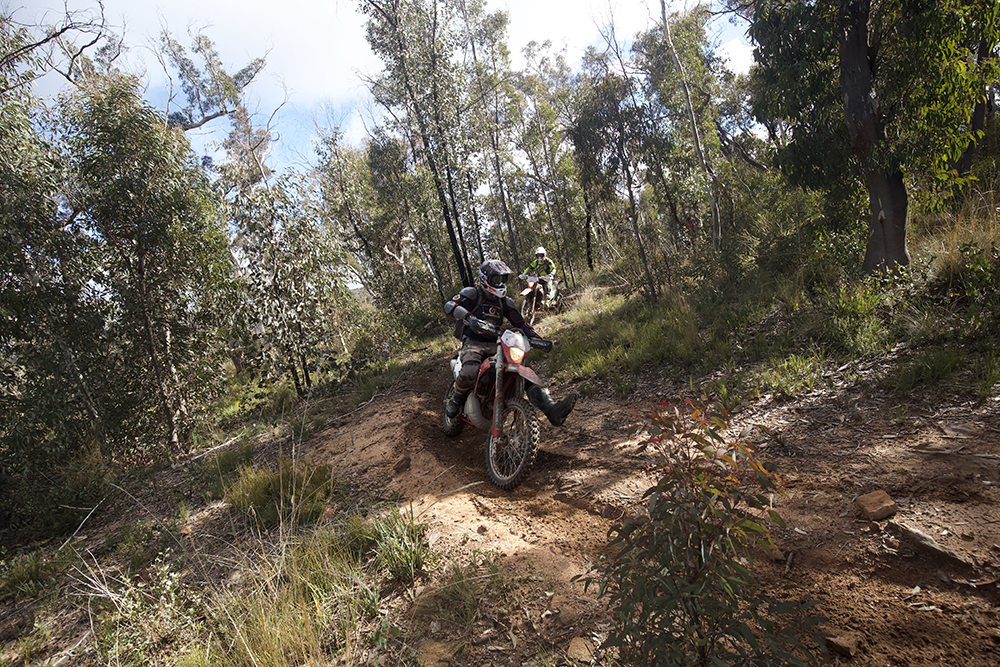 No one was interested in giving up, instead they wanted more action. I took them up to an awesome lookout over the Wallerawang region and some rocks that are over a million years old before giving them one last test up a few rock slabs. The boys dragged body and bike up these sections and when they got to the top were able to breathe a sigh of relief knowing all the hard stuff was done and we were on the final leg.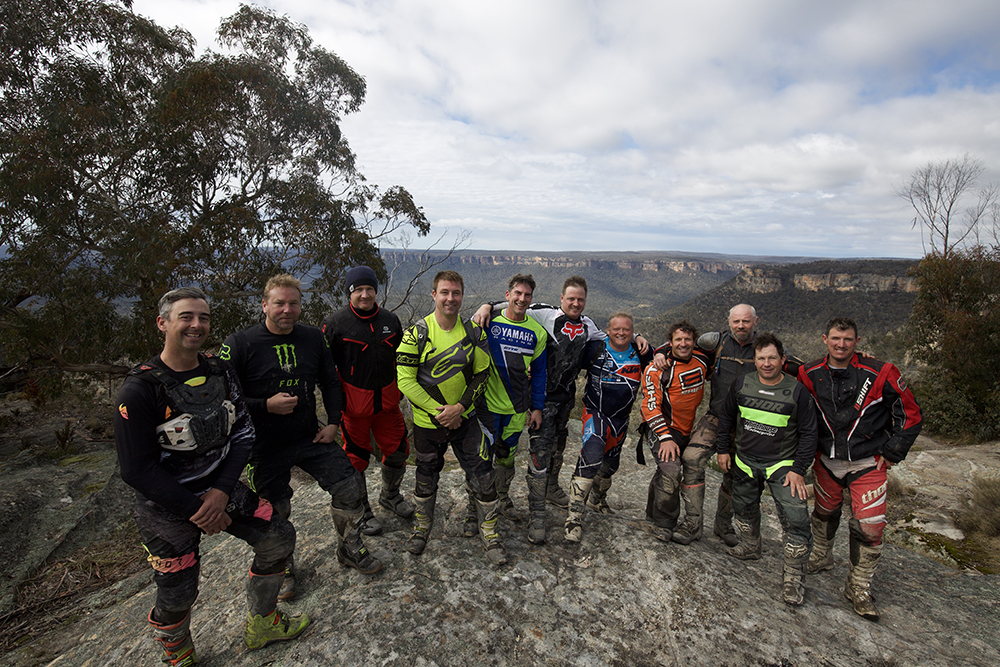 All the riders that started day two finished and even asked for a little more singletrail on the way home. We returned to base for one final cold beer for the day where riders were able to wash out that Blue Mountains sand while the VIP Experience team began the arduous task of washing, servicing and fitting all-new tyres to the 10 bikes. That's all part of the VIP Experience!
Visit vipexperience.com.au to find out more.
WORDS & PHOTOS // BEN GRABHAM

< VIP Experience #2    |   VIP Experience #4 >