Grabbo saddles up for his second VIP Experience with his punters who conquer a waterfall!
Round 2 of my VIP Experience rides went off with a bang once again (not literally, I don't need any exploded bikes). We were fortunate with weather leading into Round 2 as it rained a lot and with the temperature beginning to drop, the water wasn't evaporating. This made for one of the wettest VIP Experiences I've ever led but that just made it all the more fun.
I have a plethora of tracks at my disposal so finding some that are dry enough to nail over 100km of singletrack in a single day is no problem. They also lead to some of the best views of the Blue Mountains you'll ever find. That being said, you probably won't find some of them because they're a secret!
I like to gauge the group in the first half of the day and see where their skill level is up to, so I'm mic'd up to my sweep rider who is constantly giving me feedback on how everyone is going. After an hour or so on our test loop going back and forth on the different capacity GASGAS machines we hook straight into a little loop that literally takes us into some pretty tricky country almost immediately. Think tight rocky climbs with tree roots everywhere and no way off the main line. If any of the group can't get through this test than I will change the route to suit.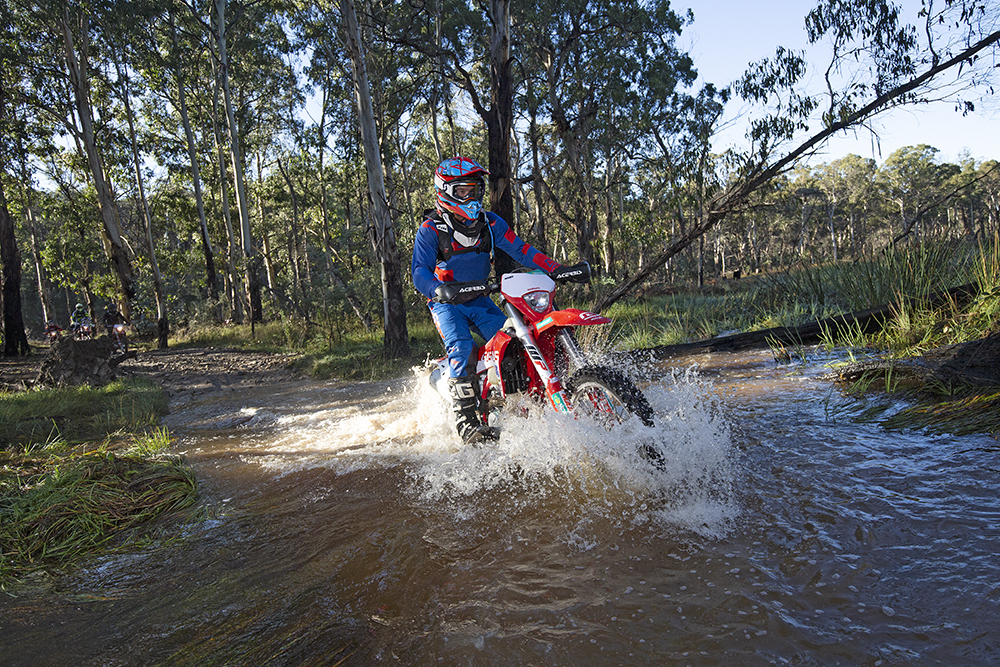 Fortunately, they all got through. Or maybe not so fortunate for them because what I had in store for the Saturday afternoon nearly broke a few riders.
Hustle and Grind
I kicked the day off with some flowing singletrack that takes us to some epic vistas. This stuff is like riding through a set of the latest Jurassic Park movie, it's just epic. Trees as high as you stand and as thick as a brick create a hedge-like maze of tracks that cut back and forth through the bush. One wrong turn and you will literally get lost. It's got to be some of the best riding in NSW.
Where we went next was a real grind and I mean literally. I have a track I rarely use because it is so gnarly. If you're wondering why I'd take a group up a track that's guaranteed to cause bike carnage, all of which we have to fix it's because of Angus's response after he got to the top, "It was some of the hardest track I've ever ridden. If I was on my own, I'd never point my bike at a piece of track like that, but with Grabbo's help we all got up it".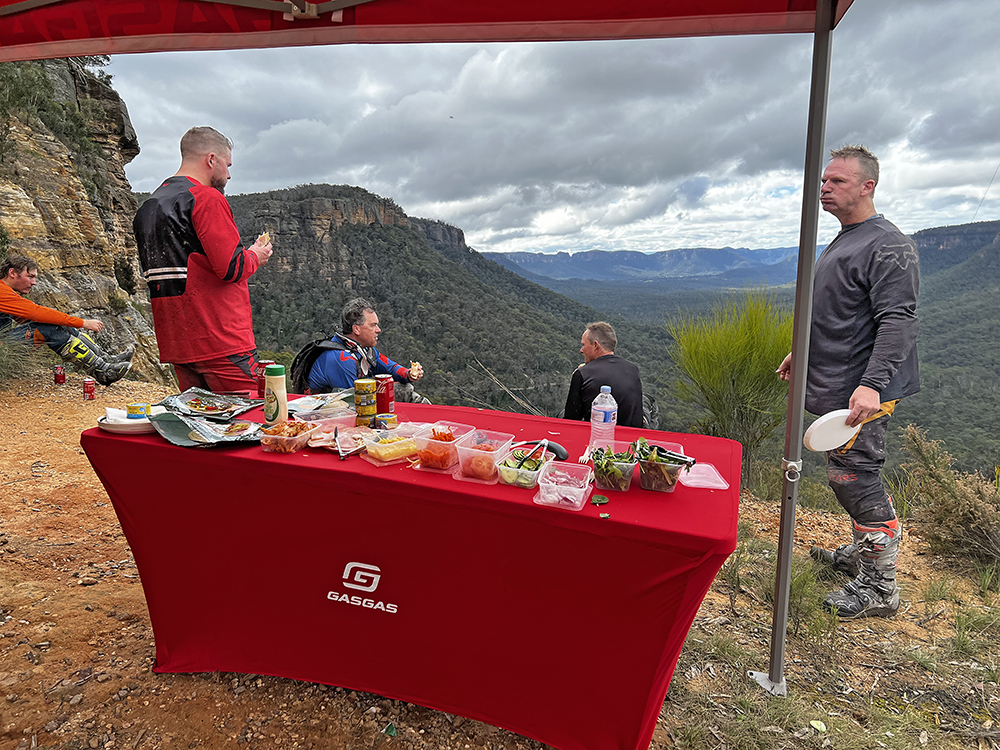 It's that sense of accomplishment that I want all my riders to feel when they come on a VIP Experience. The track Angus is referring to follows a pretty steep canyon up into a waterfall and yes, we have to get up the waterfall. Most people get to the waterfall section and assume we go somewhere else, until they spot my bike at the top. It's deceptive because it has more traction than you'd think, especially if it's been running hard because it strips all the moss off it.
Oh and did I mention to get to it you have to navigate your way through a handlebar-width crack in the earth with cliffs either side that stand 50 metres tall? The crack through the cliff that you follow is like a scene out of Lord Of The Rings. I imagine Mother Earth is like Gandalf yelling "None shall pass" as we enter the crack.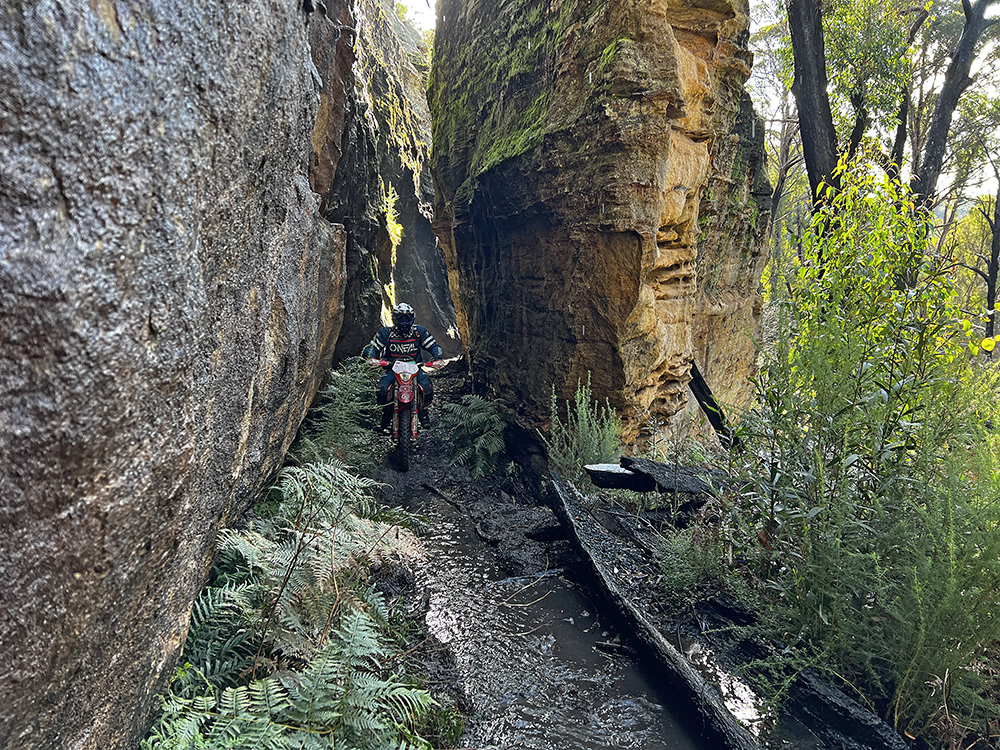 I park my bike a couple of hundred metres above the hardest section and run back down to help the riders through one-by-one. It takes a good hour or so to do a few hundred metres but after plenty of dragging and pushing we get all our riders through. I could hear their hearts pounding and I could smell the fear as they stared at what they thought was their rocky doom but to their credit they all smashed it.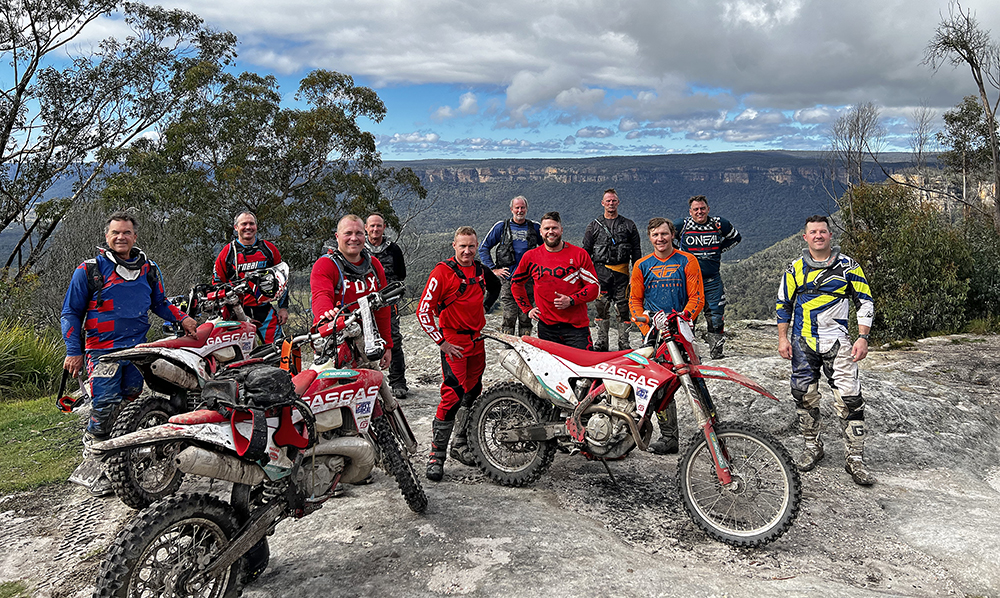 Favourite Bikes
But a VIP Experience isn't just about riding awesome tracks and conquering what most riders think is impossible to get up, it's also about testing bikes. Unless you work for a mag like this great title or ride for a factory team, you will pretty much never get the opportunity to ride an entire range of bikes back-to-back for two straight days. We only run six VIP Experiences a year with 10 riders per experience so that means only 60 riders will get the chance to test bikes like this. That's a small number when you consider there are hundreds of thousands of riders all over Australia.
It also gives us a great opportunity to see what bikes each rider prefers. And that kind of feedback is even more beneficial to you, the reader. So I asked each one of our testers which bike they preferred, and why.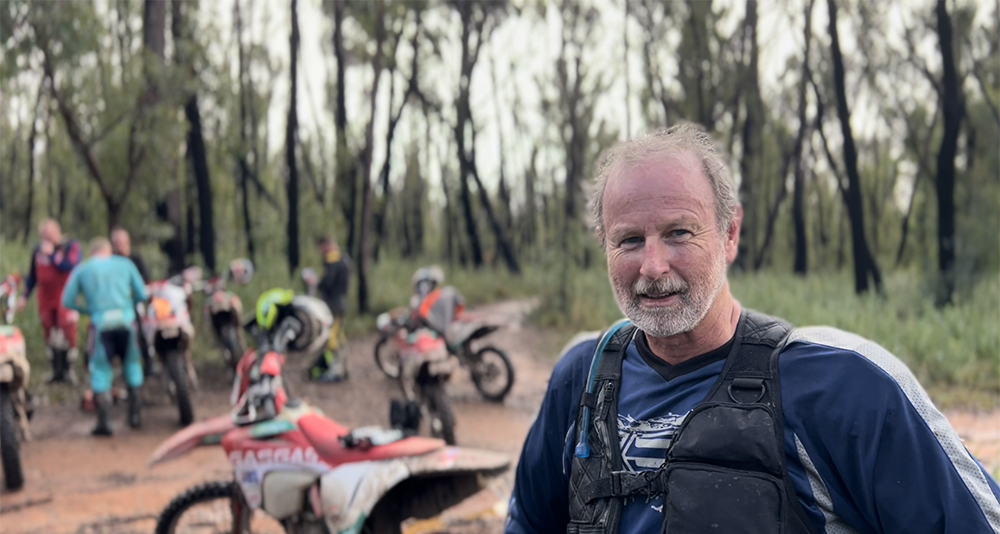 Warren Cleland
Age: 60+
Size: Tall, lean build, dodgy knees
Skill: Riding for decades, trail punter
Bike of choice: EC350F
"I normally ride a Honda CRF450 and it's an old model and the power is really peaky, making it hard to ride and I'm not getting any younger so I found the EC350 just beautiful and it might be something I gotta go and get. For the singletrack and for the hills maybe you could argue it's a bit heavy as a four-stroke and I'd be better off on a 250, but I'm used to the bigger power and the EC350 has plenty of linear power unlike the 450 I ride at home and am used to. I used to ride harder but not anymore, you gotta realise your limitations, and this EC350 was just beautiful for that."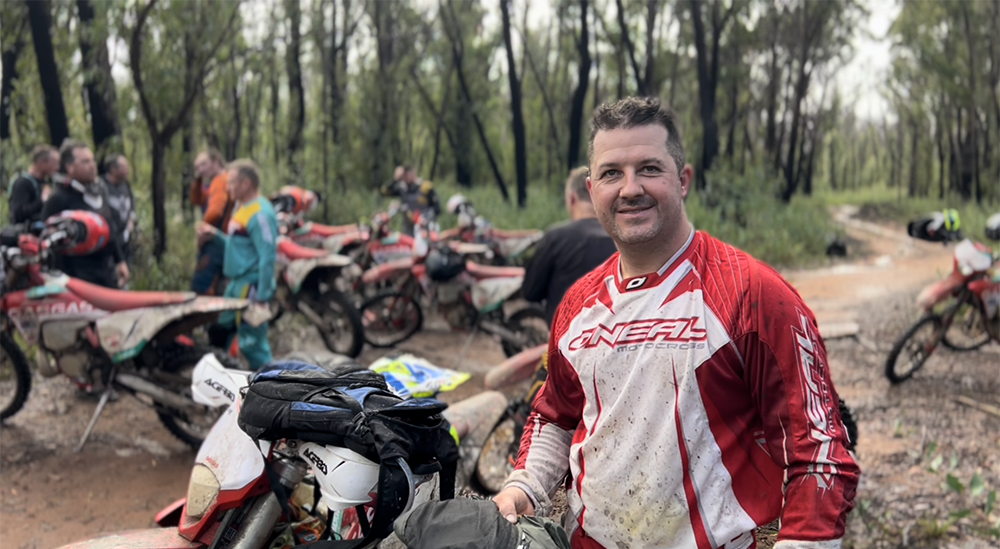 Carl Vardanega
Age: 40-50
Size: Tall, regular build
Skill: Fast trailrider
Bike of choice: EC250
"My pick of the bikes was the 250cc two-stroke. I feel at home on the EC250 because I normally ride a 250cc two-stroke at home. It's been a while since I've been on the bike so I'm still getting used to it again. Singletrack is my favourite stuff and that's where the 250cc two-stroke is best."
"I feel a 250cc machine is a bit more agile than 300s and you can throw anything at it. It's just much easier to ride than any other bike here. I'm not a four-stroke guy never have been. Two-strokes are where it's at."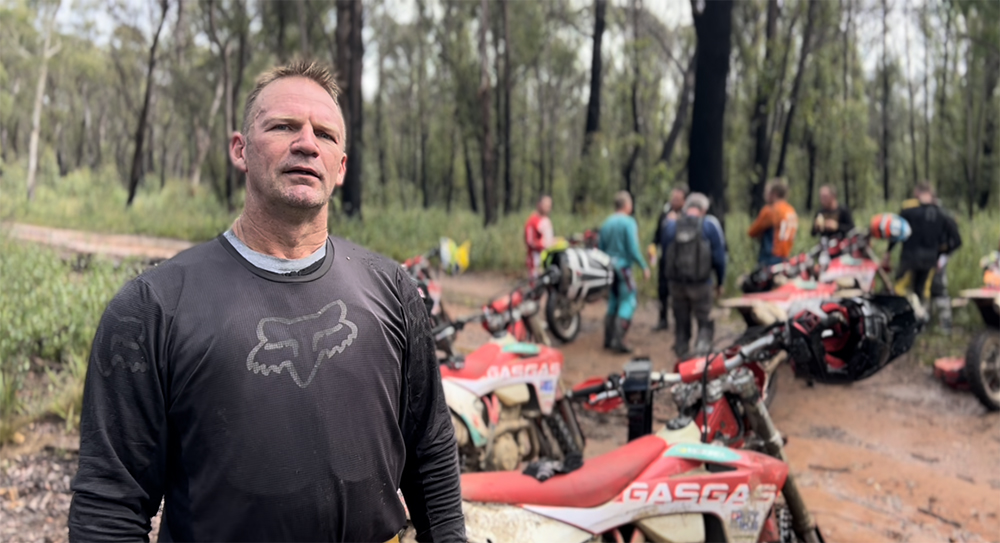 Brendan Nelson
Age: 50-60
Size: Tall, solid build
Skill: Tough trailrider, drag it if he has to
Bike of choice: EC300
"My favourite bike is the 3EC00. That's because I ride a 300cc two-stroke anyway. I've been trying the other four-strokes and out of all of them I like the EC250F through all the single stuff which might surprise people because I'm a bigger guy. It's just so good and so agile.
In the wide open it's not so great but in the tight single stuff that EC250F has been so good. It actually surprised me, never would've I thought that riding a 250F at my weight would be good but it's been excellent. I'm over six foot and built pretty solid and with the exception of the fast mine tracks when you've got to drop a few gears to get up the hill, in the tight singles, up hills, you're just revving a bit higher and it goes fine. These tracks are magic up here and make the bikes feel so good."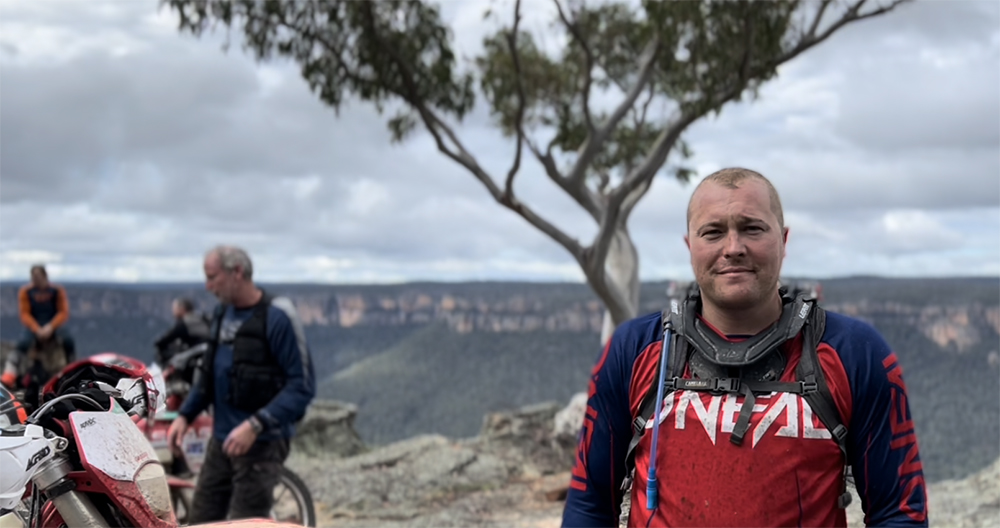 Nick Blunt
Age: 30-40
Size: Tall(ish), thick
Skill: Hard-charging trailrider, loves it fast
Bike of choice: EC350F
"My favourite bike has been the EC350. I spent the whole first day switching between the EC250 and the EC300 and loved them both but ultimately the EC350F felt like home to me. As for those two-strokes, I couldn't decide on which one was better out of the EC250 or EC300. We did more fast open stuff on Day 2 and I'd say it's a tossup for me between the EC300 and the EC350F on that stuff."
"The EC350F is so familiar to me because I have one at home I know more or less where it's gonna track and how it's gonna behave in the cracking conditions we've had the last couple of days. The best thing about the tracks is it's been a real good mix of tight single and flowing single, open, fast firetrails with some good jumps and the hard stuff of course. So the tracks here cater for the whole group as to what they like to ride."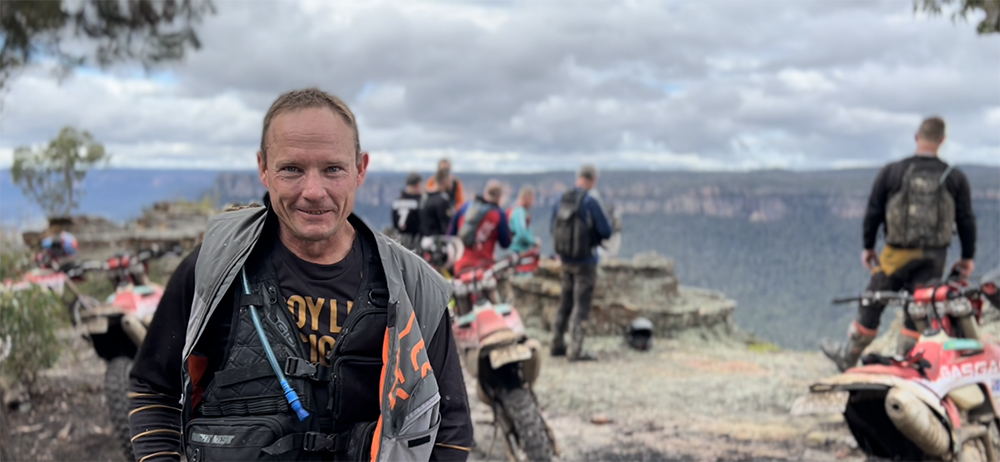 John Hayes
Age: 40-50
Size: Medium height, slight build
Skill: Old-skool racer, always there when you turn around
Bike of choice: EC300
"It's a tough call picking my favourite bike as I've never been on a 250cc or 300cc two-stroke, but I'm loving them! As for the four-strokes, I normally ride a KTM so they feel kind of similar but they feel a bit heavier compared to the KTM. I'm actually loving the 250cc two-stroke more than I thought I would. If I had to take one home, I'd probably take the EC300 simply because of the power"
"I like more ponies. I'm used to a four-stroke, so I liked that bit more power and strength the EC300 has. It kind of gives me the same feeling of strength and power as a four-stroke."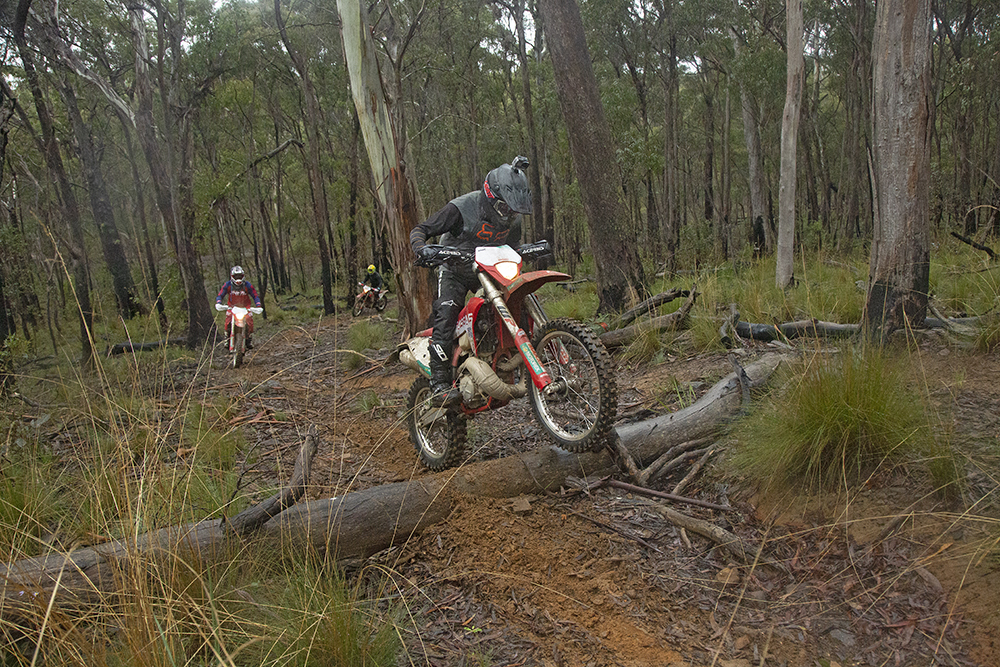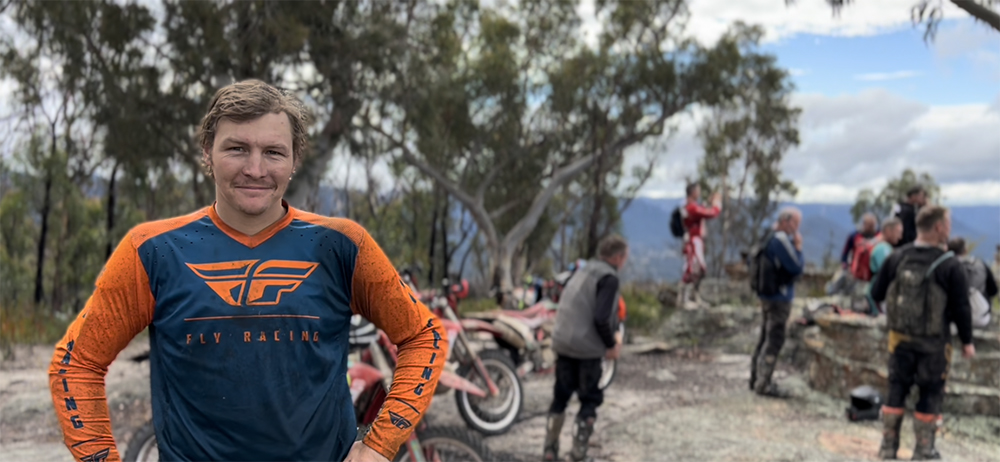 Angus McIntosh
Age: 20-30
Size: Tall, athletic
Skill: Racer
Bike of choice: EC250
"For this riding it is a challenge to pick my favourite between the two two-strokes. I would probably end up settling on the EC250 because I spent all day on one and found it really comfortable and better in the hard enduro sections Grabbo took us on. It was easy to pop up logs and rocks and get over all those tricky obstacles."
"On Day 2 I hopped on the EC350F and it was great through all the tight single track and then I jumped straight onto the EC300 and found it a little bit too much through all the tight singletrack. It was awesome to get up some of the hard enduro stuff Grabbo took us on. I never thought I'd ever go up something like that. If I was on my own, I'd never put my bike at it and have a go myself but with Grabham helping me and riding that EC250, it was just so much easier. When you were there you had to do it and it was bloody good to get up it."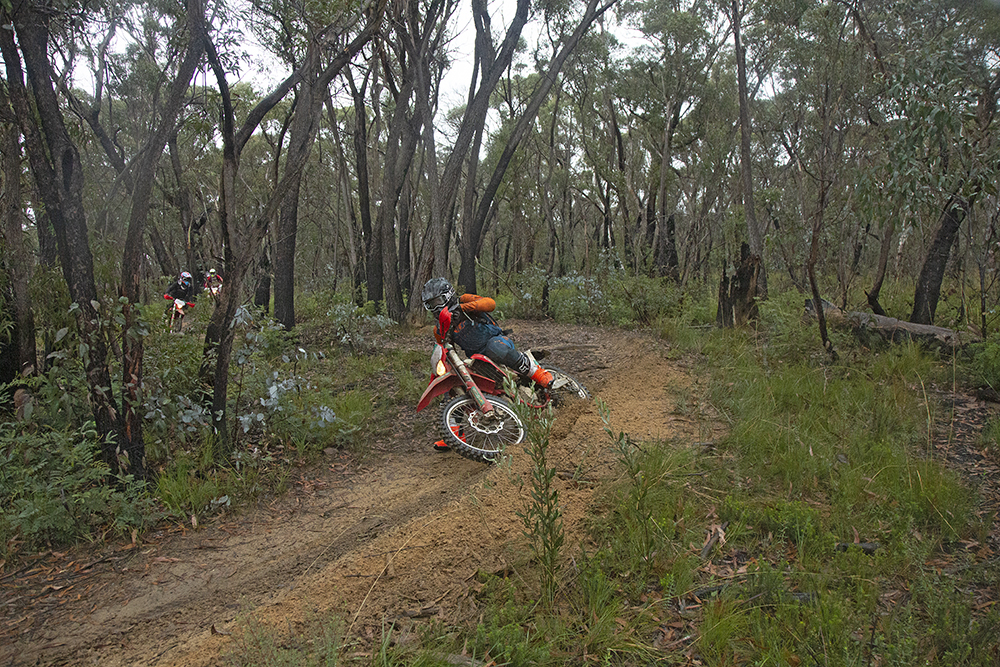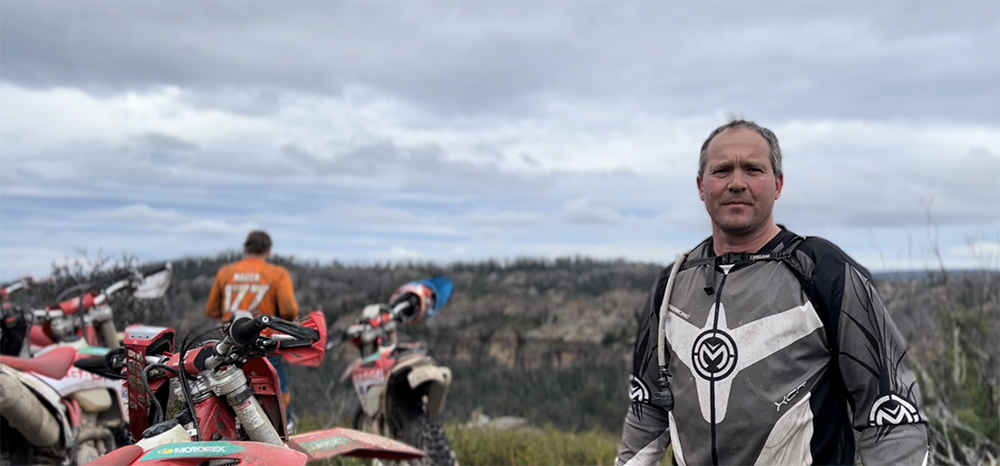 Ben Williams
Age: 40-50
Size: modest height, stocky build
Skill: Racer, the harder it is, the better
Bike of choice: EC300
"My favourite bike is an easy pick, it is the EC300. I find this really easy to get involved with and you can be part of the bike. The bike runs well, it drives itself and it's got plenty of torque. It doesn't need a lot of revs to do that and it doesn't tire you out like some of the little two-strokes do."
"If I was to take the EC300 home, I'd ride it in pretty much the same terrain we've done on this VIP Experience. So lots of singletrack, hills and rocks, we don't have all that much of this kind of riding back home. Now I've found a bike that can do all those tracks really well, I might be encouraged to find some near me."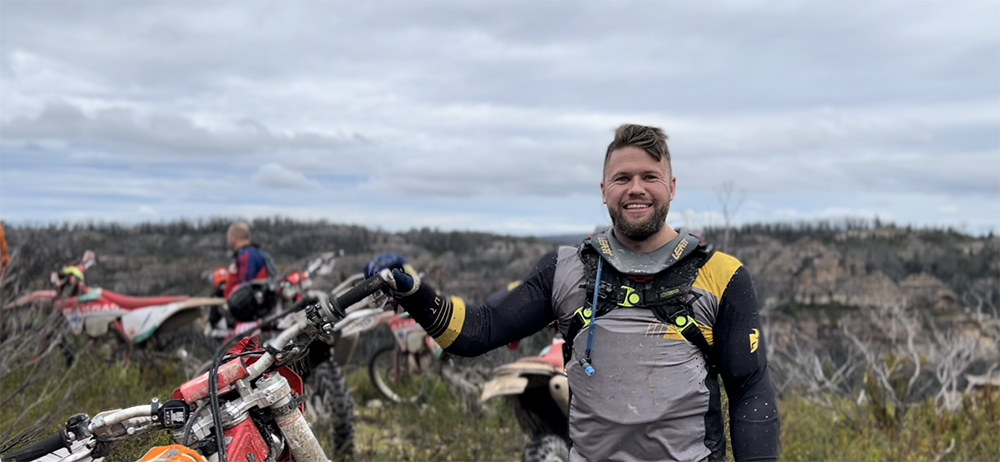 Lachlan Blunt
Age: 30-40
Size: Tall, unit
Skill: Trailrider who loves the fast, flowing stuff
Bike of choice: EC300
"For me it's a clear winner, I'll have to say the EC300 is my favourite. It has just enough power for me, it's perfect through this sort of terrain which is tight, rocky singletrack but also some fast open sections. I'm not used to riding a two-stroke but the first time I threw a leg over it, it still felt natural. I rode four-strokes at home mostly so that surprised me."
"I like the agility and the power delivery through some of that tight stuff. Coming off a four-stroke, I can say once you get used to the difference betwen the four-stroke and the two-stroke I think the two-stroke is perfect for this type of trailriding."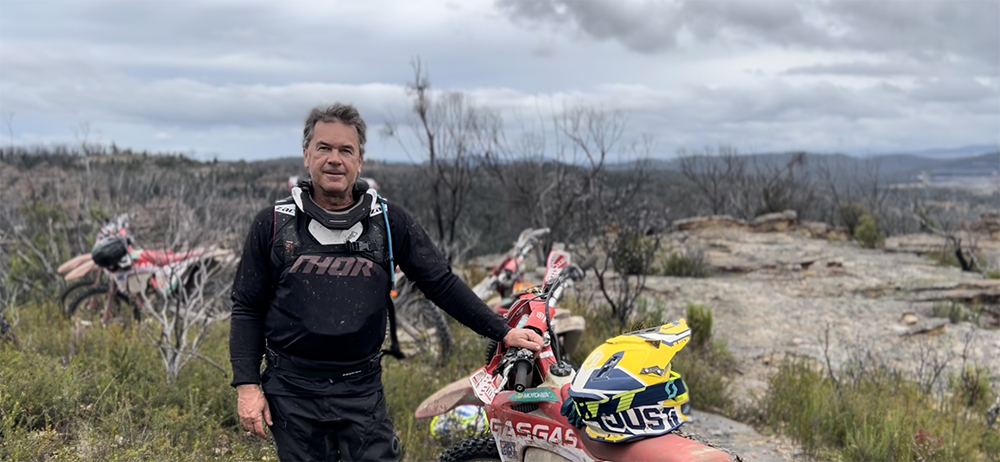 Chris Blunt
Age: 60+
Size: Medium height, regular build
Skill: Good trailrider, rips for his age
Bike of choice: EC250F
"I would definitely take the EC250F, it's lightweight, nimble and has a very torquey motor for a small capacity bike. It has super plush handling which is great for an old fella like me. I feel like that 250cc four-stroke is better suited to tighter country and tighter tracks like we've ridden here. In saying that, we've done a lot of forestry and four-wheel-drive tracks with bigger roads and jumps and it's surprising how much torque it has to get up those hills for a small engine and how well it handles the jumps."
Visit vipexperience.com.au to find out more.
WORDS & PHOTOS // BEN GRABHAM

< VIP Experience #1    |   VIP Experience #3 >