This is our quick test from ADB issue #373 of the 2010 TM EN 250 Fi which boasted electronic fuel injection!
It comes as no surprise, but electronic fuel injected engines have become more popular than hydration packs at an enduro. TM promise to do likewise with its 2011 EN 250 Fi, so when we heard they had a 2010 model (originally carb-equipped) with the new engine installed, we couldn't help making our way to TM importer, Cross Country Action, to have a taste.The full 2011 model, which arrives in October, will feature only minor changes (see sidebar), but the engine will remain basically the same. You never actually know with TM, because the strength of a relatively small company is it can change or modify components at very short notice, unlike the slow moving giants who make up much of its competiton. So, while the engine should remain as is, there is a small chance the bikes arriving in a month or so will be mildly different. Not that they need to be.
The engine responds how you expect an EFI-fed donk: crisp and precise at the throttle, with easy starting. The minimal extra weight of the fuel injection system (compared to the carb) is unnoticable.
At first the mid-range power felt mildly flat, but this is more the result of a strong-ish bottom end for a 250F, which reduces the feel you have for the shift into mid-range power.
The bike revs right out, and makes for a pretty quick bush sled. We are hoping TM doesn't mess with the chassis too much for 2011, because the chassis and engine are well suited to each other, and make threading together a series of bush turns into something orgasmic pretty easy.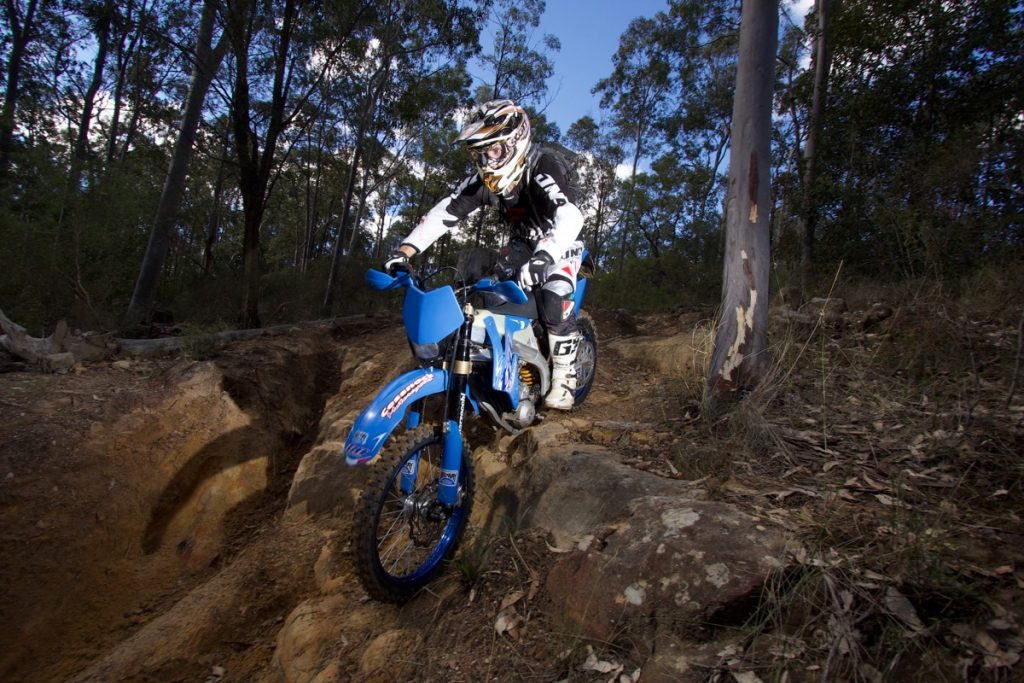 The combination makes traction easy to find too, with that excellent Ohlins shock helping the rear Michelin FIM-spec tyre bite into the turf. It did it so well, in fact, the bike was difficult to spin turn. It just hooked up and took off into the bush instead. Imagine what it would be like with full knobbies!
It seems the Milan fashion world has rubbed off on TM, with blue Excel rims, the black Marzocchi forks, gold triple-clamps, a powerbomb-style header, red anodized high and low-speed fork caps, and the clear petrol tank making the TM one trick-looking bike. The 2011 TMs are set to cop even more of a facelift with white plastics and new graphics.
While the 2011s are imminent, the bike we rode is available to the public and is an improvement on the 2010 bike, mostly because you don't have to worry about jetting. The TM is proof EFI is here to stay, and about time, we say.Stay tuned for the 2011 model when it becomes available – it promises much! – Mitch Lees
What to expect
EFI – The new fuel-injected engine features a downdraught intake port for the 44mm oval-bored TM Racing throttle body
Swingarm – A tapered swingarm with reduced welds and a slimmer profile.
Colour/Graphics – A white rear fender and side panels with new graphics.
Suspension: The Ohlins shock and the Marzocchi closed cartridge 50mm USD forks will have revised settings to ensure a plusher ride.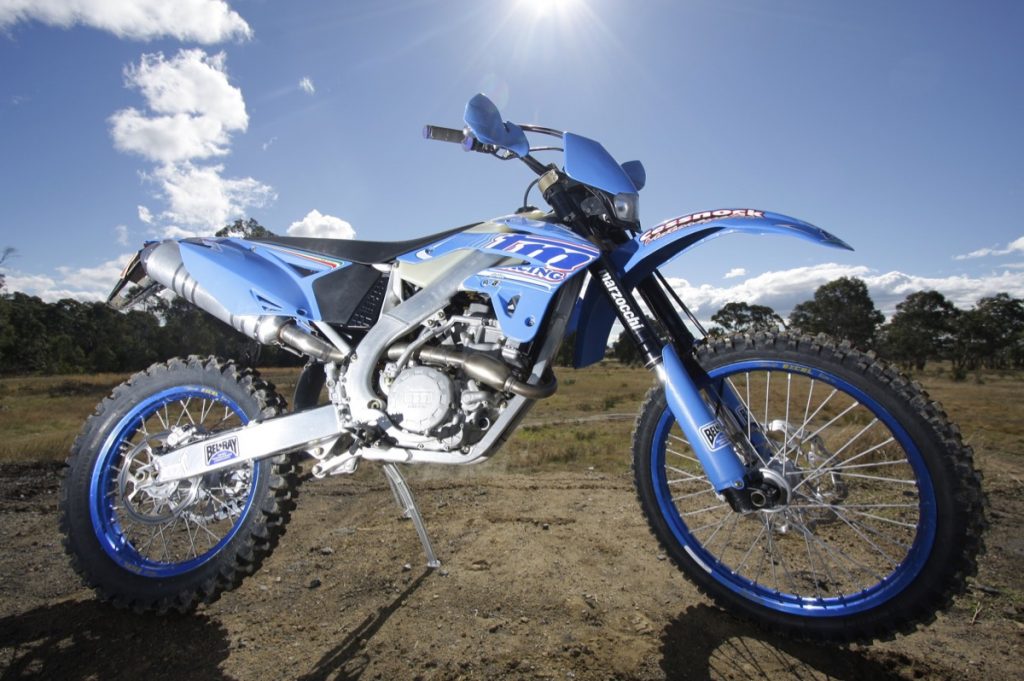 2010 TM EN 250 FI Specs
ENGINE
Type Single-cylinder, four-stroke, DOHC
Capacity 249cc
Bore and stroke 77mm x 53.6mm
Fuel system EFI , 44mm TM throttle body
Transmission Six-speed gearbox
Fuel capacity 9L
DIMENSIONS
Weight claimed (dry) 102kg
Pricing
RRP $12,990 (plus ORC)