Stacked with top shelf componentry, the Sherco 450 SEF-R makes a race-worthy package out of the crate. WP suspension, Brembo brakes and hydraulic clutch, DID O-ring chain, handguards and bashplate.
Even the stock Michelin Enduro Comp tyres will get you by while putting those first few hours on the clock.
The cockpit is well laid out. The integration of the ignition map switch into the starter button makes for easy on-the-fly changes. A compact, functional speedo is neatly tucked away behind the headlight out of harm's way.
LET'S RIDE
The trail was dry and skatey, with a mix of loose off-camber corners, rock-infested hillclimbs and some nicely whooped sand sections.
The combination of the lightweight engine and the controlled bursts of fuel delivered by the Synerject FI system on throttle closure meant a reduction in front end dive when you chopped the throttle.
This engine is made to be ridden aggressively and kept in the meat of the power curve. The power builds relatively slowly from the bottom before punching out of the upper mid-range into a grunty top end.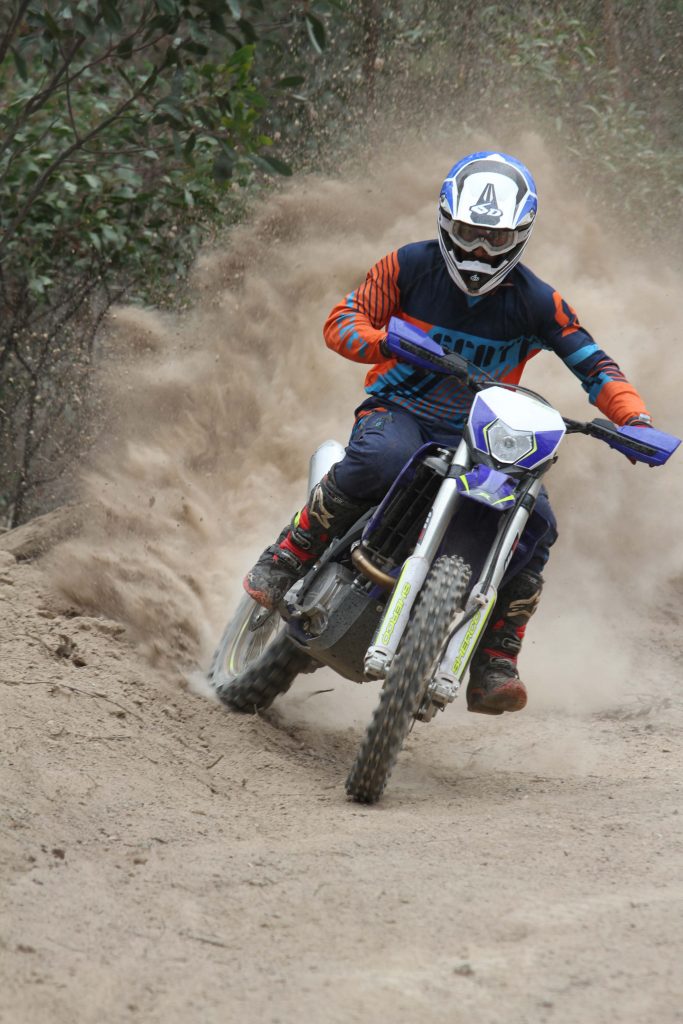 Accommodating the extra weight and rotational mass of a 450cc engine is an engineering challenge. Sherco's heritage in trials sees it pay more attention to keeping weight low and centralised than any other manufacturer. On the scales the bike is 109kg.
The action of the WP fork itself was predictable, if not slightly on the soft side for my 82kg. It soaked up everything that I could throw at it, from rocky trail trash to getting a bit frisky on the MX track. The shock performed well in most situations but I found it a bit squirmish in the longer whoop sections where it felt like it had the potential to pack.
Faster or heavier riders will need to look at springs to get the best out of the WP gear.
LE VERDICT
The Sherco is undeniably a race-oriented machine.
Ultimately, this will suit faster riders, but I think that they will spend more time getting the bike setup than they would with some of the competition. If you're prepared to put the time in, I think that you could get it working well. Less experience riders might find it a bit abrupt and intimidating.
For riders who want to have a try of give something different from every other weekend warrior, get down and see your local Serco dealer for a test ride.
Words: Ben Forsyth
Pics: Stephen Tuff
Sherco 450 SEF-R
The engine has a number of tweaks
WP shock runs linkage
Size 8 supermodel with fuel pump