The 'Euro' was to Gas Gas what the 'Six Days' is to KTM or the 'Factory' is to Sherco - a blinged-up limited edition run of the 2010 Gas Gas EC300.
It had an Öhlins 888 shock and a Sachs 48mm fork, which was valved differently to the base model, a scattering of other aftermarket parts and only 20 found their way to Australia. Adam Riemann was the man put in charge of testing the 2010 Gas Gas EC300 Euro and he was impressed.
THIS FEATURE WAS PUBLISHED IN ADB ISSUE #374 – NOVEMBER 2010 || Words // Adam Riemann Pics // Sam Maclachlan
If you're a sucker for a sharp chassis and earth-moving power, then you'll be frothing over the 20 Spanish supermodels just landed in Oz. A limited edition of Gas Gas's 2010 EC300 – named the "Euro" – is the latest top-shelf model from a company with a reputation for serious two-stroke enduro weaponary. Aimed at the Gas Gas fan, this glamorous version of the 2010 EC300 has been kitted out with an Ohlins shock, FMF Turbine silencer, Renthal Twin-wall 'bars and plenty of gold-anodised bling, among other touches. Throw in an elite graphics kit and you've got one hell of a head-turner, which – above all else – is a street-legal weapon. You could wonder why a special edition of an already successful model exists, but – as we discovered on the extreme trails of a gnarly enduro loop – this bike has "race me" written all over it.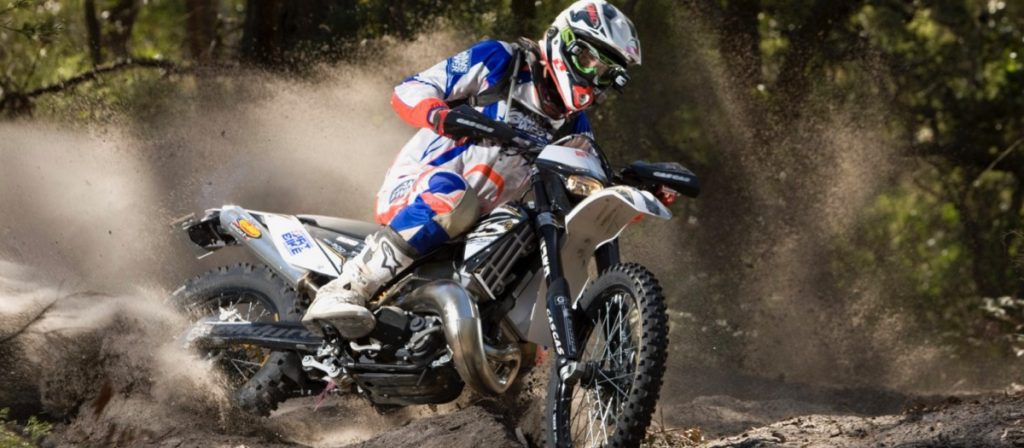 MAXIMUM BOOST
If you're expecting a user-friendly two-stroke groomed for sightseeing, then you'll be rudely shocked at the first twist of throttle: this engine absolutely hauls! The subtle combination of its finely-jetted 38mm Keihin carburettor, combined with the FMF Turbine silencer, provides obstacle-hopping punch with hill-smashing torque, and all available in the "wet curve" option on the handlebar-mounted ignition map switch.
A serious enduro rider will be right at home with this engine, given you can instantly loft the front end when ugly terrain shows up. The response right from idle needs no prompting or flicking of the clutch, as you can dial in the power to suit the surface.
Ironically, this raw two-stroke delivery has four-stroke qualities, as it quickly gathers traction and momentum while shredding the earth beneath you. It's all wicked and wild as she comes onto the pipe with the rear wheel stepped-out, but be warned: corners will approach faster than you anticipate.
As for the "dry curve" – proceed with absolute concentration. Flick the map over and the power from idle converts to that of a pissed-off 250cc MX engine: punching through the mid- to top-end like a brick-spitting monster. If you're on a loamy grasstrack and your big-bore mates need their egos deflated, flick over to the dry curve and tear the place a new one – it's viciously fast.
Most riders will best appreciate this engine in the wet curve setting, simply for the fact it's more manageable across the rev range. As brutal as the Euro engine is, you can still tame it by loading it up in a higher gear and utilising the masses of underlying torque.
It'll hold third-gear through tight singletrack, negating excessive gear shifts – similar to how a big four-stroke can be tractored through the trees. It's here the real benefit of this engine shines, especially when you're going from hills, to sand, to singletrack and wide-open trails.
The 300 Euro has got it all covered.
With so much power on tap, it's reassuring to know your rear-end is covered by the 888 Ohlins shock. It's responsible for the bike's ability to track in a straight line and drive sweetly over tricky terrain.
Multiple positions for handlebar adjustment will allow you to find your own happy medium and let the Gasser steer at its best. The Sachs fork was also surprisingly compliant in the rough terrain.
DIRT KNIFE
The EC300 feels like it looks: sharp, narrow and light. There's nothing bulbous or out of place and it is typically European with its roomy seat/handlebar/footpeg relationship. This stems from the high-mount handlebars and low seat height, which, at 940mm, is low among the class. This allows you to sit right into the bike and maintain your balance when climbing rutted, winding hills – a bonus for shorter riders.
On the gas, the ability to react quickly to the changing terrain is the Euro's forte. The Sachs fork – a re-valved version of the standard EC300 fork – completes a well-configured and predictable front-end. Given the bike we tested was so new, the fork was still firm and responded to some rebound and compression adjustment to speed up its action and neutralise deflection over the rocky stuff – though accessing the rebound clickers is a handlebar-off exercise.
Until you get used to the powerful delivery and stable chassis, the 300 can feel stubborn to turn in the really tight stuff, but comes into its own through the sweeping turns and flowing trails.
One thing Gas Gas has always got dead-on with their chassis is the overall geometry and front-to-rear balance. You can dominate gnarly descents and ascents, and hit obstacles with confidence, as the bike's attitude remains predictable. The addition of a premium 888 Ohlins rear shock can take most of the credit for that. It's a wild ride!
The transparent fuel tank is a blessing on long trail rides, given your fuel range can be calculated at a glance. Easy access to the spark plug is always a necessity if deep water crossings are on your map.
EPA legal for enduro noise restrictions doesn't mean the FMF Turbine core muffler lacks the moto-horn note we all love. It also plays a major role in the engine's broad, kick-arse power.
2010 Gas Gas EC300 Euro
ENGINE
Capacity 299.3cc
Bore x stroke 72.5 x 72.5mm
Cooling Liquid
Engine type Single-cyl, two-stroke
Transmission Six-speed
Clutch Hydraulic
Fuel system Keihin 38mm carburettor
DIMENSIONS
Claimed weight: 102kg (without fuel)
Claimed seat height 940mm
SUSPENSION
Fork Revalved Sachs 48mm
Shock Ohlins 888
BRAKES
Front Nissin – Wave disc
Rear Nissin – Wave disc
PRICE
RRP $11,699