Aussie adventure riders have been crying out for a Dakar race replica for years. Honda answered gently with the CRF250 Rally.
WORDS & PHOTOS // ANDREW CLUBB
So precisely what is the CRF250 Rally? Honda has taken its CRF250L trailbike and mated it with CRF450 Rally Dakar racer-inspired bodywork to deliver a machine "ready for the daily commute, weekend adventure or long distance tour".
The CRF250L has been around for a few years but this year has an updated engine, chassis and suspension, which also hides inside the CRF250 Rally.
What immediately sets the Rally apart from the L model is its CRF450 Rally Dakar styling, which includes a frame-mounted windscreen, dual LED headlights, digital instruments, upper and lower fairings, full plastic skidplate, sideplates and handguards.
It also gets longer Showa suspenders with firmer spring and damping rates and about 25mm more travel than the L, which means more ground clearance and a taller seat. There's also a larger front axle, larger front disc and two-channel ABS, which can be unhooked from the rear wheel. It also has a larger 10.1 litre tank (up 2.2). These changes add weight, of course, with the Rally tipping the scales at a claimed 157kg wet.
In the engine room, the 250 Rally's liquid-cooled, DOHC single-cylinder powerplant with 76 x 55mm bore and stroke pumps out a painful 18.2kW at 8500rpm and peak torque of 22.6Nm at 6,750rpm. It is fed by a PGM FI system with 38mm throttle body and drives through a cable clutch and six-speed gearbox. The motor boasts a balance shaft to help reduce vibrations.
All that comes at the tasty price of $7299 plus on-roads with 12 months' warranty. Yep, you read that right, too. That's cheap.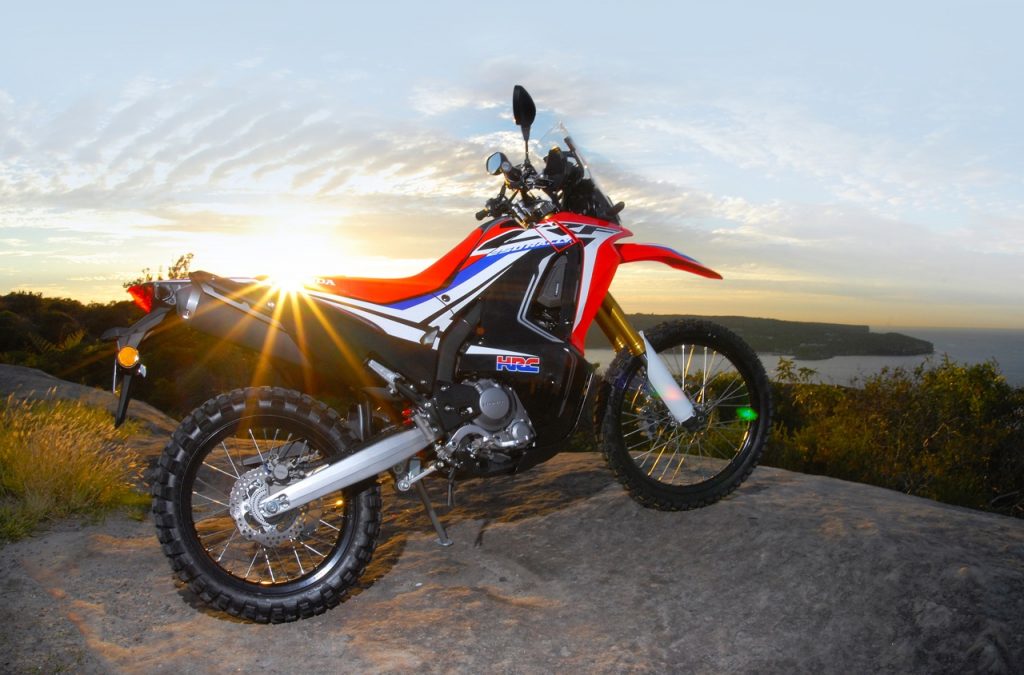 The Ride
The Rally thrives on revs. In fact, precious little happens until you hit 6000rpm, at which point she starts motoring … for a four-stroke 250cc trailbike. To get the best from it, you have to ride it like a 125cc motocrosser, and not be shy with the throttle, clutch or shifter. And that's even when dealing with Sydney traffic, let alone getting out on winding back roads or fast and flowing trails.
Part of this can be attributed to the tall 14/40 final gearing, along with the engine's state of tune to meet Euro 4. With the stock gearing the Rally is pulling just on 7000rpm at 115km/h. Changing the sprockets would push the revs higher and make high-speed transports less comfortable.
In the handling stakes, the 250 Rally does hide its 157kg, thankfully. The firmer and longer suspenders of the Rally do a good job of carrying it, even though the only adjustment available is rear spring preload. The Rally is still a softy by enduro bike standards and, out on the trail, that means careful line selection and unweighting the bike as bigger hits and G-outs approach.
The 296mm front disc is a good one and the brake feel and power is typically Honda. With the added weight of the Rally and increased ADV loads being carried compared to the L, the bigger stopper is a sensible move. The ABS is unobtrusive on the tar, but on the trail, and particularly on technical downhill trails with loose rocks and drops, it becomes obtrusive, with pulsing in the lever and unwanted release of the caliper.
Being able to deactivate the rear ABS is handy, but being able to do both ends would be better for riders wanting to push the off-road riding end of the ADV spectrum.
Fuel economy for the just over 1000km we put on the Rally in a week averaged 31km per litre across a wide range of freeway, highway, back road, dirt road and trailriding. That gives the bike a theoretical range of 310km (although we never rode it with a week's worth of gear into a headwind on the Hay Plain.) Why Honda didn't bless the Rally with a larger fuel cell, we don't know. It looks like there's space in amongst all those fairing panels so hopefully an aftermarket version will appear to give more range for Outback riding.
As for the fairing, bodywork and screen, the Dakar-inspired panels do help the Rally provide a way more comfortable touring experience than the L. Around five to ten extra centimetres on the windscreen would help for taller riders, while the overall aero package makes for a stable ride when you are belting out a long transport.
Overall
All up, the CRF250 Rally will do just what Honda says it will as a daily commuter. Sitting up high offers good visibility in traffic and the bike has enough presence to give you some level of respect from tin-top drivers.
As a weekend adventurer, it will do that job, too, especially in the hands of riders just sticking their toes into the ADV waters, and in particular women, as it's sized right for many of them and will feel plenty more confidence-inspiring than a bigger bike.
As for long distance touring, sure, the CRF250 Rally will do it, but this is the part where we start crying in our beers again. Another 200cc – or even a little more – would make all the difference in this corner of the world – sigh.
As it is, the 250 Rally is priced right, looks to be well built (only time will tell there, but it is a Honda), has a well-endowed specs list and has all the Dakar Rally wannabe image we could ever dream of.
Alongside the mighty Africa Twin, Honda now has the opposing ends of the ADV scene covered; here's hoping they plug that whopping big hole in the middle real soon.
Read the full review in ADB Issue #455
Honda CRF250 Rally Specs
ENGINE
TYPE: Single-cylinder DOHC
DISPLACEMENT: 249.6cc
BORE & STROKE: 76 x 55mm
COOLING: Liquid
COMPRESSION RATIO: 10.7:1
FUEL METERING: EFI 38mm
TANK CAPACITY: 10.1L
TRANSMISSION: Six-speed
CLUTCH: Wet multi-plate
DIMENSIONS
WHEELBASE: 1455mm
SEAT HEIGHT: 895mm
GROUND CLEARANCE: 270mm
WEIGHT:157kg
SUSPENSION
FRONT: Showa USD 43mm, 2xxmm
REAR: Showa monoshock, 2xxmm
BRAKES
FRONT: Nissin two-piston 296mm
REAR: Nissin single-piston 220mm
RUNNING GEAR
HANDLEBAR: Steel
FRONT TYRE: IRC Trails GP
REAR TYRE: IRC Trails GP
PRICE & CONTACTS
RRP: $7,299
BROWSER: www.hondacrf.com.au
BLOWER: 1300 559 846
WARRANTY: 12 months