Beaton lands on podium in Portugal | News
F&H Kawasaki's Jed Beaton has secured his first podium result of the 2018 FIM Motocross World Championship in the MX2 class at the MXGP of Portugal.
The young Australian qualified third and used the favourable gate pick to round the first corner of Race 1 in second.
Beaton held the spot for 2 laps before the hard-charging Red Bull KTM Factory Racing rider Pauls Jonass made it past. Beaton then managed to hold off Olsen the remaining 8 laps even applying pressure to Jonass along the way.
At the finish Prado won with Jonass, Beaton, Olsen, and Kemea Yamaha Official MX Team's Ben Watson rounding out the top 5 and Beaton's F&H Kawasaki Teammate Adam Sterry took 6th.
MX2 Race 2 came into the first turn led by Prado once again now with 5 Fox Holeshots this season. Jonass positioned himself much better to start the race, coming across the first lap in 2nd. Jonass however was quickly caught off guard by Olsen on lap 2.
Australia's Beaton was the next to go around Jonass along with Ben Watson on the following lap. Jonass clearly struggled to find a rhythm as he ran in 5th for 7 laps then hit neutral in a rut and fell dropping 3 more positions.
Back up front Watson had made his way around Beaton and closed on Olsen for 2nd. During the final laps Olsen maintained his gap over Watson by around 2 seconds but on the final lap a handful of bobbles from the Dane allowed Watson right to his back wheel. Battling through the final turn in a race that went to the wire Watson just lost out by 17 hundredths of a second.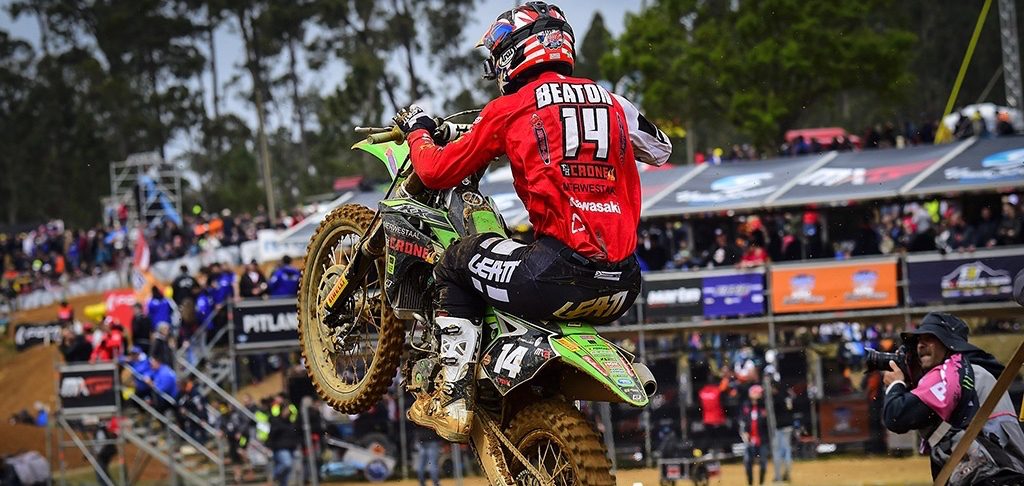 The nail biting finish and ability of Olsen to hold of Watson gave Beaton the final spot on the podium behind Olsen with Prado the clear winner. Jonass finished the race in 7th and took 5th overall losing ground in the championship to his younger teammate.
Jorge Prado in the press conference said: "Second win in a row, last year I won three GPs but never 2 in row so I am getting there, I am getting to where I want to be. We are training hard and it pays off, last weekend was almost a perfect weekend just lost in the last lap but this weekend I managed to take the qualification win and two races so I'm really happy."
Thomas Kjer Olsen said: "It feels great to be up here again, I was struggling a bit in Trentino… so to come here and feel good again is really nice even though it is only a week apart. I tried to just ride relax and feel smooth on the bike, that is how I felt all weekend, I'm really happy about that and it's really nice to be on the podium."
Jed Beaton in the press conference: "I'm very satisfied, it is always good to be on the podium, it is what we all work for so I'm pretty stoked. This weekend the starts were better and I had a good Saturday which gave me a good gate pick making it a lot easier."
Pauls Jonass commented: "It is still nice to have the red plate and the championship lead but I'm really disappointed with how the weekend went. I just couldn't find the rhythm or find a flow and I was struggling a lot with the track and myself. I am happy that we have 2 weeks until the next race because I am going to work hard to be back in Russia."
MX2 Overall Top Ten: 1. Jorge Prado (ESP, KTM), 50 points; 2. Thomas Kjer Olsen (DEN, HUS), 40 p.; 3. Jed Beaton (AUS, KAW), 38 p.; 4. Ben Watson (GBR, YAM), 36 p.; 5. Pauls Jonass (LAT, KTM), 36 p.; 6. Vsevolod Brylyakov (RUS, YAM), 29 p.; 7. Adam Sterry (GBR, KAW), 27 p.; 8. Henry Jacobi (GER, HUS), 25 p.; 9. Calvin Vlaanderen (RSA, HON), 18 p.; 10. Ruben Fernandez (ESP, KAW), 17 p.
MX2 Championship Top Ten: 1. Pauls Jonass (LAT, KTM), 216 points; 2. Jorge Prado (ESP, KTM), 202 p.; 3. Thomas Kjer Olsen (DEN, HUS), 185 p.; 4. Ben Watson (GBR, YAM), 141 p.; 5. Jed Beaton (AUS, KAW), 129 p.; 6. Vsevolod Brylyakov (RUS, YAM), 115 p.; 7. Conrad Mewse (GBR, KTM), 100 p.; 8. Hunter Lawrence (AUS, HON), 99 p.; 9. Calvin Vlaanderen (RSA, HON), 97 p.; 10. Henry Jacobi (GER, HUS), 96 p.