Portuguese Perfection for Herlings | News
Consistently topping the result listings from practice through to the overall wins were Red Bull KTM Factory Racing's Jeffrey Herlings and Jorge Prado!
The MXGP racing started with Qualifying Race winner, Jeffrey Herlings taking his second Fox Holeshot of 2018. Herlings just beat out Team HRC's Tim Gajser and Monster Energy Kawasaki Racing Team's Clement Desalle.
2018 rival of Herlings and Red Bull KTM Factory Racing teammate Antonio Cairoli started the race in 4th but lost 2 positions on the first lap when he stalled his KTM. Taking advantage of the mistake from Cairoli was Rockstar Energy Husqvarna Factory Racing's Gautier Paulin and Monster Energy Yamaha Factory MXGP's Romain Febvre.
On the 4th lap of 16 Paulin pushed his way past Desalle who was suffering from a clutch issue. Desalle pulled off the track and into Pit Lane immediately but soon discovered he would not be able to finish the race. Desalle who came into the race 3rd in the championship was understandably disappointed to have a scoreless result.
With the loss of Desalle, Febvre moved into 4th but was soon moved back to 5th after Cairoli passed him on lap 7. During the next 7 laps the top 5 remained the same until Cairoli found his passing spot. One lap after another Cairoli passed Paulin and then Gajser on the entry to the corner just before the straight in front of Pit Lane. With one lap remaining and broken goggles Cairoli was unable to catch Herlings who took the race win by 6 seconds.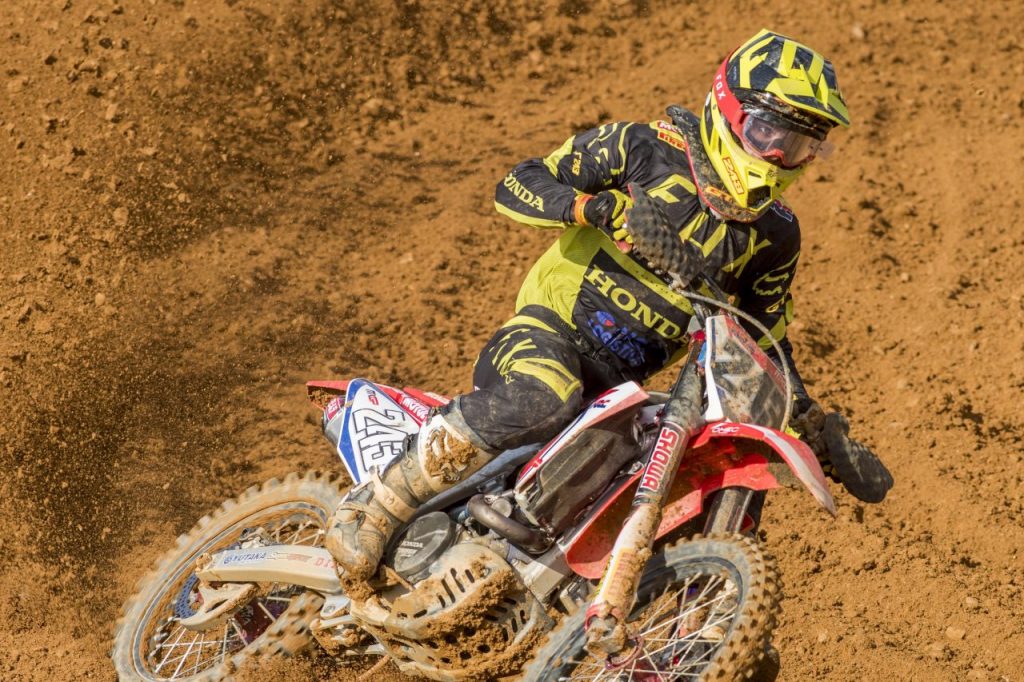 Race 2 started with Cairoli ahead of Herlings but both behind Wilvo Yamaha Official MXGP's Shaun Simpson who took his first Fox Holeshot of 2018 and the Factory Yamaha of Romain Febvre. By the end of turn 2 Cairoli take over the lead and blocked Herlings but shortly after lost the spot to the #84.
On the opening lap the 4th place finisher from Race 1, Gautier Paulin pulled of the track and of the race with an unknown technical issue. After the first complete lap Herlings already had more than a 7 second lead on Cairoli who had Desalle, Febvre, Gajser, and Simpson following.
On the second lap Simpson was passed by his Wilvo Yamaha teammate Jeremy Seewer and continued to loose positions lap after lap. Herlings grew his lead to just over ten seconds before a fall cost him 6. Herlings, still over 4 seconds ahead of Cairoli, remounted his KTM and again put down multiple fast laps.
Cairoli struggled throughout the race with a swollen right eye after the impact of the rock through his goggle in Race 1. Regardless of the hinderance Cairoli still pulled away from Desalle but was unable to keep up with Herlings.
First across the finish line, taking his 7th race win of the year, was Herlings 34 seconds ahead of Cairoli, then Desalle, Febvre, and Gajser. The most impressive ride outside of the win from Herlings was perhaps the constant charge of his dutch Red Bull KTM teammate Glenn Coldenhoff. Coldenhoff came from 15th on lap 1 to finish 6th.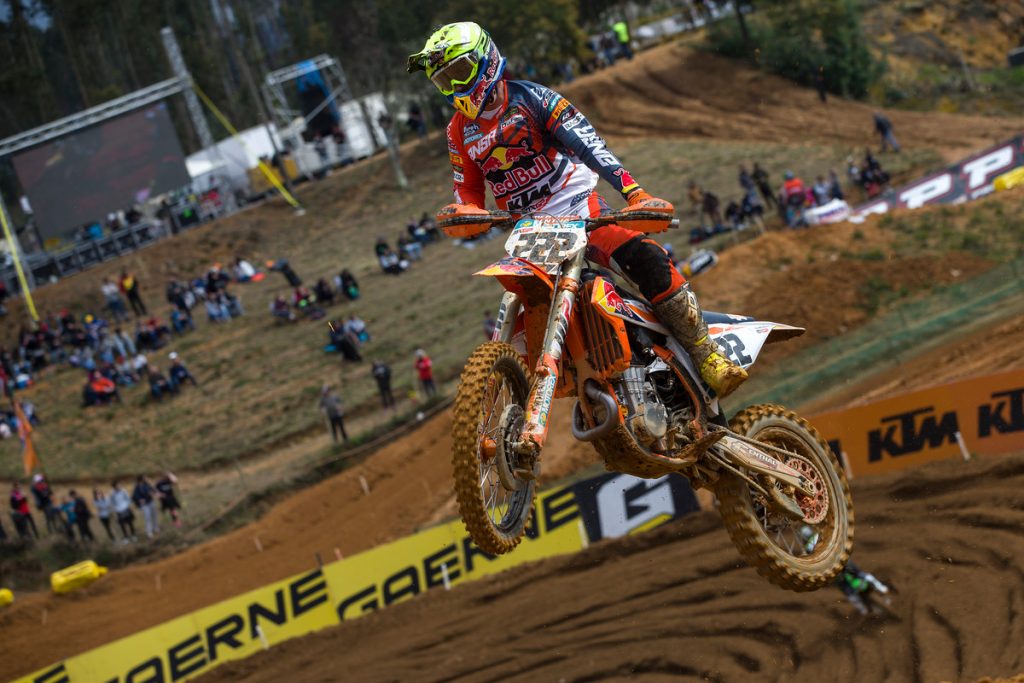 In the overall standings Herlings' perfect performance took 50 points over Cairoli's 44 while Gajser achieved his first podium of the year with 36 points. The championship points lead of Herlings over Cairoli is now 16 with Febvre taking over 3rd from Desalle.
Herlings in the press conference said: "It was a perfect weekend, perfect starts, it can't be any better, same as last weekend and I just want to keep it going to this way. I have so much motivation in the tank to keep going, I feel like we are a good position right now and I can't wait for Russia already."
Antonio Cairoli, who achieved his 150th career podium, said: "I feel good, it is a good championship but it is very difficult, you know it is always me or Jeffrey at the moment and it is difficult to stay in front always. I'm looking forward to another race in 2 weeks and I'm going to try to build up to a better physical condition."
Tim Gajser said: "This weekend I was feeling good, also the track was really technical with many lines. I'm really happy and really looking forward to Russia."
MXGP Overall Top Ten:
1. Jeffrey Herlings (NED, KTM), 50 points;
2. Antonio Cairoli (ITA, KTM), 44 p.;
3. Tim Gajser (SLO, HON), 36 p.;
4. Romain Febvre (FRA, YAM), 34 p.;
5. Glenn Coldenhoff (NED, KTM), 29 p.;
6. Jeremy Van Horebeek (BEL, YAM), 28 p.;
7. Jeremy Seewer (SUI, YAM), 27 p.;
8. Evgeny Bobryshev (RUS, SUZ), 24 p.;
9. Clement Desalle (BEL, KAW), 20 p.;
10. Maximilian Nagl (GER, TM), 20 p.
MXGP Championship Top Ten:
1. Jeffrey Herlings (NED, KTM), 241 points;
2. Antonio Cairoli (ITA, KTM), 225 p.;
3. Romain Febvre (FRA, YAM), 169 p.;
4. Clement Desalle (BEL, KAW), 165 p.;
5. Gautier Paulin (FRA, HUS), 147 p.;
6. Glenn Coldenhoff (NED, KTM), 140 p.;
7. Jeremy Van Horebeek (BEL, YAM), 132 p.;
8. Tim Gajser (SLO, HON), 113 p.;
9. Jeremy Seewer (SUI, YAM), 110 p.;
10. Maximilian Nagl (GER, TM), 88 p.
Watch the video highlights HERE.