Ben Grabham finished 15th at the 2013 Dakar Rally and lined up again for another crack in 2014
Ben Grabham finished 15th at the 2013 Dakar Rally and lined up again for another crack in 2014.
With Toby Price about to embark on a factory rally career, we thought the time was right to revisit our story on Grabbo's Dakar weapon from February 2014.
From all accounts Dakar is not a race you can turn up to and win on your first attempt, there is so much more to the race than just riding a dirtbike fast, the navigation, climate, remoteness and the length of the race make it a difficult event to complete, let-alone win.
"Once you do Dakar and other rallies you realise how much thought has gone into building the KTM 450 Rally," Grabham explains. "It's the sort of bike that you can strip apart in a matter of minutes to fix any small problems that might arise while out riding and it is built super tough."
After joining the KTM Factory Rally team Grabbo spent a lot of time abroad testing and setting up the 450 Rally that will hopefully take him from
start to finish.
"Setting-up the bike for Dakar is difficult when you are based in Australia but while I was over in Morocco we did a lot of testing because the terrain over there is similar to Dakar. I didn't even bother doing adjustments on this bike in Australia because there is just no point."
"Setting up a bike for a two week rally is so different to setting up a bike for an enduro or motocross, because the rally is so long. I'm not really looking to fine tune my bike to find extra seconds here and there. I focus more and making sure the bike will finish the race, and be as easy to ride as possible."
There is so much more to Dakar than just riding a dirtbike. Unless you can master all the other aspects of the race you won't win. Navigation is the biggest challenge for new rally riders, and every bike is fitted with the appropriate equipment to make the job easier.
"Navigation is where I would say I'm the weakest, and most Australian's are the weakest just because we don't have that style of navigation and maps," Grabbo explains. "The maps are in French, the riders briefing is in French, half the time I don't know what's going on"
The navigation equipment is given to the riders at scrutineering including the GPS and map scroll. The GPS is used to record a rider's course to make sure they don't cut the course. There are speed zones riders need to slow down through and hidden waypoints to check off, and if a rider misses any of them the GPS records that and then they are penalised.
It is a much different race to anything most Australian's would have completed in locally. Riders in Dakar are required to carry much more equipment and supplies with them, riders cross through three countries over the course of the rally, some of which have their own language, and the bike is very foreign to ride.
"You have a lot more equipment on your bike than we don't normally have in Australia, like a GPS that records your every move, emergency water, tools and spares and you're trying to learn how to use the different navigation system will riding a foreign bike, because we don't normally ride the Rally bike in Australia, that is loaded up with so much gear – it is a challenge. At most Australian off-road races like the Safari, riders will either ride an enduro or motocross bike with a big tank.
Ben Grabham's 2014 KTM 450 Rally
Brakes
At 140kg dry plus 36L of fuel and all the gear required to race Dakar oversize front and rear discs help stop the heavy bike quicker
Seat
A quick release seat gave Grabbo fast access to the battery and other electronics plus several small storage compartments
Fork
A factory 52mm WP fork with cone valves works well with the extra weight of the rally bike, it is an expensive piece of hardware that can't be
bought by the public.
Wheels
Heavy duty rally grade Excel rims are beefy units to cope with the abusive of rally racing, tyres are Michelin Desert tyres front and rear and Michelin Desert Mousse tubes
Oil Cooler
Two weeks of riding in deep sand at race pace is hard on the engine and the oil cooler helps keep oil temps down to reduce the strain on the engine
Engine
KTM 450 engine is a based off the old carburettor fed MX engine and Quad Bike engine and features a one-piece radiator
Frame
The frame is specifically made for the KTM 450 Rally, it is Cro-Moly trellis frame and the subframe is comprised of the rear fuel tank
Navigation
GPS, map scroller, GPS repeater and ICO that does distance, trip metres and speeds are controlled from handlebar mounted switch blocks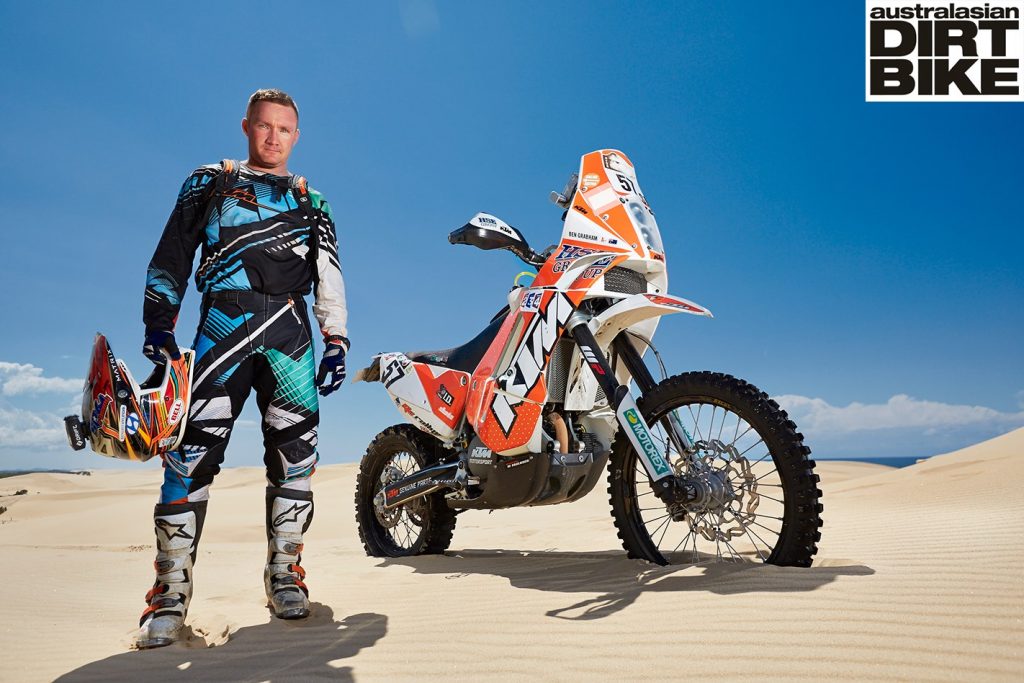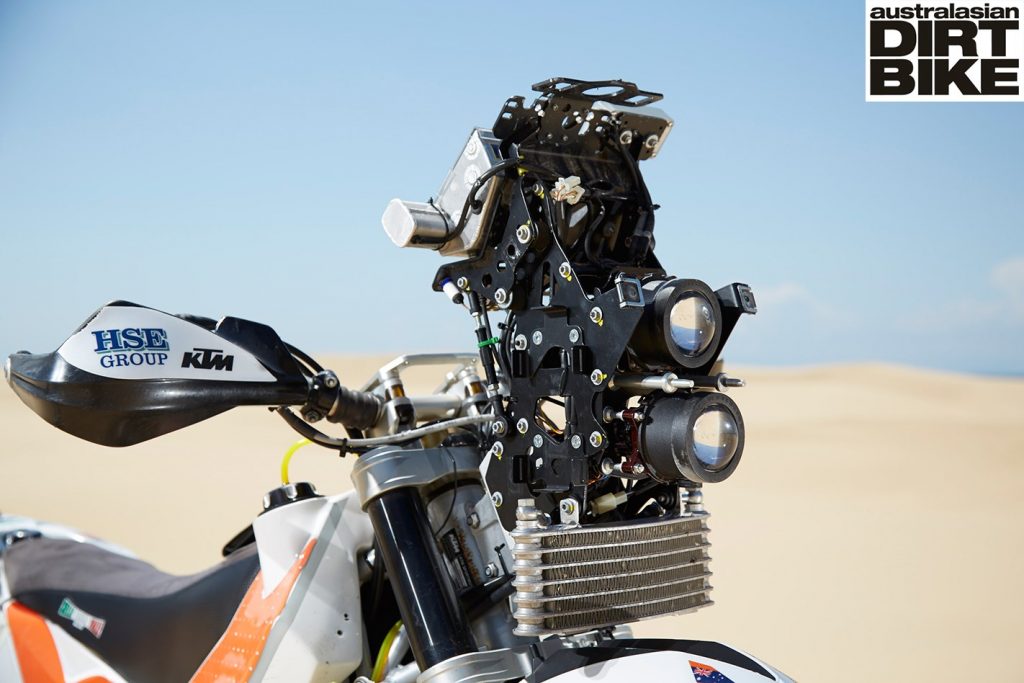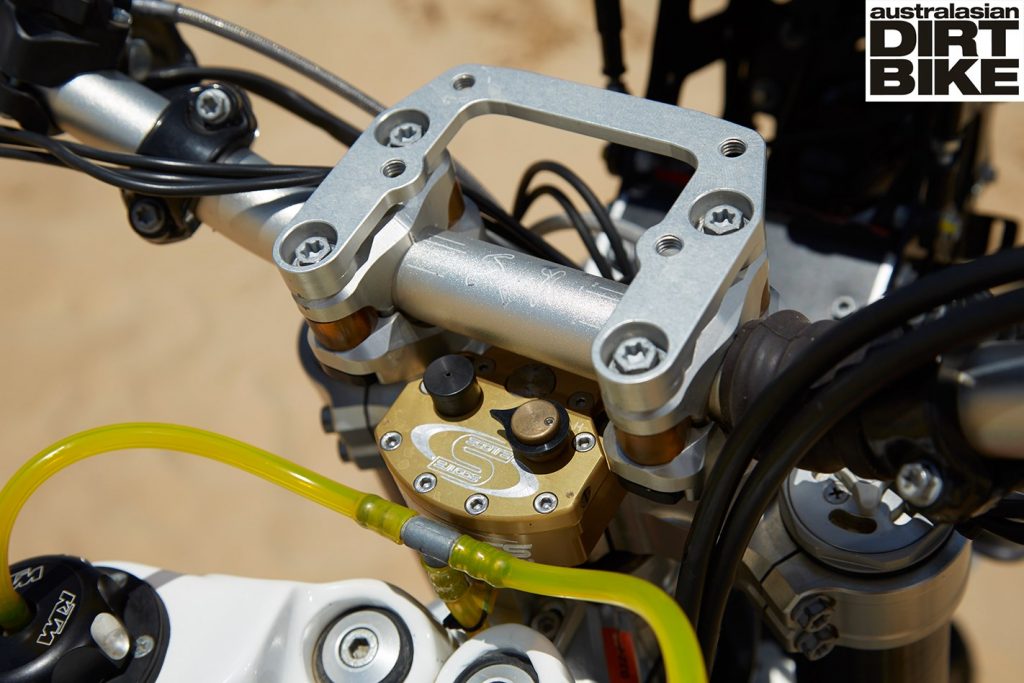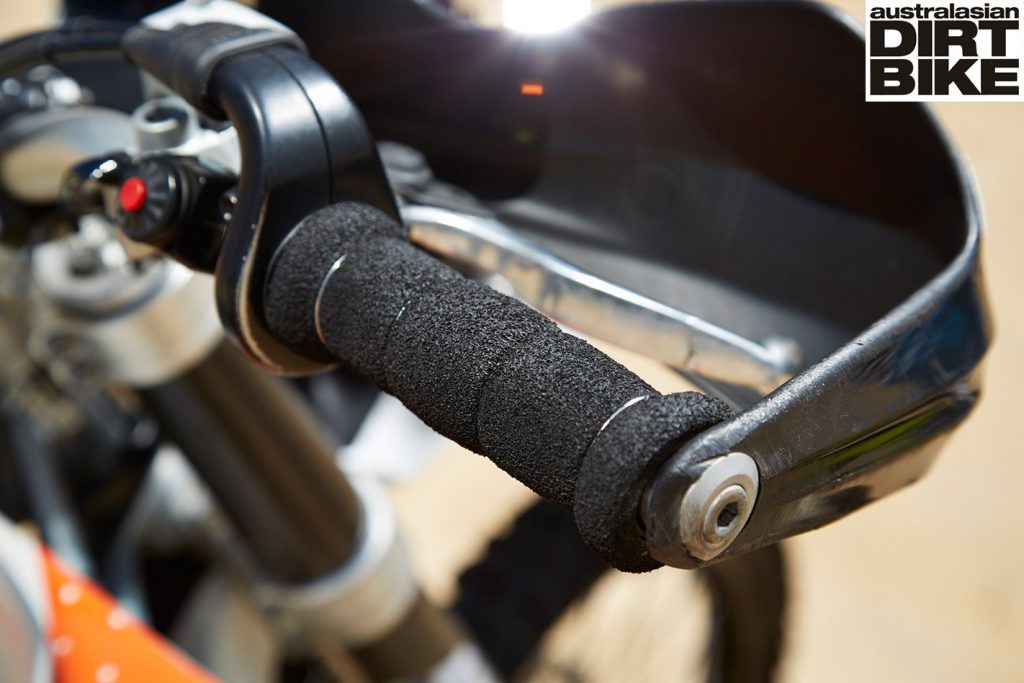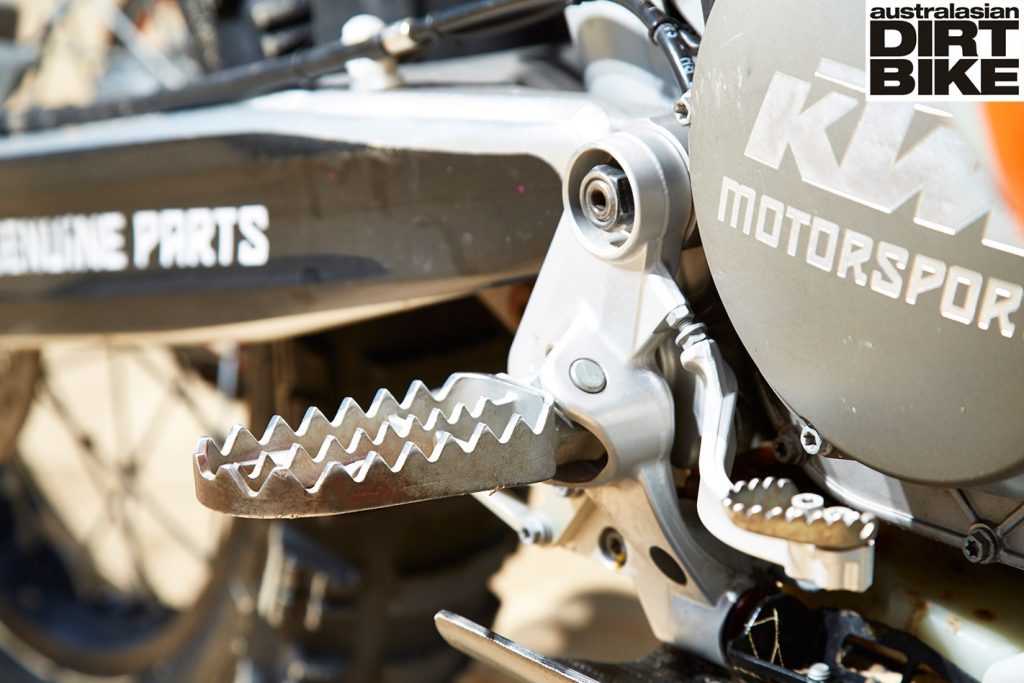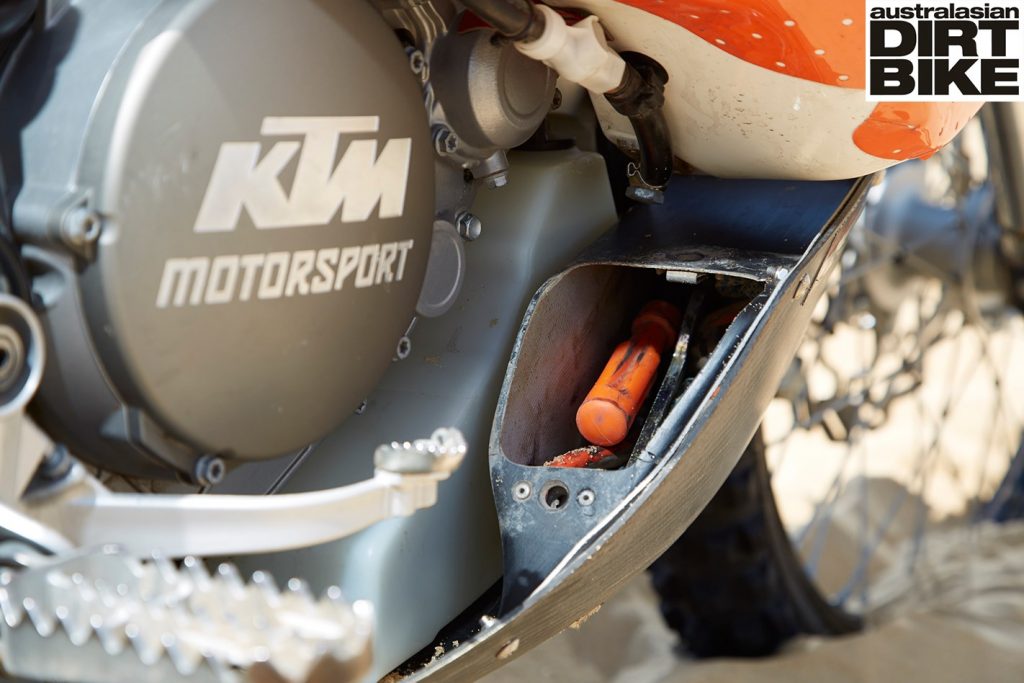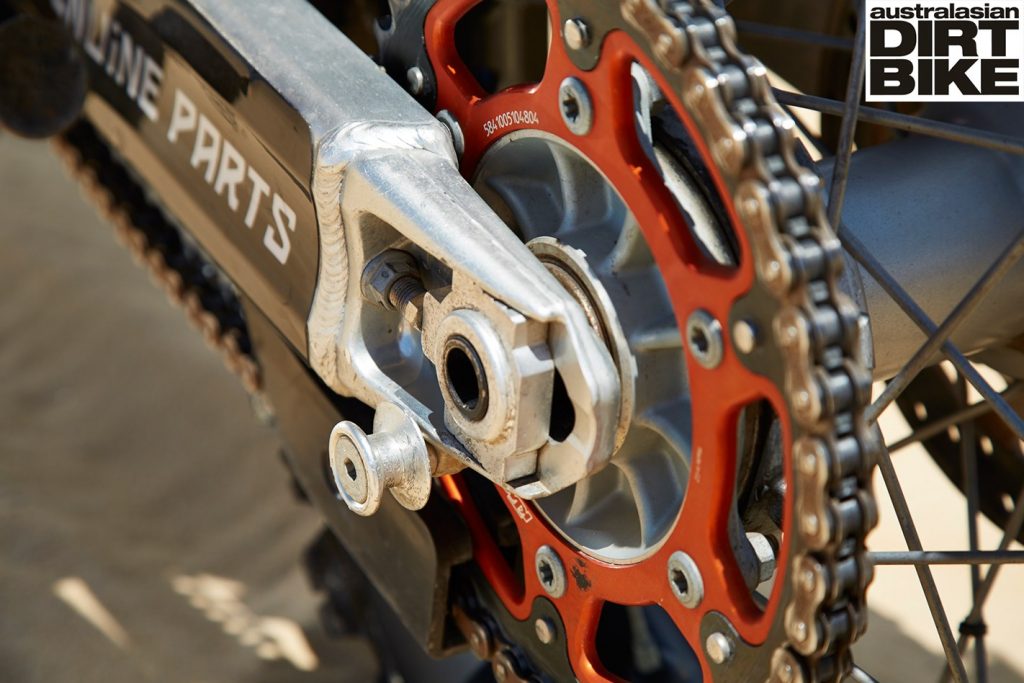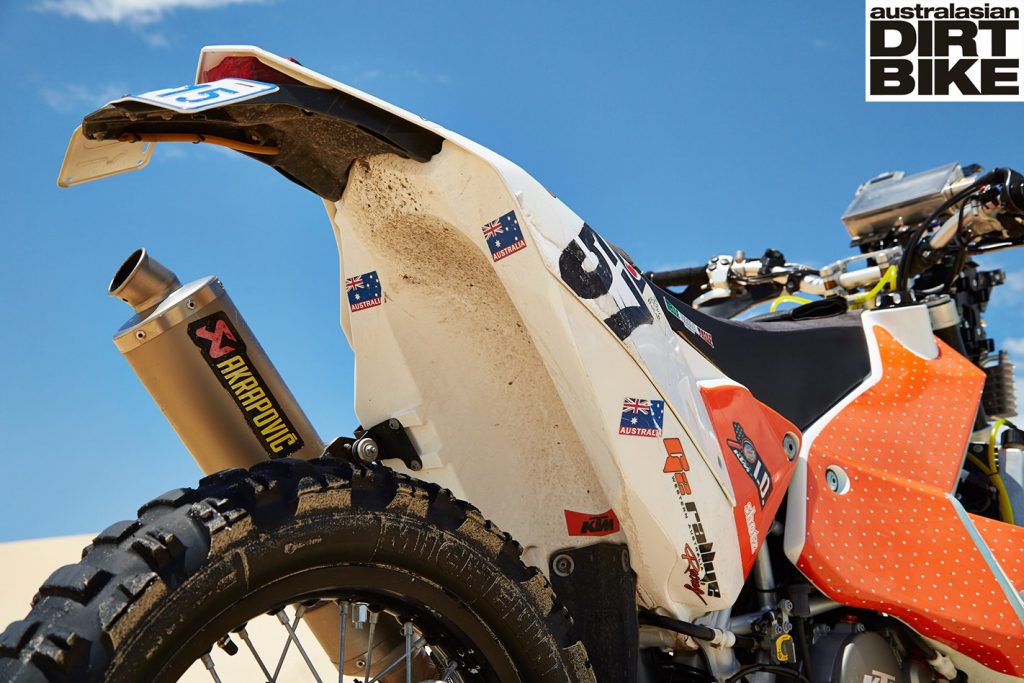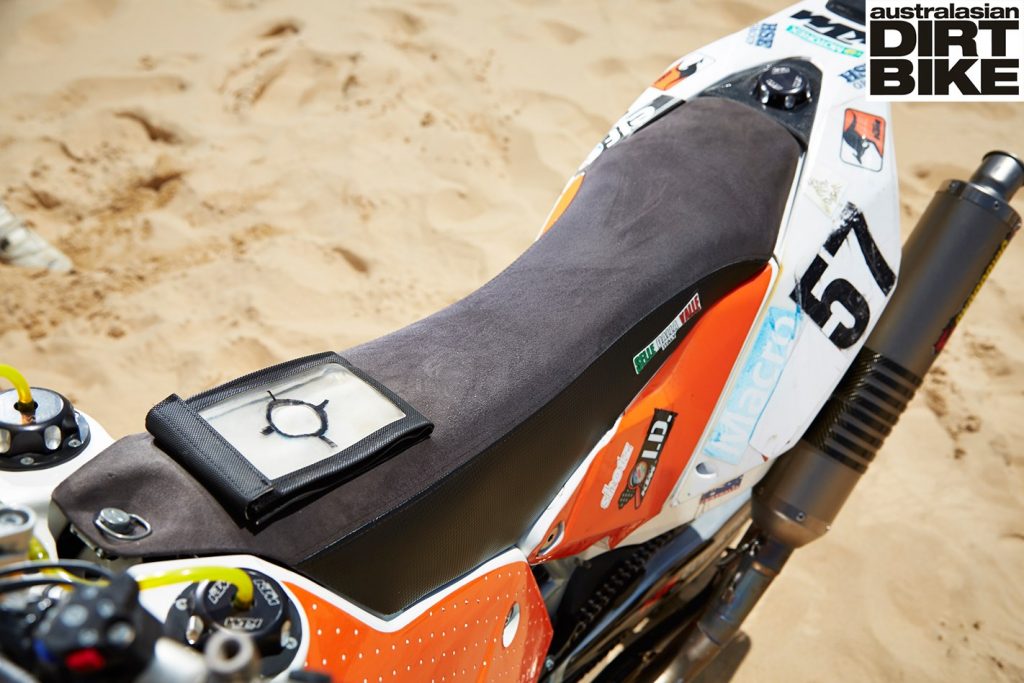 To receive the latest news, reviews and video highlights from the world of dirt bikes, sign up to our weekly newsletter here.