Beta has answered Geoff Braico's prayers and fitted KYB fork to its range of 2020 Racing models. Here is was the rut king of Instagram thinks of the 2020 RR250 Racing
Off the back of a huge revamp of Beta's range for this year comes the new Beta RR250 Racing, an enduro-ready two-stroke littered with trick parts and special features that pretty much allows a rider to roll out of the showroom, head to the track and punch out some laps.
I think it's really cool to see manufacturers build these special bikes for die-hard fans. A lot of riders want to load their bikes with performance parts and bling, so having bikes that come already decked out is a great concept.
The European builders are really embracing the concept. KTM has the Six Days, Husqvarna has its Jarvis Edition, Sherco has Factory versions like the 450SEF-F, Gas Gas also has/had a Six-Days and, of course, Beta has its Racings. These special builds often cost $1000-$2000 more than the standard versions but have extra goodness worth that, or more, loaded on the bike.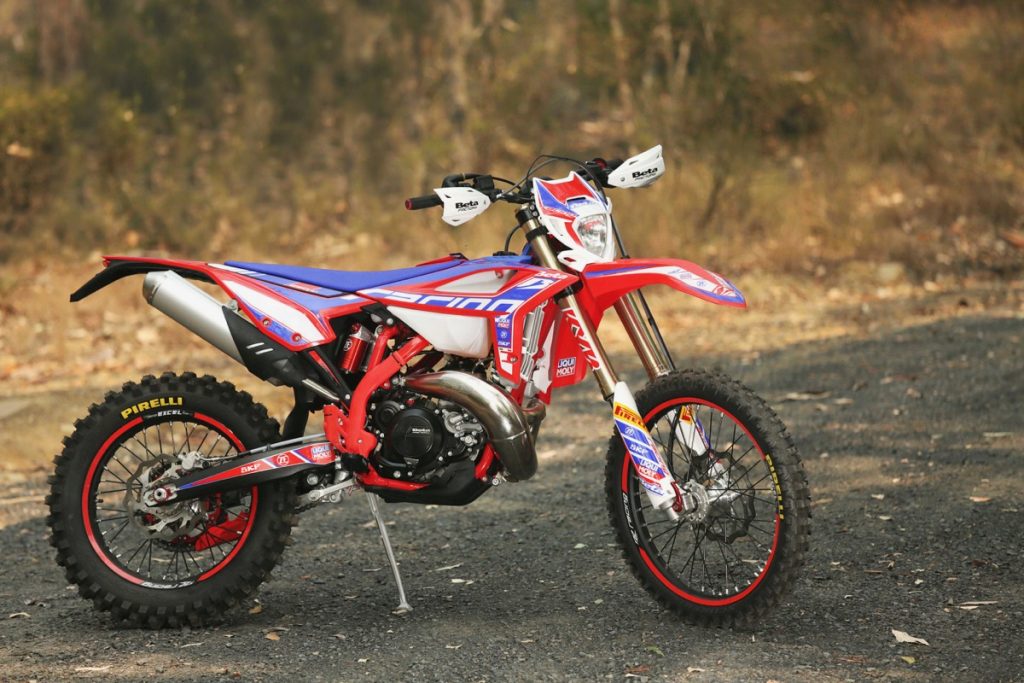 Now when you consider buying a pipe and getting some suspension work done on a stock bike, that extra bit of coin could actually buy you a special edition and you could be ready to go racing right away. The Beta Racing models have been decked out with a long list of extras and Beta has pretty much taken care of any mods you would think about doing.
Obviously, the colour scheme of the Racing models is totally different to the RRs, with a bright blue and red graphics package and a blue gripper seat to match. The seatcover also has a timecard holder sewn in.
The red frame is matched by red frame guards and some red rim graphics are fitted to ensure you look extra fast.
The Racing models run anodised bits and pieces like red axle blocks and oil filler cap (as well as the oil filter cover for the four-strokes), black triple-clamps, black footpegs, gearlever and brake pedal, while the rear sprocket is a red alloy number with steel teeth so it's lighter but still wear resistant. A red front-axle puller is added, Beta's own Vertigo handguards, which are more solid than the RR ones, and Metzeler Six-Day Extreme tyres are in charge of keeping the bike under control.
Lastly, but probably the biggest and best thing about the Racing models, is the switch from ZF forks to the super reliable, 48mm KYB spring-cartridge numbers. Beta says they have worked very closely with Kayaba to create a bespoke product designed especially for the Racing models.
Many of the internal fork components are anodised, which ensures less friction and better performance and it is half a kilo lighter than the ZF one. There's more weight saving on the two-stroke Racings with the removal of the oil injection. Beta stands behind the system and claims the switch is to shave those kilos and add to the bikes' Racing pedigree.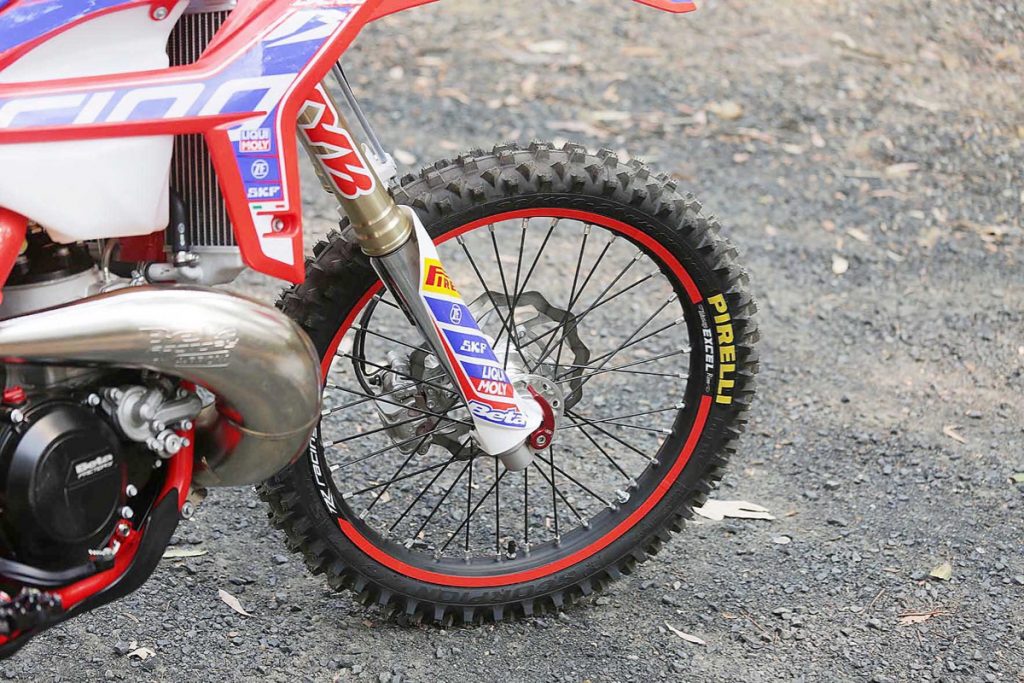 ON THE TRACK
It certainly wasn't an ideal time to be riding a dirtbike when we had the chance to throw a leg over the Beta RR250 Racing. It was early in the year when the bushfires were cranking, the ground was bone dry and hard as a rock and Mitch and Olly were melting by 10am. But, hey somebody has got to go out there and ride the bike, right? So, after getting the full run down from Mr. Vic from Beta and cleaning up some drool, I geared up and headed off to our test loop up to slide around in the dust for a couple of hours.
The layout was a mix of fast and flowy singletrack sections with plenty of elevation changes and off-cambers to keep you on your toes. It had been ridden in the rain once upon a time and now the mud ruts and bumps had all dried up and turned into concrete so it was a really good test for the bike.
Honestly, I really liked the standard RR250 when I rode it both in Italy and at Kyogle. It was probably my pick of all the models, so to say I was excited to ride the Racing version would be an understatement. As soon as I sat on it and took off down the track, I was happy with the riding position and just trailriding it around. The bike felt planted and more stable than the RR models.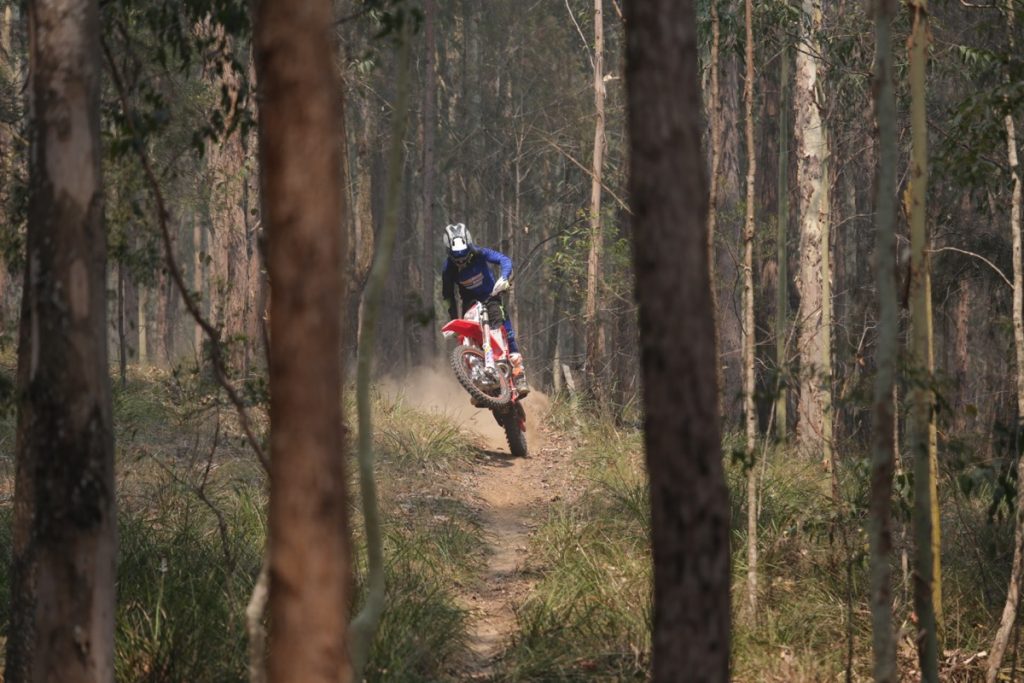 The handlebar on the Racing is quite flat and low, which I like so I felt pretty comfortable. The bike was jetted perfectly and the exhaust had a real grunty sound to it. The engine that Beta has built for the 250T is a strong one.
It produces great bottom-end power and keeps pulling right through the rev range. Short shifting and riding a whole test in third gear is child's play for the RR250 Racing. You can ride it smoothly or aggressively and it just laps it up.
Even over the hardpack, snotty stuff on our test loop where power delivery is critical, I found the RR250 Racing to be in the sweet spot the whole time. It just grunts its way around and I felt like I could just flow around the track and it had enough power to keep you smiling the whole time. It is also a super fun engine to trailride on.
Riding slow and technical stuff is made easy with the torque it has and you can also play around with the on-the-fly map switch just below the top triple-clamp, changing between Sun and Rain mode. Since it hadn't rained in months when I rode it, I stuck to Sun mode. Blasting down a nice, long fireroad is always fun on a bike with power and, boy, does the Beta give off a sweet note in top gear.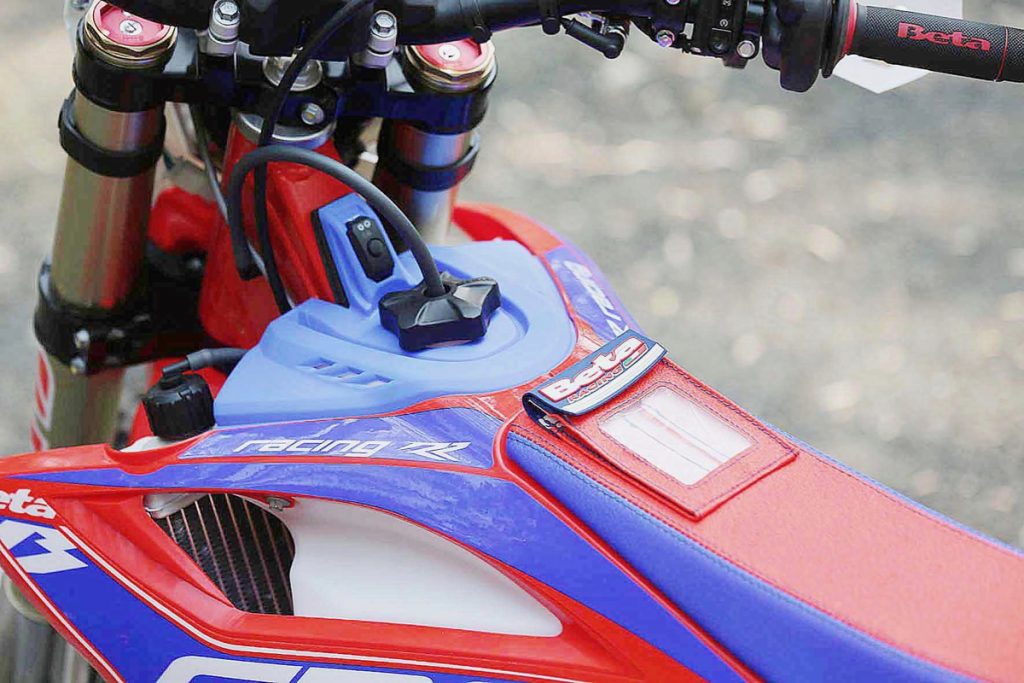 KYB FOR ME
I have to give a huge shout out to the guys behind the Racing model with their decision to add the 48mm KYB fork. That unit is a game changer for these bikes. Of course, the standard RRs' ZF suspension is by no means terrible and Beta Motor Australia's Patrick Lowry says the KYB isn't needed for most people. "The standard ZF forks have received great feedback this year and suit the majority of riders. The KYBs are impressive for a higher level rider but they are not for everyone," he says.
But for racing, which you might be encouraged to do on the Racing version, the KYB forks are far superior. Sure, some people might find them a tad firm but, for me, they were pretty much exactly what I was after when wanting to ride this bike as fast as I could. It sits up higher in the front, especially under brakes, and you feel so much more confident coming into corners no matter how rough or choppy they are.
The fork is firm, yet it is still plush enough to soak up the small stuff and progress nicely to hold up really well on the big hits. On our test loop, we had a heap of sharp gullies to cross and, with the ground being so dry, there was no give at all and the KYB fork stayed true and soaked them up like a champ.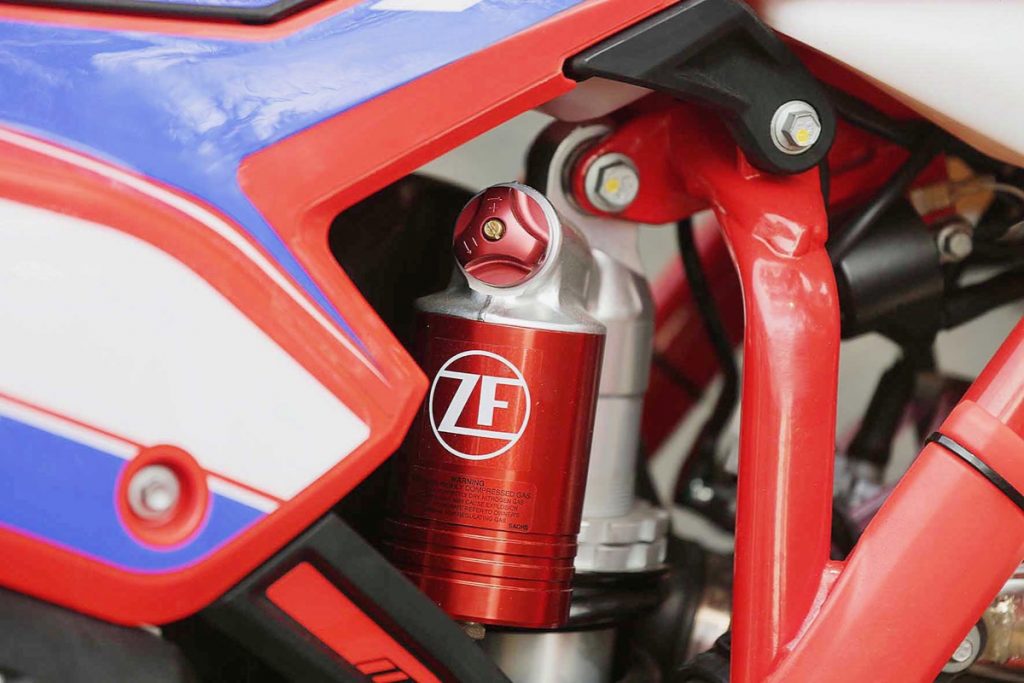 Even the updated ZF shock feels much better working (and not over-working) with the KYB front-end and the whole bike feels much more stable and balanced, giving you the confidence to push that little bit harder everywhere until you find yourself tipping into ruts at speed. Considering how slippery the track was, the bike was easy to ride and still managed to get great traction even on the acceleration bumps. I really don't think that I would change that much, maybe a few clicks here and there, before I would be happy to go racing on this suspension package. Bravo Beta and KYB.
HAPPY AS
As I was a fan of the RR250 before, I am definitely a fan of the Beta RR250 Racing. The KYB has transformed this bike into a real weapon and the engine is very strong and usable. It doesn't get away from you like a 300T would, which is great if you're a bit tired after a hard day on the track.
I really am impressed with the way the bike feels. It's stable yet light so it's still easy to throw around and, like I said, the KYB front-end gives you that confidence to push the limits. Maybe in the future we will see KYB shocks on the Racings (Gas Gas certainly won't need them) and then who knows how good this bike could be. The RR250 Racing is easily the most fun and best Beta I have ridden. Geoff Braico
Beta RR250 Racing Specs
Engine
Type: Piston-port, reed-valve
Displacement: 249cc
Bore/Stroke: 66.4 x 72mm
Cooling: Liquid
Compression Ratio: 13.2:1
FuelLing: Keihin PWK36
Tank Capacity: 9.5L
Transmission: Six-speed constant mesh
Clutch: Magura hydraulic, wet multiplate
Dimensions
Wheelbase: 1482mm
Seat Height: 930mm
ClearAnce: 320mm
Weight: 103.5kg dry
Suspension
Front: KYB 48mm USD spring-cartridge, 295mm
Rear: ZF gas-oil monoshock, 290mm travel
Brakes
Front: Nissin twin-piston, 260mm wave disc
Rear: Nissin single-piston, 240mm wave disc
Running Gear
HANDLEBAR Beta by Neken tapered alloy
Front Tyre: Pirelli, 90/90-21 fitted
Rear Tyre: Pirelli, 140/80-18 fitted
Price & Contacts
Price $14,295 rrp
Web betamotor.com.au
Phone (07) 5597 4335
Warranty Six months parts and labour