FINANCE TIPS FOR YOUR NEXT NEW OR SECOND HAND BIKE
In the market for a bike? Should you buy new or second hand? How can you save on finance? We put together a short checklist to ensure you get more bang for your buck when it comes to buying your first
Getting the best finance deal
Buying a bike means bike finance. To ensure you get a good finance deal, you should seek out the best personal loans advice. The most crucial question to begin with is – how much can you afford each month in loan repayments? Remember to factor in insurance, fuel, and maintenance. You can work this out using a personal loan calculator – but you also need to figure out what you need in a bike first to make sure you aren't overspending unnecessarily. When in doubt, consult a personal loan broker, as they can find many different loans across multiple lenders – which means more competition and more potential savings. Also having a significant deposit can drive interest rates down – lenders look favourably upon applicants who have "skin in the game."
What do you need in a bike?
This is the next question – what do you need in a bike? Sport suspension? 250CC, 500CC, more? Are you using it for competition or a bit of bush bashing on the weekend? Will you be tuning it yourself or do you want something that's competition spec right out of the factory?  Tempering your needs as wants may also drive down the overall price you pay – so keep this fact in mind.
New vs used
What's best? Used bikes have a lower upfront cost, while new bikes can be expensive. However, a newer bike can actually cost you less in interest than buying second (or third) hand. Older bikes have lower values, and lenders are hesitant to fund them. A new bike, which may be more safe, efficient, and reliable than older bikes, may end up costing you less over the long term. Even if the newer model may be practically identical to the previous, such as the 2022 Honda CRF250F. If you're a newbie, a used bike may be better to get a feel for the hobby or sport. For more on this, check out this article.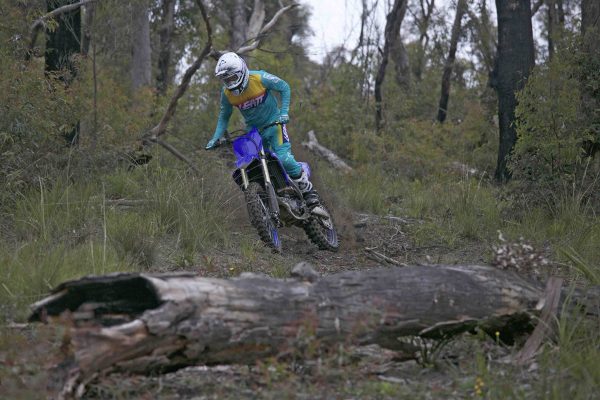 What to look for when buying used
When you're buying used, you are bound by 'buyer beware' – there are no warranties or guarantees out there. When you look for used bikes, ask for the logbook and chassis number first. If your seller is cagey about it, walk away. Look for cracks in the plastics, rims, wheels, and discs. If the kick-starter is slow, it might also indicate a lemon – or a costly fixer-upper. For a full list of things to look for, check out the checklist by our friends at Dirt Bike Planet here. Before committing to a deal, check the chassis number on the Personal Property Securities Register – to make sure you're not buying a stolen or written-off bike.
How to save when buying new
You can save on buying new by approaching dealers at the end of the month or during sale periods – usually around Christmas or the End of Financial Year. They'll want to clear out stock for incoming models, which means you can nab a good deal. Another way is to get loan pre-approval from your broker. This gives you a price ceiling your dealer has to match, or you walk away. Remember, dealers want to make sales – their job depends on it!
Remember to consult a financial professional before deciding on loans and credit.