URAL is very excited to announce its Gear Up sidecar model with 2WD capability is coming to Australia.
ADB tested a Ural sidecar back in 2018 and it was huge amounts of fun but we could have used 2WD on the beach. We recently tested the new Ural Gear Up 2WD, you can read our review in the next issue of ADB, on sale 2 November.
The Ural Gear Up 2WD was previously only available in countries which drive on the right side of the road. Ural has been finally able to engineer and produce the left-hand version of this model and very soon it will be available here.
If you find a loose or slippery surface while crossing a river, climbing a bank, descending a steep downhill or just crossing a wet boggy patch, with the simple flip of the 2WD lever you are on your way. Ural Gear Up 2WD is great for off-road adventures, turning country roads and bush tracks into your personal playground.
The bike is fitted with loads of extras which include a spare wheel, luggage rack, a sidecar accessories panel for charging devices, utility shovel, jerry can, sidecar bumper with LED fog lights and sidecar Cordura tonneau cover.
As an introduction to our Australian market, the Ural Gear Up 2WD will be available in its own unique colour – Outback Orange which will be included in the standard colour range for this model.
RRP AUD starting from $27,990 excluding on-road costs.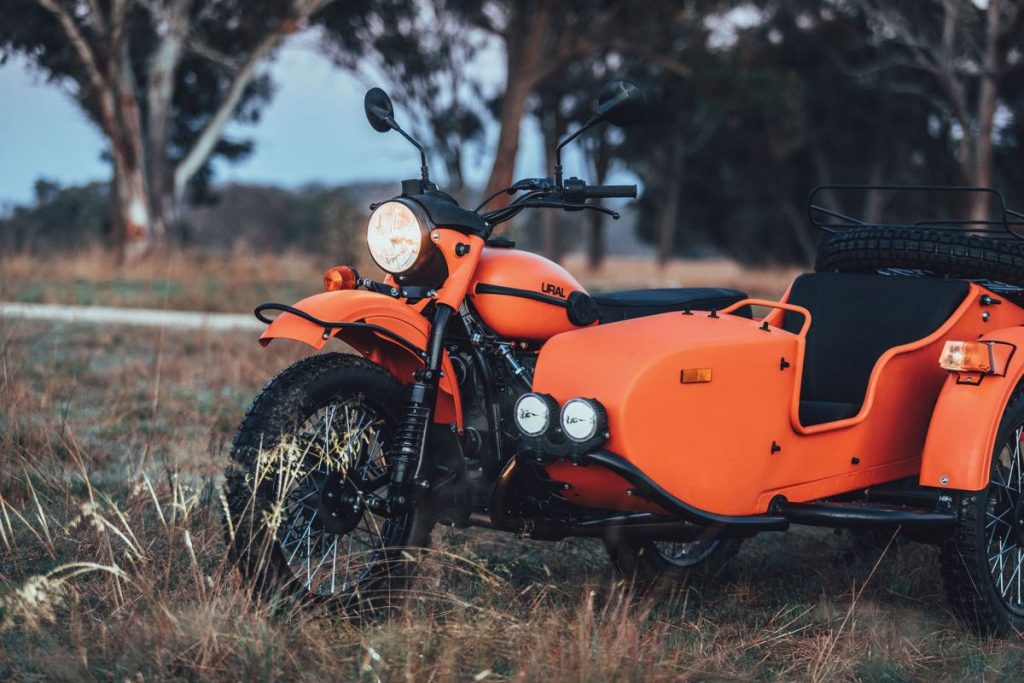 Ural Gear Up 2WD Specs
Engine
Type: Two-valve boxer twin
Displacement: 749cc
Bore/Stroke: 78 x 78mm
Cooling: Air
Compression: 8.6:1
FueLling: Keihin EFI
Tank Capacity: 19L
Transmission: Four-speed and reverse with selectable 2WD, no diff or LSD
Clutch: Cable, dry twin-plate
Dimensions
Wheelbase: 1470mm
Seat Height: 785mm
Clearance: 140mm
Weight: 340kg dry est.
Suspension
Front: Leading link, Sachs shocks
Rear: Sachs shocks
SIDECAR: Trailing arm, Sachs shock
Brakes
Front: Brembo four-piston fixed caliper, 295mm NG drilled disc
Rear: Hayes twin-piston floating caliper, 265mm NG drilled disc
SIDECAR: Brembo twin-piston linked floating caliper, 245mm NG drilled disc
Running Gear
HANDLEBAR: Ural steel, non-tapered
Front Tyre: Duro HF308, 4.0 x 19
Rear & chair: Duro HF308, 4.0 x 19
Price & Contacts
RRP: From $27,990 plus on-roads in Slate Gray, Burgundy Satin, OD Green or Outback Orange. Custom colours $1000, Black drive train finish $1000
Web: imz-ural.com.au
PHONE: (02) 6778 4673
Standard Accessories
• LED Sidecar Fog Lights (Gear Up)
• Sidecar Power Outlet
• Sidecar Tonneau Cover
• Jerry Can (Gear Up)
• Folding Utility Shovel (Gear Up)
• Luggage Rack (Gear Up)
• Universal Spare Wheel – Fits All 3 Positions