Factory Honda had a successful round 7 of the Australian Motocross Championship with all 6 riders across three classes on the podium.
Boost Mobile Honda MX1 Riders Kyle Webster and Jed Beaton finished 2ndand 3rd respectively. Beaton sits 2nd in the championship, 15 points adrift from first with one round remaining.
"The weekend was challenging for me, I qualified 1st and felt good when the track had moisture in it, it was a very different track come racing.  I wasn't settled and the track surfaces became tricky. The results aren't what we wanted and I am disappointed but I am looking forward, towards the final round in Coolum this weekend," said Beaton.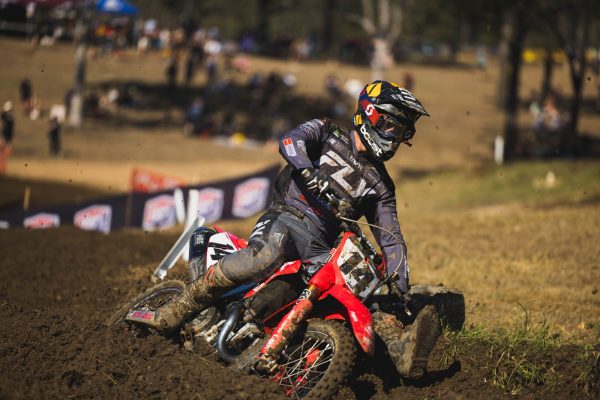 Kyle had another standout round, claiming second.
"I am bummed, I was leading moto 2, felt really comfortable but made some mistakes, including a small crash. I need to be better and we will work hard as a team to finish strong in the final round," said Webster.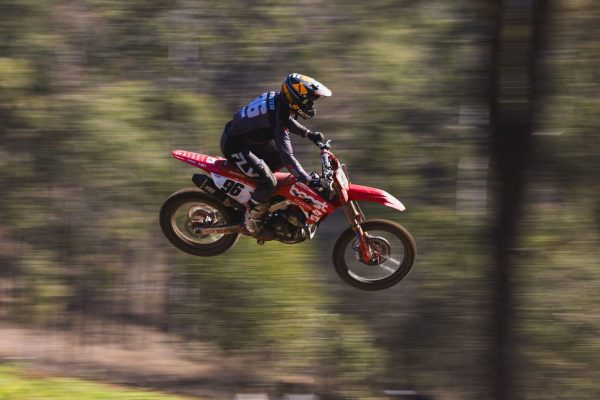 MX2 points leader and regaining champion Wilson Todd rode conservatively to finish 3rd on his Terrafirma Equipment Sales Honda CRF250R.  Over the last 15 rounds, across two seasons the Queenslander has retained the red plate and this season has had its fair share of personal challenges. He heads into the final round with a 27 point lead.
"3rd isn't where I want to be but I am racing to win the championship. My health is getting a lot better, we have identified the problems and we are on the right path to correcting it, thanks to some amazing doctors and my family.  The team have been patient and understanding.  I will work hard and smart this coming weekend to win the championship," said Todd.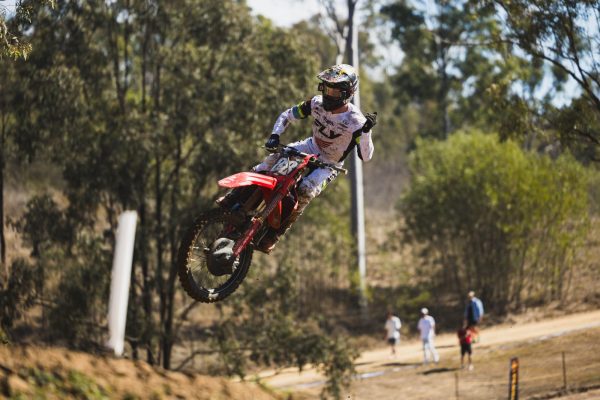 Polyflor Honda's Brodie Connolly continues to impress in his first full rookie season in the MX2 class.  He claimed 2nd on the day and sits 3rd overall in the championship.
"It was a good day; I have learnt so much this year.  I want to bring home 3rd in the championship and that's my focus right now," said Connolly.
The two female factory riders Emma Milesevic and Tahlia O'Hare rode with so much heart and determination to claim 2nd and 3rd respectively.
Emma Milesevic aboard her Harvey Norman Honda Racing CRF250R crashed in the first race and came from dead last and almost a minute behind the field to finish 7th. In the second race she pushed to second place which gave her 3rd on the day. Her impressive comeback also set her up to be in equal 1st in points going into the final round this weekend.
"My crash in race 1 on first lap could have been worse. So many emotions were going through my head as I was stuck under the bike.  I rebounded and had one of the best races of my career.  It's been an up and down season but to be equal in points for first overall going into the final round is something the team and I are proud of" said Milesevic.
Tahlia O'Hare claimed her best overall finish for the year taking 2nd aboard her Repco Honda Racing CRF250R.  Tahlia is gunning for 3rd overall in the championship and knows how important two good finishes are this coming weekend.
"This was the best I felt all year but I need to be a lot a better.  The heat and drying track were hard for me as I normally ride in the sand. I am looking forward to Coolum," said O'Hare.
The final round of the championship is this weekend in Coolum, Queensland. For more information go to www.ausopromx.com.au