It's a long way up to a 140 big wheel or Orlando Evans, but he can handle it.
Kawasaki KLX140L
As a parent, my checklist for a kids' bike goes like this: Starts easy every time, hard to break, cheap to run and repair, simple enough for a kid to work on and sweet looks so they have bragging rights at school. The KLX140L ticks those boxes, plus there's a lot of bonuses.
The fact that this bike looks a lot like a KX250F was lost on my 10-year-old son, Orlando, who spent five days crashing and bashing the KLX140 through the bush, but he had a beaming smile when casting his eyes over its impressive lines and noticing the edgy design features, such as the angular plastics and square muffler and especially the integrated grab handle (for freestyle MX tricks, of course!) He fitted perfectly on the bike but, at 148cm, he wouldn't want to be any shorter.
Parents will notice some of the cool stuff the kids miss, such as the bright yellow electric-start button, alloy RK Excel rims, disc brakes front and rear, fully-adjustable rear shock and KX-style chain adjustment. They'll also appreciate the air-cooled SOHC engine for its simplicity and the lack of radiators behind the tank shrouds, great for crashing. Unfortunately there is no kickstarter if the keyless ignition is left on, flattening the battery. Oh and it's very bright green, who could miss that?
PERIMETER FRAME
Less obvious features are the five-speed gearbox with a light, two-stage clutch to help beginners develop their gear-changing skills, KX-inspired perimeter frame made from high tensile steel, alloy swingarm, brilliant brakes with full size calipers, oiled-foam air filter, ability to swap out the handlebar clamps to fit your preferred size and shape bars and, for taller riders, bar height.
Stepping up a bike size is an exciting and daunting exercise. Finally parents can have their kids try their favourite awesome tricky tracks with adult-sized hills, ledges and rocky, technical sections with all the anxiety that can bring. But with bigger wheels comes the extra ground clearance, suspension travel and general ability to better roll over obstacles for a smoother ride. The extra power will see kids regularly cresting mountains, proper log hopping by lifting the front wheel under power, practicing monos and stoppies with the strong brakes. Look out parents, your little baby will grow up quickly with this machine in their grasp.
I sent my son up a formidable 50m rocky hill on our property that has stopped some adults, after trying to explain tractoring up the hill. To my surprise, he did it first go and took that confidence to other challenging obstacles. It is a predictable machine and perfect for beginner-to-advanced youth riders who love hitting the trails. It isn't a motocross bike but it will handle some jump punishment as the suspension is on the over-sprung side for kids. My son never bottomed out the forks despite hitting some rock jumps pretty hard, with photographs showing the tyre compressing all the way to the rim.
DADS' RIDE
I couldn't resist a few hours riding the 140L. The bike handled my 88kg pottering up and down some serious tracks. The clutch held in there too, with no slipping or fading. It's a great mono machine with a bit of weight over the back wheel. An open paddock and a KLX140L could keep a few blokes happy for days. Way more fun than a Chinese pit bike for an adult and a perfect bike to teach an adult to ride due to the lower seat height and easy power delivery off idle.
On the Kawasaki website it may be listed under "Fun Bikes", but for a kid it is a serious machine packed with high-spec parts making it quite a bargain at $5199.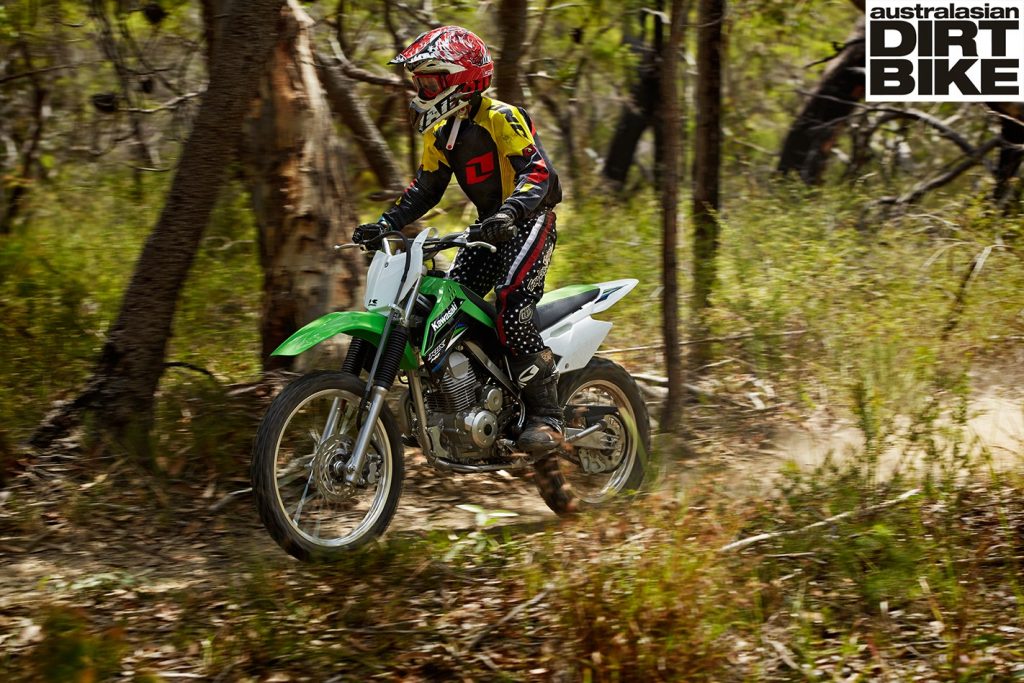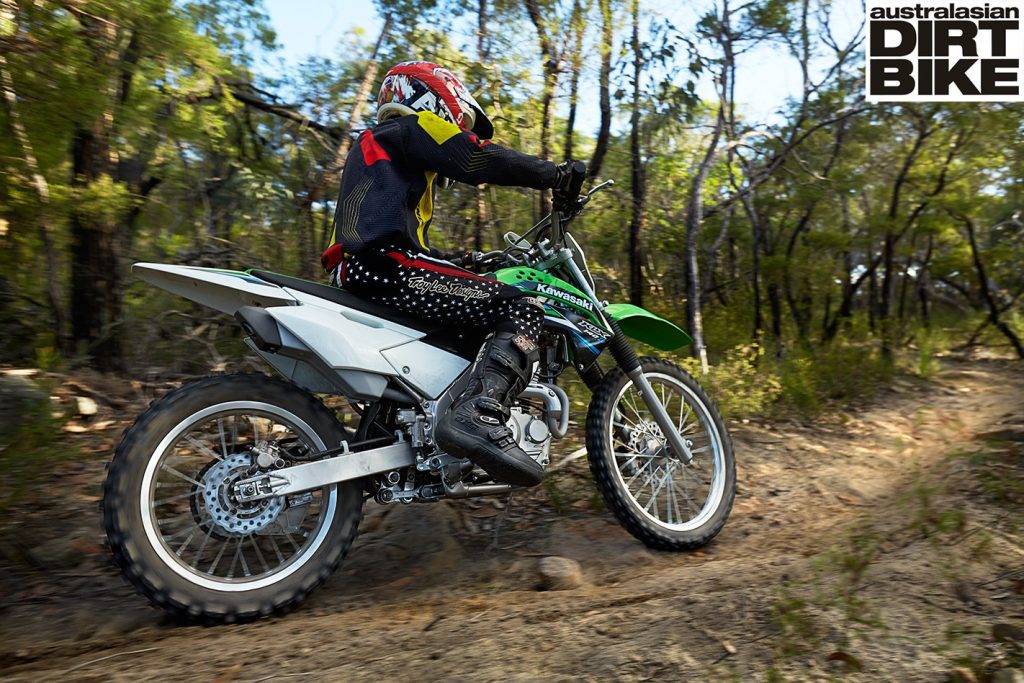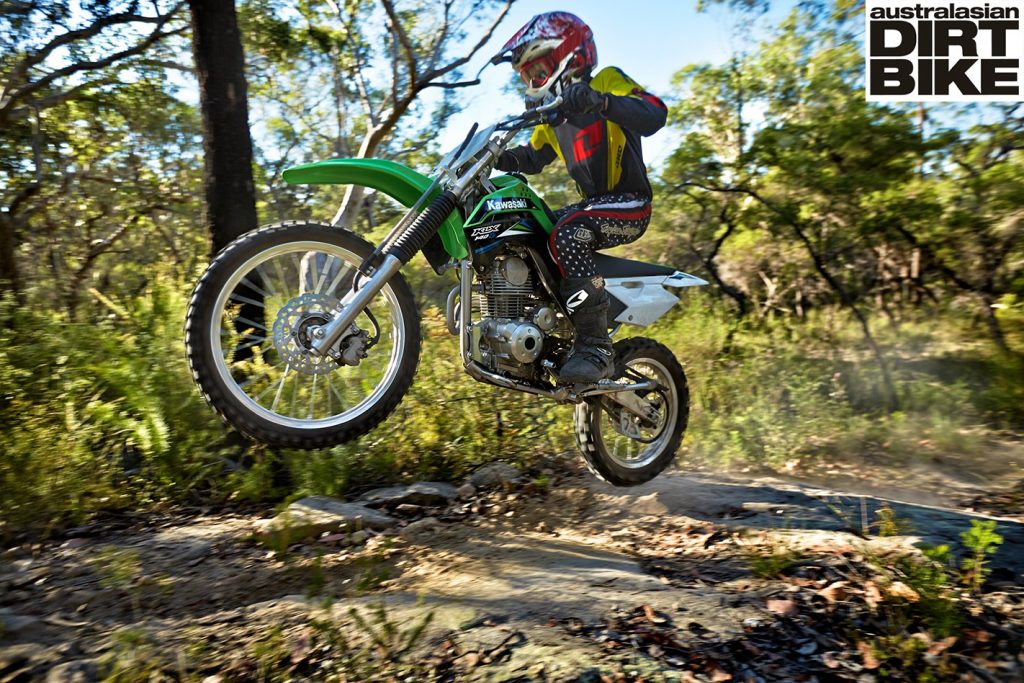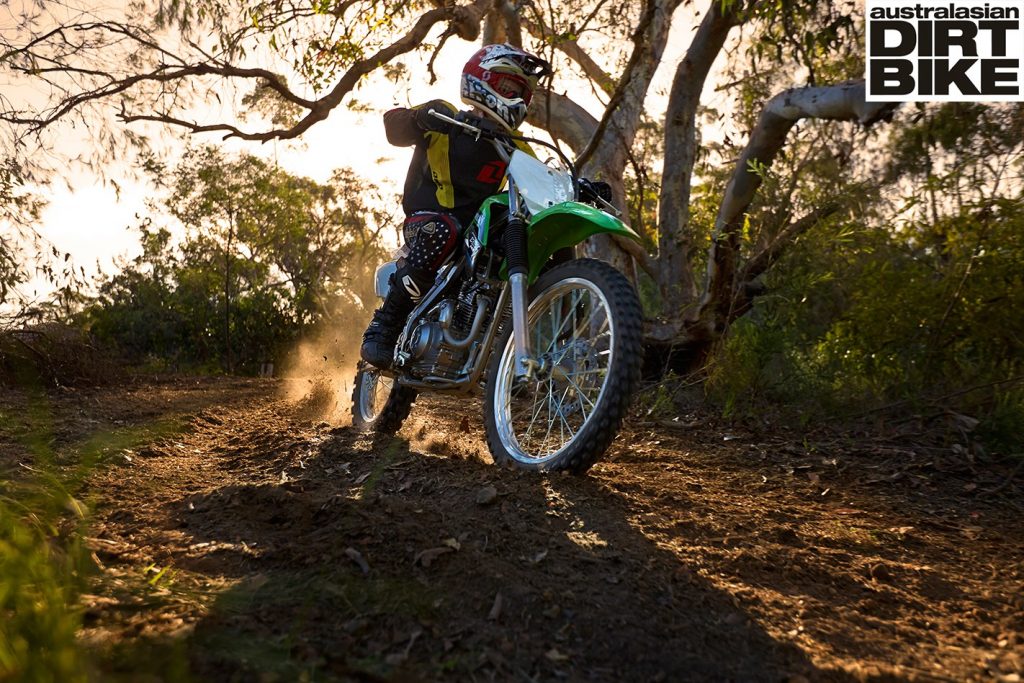 This article featured in Issue #418, July 2014
To receive the latest news, reviews and video highlights from the world of dirt bikes, sign up to our weekly newsletter here.