Does the 2024 Kawasaki KX112 fill the gap for juniors too big for an 85 but too small for a 125? It's landed here in Oz so let's find out.
Kawasaki have finally introduced the brand new 2024 Kawasaki KX112 to Australia! This bike might be just what we need. How much fun would a Supermini class be on race day, with a full grid of 112cc riders on the start line ready to rip? Currently in Australia, the 2024 Kawasaki KX112 doesn't have a class to be raced in, but they do in America, where the Supermini class originated from.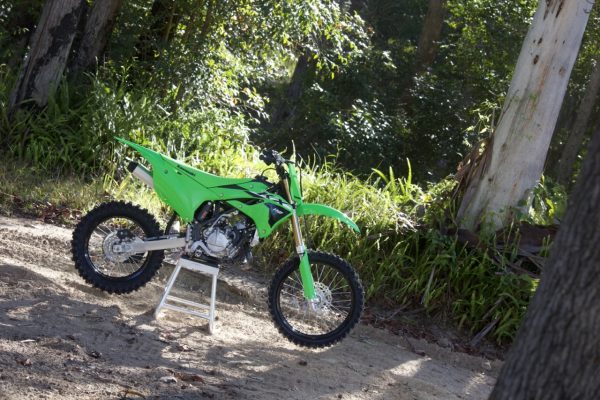 Over the years, the class has gotten a lot of attention in the amateur ranks. America is home to the biggest Amateur National in the world, the Loretta Lynn Amateur National located in Hurricane Mills, Tennessee. Amateur riders from around the globe come to prove themselves in hopes of getting the attention of factory teams.  The AMA allows a max displacement of 112cc in the Supermini class at Loretta's so when Ty Masterpool won the Supermini class on a close-to-stock TM 100MX back in 2017, it proved the bike could win against the best bikes money could buy.
The Kawasaki KX112 is helping riders to bridge the gap to a full size-bike by pushing the limits with a larger 112cc two-stroke engine on this awesome super-mini. The 2024 Kawasaki KX112 prepares riders to transition to a full size bike with a winning combination of proportionate power, increased reliability and an optimised chassis.
The 2024 Kawasaki KX112 features a class-leading single cylinder two-stroke 112cc engine putting power to the ground through a six speed gearbox and Dunlop MX33 tyres. The radiator shroud is claimed to be designed for improved ergonomics and increased cooling performance and the whole bike has factory inspired styling. It also has a high tensile steel perimeter frame, adjustable 36mm inverted cartridge forks, front and rear disc brakes, 19-inch front wheel and 16-inch rear wheel and the ERGO-FIT sizing system with a six-position adjustable handlebar mount.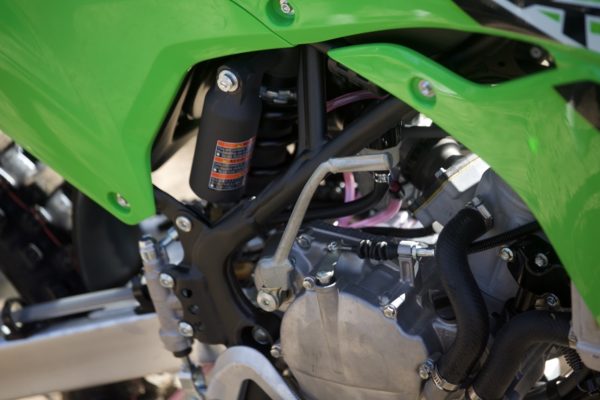 The KX112 has only just landed in Australia in August 2023 and I was lucky enough to test ride one. We drove up to the Central Coast from Wollongong, so it took about 3 hours to get there, but it was definitely worth the drive. When we arrived at the track, the KX112 was getting run in as it was fresh off the factory floor. It sounded perfect and the bright green plastics really pop! So I went and got geared up and then I hopped onto the big KX112.
I normally ride a Yamaha YZ65, so I was pretty high off the ground but with some help from Dad holding the bike up, I kick started it first go! Jumping onto a bigger bike felt a little strange at first, but after testing the KX112 out on the little pit bike track and getting the feel for it, I definitely started to feel comfortable. The KX112 ran smoothly and I cruised around the track steadily and comfortably before hitting any jumps.
Although the bike was bigger than I normally ride, I felt comfortable jumping and landing the bike. It was lots of fun giving the throttle a twist on the straights and experiencing the power of the bike! The power is a little different to what I am used to, but I still enjoyed it!
Although I am a couple of years off riding a bike of this size, I definitely think that a 112cc class would be so much fun! For riders like me, who are going to be stepping up from an 85cc to a 125cc, a 112cc race class would definitely help build confidence and skills without the added pressure of racing against the bigger bikes in the 125cc class.
For now though, since there is no Supermini class racing here in Australia, I think that the KX112 is a great play bike. It could also be used for someone who is interested in stepping up from an 85cc to a 125cc. I think that it would suit riders aged 12-15 years. Although it could also suit a younger rider with plenty of riding experience like myself as I am only 10 years old, just to jump on and have some fun in the paddock or bush.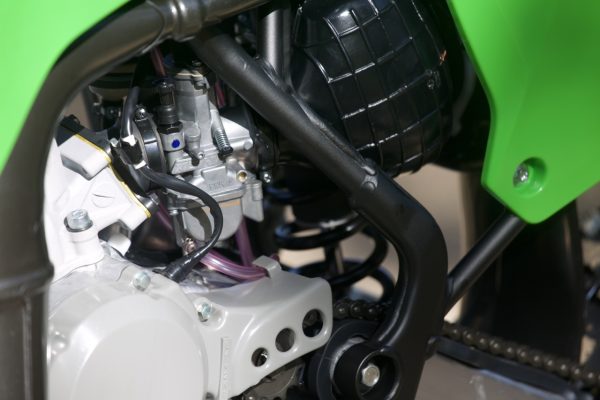 WHAT I THOUGHT OF THE KX112
Suspension
I'm used to my 65cc suspension which is really soft, but on the KX112 it felt really hard because I am so little, but I still felt quite comfortable with how the suspension was set up. If you were buying a KX112 for a 10-12 year old, the suspension would be perfect, but obviously suspension should be adjusted to suit the weight of the rider.
Power
When I first saw the bike I was hoping it would not feel like when I first got on my TC50 Mini after riding a Pee Wee, with my head going back and forward each time I grabbed the throttle! It was not and I felt just right on it, the bike is powerful and punchy, but I did feel very comfortable on it.
Braking
I thought that the front brake was really touchy and the back brake was really hard but I think it was because it was a brand new bike and everything still needed to be run in and settled properly.
Steering/Handling
The steering felt very light for me which made it very twitchy over bumps, but once again, I am slightly too small for the bike which would cause it to feel like this.
Overall, I really enjoyed riding the Kawasaki KX112. I loved it that much that I didn't really want to hop off! The bike looks awesome with its eye popping green plastics and it sounds amazing too. The KX112 was comfortable to ride, with the perfect amount of power.
Verdict
The KX112 would make a great race bike, but would also be perfect to be used as a play bike for riders aged 10-15 years old. It would also be a great stepping stone for riders who are transitioning from an 85cc to a 125cc. From a buyers perspective though, with no class to race it in, riders would more likely step straight up to a 125cc.
However with the brand new KX112 arriving here in Australia, a Supermini Class might be an option for riders here in the near future if the bike becomes popular enough! It sounds like a great idea to me! I really had such a great day test riding the Kawasaki KX112.
For the full feature check out issue #530 of ADB.
WORDS INDI HOOPER || PHOTOS MITCH LEES