Multiple titles for KTM at AJMX | Features | News
It was a highly-successful campaign for the KTM Junior Motocross Racing Team at the 2019 KTM Australian Junior Motocross Championship in Gillman, South Australia.
Book-ending his junior career, New South Welshman Blake Fox emerged with the 125cc 15 Years championship in an impressive weekend aboard the KTM 125 SX, while he took his KTM 250 SX-F to second in the Junior Lites 15 Years class. Out of 12 motos across both classes, Fox finished on the podium in every encounter.
It was a challenging start to finals action for Ryan Alexanderson, however, he completed the week on strong terms by securing race victories in both the Junior Lites 13-U15 Years and 125cc 13-U15 Years classes for a ranking of third and seventh respectively.
Also racing across two classes, Tasmanian Jett Burgess-Stevens piloted his KTM 85 SX to seventh in the Mini Lites BW 12-U14 Years division, while in the 125cc 13-U15 Years class, he was credited a sixth-place finish.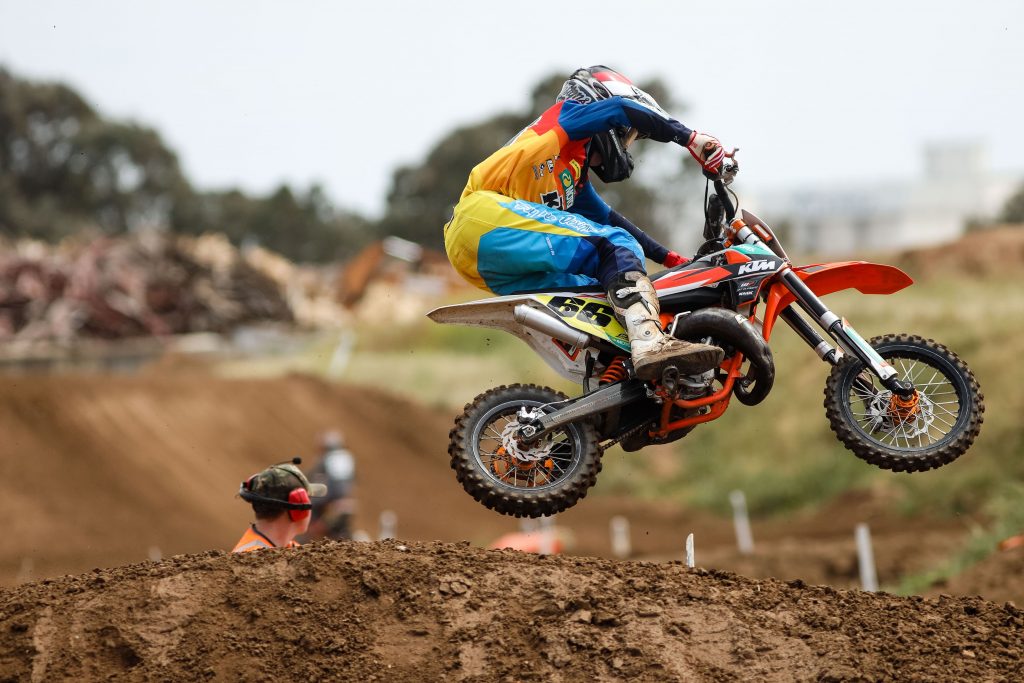 Queensland's Jet Alsop faced his share of misfortune in the Mini Lites SW 9-U12 Years class, although still prevailed with a championship podium in third. In addition, Kayden Minear put on a heroic performance to clinch the Mini Lites 9-U12 Years title on the last lap of the final moto, while he was also victorious in the 65cc 10-12 Years class.
Outside of the official KTM Junior Motocross Racing Team, KTM-mounted riders Liam Atkinson and Cooper Ford also earned titles in the 125cc 13-U15 Years and 65cc 7-U10 Years categories at the conclusion of race-week.
Tam Paul – Brand Manager, KTM Australia: "It was a successful week for the KTM Junior Motocross Racing Team, picking up three Australian championships. Kayden came from behind in at least two of his Mini Lites motos and he really made it happen and went after the championship, along with the earning the 65cc title. His teammate Jet Alsop endured a bit of bad luck in the same Mini Lites class and things just didn't work in his favour this week, even though he rode really well – I'm really proud of both of them. Blake had a really good event and, even though I think he's a bit disappointed in a few areas, we're really happy with him to get the number one plate in the 125cc 15 Years class and to get second on the 250 is a great result also. Ryan had a moto win on the 125 and a win on the 250, which was exceptional – he's developing really well and I think next year will be really strong for him. Jett missed the podium on the 85 by a handful of points as he had a couple of good motos and was really impressive in the heats, but I think his starts generally let him down. He has a truckload of speed and I believe it's only a matter of time before it all comes together for him. Congratulations to all of the riders and their families, including both Liam Atkinson and Cooper Ford on their titles as well."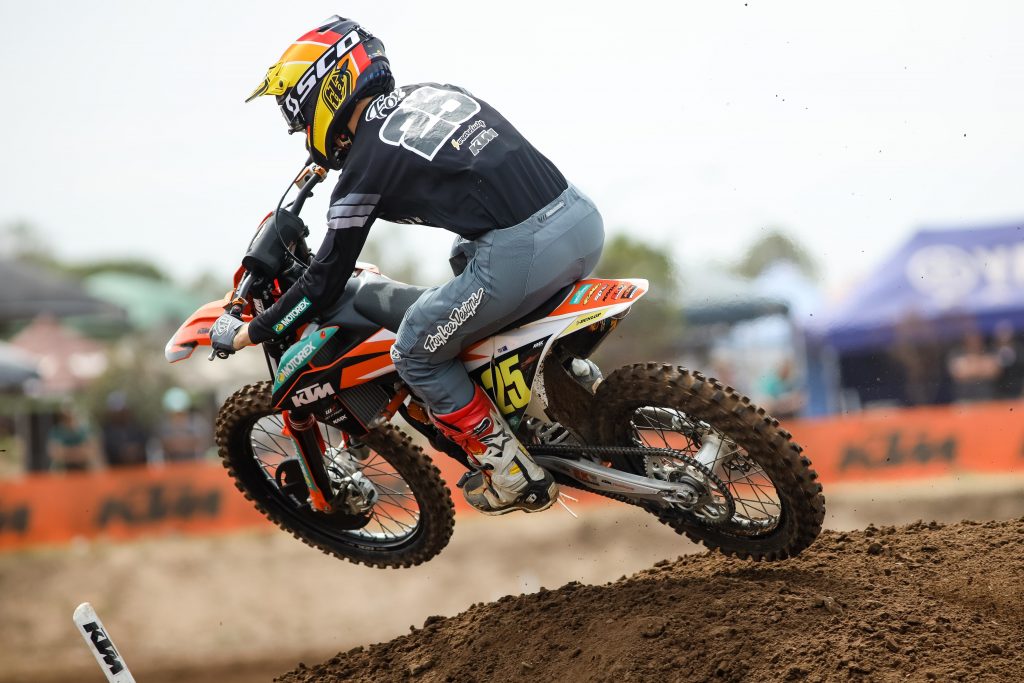 Blake Fox – KTM 250 SX-F/KTM 125 SX: "I'm pretty happy with the week, it wasn't always easy and I wasn't always getting wins, but I was fortunate to come through with the 125 title and second on the 250. I was on the podium every race and, to win the championship, it's good to give back to the team after all the help they've given me. Going into seniors, it's good to end juniors on a high!"
Ryan Alexanderson – KTM 250 SX-F/KTM 125 SX: "The week started really well with some podiums and race wins, but unfortunately when it came around to finals I had a bit of bad luck. The last two days though, I won a couple of finals on both bikes and I ended coming away with third in the championship on the 250."
Jett Burgess-Stevens – KTM 125 SX/KTM 85 SX: "It was a pretty good week and I was riding really fast in the heats, but in the finals, I kept getting bad starts. I had some really good races throughout the week, so I'm happy with that."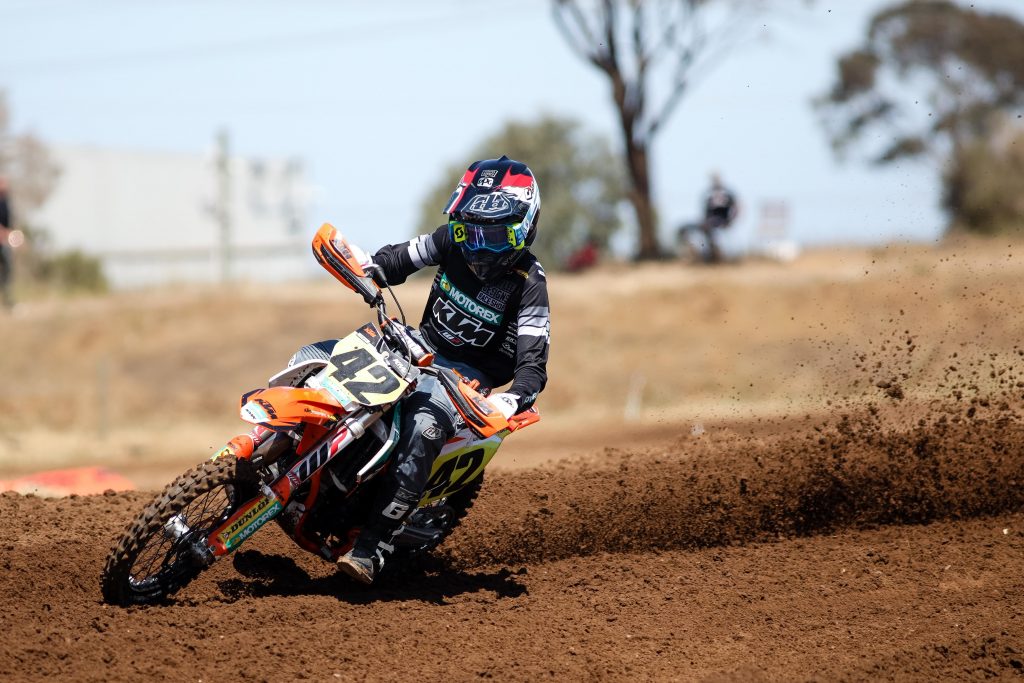 Jet Alsop – KTM 85 SX: "I'm happy to come away on the podium at AJMX this year with a third – the bonus being lessons learned that will only make me stronger and smarter for next time. It's been a tough year coming back from injury, but I'm really happy with how I rode and pumped to move forward from here."
Kayden Minear – KTM 85 SX/KTM 65 SX: "I'm really pumped and tried my best this week, ending up going 1-1 on both bikes. It was definitely tough on the 85 and I had to push through, so thankfully I made the pass on the last lap and came away with the victory. I'm pumped to get the 65 title as well!"