2019 Sherco 250SEF Factory TESTED | Bike Reviews
The Euro and Japanese manufacturers have reached a level that makes it hard for one bike to truly stand out, but Sherco has come pretty close with its 250SEF Factory.
It takes something pretty special to make a bike stand out from the crowd. There isn't a make worth buying that sells a bad bike, ruthless R&D just doesn't allow it. Sure, a bike may be better in one or two areas, and that's what our shootouts reveal, but you'd be wrong to claim any modern enduro bike is bad.
The Euro and Japanese manufacturers have reached a level that makes it hard for one bike to truly stand out, but Sherco has come pretty close with its 250SEF Factory. It's not often you jump on a bike and instantly feel faster and more comfortable than the bike you've been riding for months.
I felt this way getting on the Gas Gas EC300 for the first time but, dare I say, I settled in on the Sherco even faster. What's interesting is I rode the 2019 Sherco Factory models in France for the world launch and I wasn't as starry-eyed then.
They were a bit stiff for the rocky test loop and I never felt that comfortable, a fair contradiction to my point above. So I was surprised when I threw a leg over the 250SEF Factory for the first time since then, over a year later, and felt right at home.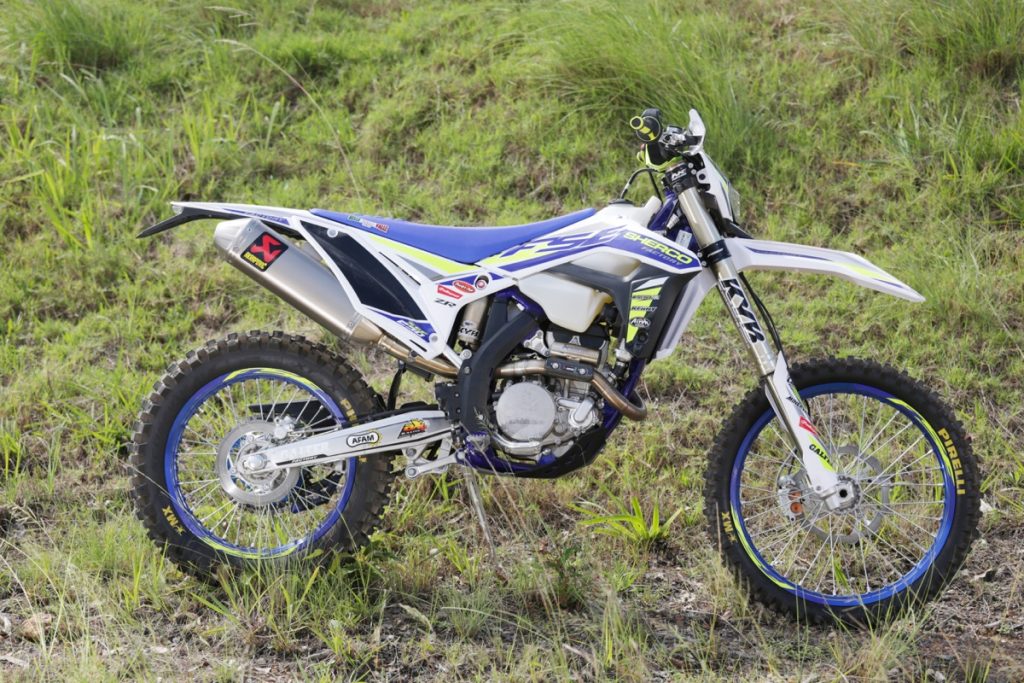 Every single part of the 250 Factory points to performance, from the super grippy Selle Dalla Valle seat, Akrapovic exhaust, Galfer solid brake discs, KYB suspension and even that bright yellow 'bar pad, the thing just wants to go fast. It attracts a lot of attention too, thanks to the bright graphics kit.
It's the type of bike people stop to look at before walking over to squeeze the brake and clutch levers and bounce the fork. This is usually followed by something like "this thing feels nice" or that inhaling noise people make when they look at something nice. But looking good is just half the battle, it's what's on the inside that counts…
Like a supermodel with a PhD in Theoretical Physics, the 250SEF Factory is not just a pretty face. It's a race-ready brawler. There's really nothing that needs to be done to make it a competitive racer. Jarrod Bewley threw a leg over the 300SE Factory after this year's 300T enduro shootout and he confidently said he would race the thing completely stock.
The 250F is no different. The steering is intuitive and razor sharp and, at 102kg dry, it's effortless to tip into corners and weave around trees. Where I found the little Sherco's handling shined most was the way it maintains its composure over rough terrain. The KYB suspension handled everything the test loop threw at it. The front holds up under braking to keep the bike balanced, which makes it more stable everywhere, especially in turns. Then when you click the taller gears it's still plush when smashing into trees, rocks, ruts, anything!
Whether it was through turns, up hills or fast fourth-gear sections, I felt as though I didn't have to consider if the bike was going to misbehave because it just wouldn't. What highlighted this most was the front wheel's grip, it turns with such confidence and the front-end feels like it's following a rail. The handlebar is a nice, low bend and although I'm a tall drink of water, I prefer my 'bar low.
It makes for a better-handling bike at the expensive of a little back pain, but that's what Voltaren's for, right? Shercos are a slightly more cramped ride than a KTM, Husky or even a Beta, that's partly due to the 'bar bend but also the footpeg placement, it feels a little more Japanese, like a Yamaha.
The solid brake discs are a nice touch but they aren't something you'll notice under normal riding conditions because they don't improve braking performance. Solid discs reduce pad wear in muddy conditions so, although you won't stop faster, your pads will last longer.
If you enjoy the excitement that comes with riding smaller capacity bikes and don't mind working for your speed the Sherco engine is very rewarding. Where is it lacking though? Well it's a 250F, so that should be obvious. Its drawback is only a result of its size and there isn't much you can do about that. If you buy a 250F then complain about a lack of torque and needing to shift gears often you should take up spoon collecting.
I enjoy the Sherco 250F's revvy nature and the way it engages you. Even with the full Akrapovic exhaust you still have to work to get the most out of the engine. Speaking of the exhaust, it's got an amazing note. The sound alone is worth the price of entry!
FREE FLOWING
The entire package rewards aggressive riding and thanks to the brilliant chassis the harder you push it the better it responds. The Akro exhaust opens up the engine, making it feel free flowing and unrestricted. The engine is a pearler and among the best in class but still falls a little short of the motocross-bred WR250F engine in outright poke.
Being a 250F, the power is gentle and predictable. You can treat the throttle like it owes you money and it won't bite back. Even on hardpack the rear doesn't kick out under aggressive acceleration and it lets you feel like a legend riding near the ragged edge threading through trees without breaking the sound barrier.
It's not all sunshine and rainbows, this performance comes at a cost. The 250 SEF Factory costs $14,490 plus on-roads and no matter which way you look at it that's no small sum. It's over two grand more than the Yamaha WR250F but you only need to look at the standard equipment on the Sherco and the price becomes justified – that Akro alone will set you back almost two grand! Once you add up all the extras included on the Factory the price starts to look a lot more attractive.
As far as complete packages go, there isn't much in the 250F enduro market that equals the Sherco for value and performance. It's not just a sticker kit and some anodised parts, it has genuine performance upgrades. You could ride it straight off the showroom floor to an AORC round.
It's hard to single out one specific thing about the 250SEF Factory which makes it so rideable, everything works together to make the bike feel intuitive. If I had to name something I'd say the KYB suspension would be its best asset when comparing it to the standard Racing model and the rest of the performance parts are just cherries on top.
Goodies
• Dual-colour Domino 'grips
• Radiator fan kit
• Lithium battery
(1.3kg lighter)
• Selle Dalla Valle
gripper seat
• Akrapovic full system
• Galfer solid discs
• KYB suspension
• Dual-material blue/black rear sprocket
• Blue Excel rims
• AXP skidplate
• Neken handlebar pad
• Neken triple-clamps
Sherco 250SEF Factory Specs
Engine
Type DOHC, four-valve
Displacement 248.4cc
Bore & STROKE 78 x 52.2mm
Cooling Liquid
Compression ratio N/A
Fuel metering Synerject 42mm EFI
Tank capacity 9.7L
Transmission Six-speed, constant-mesh
Clutch Brembo hydraulic, wet multiplate
Dimensions
Wheelbase 1480mm
Seat height 950mm
Ground clearance 355mm
Weight 102kg dry
Suspension
FRONT KYB 48mm spring-cartridge, 300mm travel
REAR KYB gas-oil monoshock, 330mm travel
Brakes
Front Brembo twin-piston, 260mm Galfer
Rear Brembo single-piston, 220mm Galfer
Running Gear
Handlebar Oxia tapered aluminium alloy
Front tyre Michelin Enduro Comp. 80/100-21
Rear tyre Michelin Enduro Comp. 120/90-18
Price & Contacts
Price $14,490rrp
Web sherco.com.au
Phone (03) 8363 1600
Warranty Six months parts and labour
WORDS: OLLY MALONE | PICS: MITCH LEES – THIS FEATURE WAS FIRST PUBLISHED IN ADB ISSUE #480