Dirtbikes are built tougher than woodpecker lips but there are still a few soft spots that can leave you stranded on the trails.
A rogue tree branch or even a seemingly harmless tipover can leave your machine bleeding vital fluids while a misplaced rock can flatten a two-stroke pipe beyond repair. Products to protect these vital organs are usually the first port of call for trailriders so, for the Gas Gas EC300 long-termer, I turned to Pro Power International for some help. They make aluminium and carbon-fibre armour for most brands and I went with their radiator guards and pipe protector for the mighty Gasser.
WE RATE
SIMPLICITY This point is more to do with the radiator guards. They are a one-piece design which replaces the stock louvres and there are no rear braces to mess around with. This makes installation so much easier, all up it took me about 10 minutes. All the strength comes from the one piece of machined aluminium and so far my radiators haven't sustained any damage, despite my best efforts.
FITTING The pipe guard fits very snugly around the expansion chamber, leaving little room for mud to build it. The snug fit makes installing the guard pretty easy, because it snaps into place and stays there, the hose clamps then secure the guard so there's no chance it will fall off.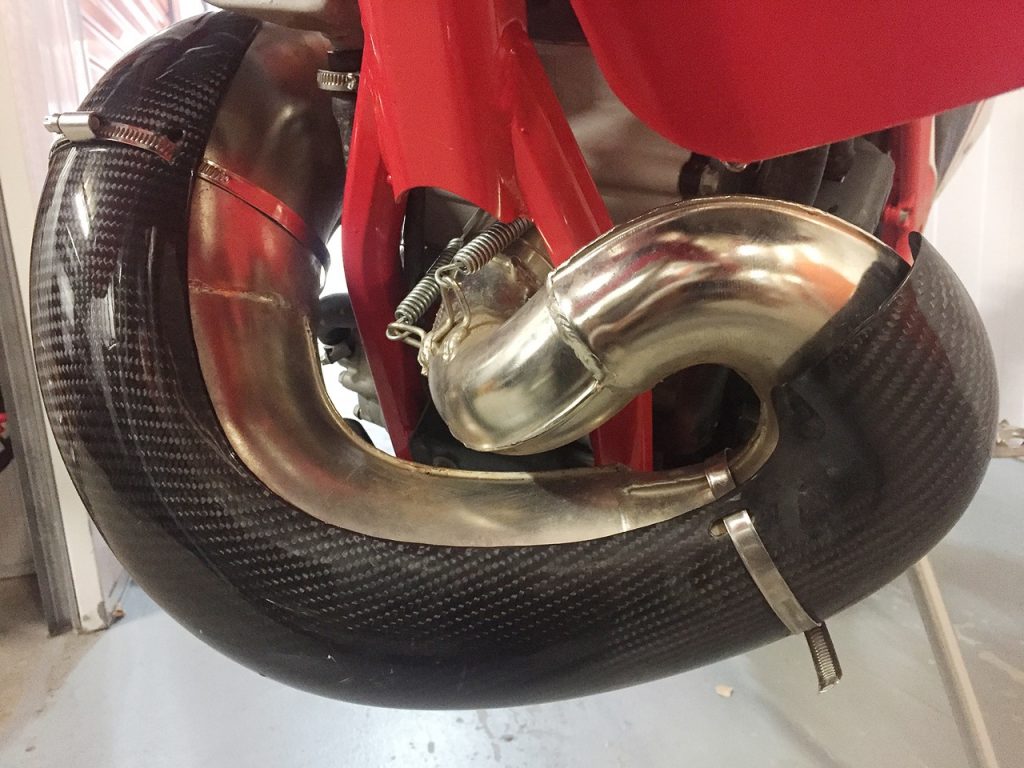 PROTECTION Obviously the main reason you spend your hard-earned on products like these is to minimise damage to your beloved. So far the pipe guard and radiator guards have kept the Gasser's vitals safe.
BLING FACTOR The black-anodised radiator guards and carbon-fibre pipe guard look the part.
SET AND FORGET Radiator guards can have a habit of rattling around and coming loose but this hasn't been the case. Since I installed them I have only checked the bolts once and they were all still rock solid.
DON'T RATE
MUD The pipe guard fits snugly but there is still room for mud to accumulate and if you don't take the pipe guard off every few rides, or after a mudder, it'll dry and cake on and that's added weight.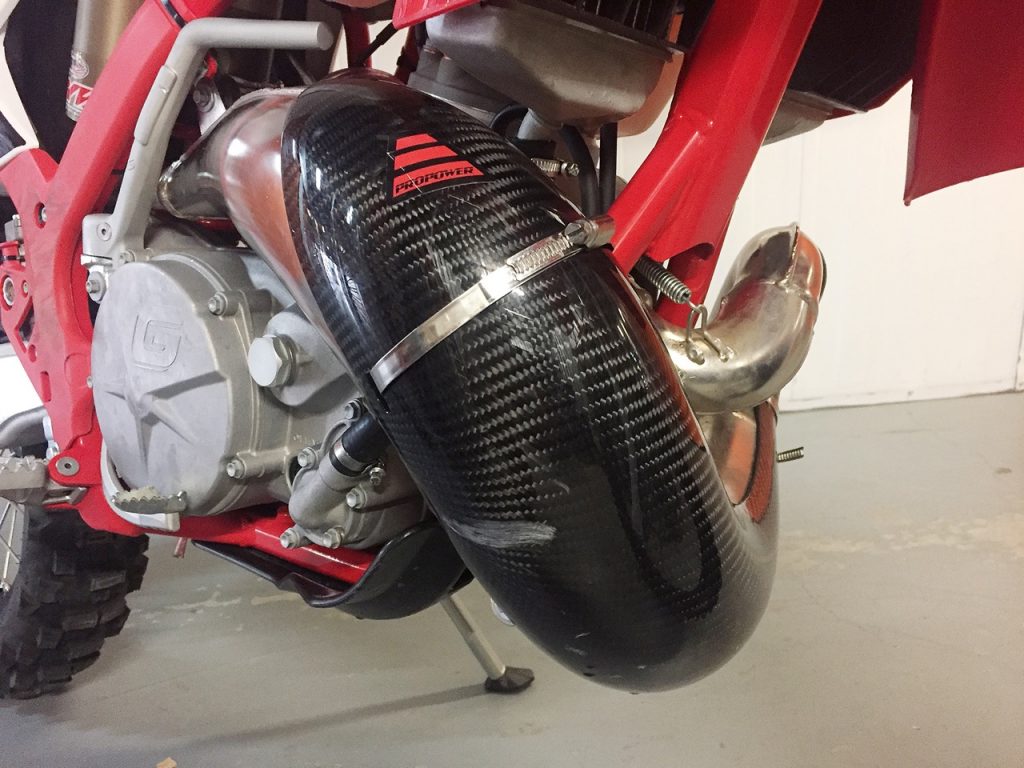 LIMITATIONS This is not a reflection on the Pro Power product, rather all carbon-fibre guards that cling to the pipe. They are made to protect the pipe from small hits but if you have a big one or drive the pipe into a tree, it's not going to stop it from bending because the guard doesn't mount to the frame.
VERDICT
Always wear protection, advice that applies equally to 18-year-olds and my Spanish long-term bike. If we're talking about the Gasser, the radiator guards will lessen the chance of damaging the dirtbike's most vulnerable component and the pipe guard will minimise your chances of picking up those pesky dents. Expansion chambers aren't cheap, and neither are illegitimate children, so why take the risk? Olly Malone
Get it here
BILL
Radiator guards: $269
Pipe guard: $249.95
BROWSER propowerinternational.com