Buying a pair of boots is like buying insurance for your feet. There is the basic package, which offers just enough coverage to justify the asking price.
For a little more money you can have mid-range cover, which is probably the most common choice.
And then there's the premium option, which covers everything you could ever think of, plus things you didn't know existed. If boots were sold like health insurance the TCX Comp Evo 2 Michelin would be the premium option.
They're packed with features to keep your feet protected and are built to withstand any abuse you throw their way, all in a boot that's comfortable to wear for long days on the bike.
WE RATE
ADJUSTABILITY Skinny legs are a boot designer's nightmare and I've got the skinniest! However, these boots have enough adjustment to accommodate my lack of calf muscles. The adjustable cuff forms a tight seal around my leg and it keeps out most of the water, rocks and other junk that tries to work its way into your boots. It's almost identical to the system Sidi uses on the Crossfire 2 and I'm a huge fan of those.
SOLID The outer shell of the Comp Evo 2's is rock solid. There is absolutely zero give. It's reassuring when you are bashing your way through overgrown singletrack or long grass because your feet feel well protected. Some people might not like this because you get very little feel through the boot but I'll take no feel over a broken foot any day.
SOFT LINER Slipping into these kicks for the first time I was surprised at how soft the liner was. It's double-density foam that's very cushy. Judging by looks alone I expected the inside of the boot was going to be rock hard but I was wrong. They are very comfortable.
EASY MOVEMENT To overcome the inherent issues of the rigid shell, TCX designed a hinge for the ankle to allow for more movement. The Double Flex Control System uses a PU ankle joint that allows forward and backward movement but prevents over-extension of the ankle joint. Although it might not be as free moving as a softer boot, there wasn't much of a break-in period because easy movement doesn't rely on the boot softening up first, it's all in the hinge.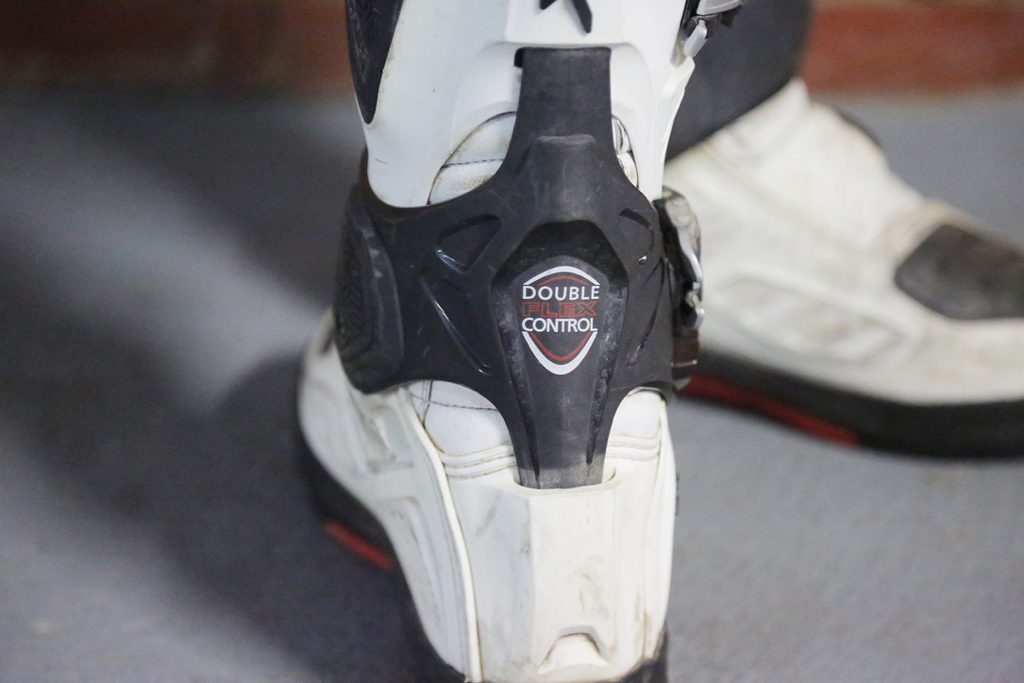 WE DON'T RATE
SOLE The Michelin sole comes across as a gimmick thought up by the marketing department. The tread pattern is very subtle and, for the first couple of rides, didn't grip the footpegs as well as I'd hoped. However, as the sole has been chewed out by the footpegs the grip has become better.
WEIGHT All that protection makes these boots big and bulky. They are a heavy boot and, swinging off my long legs, I notice. Still, I'll take a couple extra grams over a broken foot any day!
VERDICT
A good pair of boots should last a lot of years so it's worth the investment. At $700, the TCX Comp Evo 2 Michelins are not a cheap pair of boots but they are worth the money. They are comfortable from day one, hold together despite the abuse generated by riding in the bush and, most importantly, offer a lot of protection. They may be on the heavy side and slightly bulky but after one or two rides and a few encounters with trail-side tree stumps you'll be glad you're wearing them. Digital Editor Olly Malone
GET IT HERE
BILL: $699.95
BROWSER: linkint.com.au
BLOWER: (07) 3382 5000