Jett and Hunter Lawrence win at Chicagoland for the second round of the SuperMotocross Championship in dramatic fashion.
Unsatisfied with their performances at the opening round of the SuperMotocross Playoffs, Jett and Hunter Lawrence more than made up for it at the second of three stops, this one at Chicagoland Speedway in Joliet, Illinois. The brothers posted overall wins in their respective classes (Jett in 450SMX, Hunter in 250SMX), and since the event paid double points, they also improved their positions in the title chases. Meanwhile, round 1 winner Chase Sexton posted a solid third-place result in the 450SMX division at what was his home race, maintaining the lead in the points standings.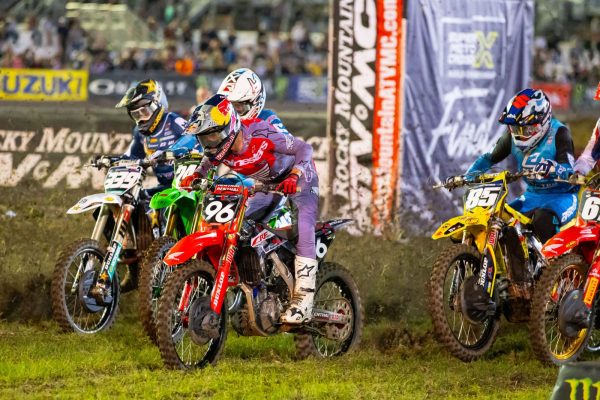 Jett nailed the holeshot in the first 450SMX moto, with Chase sitting third out of turn 1. Chase powered by Justin Barcia on lap 1 and pressured Jett, the two Red Riders pulling ahead of the field. Sexton eventually backed off but held Ken Roczen off to finish second. Jett and Chase started well in moto 2 and—following an action-packed first lap—were first and third, respectively. Jett fought off the advances of Roczen lap after lap, then decided to allow the German by with three laps remaining, knowing that a second-place finish would still earn him the overall win.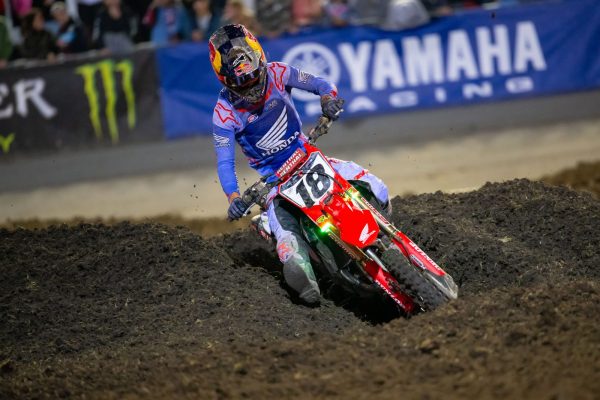 The first 250SMX moto saw Hunter emerge from turn 1 in third place, and he overtook Tom Vialle on the first lap. The Australian then hunted Haiden Deegan for the first seven laps before moving by just after the finish line. Hunter then rode mistake-free for the final five laps to take the moto win. The next time out, Hunter sat in third in the early going, locked in a battle for the lead with Justin Cooper and erstwhile points leader Jo Shimoda. He made a pass stick on Cooper at the one-third mark, and took over the lead at the two-thirds mark when Shimoda appeared to suffer a mechanical issue. From there, Lawrence was able to cruise to a comfortable win and take over the points lead.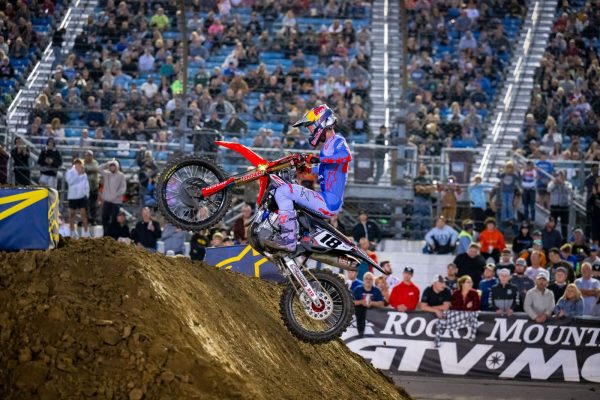 Jett Lawrence
"I didn't want another weekend like Charlotte. I came into this weekend with a lot of motivation for a good result. We worked a lot on starts this weekend, and I think that was the key today. I also feel like racing a more motocross-type track fits my riding style better; I felt a little bit more at home on the track this weekend, and it was much easier to try and find the correct suspension for this layout."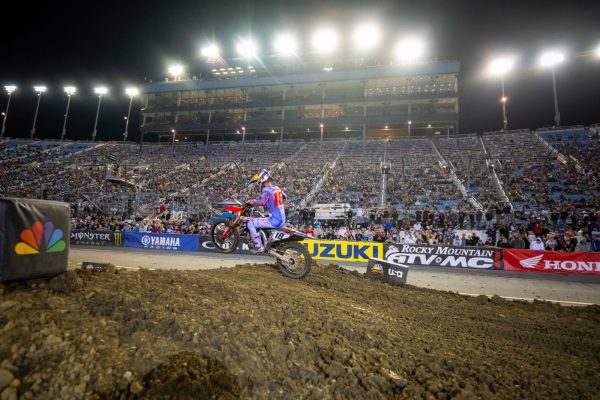 Chase Sexton
"It was nice to come home and race in front of everyone; I felt a ton of support all weekend long. Unfortunately, I just didn't have it today. I wasn't comfortable all day, and I'm not happy just to be on the podium. You're only as good as your last race, and I feel like this lit a fire under me for next weekend. I'm excited to head to LA for more of a supercross vibe, and I'm hoping we can go out and finish this series off with a win."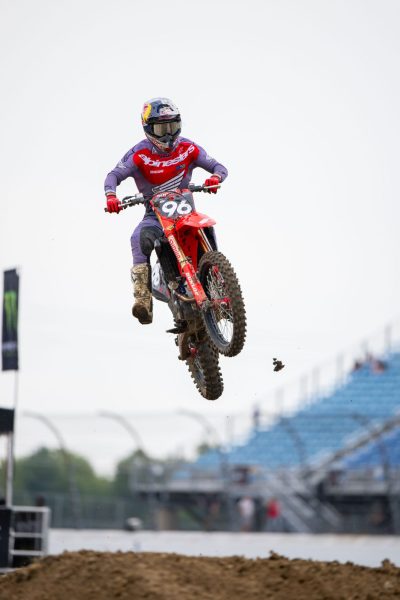 Hunter Lawrence
"We had a much better night in Chicago than in Charlotte. We put a lot of effort into our starts this week and made some changes that worked out for the better. I'm happy to be leaving here with a win and right in the championship hunt. We knew that, as long as we were in the top three going into Los Angeles, we had a chance, with the way the points are structured. We just have to head into this last round with starts like today, and we'll be just fine."
Lars Lindstrom – Team Manager
"What a great night for us! As I walked back with Brandon Wilson to the truck after the podium, I commented that I couldn't believe how many times we have won both classes this year, it is something that I can't think will be able to be matched in the future by anyone, including us. With the way these points are structured, it seems like a true playoff, where we have made it to the final round, and the last race is basically the Super Bowl. Winner takes all. Hopefully, we can execute starts at the next race, and ride the way we have been riding this year to come out on top."

450SMX Overall Results
Jett Lawrence (Hon)
Ken Roczen (Suz)
Chase Sexton (Hon)
Aaron Plessinger (KTM)
Dylan Ferrandis (Yam)
Justin Barcia (Gas)
Cooper Webb (Yam)
Phil Nicoletti
Jason Anderson (Kaw)
Colt Nichols (Kaw)
—
15. Dean Wilson (Hon)
16. Jeremy Hand
450SMX Championship Points (after 2 of 3 rounds)
Chase Sexton: 90
Jett Lawrence: 88
Ken Roczen: 80
Aaron Plessinger: 74
Dylan Ferrandis: 71
Cooper Webb: 60
Justin Barcia: 59
Jason Anderson: 58
Garrett Marchbanks: 44
Adam Cianciarulo: 42
—
16. Dean Wilson: 22
250SMX Overall Results
Hunter Lawrence (Hon)
Jo Shimoda (Kaw)
Haiden Deegan (Yam)
R.J. Hampshire (Hus)
Max Vohland (KTM)
Jordon Smith (Yam)
Seth Hammaker (Kaw)
Levi Kitchen (Yam)
Ryder DiFrancesco (Kaw)
Jalek Swoll (Hus)
—
15. Cullin Park (Hon)
20. Coty Schock (Hon)
250SMX Championship Points (after 2 of 3 rounds)
Hunter Lawrence: 89
Jo Shimoda: 86
Haiden Deegan: 82
Levi Kitchen: 63
R.J. Hampshire: 62
Jordon Smith: 62
Max Vohland: 59
Tom Vialle: 54
Ryder DiFrancesco: 54
Seth Hammaker: 49
—
16. Cullin Park: 17
18. Max Anstie: 14
19. Jett Lawrence: 12