15-year-old Braeden Krebs talks to us about his 2004 Kawasaki KX125 packed with parts from modern-day Kawasakis.
WHY'D YA BUY IT?
I've ridden Kawasakis since I started racing. I love riding two-strokes and wanted to compete in the Junior Lites 125 class, as well as running my 2019 KX250 in the Junior Lites 250cc class.
WHAT YA DONE TO IT?
We got a modification kit for the KX125 from Jon Primo at Pro Circuit to make it feel and look like my 250. It includes a 2019 tank, subframe, airbox, seat and plastics and machined brackets so that it can be bolted straight onto the 125 frame. So when I go from the 250F to the 125 there's no difference in the ride, only the performance. The suspension set up is awesome and was done by Hayden Campbell at MotoKote Suspension. The triple-clamps and fork are from a 2013 KX250F. The shock is actually off an RM125.
MotoKote also supplied the BUD exhaust system. The engine work was completed by Andrew Smith at All Bike Mechanical in North Rockhampton. It hasn't had that much done to it apart from a complete rebuild. We were working on the "less is more" theory. An Athena kit had to be bought as the whole top-end was stuffed. A Boyesen RAD reed-valve intake system has also been used. The graphics were done by Dave at Mongrel Motos. The frame has been powdercoated so it looks a bit different. Dad put the whole bike together.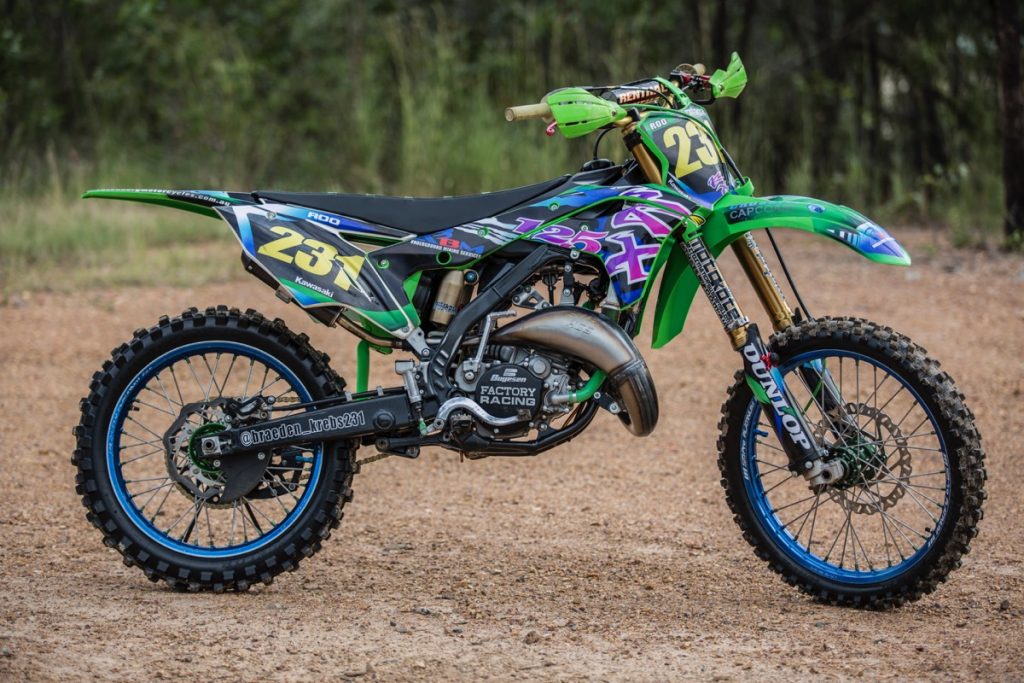 HOW'S IT GO?
It goes hard. It pulls hard straight off the startline and the thing is awesome to ride. The power is very smooth and it handles beautifully. All Bike Mechanical and MotoKote Suspension have done an awesome job to get the bike performing like it does.
RECOMMEND IT?
Yes I would definitely recommend it, but only if you have the time and patience for a project like this. There was a lot involved, but it was very rewarding.
The Basics
WHAT 2004 Kawasaki KX125 with Pro Circuit kit to fit 2019 KX250 tank, subframe, seat and plastics
WHO Braeden Krebs
WHERE FROM Private seller on Gold Coast
HOW MUCH Can't say, Mum would kill us.
Dylan Ruddy