When we want someone to test a YCF, Lee Hogan doesn't have far to look.
YCF is a French company that has been manufacturing its motorcycles in China since last year. The products are well made, with a lot of bling coming stock. The 2015 range features 15 models, starting with the child-friendly 50A and going up to the factory spec SP3 190cc which has a four-speed manual gearbox, adjustable upside-down fork and a 14 inch/12 inch wheel combination.
When I was asked by the ADB crew if I knew of any kids between the ages of three and five who had little experience on a motorcycle but might be interested in testing the 50A I could say that I had two ready to go. I have a four-and-a-half year old named Indi and a just-turned three year old son named Noah who had pretty much never ridden anything other than balance bikes.
It was exciting for the kids but a bit nerve wracking for me, to say the least. As someone who had ridden or raced motocross bikes most of his life and now ran an MX coaching company I always planned on putting my kids through some intense coaching before they got to ride a bike. After a bitof a sit-down talk, my wife told me to snap out of it. From then on it was full steam ahead.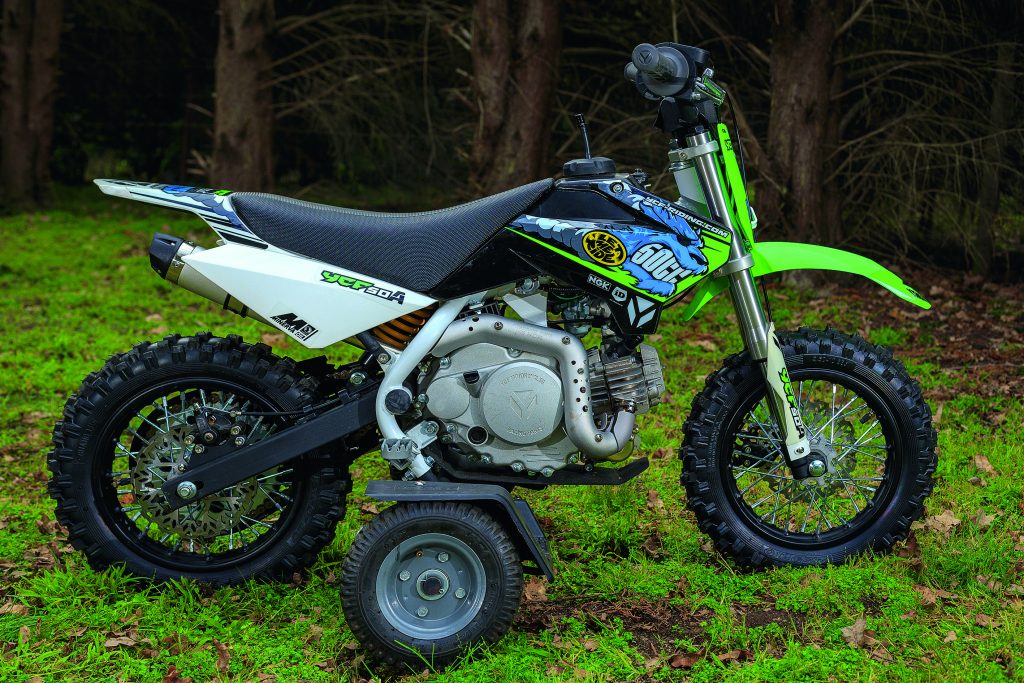 WHAT YA GET
Before I was going to let my own flesh and blood throw a leg over this machine I wanted to give the bike a real good going over and make sure that everything worked the way it should and that there were plenty of safety features. I was impressed to see that the 50A ticked all the boxes.
• THROTTLE RESTRICTOR: I was very happy to see that the YCF had an 'easy to use' throttle restrictor that allows you to easily limit the throttle range. With just a couple of spanners you can manually adjust the throttle restriction so the bike won't go faster than jogging pace. The little YCF50A has a surprising amount of punch so it is recommended that you limit the throttle for first timers to minimise the risk of accidental whisky throttles.
• ELECTRIC START: To start the bike there are three processes. A handy little ignition switch that requires a key to be inserted and twisted is located on the left hand side of the bike near the airbox. Once the key is turned you need to flick a switch on the left side of the handlebar. Once this is done you need to push a red button on the right-hand side of the handlebar to fire the little machine into life. During our test, this bike started first push every time.
• DISCS FRONT AND REAR: The YCF 50A comes stock with disc brakes, not only up front but also at the rear. This gives the bike great stopping power but YCF has found a way to not make the front disc touchy. There would be nothing worse for a little tacker than grabbing a handful of brake and tucking the front. With this particular model being an automatic, YCF has chosen to have the rear brake lever on the left-hand side of the 'bar. Both brake levers have adjustability so you can customise the reach to suit the length of your child's fingers.
• TRAINER WHEELS: I have come across plenty of trainer wheels in my time. Some on bicycles and some on 50cc motorbikes, but I have never come across a trainer wheel system as stable and well-made as these. These are JCR's own, custom-made trainer wheels, not some aftermarket set that you can buy anywhere. When you want them to be stable, they are almost impossible to tip over. But if you want to teach your child how to ride without trainer wheels you simply move the whole bracket up one notch by removing the two locater bolts. This allows both trainer wheels to be raised about 5 to 10cm, acting as a safeguard for the child if they lose their balance while riding.
The trainer wheels need to be purchased as an accessory at a cost of $169.
• FOUR-STROKE ENGINE: The 50cc engine is bulletproof and, of course, requires no oil in the petrol, saving time and money. The power is smooth and easy for kids to handle while the donk is nice and quiet in the backyard.
• AFFORDABILITY: The YCF 50A tested costs $1590 rideaway, while the YCF50A Factory Version comes in at $1890 rideaway. The extra money for the Factory Version gets you a colour option, a black frame, a factory-style graphics kit, anodised handlebar, CNC hubs and two-tone seatcover.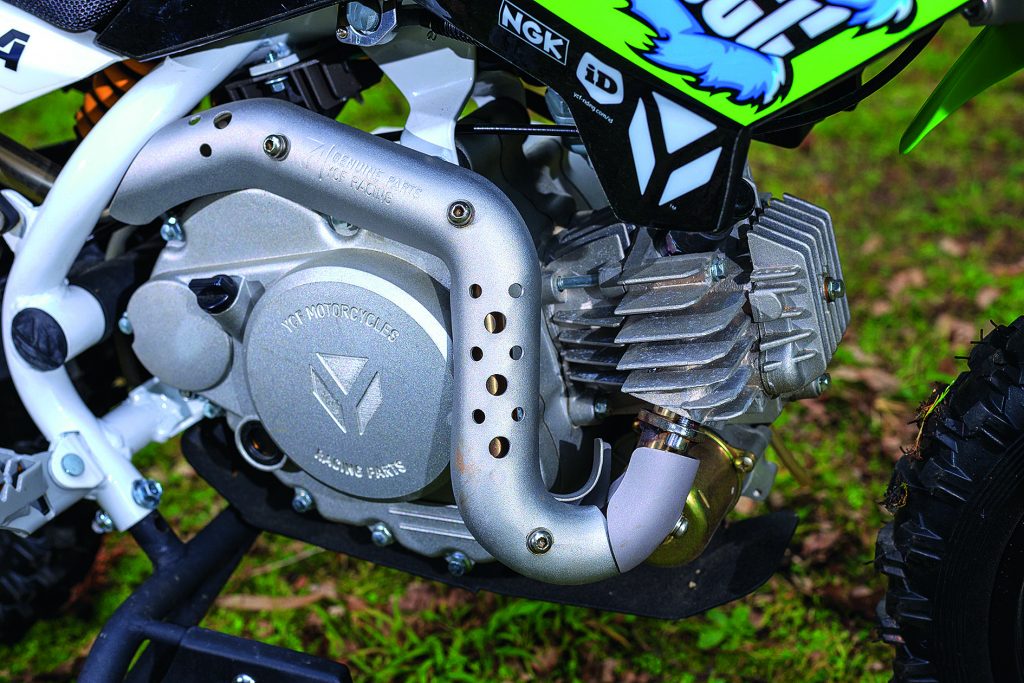 TEST CREW
When asked to list their favorite features of the 50A, Indiana and Noah were happy to oblige. Indiana said she had heaps of fun riding the bike. "I was a bit nervous at first but after my first ride, the nerves went away. If I had to rank my top three features of the bikes then this is what they would be."
1. THROTTLE RESTRICTOR: "I was a bit worried I would give it too much throttle but this really helped me a lot."
2. BRAKES: "When I had ridden the bike a couple of times I started going a bit faster and got to use brakes for the first time."
3. TRAINER WHEELS: "I have used trainers on Noah's little bike and they don't give you much confidence. These trainer wheels worked really well and you didn't feel like you would tip over."
Noah said he also had fun. "I wasn't scared because Dad was there. The bike was really good."
"My favourite things on this bike were."
1. START BUTTON: "Dad kept telling me off because all I wanted to do was push the button, but it was lots of fun."
2. BIG KNOBBY TYRES: "I like the knobbies because they look like Dad's tyres on his big bike. My little bike only has small knobs."
3. TRAINERS: "The trainer wheels worked awesome. I don't think I would be ready to ride the bike without them."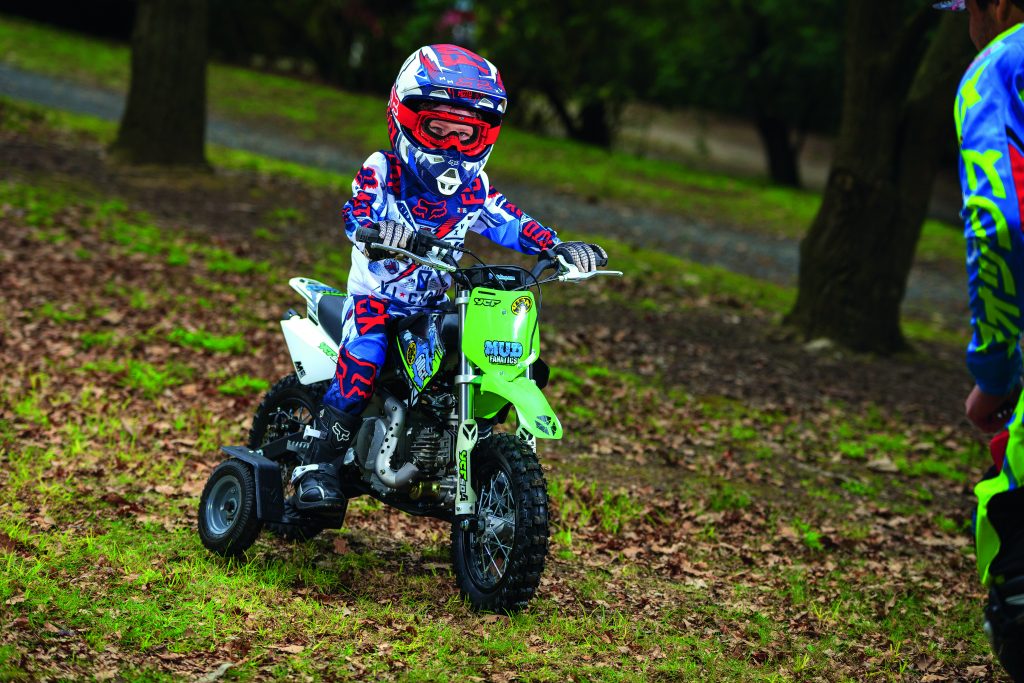 YCF 50A
ENGINE
Type SOHC four-stroke
Displacement 49.9cc
Bore x stroke 44 x 37.4mm
Cooling Air
Compression ratio 8.5:1
Fuel metering 14mm carburettor
Fuel capacity 2L
Transmission Automatic
DIMENSIONS
Wheelbase 855mm
Seat height 550mm
Ground clearance 250mm
Wet weight (claimed) 42kg
SUSPENSION
Front USD, 530mm travel
Rear Monoshock, 200mm travel
BRAKES
Front 160mm disc
Rear 160mm disc
RUNNING GEAR
Front tyre Caung Ho, 250×10
Rear tyre Caung Ho, 250×10
PRICE AND CONTACT
RRP $1590
Distributor Lowry Australia
Web ycf-motorcycles.com.au