ENDURO TEST I 2019 BETA RR200 | Bike Reviews
As Aussies we seem to have this strange fascination with big fast cars and bikes. We've got to have the V8s and the 500s.
THIS FEATURE WAS FIRST PUBLISHED IN ADB ISSUE #474 – MARCH 2019
WORDS: MATT BOYD
The bigger the better. That's not necessarily how it works with an enduro bike but for some reason we think we need the biggest engines possible so we can cruise through the bush with our mates.
Once upon a time, bikes such as the Yamaha WR200 and the Kawasaki KDX200 were favourites among enduro racers because they were easy to ride fast for long periods of time. Now all these years later, nearly every single weekend warrior is on a 450 or 500. Don't think I'm ragging on the 500s, I am a huge fan of a 500 but it's not the bike I would choose for a leisurely Sunday trailride nor is it something I want to be dragging through snotty ruts or up steep, rocky hills. If I want to go wide open through a sandy desert as fast as possible then the 500 will be at the top of my list to take but for a full days ride through singletrack I am going to be hating that 500 by midday.
So right about now I should have your attention. You're either hating on me for picking on your sacred 500 or I have you intrigued and your thinking well if the 500 isn't the ideal bike then what is? So before you go sharpening your pitch forks and looking for your flame throwers let me introduce you to the 2019 Beta 200RR.
Our mighty Editor and delegator of jobs, Mitch Lees, has already flown across the pond to introduce you to the new models so I won't bore you with the fancy stuff about what material the plugcap is made out of and how many millilitres of oil it burns per second. Instead, we are going to take a look at what the 200 does well, what it lacks and exactly where it fits into the Aussie market. Then you can make up your own mind whether it would fit into your garage nicely or not.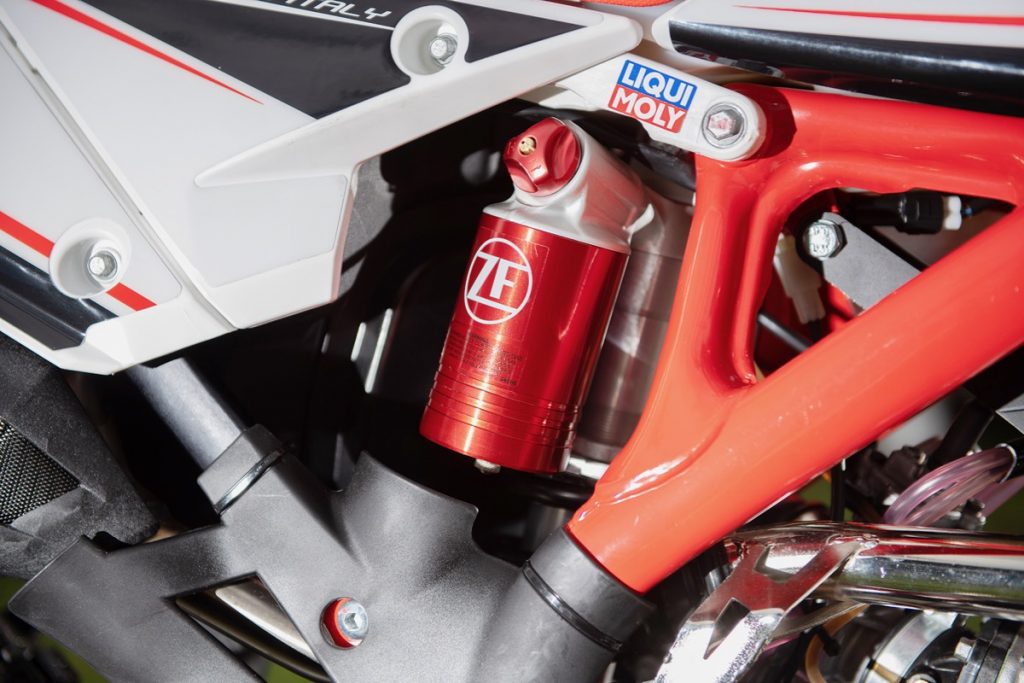 Singletrail
When it comes to singletrack the 200 is so easy to ride that it's almost cheating. Instead of being constantly on the brakes and muscling the bike around trees you can keep the throttle on and just keep flicking the bike around with your legs. It's still got 200cc of power and is more than capable of exceeding 100km/h so it's not too slow by any means. It's much less fatiguing and much more forgiving on the forearms.
You can stop the bike in an instant and you can move it around and change direction in a split second. The motor still has plenty of power to flick the clutch and get the front wheel up at the last minute. The power output more resembles a 250cc two-stroke than it does a 125 but the chassis has a very light and nimble 125cc feel to it.
The suspension is an improvement over previous years and works well for trail riding. When you start to push the bike hard through some large bumps, ruts or over some jumps or ledges the suspension does start to blow through as it's a touch on the soft side but it does handle trail riding conditions well. A serious raccer or a larger rider might need to have the spring rates changed and make some mods to the valving to unleash the full potential of the mighty RR200.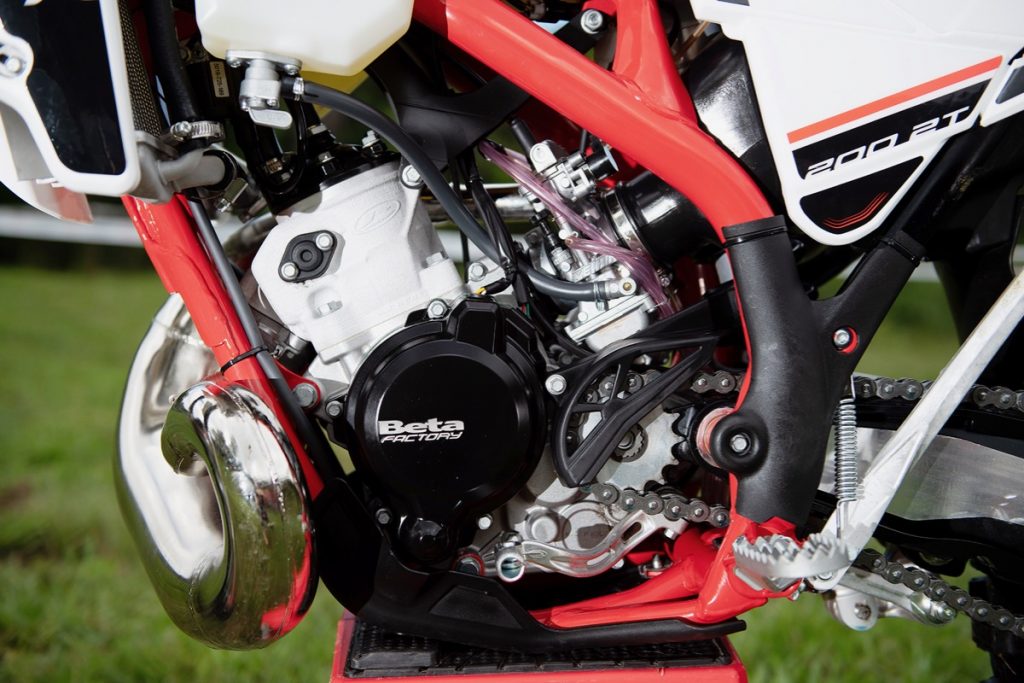 Hitting the fire trails and opening the 200 up I was surprised that it still had some decent legs up top. I'm not going to lie and tell you it's going to eat everything from a 500 down on a long straight but I think most people will be surprised that you won't be far behind on the 200.
The excuse that I hear from many riders is that a 200 is not fast enough for them and that they need at least a 450 or 500 to keep up with their mates. This excuse is total garbage. The fact is, if you can't keep up with your mates, then it's because you don't have the ability or the skill because the 200 has just as much potential to go as fast as any 500. The only place it's going to let you down is if you live in Alice Springs or want to go desert racing. The poor little 200 will spend the entire time with the throttle on the stop so hard that you will snap the throttle cable. This situation is about the only one where I would accept that the 200 wouldn't be fast enough.
If you are into desert racing and spend most of your time hitting sand whoops at 160kmh then the 200 is most likely not going to satisfy you and you should look at a big bore.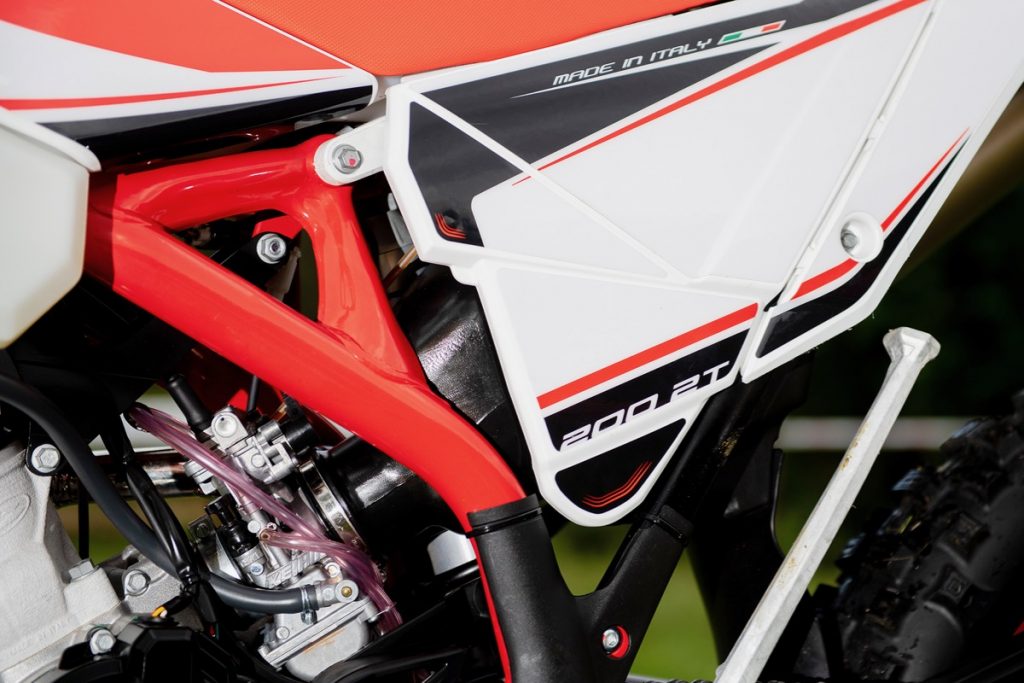 Technical
Techo riding is where I had at least 90% of my fun on the 200. When it comes to hoping logs, jumping up rocks or just having to ride through gnarly terrain then the 200 was the easiest bike to do it on.
Most people think of a 300cc two-stroke when they think hard enduro but I felt more comfortable on the 200 and actually felt better riding through old creek beds and over logs on it than I did the 300. The 300 still felt like a big bike compared to the 200 and I felt the 200 was the easiest bike to balance on. I was able to ride along logs and balance on top of them much easier than I could on any of the other capacities we tested on the day.
I even felt most comfortable doing a 180-degree wheelie turn, like most of us have to perform when hitting a dead end, on the 200.
You just pop the clutch and the front wheel comes up, it is very balanced sitting there on the rear wheel and you just spin on the spot.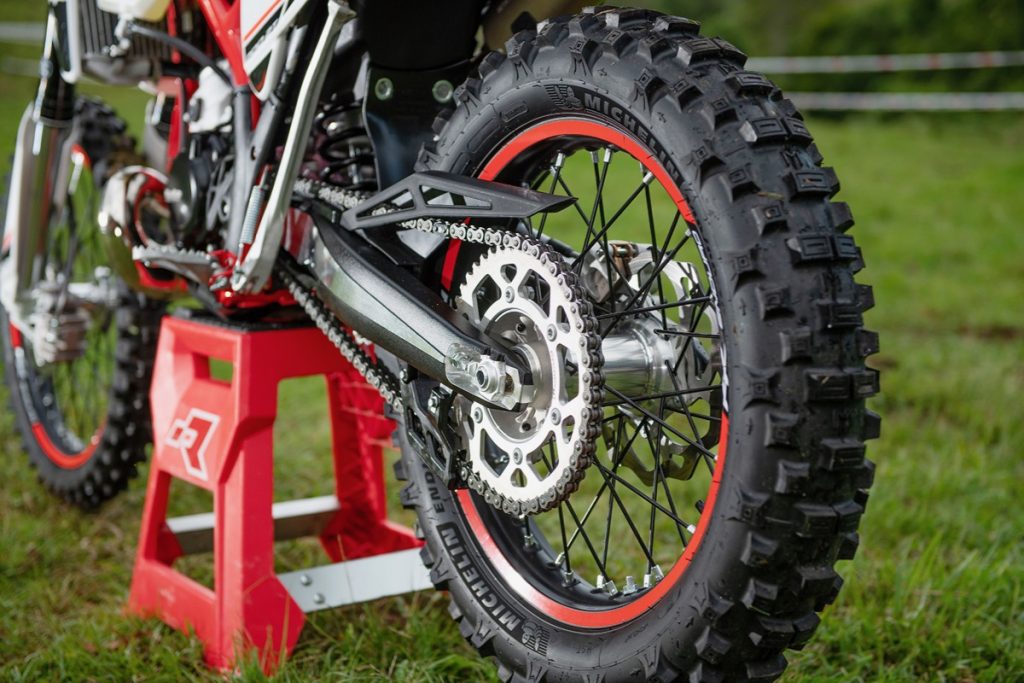 This next part is somewhat embarrassing but also helps me drive home my point. I was riding through a steep creek bed full of slippery, wet stones and when I tried to ride out my boot slipped on a wet stone and I tumbled back down the embankment into the water. It was one of those moments where you can't do anything but laugh.
The reason I swallowed my pride and mentioned this story is because to get out of the thick vegetation I just grabbed the handlebar, slung the bike over my shoulder and dragged it out. Try doing that with a 500.
Hot or not
The only downside for bigger blokes wanting to ride a 200 is the power it produces. The 200RR has more power and torque than you might expect but being low on cubes meant it bogged and laboured a little when I made a mistake. It isn't as simple as twisting the throttle if you come out of a corner too slow or don't see a steep incline. You will need to be aggressive on the clutch if you tip the scales at more than 85kg. Remember, momentum is key with this capacity.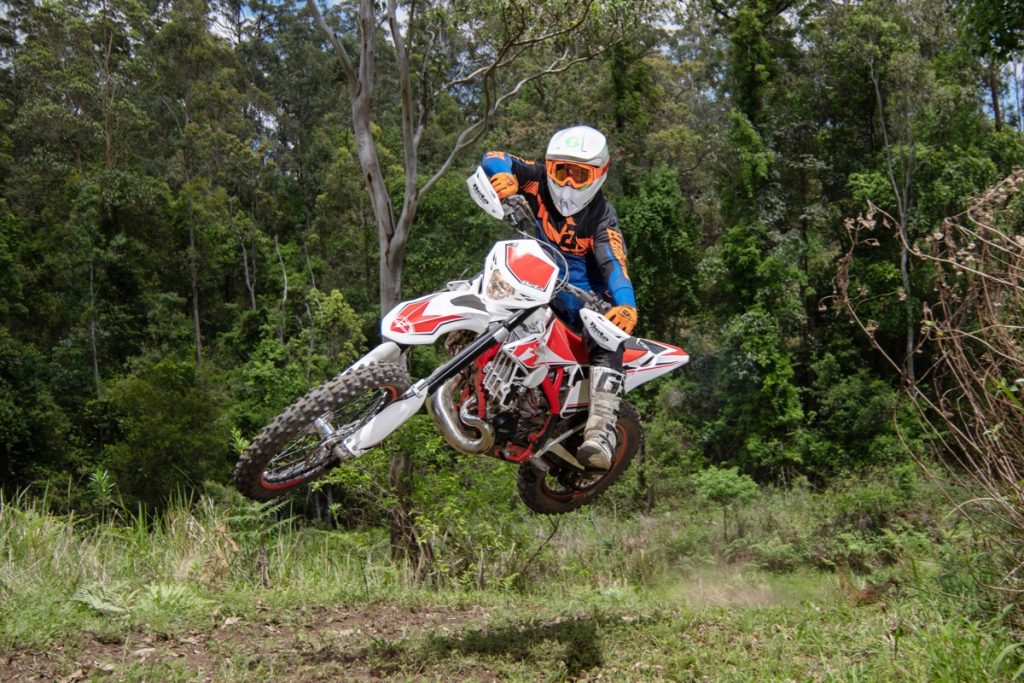 Every two-stroke video I've seen on social media comes with thousands of likes so I know everyone loves a two-stroke. Everybody loves talking about them and two-stroke-only races popping up all over the place are doing their best to bring them back. Even Pros need no convincing when it comes to a two-stroke. 125s being ridden to within an inch of their life and the likes of Graham Jarvis doing something we could only dream of dominate the two-stroke media. But riding a 200 through singletrail doesn't seem as popular on the socials. Hopefully that will change.
Beta Motorcycles Australia has recently been taken over by a company called Lowry Australia. It has a wide range of Beta bits available online so you can still have parts delivered and now has 20 dealers.
Beta Motorcycles Australia is currently touring those retailers with the 2019 range doing test days.
So if you don't believe how good the RR200 is, perhaps you should try one yourself. With luck you might even be able to ride the Racing model that comes with some extra fruit.
Beta RR200
Engine
Type: Two-stroke, reed valve
Displacement: 190.2cc
Bore/Stroke: 62 x 63mm
Cooling: Liquid
Compression Ratio: 13.5:1
FuelLing: Keihin PWK36
Tank Capacity: 8.5L
Transmission: Six-speed constant mesh
Clutch: Brembo hydraulic, wet multiplate
Dimensions
Wheelbase: 1477mm
Seat Height: 930mm
ClearAnce: 325mm
Weight: 97.5kg dry
Suspension
Front: Sachs ZF 48mm USD, 295mm travel
Rear: Sachs ZF monoshock, 290mm travel
Brakes
Front: Nissin twin-piston, 260mm wave disc
Rear: Nissin single-piston, 240mm wave disc
Running Gear
Front Tyre: Michelin Enduro Comp MS 90/90×21
Rear Tyre: Michelin Enduro Comp VI 140/90×18
Price & Contacts
RRP: $11,695
Web: betamotor.com.au
Phone: (07) 5520 2483
WARRANTY: Six months parts and labour