Aussies take it to the world at the AUSX season-opener at Marvel Stadium, Melbourne.
2022 AUSX (Australian Supercross Championship) – Round one, Marvel Stadium, Melbourne.
SX1 main event results:
Justin Brayton (Honda)
Aaron Tanti (Yamaha)
Dean Wilson (Honda)
Hayden Mellross (GASGAS Racing Team)
Matt Moss (Yamaha)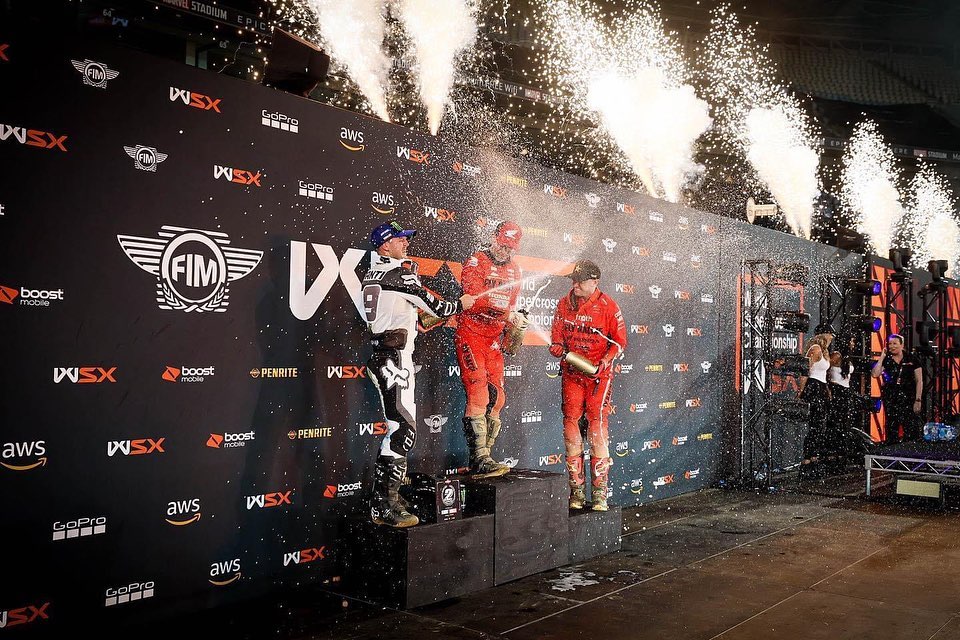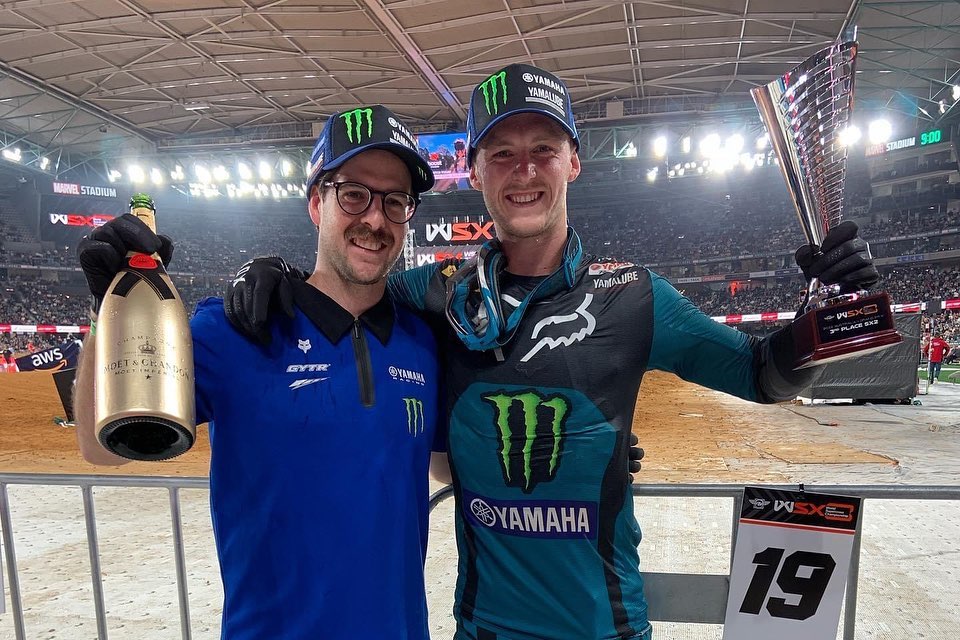 "What a weekend," said Tanti over social media, "Had double duties racing round 1 of Aus SX on Friday night then round 2 of the World SX on Saturday night. The crowd was amazing and it was a pleasure hearing all you guys cheer me on!! Felt the love in Aus. Ended up battling it out on Friday night to 2nd overall with leading a lot of laps!"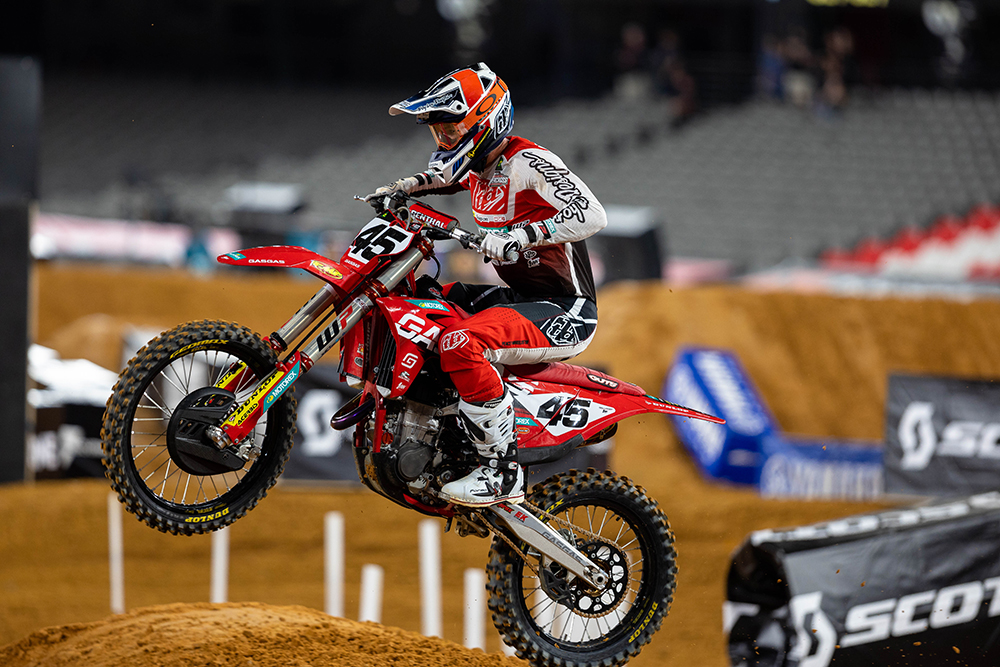 Hayden Mellross started his 2022 Australian Supercross Championship campaign with a gritty fourth-place result in the season-opener at Marvel Stadium, Melbourne.
"Being the first round of supercross that we've raced in a few years, I had a lot of nerves early today, but I gradually got more comfortable and confident as the day progressed." said Mellross, "I rode quite well in my heat race to finish third and I thought we were in for a good show in the main event. I didn't get as good a start as I would've hoped and I tightened up early on. The track was deceptively slippery, but I was able to hang on and take advantage of the guys who made mistakes in front of me to finish fourth! It wasn't a pretty fourth, but it was a good result and I'm happy to walk away healthy and get the first round under the belt."

SX2 main event results:
Max Anstie (Honda)
Cole Thompson (Yamaha)
Nathan Crawford (KTM)
Kaleb Barham (Husqvarna)
Jai Constantinou (Kawasaki)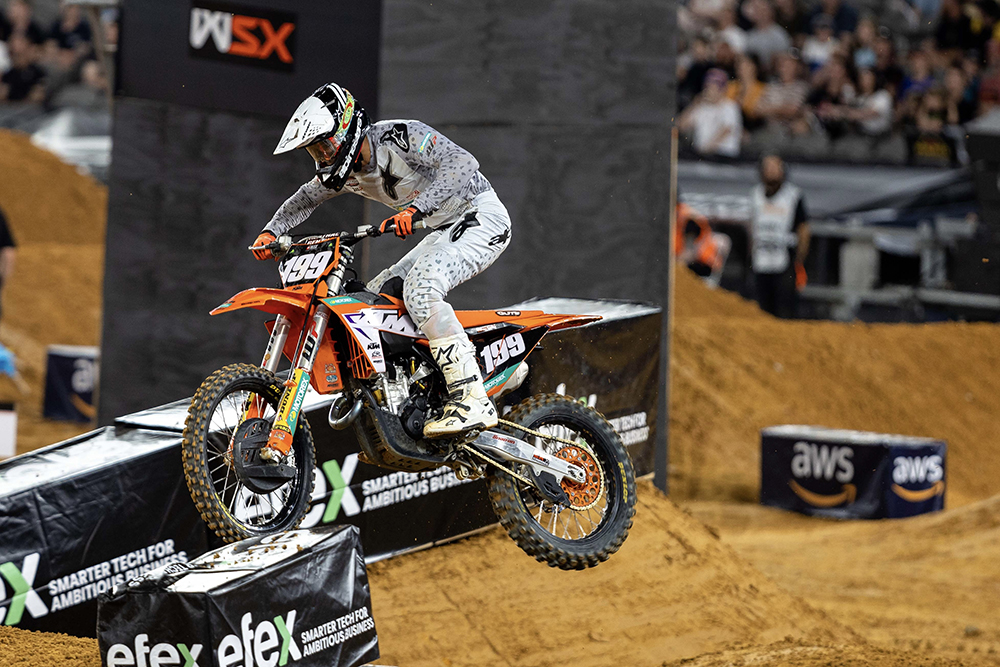 KTM Racing Team SX2 contender Nathan Crawford claimed his first-career podium in The Australian Supercross Championship at Melbourne's opening round in Marvel Stadium on Friday night.
"I've spent six or seven weeks on the new 2023 model KTM preparing for supercross and I'm feeling very comfortable on it." said Nathan, "I honestly didn't know where I'd fit into the SX2 class, so it feels awesome to get my first-ever supercross podium and get that monkey off my back! I'm not super-satisfied with how I rode tonight… we can always be better, but I know the areas I need to work on and what I can improve before next weekend. The first round is always tough as everyone comes out guns blazing and there's often a bit of carnage, but I tried to minimise my mistakes, stay out of trouble and pick up some good points on what was a deceptively slippery track. I'm definitely happy to start the season with this result!"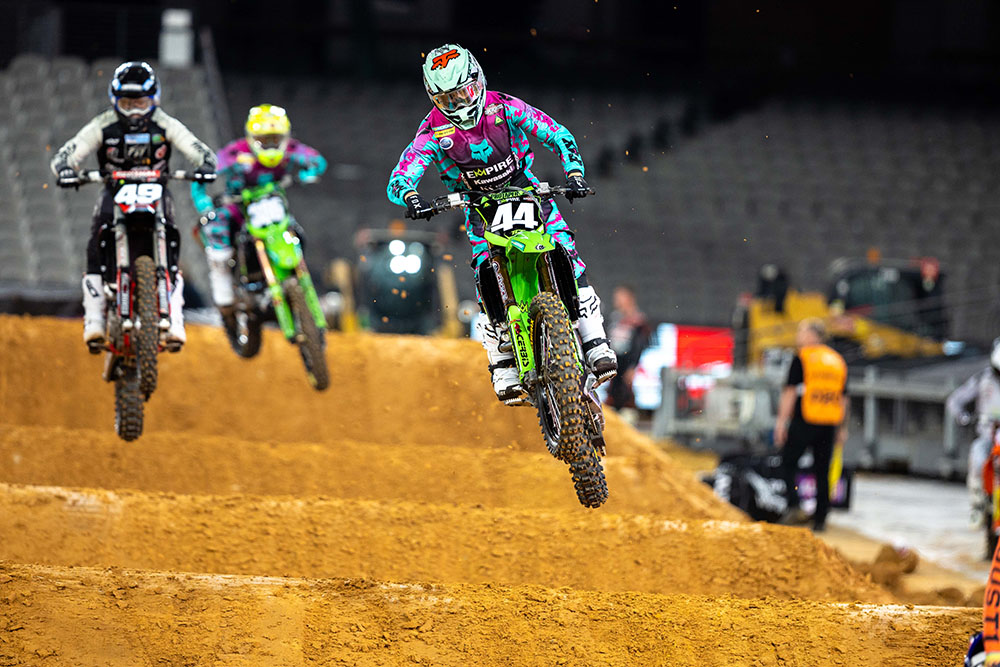 After finishing ninth in his heat race, Jai Constantinou started mid-pack in the SX2 main event. Armed with the Kawasaki KX250, he remained composed and capitalised on the mistakes of other riders to gradually work his way towards the front of the field, crossing the finish-line in an impressive P5.
"The track was tricky tonight and it caught a lot of riders out with how slippery it was," said Constantinou. "I got caught in a crash early in my heat and didn't get a good jump out of the gate in the main, but I focused on staying upright and letting the race come to me. I'm stoked to finish the night with a top five, and I know we can improve from here over the next three rounds."
Watch the action from the Australian GP on 7plus.
See WSX results here.
Round 2 of the Australian Supercross Championship will be held in Adelaide on Saturday the 29th of October 2022 at the historic Adelaide Showground!
Visit australiansupercross.com.au for more information.