Following this year's mid-season switch to KTM, two-time AMA Supercross champion Chad had raced at the highest level of the sport on Yamaha, Suzuki, Kawasaki, Honda, Husqvarna and now KTM equipment.
Despite not sticking to a single brand like some stars, Chad Reed is best known for riding Yamahas during the early years of his international career, when he found huge success in AMA SX.
It's hard to pick Reed's best bikes from over the last 20 years, as there have been so many, but here are some of our favourites:
1999 TEAM MSR SILKOLENE SUZUKI RM250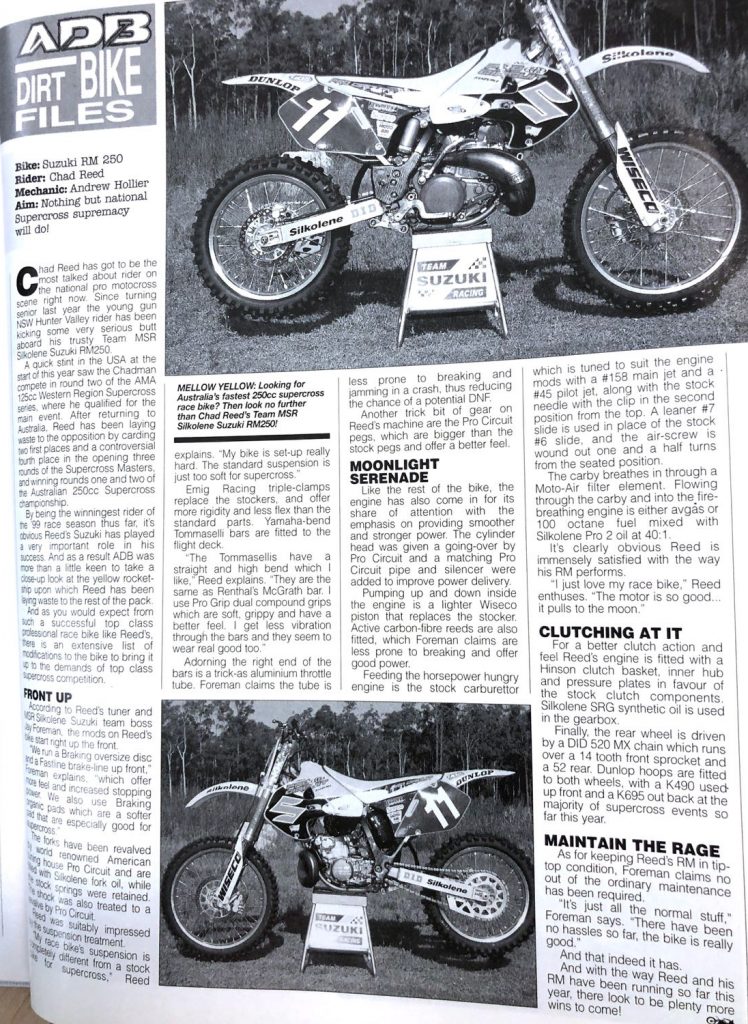 By 1999, Chad Reed was already the talk of the town. In only his second year in the pro ranks he claimed the Australian 250cc Supercross Championship aboard a Team MSR Silkolene Suzuki RM250.
Reed's mechanic at the time, Andrew Hollier, had made the suspension incredibly stiff, which became a common trend on Reed's bikes. "My bike is set-up really hard," Chad explained. "The standard suspension is just too soft for supercross."
Check out our exclusive interview with Chad Reed HERE
The package was actually revalved by Pro Circuit in the US. He ran a Jeremy McGrath-bend handlebar, not knowing that one day he'd end up battling the King himself in America. Jay Foreman was Reed's team boss and, to get the most out of the engine, gave the cylinder to Pro Circuit for a once-over and fitted a matching Pro Circuit pipe and silencer. A lighter Wiseco piston was used to reduce reciprocating mass. Even back then, Reedy was hard on the clutch so Jay fitted a Hinson clutch basket, hub and pressure plates.
2000 CDR YAMAHA YZ426F THUMPER NATS BIKE
ADB scored an exclusive test ride on Reedy's fire-breathing CDR Yamaha YZ426F before the 2000 Conondale Thumper Nats. Rowan Trefz was the lucky bastard to ride the beast and he summed it up in one word. Fast!
He likened the power to that of a 500cc two-stroke but more responsive because of the excellent jetting, ignition and pipe combo.
The torque from the factory engine was unlike anything Trefz had ridden and it seemingly had no limit to how high it could rev.
So much so that the top-end was difficult to use and Trefz noted that it was only on Conondale's main straight that he got anywhere near the top of the rev range.
Trefz found the best way for him to ride it was in the bottom-end, where the power was more friendly. As you'd expect from a CDR Yamaha set up for Chad Reed, the suspension was out of this world.
Although the Ohlins shock was brutal and the fork rather stiff, when pushed hard the suspension made bumps on the track disappear. The 20-inch front wheel didn't feel that different to a regular 21, he said.
2002 YAMAHA OF TROY CDR YAMAHA YZ250F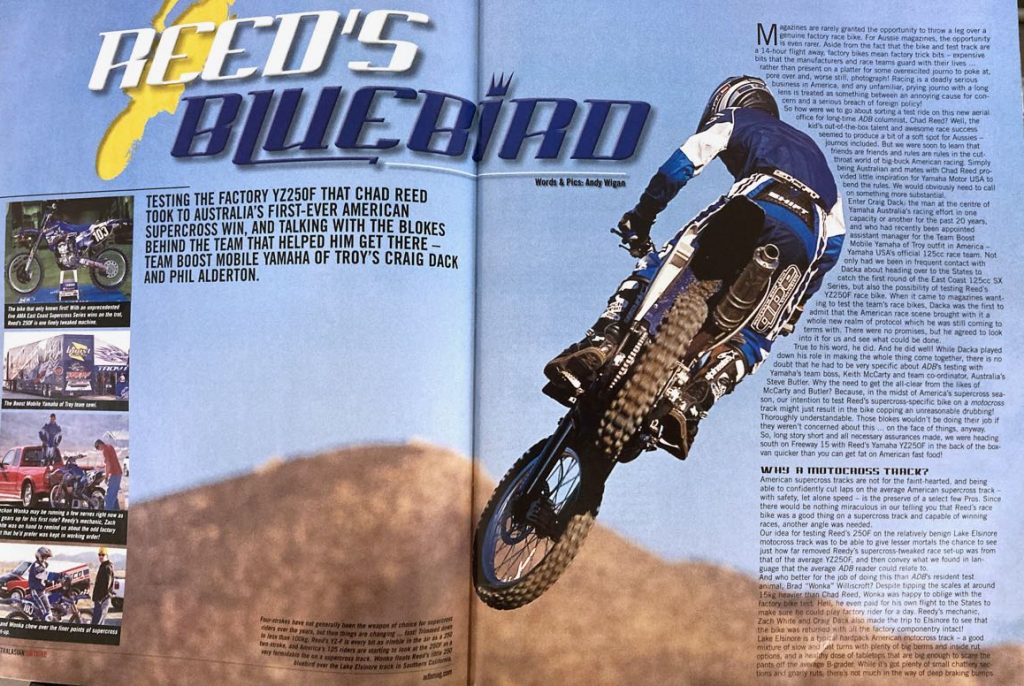 Craig Dack pulled a few strings to secure ADB a test of Reed's 2002 125cc East AMA Supercross title-winning Yamaha YZ250F. ADB's resident test rider at the time, Brad "Wonka" Williscroft was enlisted for the test and was so keen to throw a leg over the factory bike that he paid for his own flight.
The first observation Wonka made was how stiff the fork was. Reed liked his bike stiffly sprung and low in the rear for supercross whoops. Wonka inadvertently "tested" the suspension by over-jumping a fifth-gear tabletop.
"On any other bike they'd have been calling in the chopper for me on that one, but I hardly felt the landing. It didn't even bottom and just soaked it up no worries," Wonka reported. The engine was tuned to work low in the rev range and the top-end signed off much earlier than a stock YZ250F.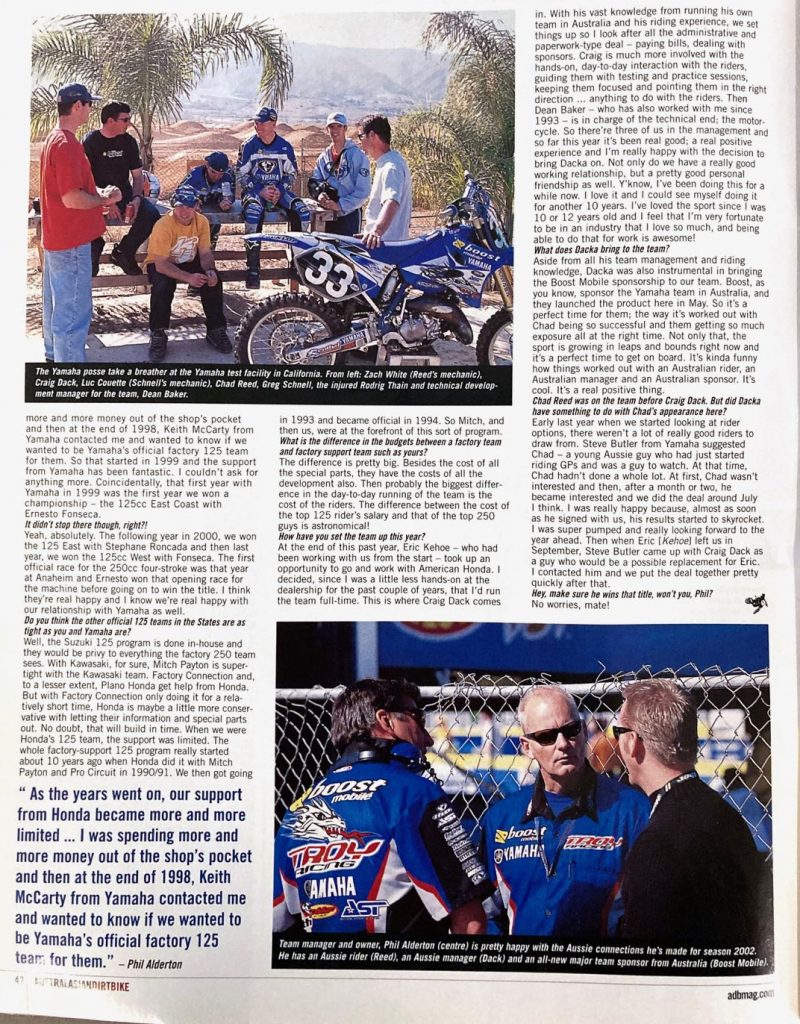 This is ideal for supercross where you need instant torque out of corners. First gear was rarely needed and even second was reserved for incredibly slow turns. Yamaha of Troy technical guru Dean Baker explained it was Reed's input that helped them fully exploit the 250F's massive torque advantage over the 125cc two-stroke. "After our initial testing with Chad, we had to do a fair bit of development work to shift the power lower and set it up the way he wanted it. Chad rode the 250F smoother and at much lower revs, and we soon realised the bike was capable of much faster lap times when ridden this way."
2003 FACTORY YAMAHA YZ250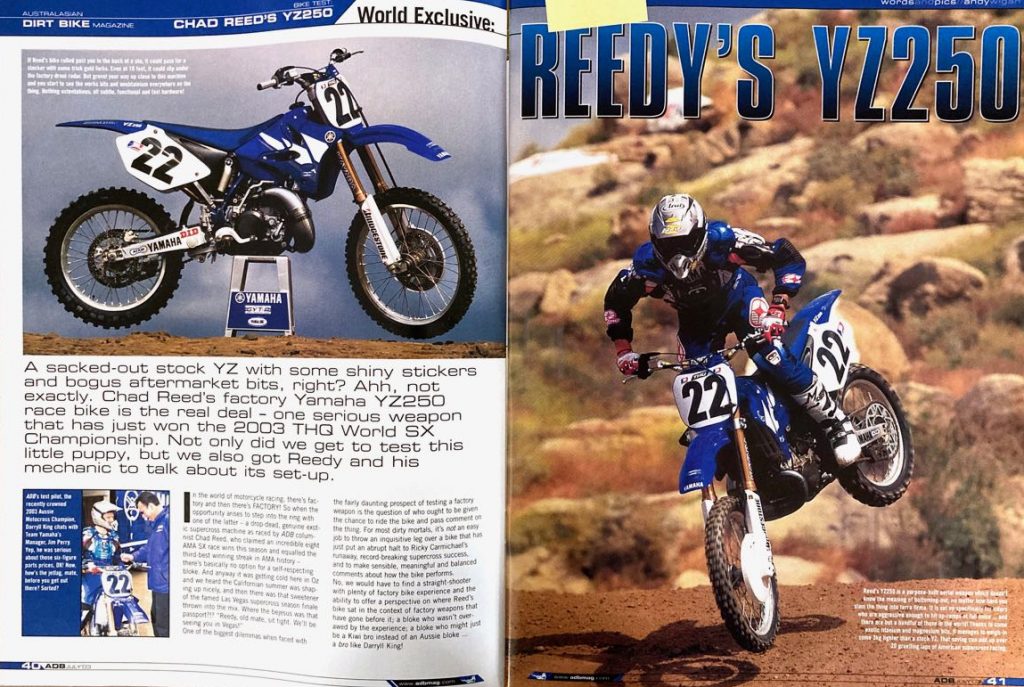 Reed stepped up to the big league in 2003, racing against the 450 four-strokes, and proceeded to rain all over Ricky Carmichael's parade. Reed didn't win the championship but he put up a hell of a fight, piloting his factory Yamaha YZ250 to eight race wins and losing the title to RC by only seven points.
Darryl King tested the runner-up machine for us. ADB met the Team Yamaha crew at California's Perris Raceway just a few days after Chad had taken the bike to its sixth consecutive win, at the AMA Supercross final in Las Vegas.
King noticed straight away how small Reed's YZ250 felt. The fork and shock had been shortened by 10mm to keep the centre of gravity low and it sloped down to the rear. King also commented on how short the bike felt, most likely from a reduced triple-clamp offset.
Surprising for King was how close Reed's factory-tuned engine felt to the stock YZ250. He estimated it had 10% more power than a stocker, a testament to how good the 2003 YZ250 was. It was jetted absolutely perfectly though, with smooth, meaty power all the way through the rev range.
The four-speed transmission took some getting used to and Reedy ran a 53 or 54-tooth rear sprocket and a 14 on the front. Mechanic David Dye explained what Reedy liked in his bikes: "He likes his bike set up really stiff for supercross – I would say stiffer than pretty much everybody else out there. He likes it low in the back especially, so he can get off the bike through the whoops.
"It suits the way he tends to lean forward and attack jumps. Instead of letting the track come to him, he takes it to the track. He is very hard on clutches. People ask why his clutch is so hard to pull to the 'bar. We have it set up that way because if it was easy to pull he'd ruin it in every race."
2008 FACTORY YAMAHA YZ450F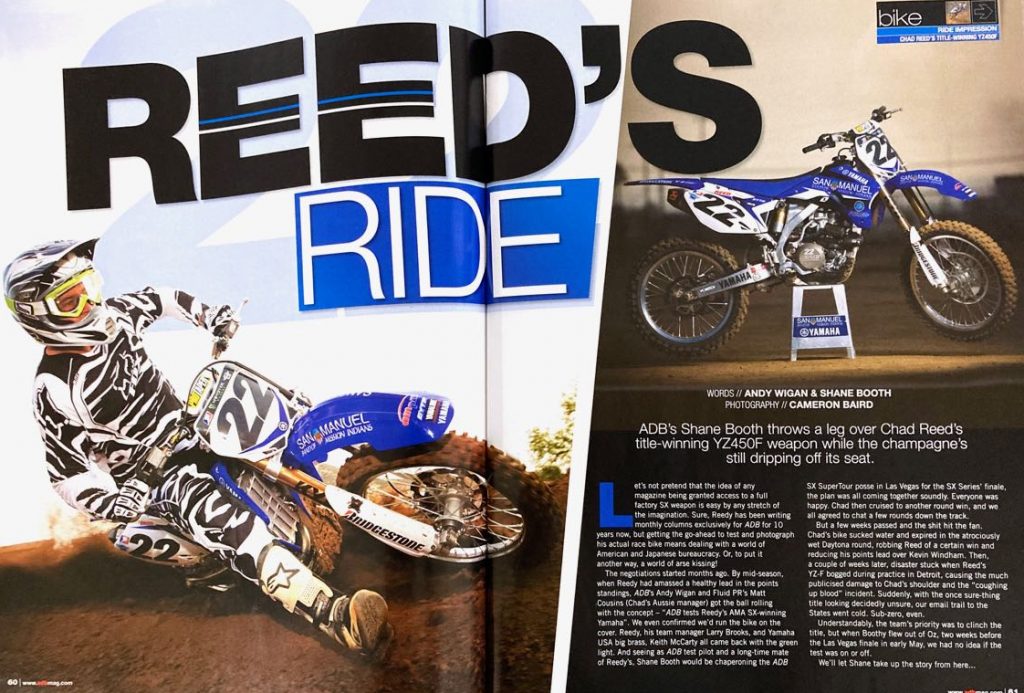 Chad won his second AMA Supercross Championship in 2008 so, naturally, ADB organised an exclusive test of the title-winning machine. Shane Booth did the honours, testing the YZ450F at Starwest MX Park in Perris, California.
Booth was blown away by the suspension. Like all Chad Reed bikes, this YZ-F was set up stiff and Booth commented that he was able to attack jumps with almost total disregard for where he was going to land. The bike would handle big hits, even to the point of landing on the face of another jump.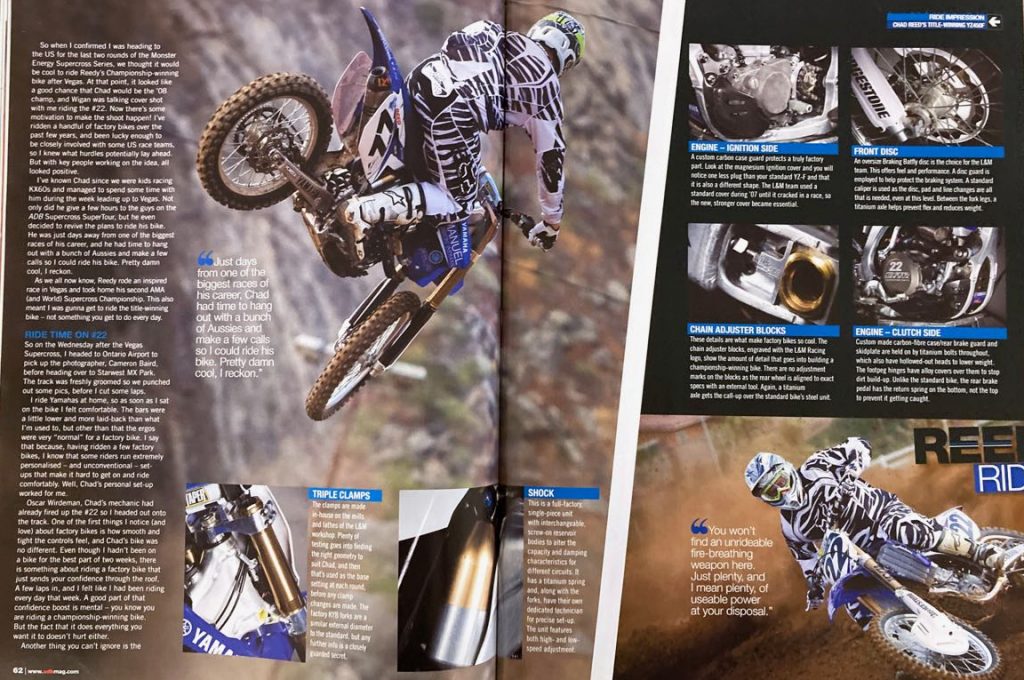 The Yamaha turned better than any bike he'd ever ridden and the engine was a torque monster. From the moment he cracked the throttle, the torque didn't stop building until he would hit the limiter. The engine was very useable.
Mechanic Oscar Wirdeman said Reed didn't have any unusual traits to his bike set-up, but he did like the front super stiff because he rode the front more than most.
2009 SUZUKI RM-Z450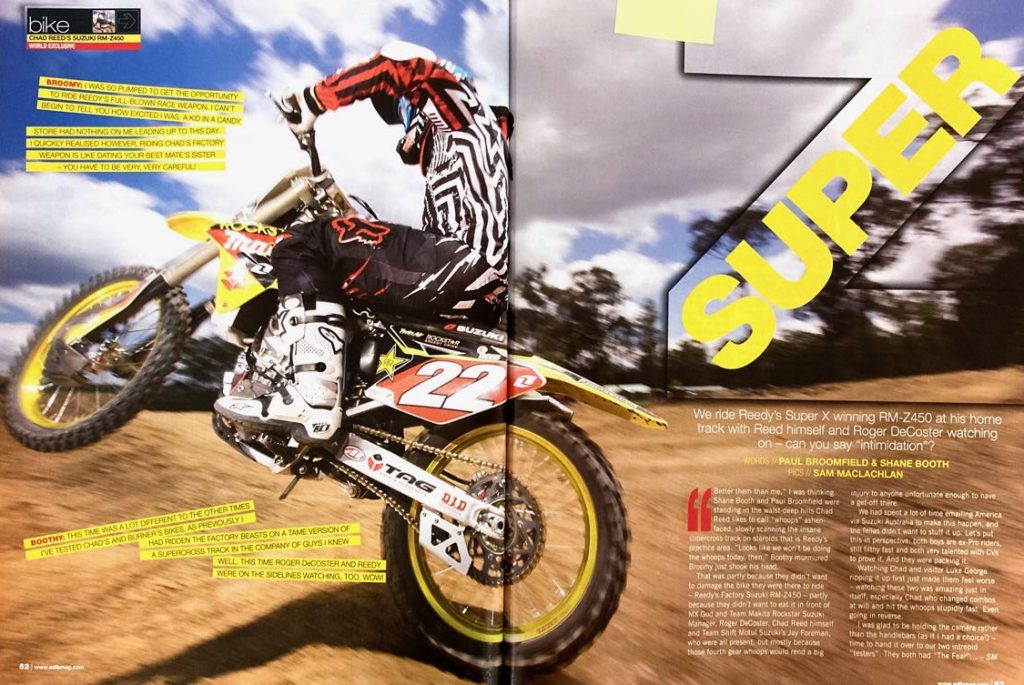 Chad Reed switched to Roger Decoster's Rockstar Makita Suzuki team in 2009 and raced the RM-Z450 in US supercross, the Motocross des Nations and at home in Super-X, the Australian Supercross Championship. Reed dominated Super-X, winning and incredible six out of seven races.
ADB tested that domestic RM-Z450 at his favourite location in NSW, an intimidating track that testers Paul Broomfield and Shane Booth were openly terrified of. Roger Decoster was in attendance, as were Jay Foreman and Reed.
Broomy and Booth were gushing over the RM-Z. The suspension, the engine, the ergos, everything was brilliant in their opinions. The engine, in particular, was loved for its smooth, usable power but seemingly never-ending torque curve.
Decoster had been watching Chad closely throughout his career, both in Europe and the States. "I remember watching Chad in Europe in 2001," the Belgian said. "I was impressed with what I saw. Back then, you could see this guy had good feel for the throttle, and that he was smooth and had good timing. Chad probably has more riding ability than Ricky."
Reedy was most impressed by the engine package, and the fuel injection really stood out to him. He'll admit he's pickier than most with how a bike responds off the bottom and EFI solved issues with bogging he'd experienced riding carby-fed engines.
The suspension was a different story. "The suspension was something we had to work on because no experienced rider had ridden this RM-Z before me," he said. "Ricky is quite a bit smaller than me and Vuillemin had a pretty odd-ball set-up. "The main things we initially did were to make the bike taller to suit my height and a whole lot stiffer. Ricky ran his bikes pretty soft."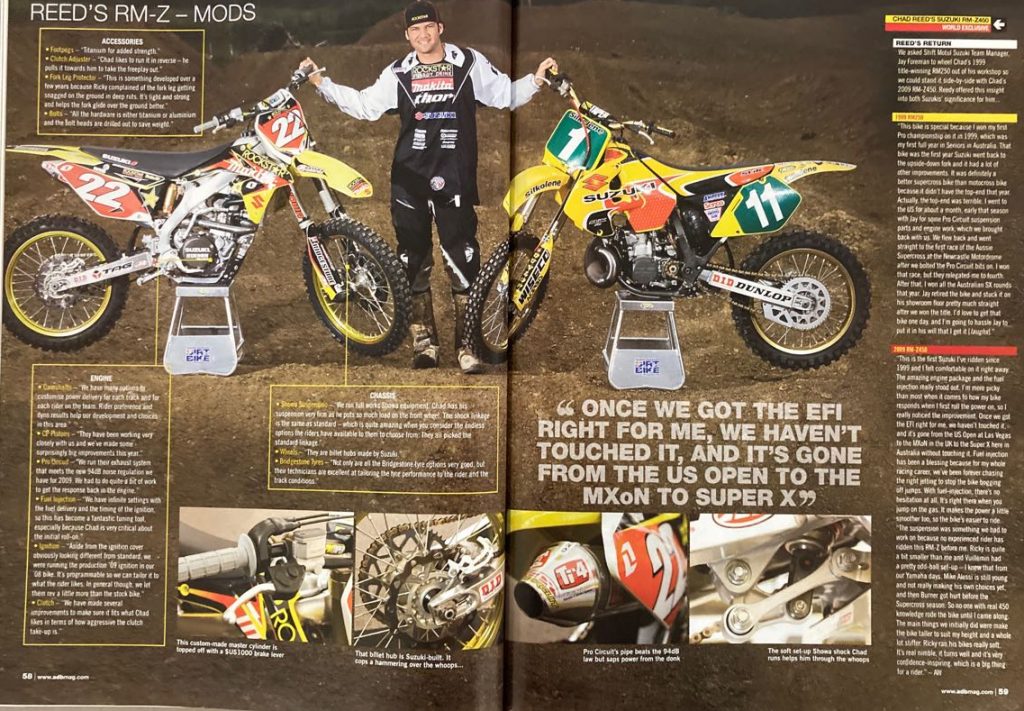 2011 HONDA CRF450R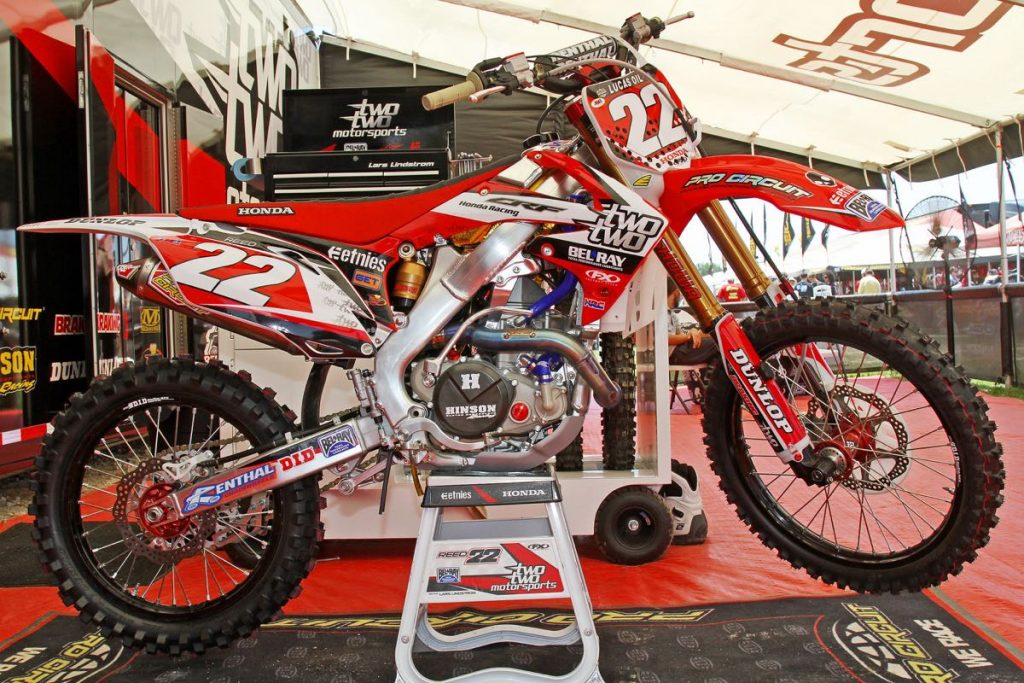 Chad Reed started his second season as a team owner on a Pro Circuit Honda CRF450R but quickly gained the support of Honda, with a factory bike. Reed's machine for the AMA Pro Motocross (outdoors) Championship was all HRC quality, with a few extras from suppliers who supported TwoTwo.
Pro Circuit provided Reed's engine and kit Showa suspension for supercross, but the team had access to factory-spec equipment from HRC and Showa, along with their technicians. TwoTwo Motorsports used a custom PC exhaust.
Other factory goodies on that ride included an over-size aluminium fuel tank, over-size aluminium radiators, trick wheels, factory Nissin front brake, hydraulic clutch and a 'tighter' transmission. Ex-factory Honda and Jeremy McGrath wrench Lars Lindstrom was working the spanners too.
2014 KAWASAKI KX450F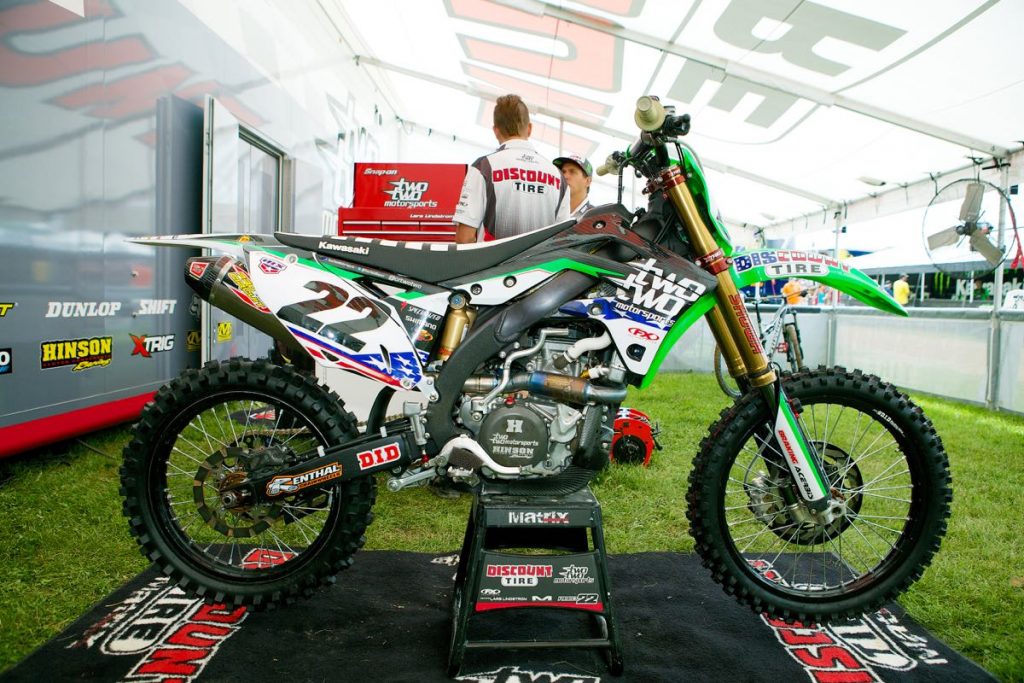 Running TwoTwo Motor-sports for a fourth year, Reed switched back to Kawasaki and ADB MX Editor Lee Hogan travelled to Dade County, Florida, to test the motocross version. Even in that trim, the KX450F's set up was incredibly stiff, Hoges reported, to the point where he thought they'd put Chad's supercross fork in the thing.
Chad Reed assured him it was his motocross fork and that Hoges wouldn't be able to push the supercross fork down 1cm by hand. "My first thought was how impressive the engine was," Hogan reported. "It was the type of power that really did surprise me. The bike allowed you to do things that you couldn't do on an average bike.
"The KX450F begged to be tipped into ruts and railed through berms. The shock seemed like it had a brain of its own and would squat and drive when you needed it to but held up unbelievably well on the huge hits around the track. The fork, for me, was the only part of the bike that didn't welcome me in the first few laps and made me work. It demanded that I pick the pace up and start hitting things brutally hard before it would do me the justice of moving up and down much at all. So up the pace I did, but a huge over-jump on the biggest tabletop still wasn't enough to rattle the fork as I prepared for a bottom-out that would surely blast one of my hands off the handlebar. The fork was meant to be ridden quite a bit harder."