Ben Grabham's 1999 Honda CR500 | Factory Ride
Ben Grabham is known for his speed in the desert but since retiring from professional racing he's taken to long track racing, so he bought this 1999 Honda CR500.
I bought this 1999 Honda CR500 in 2017 to race at the Australian Long Track Masters, which was run at the Bathurst Showgrounds trotting track. With this being my home town, I grew up racing this meeting and the one thing I've learnt on this deep-granite oval is that huge horsepower comes in very handy.
I didn't want to spend thousands of dollars making a current 450cc motocross bike powerful enough to run at the front, so I decided to go with an older 500cc two-stroke, as it's a lot cheaper to make crazy fast. As I was only setting it up for a trotting track, which is basically only two left-hand corners with two straights and all high speed, I set the CR500 up to be nice and stable in a straight line.
I find the old 1999 Honda CR500 doesn't give me good front wheel grip, that's why I keep the back-end rather low. FFRC in Queensland set the suspension up how I wanted, and that is really stiff and slow on the shock, as I don't like it moving around, especially as the engine on this thing comes on rather abruptly. I find the stiff shock helps to keep everything as smooth as possible. The fork is set up a lot softer, as I don't like the front wheel bouncing around on any of the small ruts or bumps that develop on a flat track. Nothing I've done to this bike is out of the norm for dirt track but, for general dirtbike riders, there are probably a few things they haven't seen before, like the rubber I have taped to the left footpeg and the duct tape around the gearchange lever knob. I do this as I wear a steel speedway shoe on my left boot so the rubber and tape gives me a bit of grip, and stops it from being just metal on metal.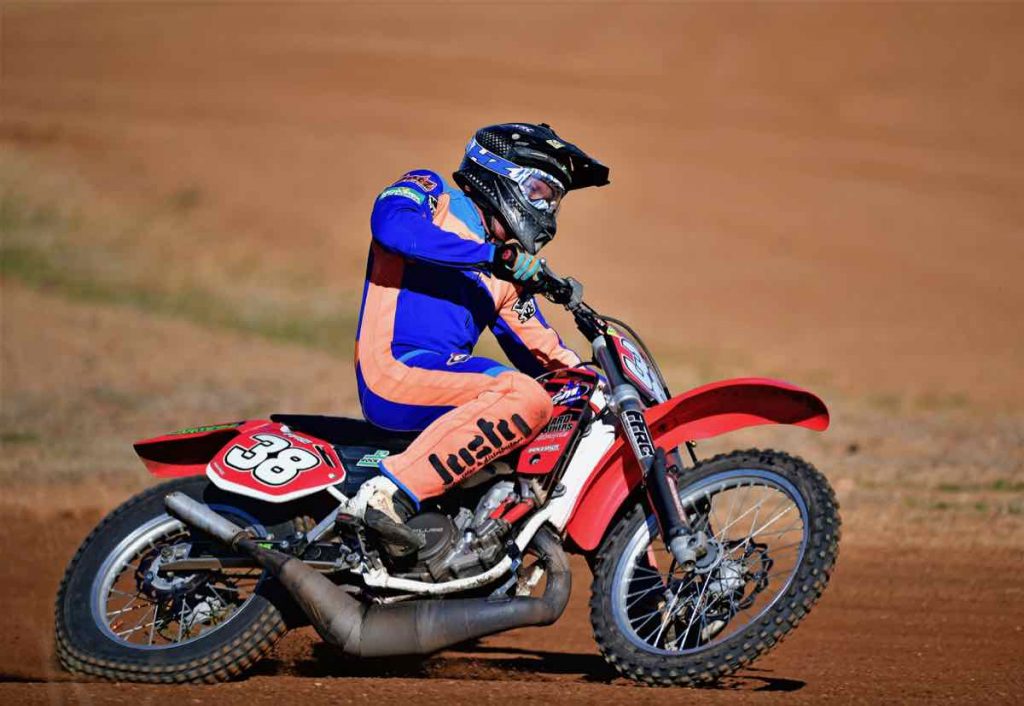 If you are wondering what the steel shoe does, it allows me to slide my foot along the ground and catch the front when the tyre starts to slide. The only other modification that's a bit wild is that I had to get the frame tweaked to fit the 44mm round-slide carburettor. The Mikuni I use is huge compared to the standard 38mm, so I had to get the frame cut away to make room.
Thanks to that mod, not many 450cc thumpers, no matter how fast they are, can come even close to it. Unfortunately, my first year of running this bike at Bathurst, in 2017, it only ran well for one or two races. I was running it on methanol and thought that was the reason it was destroying reed petals every second race, giving me a very "up and down" night's racing.
Due to some stupid council heritage fence rules, the Long Track Masters hasn't been run since 2017, so I haven't had the 500 back on a track like I built it for.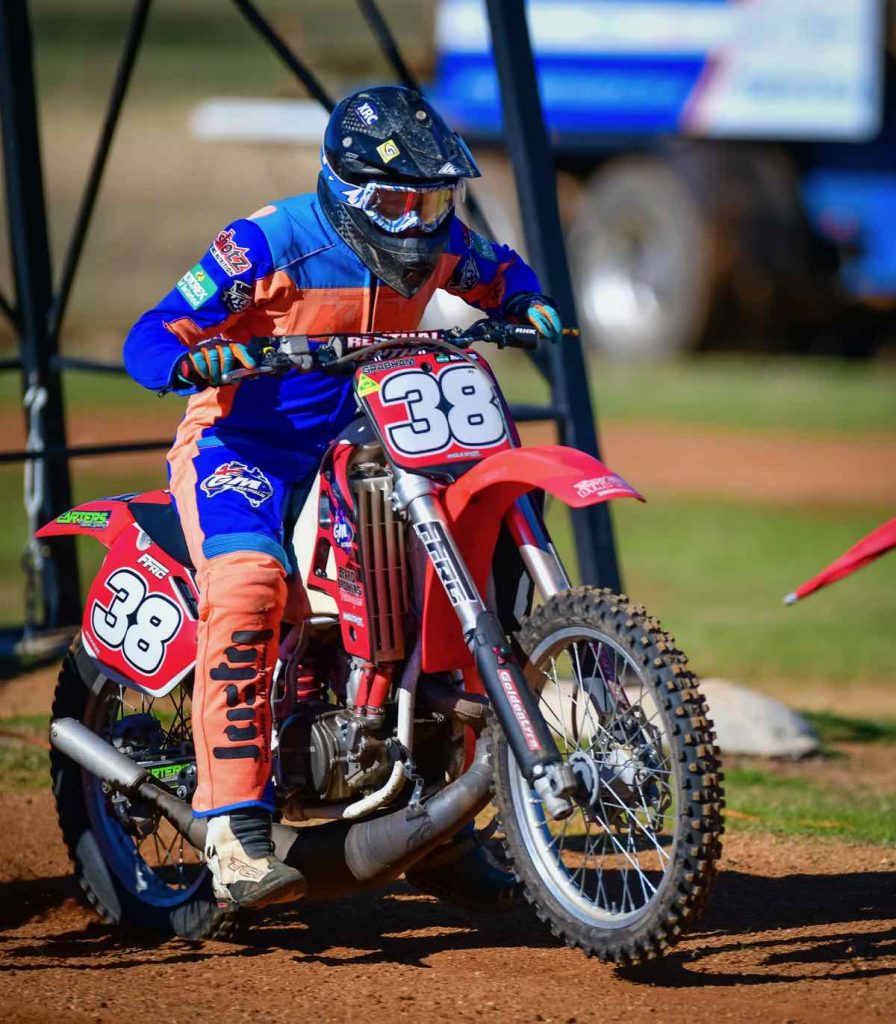 I have raced it a handful of times at my local flat track, Woodstock Park Speedway near Cowra, and managed to find my gremlin wasn't actually the methanol, it was the style of expansion chamber I was running that was causing the reeds to vibrate to death… really fast.
Now that it's running well and reliable, it's just about impossible to get beaten to the first corner during a race, but the trick is trying to get all that power to the ground when the track goes slick and hard. I often find 450cc four-strokes passing me in the corners when the track goes like that.
As all dynos read very different numbers to each other, I don't go off them much, but I can tell you, compared to some very big-horsepower 450s, my 1999 Honda CR500 makes close to 20 horsepower more. So you could say that genuine rear-wheel horsepower would be anywhere from 80-90hp.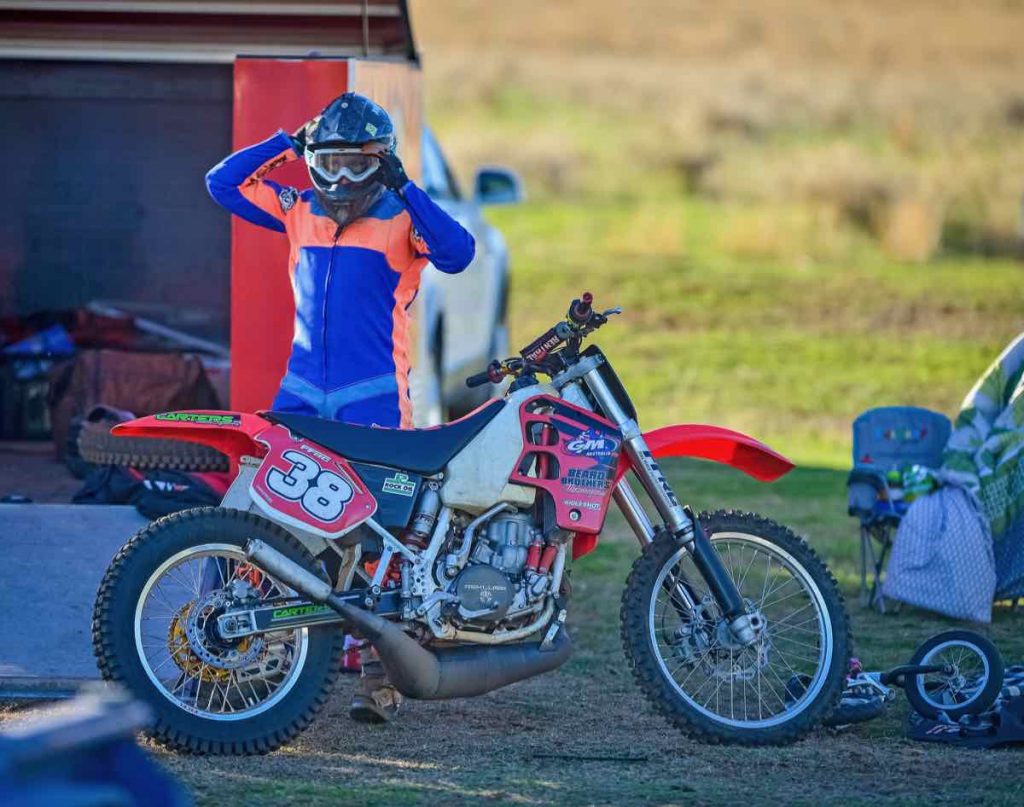 5 Things You Didn't Know About Grabbo
1. The first Australian dirt track title I raced in was at Gunnedah in 1992. I won it on a Suzuki RM80.
2. The following year, I was leading the Australian 80cc flat track title final in Canberra and pulled in a lap early. I remember being devastated but I never made that mistake again.
3. I got a 500cc speedway bike in 2016 and spent some time with world champion Jason Crump learning how to ride it. I absolutely love riding them, but couldn't stand the four hours of bike preparation that's required for six minutes of riding.
4. I have won five Australian long-track titles.
5. Even when I was a professional enduro/desert racer, I used to race any dirt track I could. Not only did I enjoy it, I found it kept my high-speed cornering skills up.