Dirtbike hauler tested: Jeep Gladiator Rubicon | Bike Reviews | Features
In the early days of ADB we had the Ford Falcon Panel Van to haul bikes around. Now we have the Jeep Gladiator Rubicon. Oh how things have changed!
When compiling the mammoth 500th issue we were reminded of our most famous bike hauler: the Ford Falcon Panel Van. It was one of the first official ADB bike movers and it epitomised everything ADB stood for: cool, tough, fun, hard-working, desirable and reliable (well, at least that's what GE thought). 46 years later and we think the Jeep Gladiator would make a worthy dirtbike hauling replacement.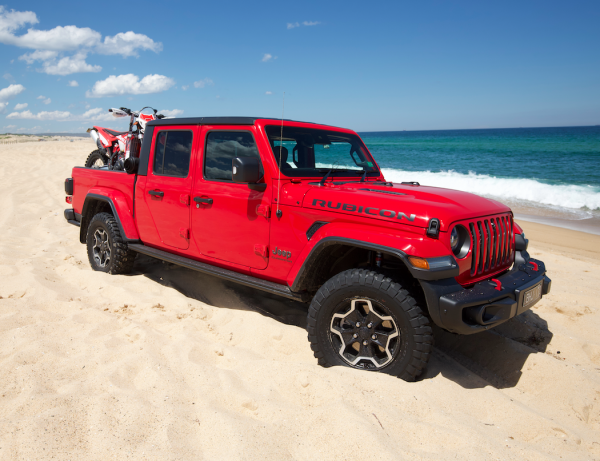 Since then, ADB has had an array of vehicles to get our test bikes from A to B, but nothing has been quite as much fun as the Falcon, until now. Jeep's Gladiator Rubicon isn't just an everyday tradie ute, it's something special, but that comes with a price tag. With a starting price of about $70k, the Gladiator isn't supposed to compete with the Mitsubishi Triton or GWM (previously Great Wall), it's more in line with the Ram 1500, Ford Ranger Raptor and even the Toyota LandCruiser 70 series. I have tested all these utes except the Ranger and they're all excellent but the Gladiator was different. I looked forward to driving it, to being seen in it and to seeing what all my riding brothers and sisters thought of it.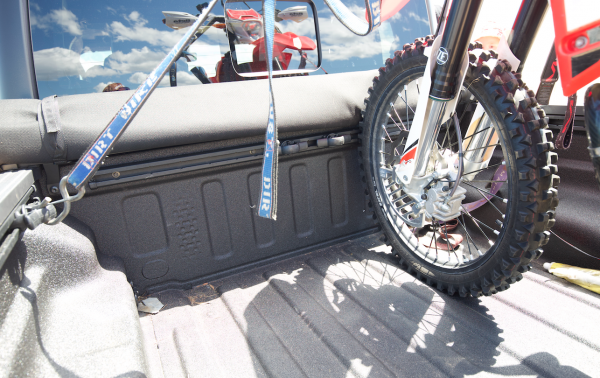 It's like driving your favourite toy car. The roof can come off, the doors too, the windscreen can fold down and the rear window slide open, there are massive speakers in the cross-member of the roof for blasting tunes, the dash was finished in a matt red (on our model) and the bonnet had vents! It looks cool, feels cool and keeps the driver cool (with the roof off, of course). And while the Gladiator did its best to dazzle me it was actually its ability as a bike hauler that really took my breath away.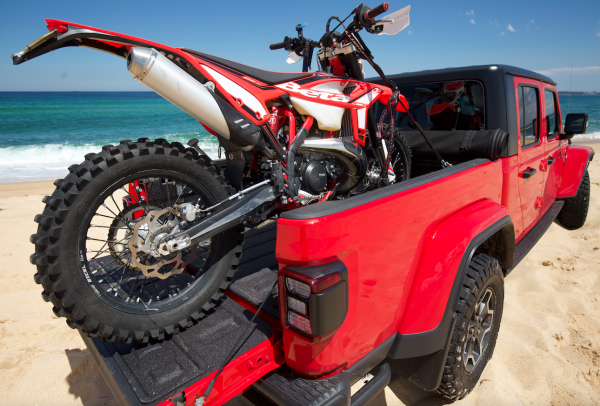 MOVING
I spend more time moving bikes than I do riding them, that's just the sad reality of this job. So a vehicle that carts bikes with ease is imperative. On first glance, the Gladiator's tray didn't look quite as long as the Ram 1500s and that's because it isn't. It was almost as long (the Ram is 1712mm while the Gladiator is 1531) but a fair bit narrower between the wheel arches (1295 versus 1137) and this is what is more important when trying to squeeze three bikes in. But that didn't matter because the Gladiator came with a set of tiedown anchor points you could slide on rails into any position. Oh and don't stress, they were as tough as a $2 steak, we never broke one. Being able to move the tie-down hooks helped me squeeze three bikes into the tray facing forward with the tailgate down. The tub was also sprayed with a liner that we couldn't chip with a chisel.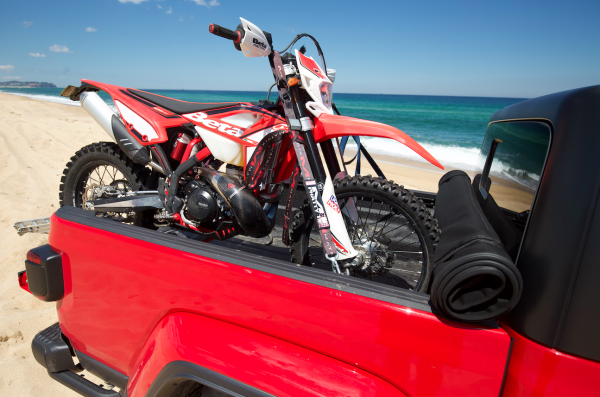 The payload was slightly less than some of the trade-oriented utes,  at 620kg, but that's because we had the Rubicon and it runs the Fox aluminium-bodied 50mm diameter shocks front and rear, not the back-breaking leaf-spring setup you'll find in cheaper ones. The payload is proof this ute isn't built to load up with rubble and drag around the tip, although it could do that, it's designed for fun.
The Fox gear is impressive. You can hit gutters, potholes and speed humps at a pace that would fold a cheaper ute in half and you'll hardly notice the impact. It created a sure-footedness I'm not used to, having driven a clapped-out Triton since 2016. It just ate anything I could throw at it on the beat-up, unsealed roads we use to get to where we go riding.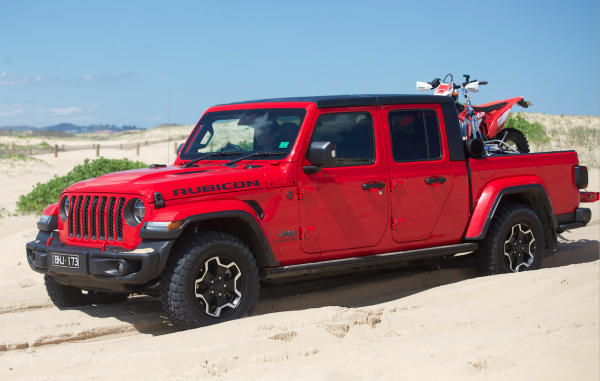 If you're keen on tackling more gnarly stuff, then the Gladiator is equipped with Tru-Lok front and rear locking differentials, heavy-duty Dana 44 front and rear solid axles, heavy-duty forged front and rear tow hooks, Off-Road+ mode which adjusts throttle, transmission shift points and traction control, 4.0:1 low-gear ratio with Rock-Trac 4×4 system and an electronic front sway-bar disconnect. But you're probably best looking for a review in your favourite four-wheel-drive magazine to get the gritty details, I'm just a dirtbike hauling specialist.
For us, the fun was in ripping all the panels off the car and driving around like we were in Mad Max. The doors can be removed quite easily, as can the roof. The only down side is you need to have space to store them because you don't want to scratch paint like the Firecracker Red colour we had. If people didn't notice you pull up with the doors off in a big red truck than the bright grille accents, body-colour fender flares, body-colour hard-top, rock-slider side steps, 18-inch granite crystal alloy wheels with 32-inch BF Goodrich hoops and LED exterior lighting are sure to get their attention.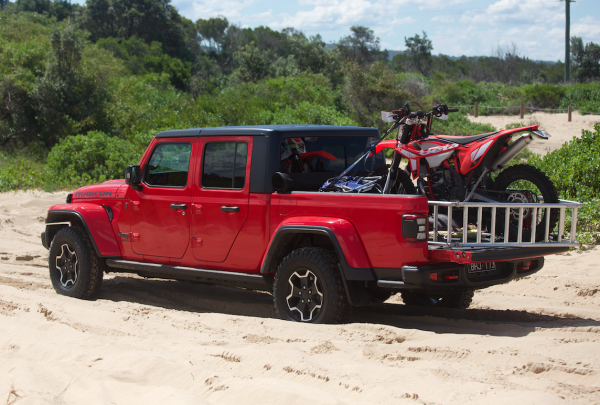 FEATURES
While the ergonomics and suspension were the highlights for me, the Gladiator is loaded with other features like Bluetooth speakers (you can activate the speakers from your phone with the car off), 8.4-inch Uconnect touch screen with Apple Car Play, heated front seats and steering wheel, lockable storage in the rear seat area, dual-zone automatic temperature control, leather seats, chrome bits and pieces, blind-spot monitoring, adaptive cruise control, forward collision warning and braking, rear cross-path detection, parking cameras and sensors, tyre pressure monitoring system, keyless entry and loads more. Reckon the Panel Van had any of that?! It even has a trailer sway control system that detects when your trailer is swaying and will apply brake pressure to individual wheels of the Gladiator to help bring it back in line. That's pretty handy when your trailer is fully-loaded with bikes and your crossing the Mooney Mooney bridge!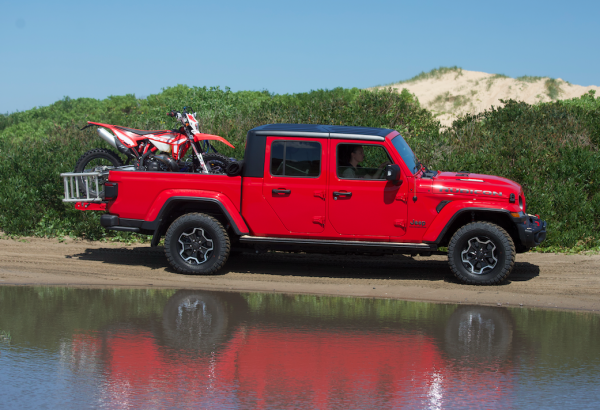 The Gladiator might be a high-tech, luxury bike hauler that's as cool as Steve McQueen but what's under the hood I hear you ask? Well the heart of the Jeep isn't quite as cool as the exterior. It runs a 3.6L Pentastar V6 petrol engine that pumps out 209kW and 347Nm, the same one found in the Jeep Wrangler and a host of other utes pumped out by Chrysler like Dodge, Fiat and Ram. The best comparison I can make is the V6 Holden Commodore engine. It won't make your balls tingle when you put your foot down and it won't keep you away from the servo but it does pull over 2.7 tonne if you have electric trailer brakes. It's got an eight-speed auto so the gear changes are smooth and the overdrive gear did improve our average fuel economy which was 15L/100km (Jeep claims 11.2L/100km) for us.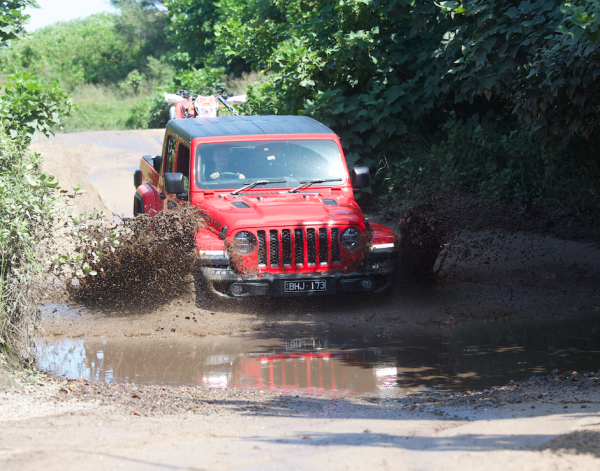 For a vehicle a big as the Gladiator it is surprisingly easy to drive. My wife, who's daily commuter is a hatchback, had no problem with the dimensions when parking it in a shopping centre. That being said, it is long. With a total length of 5591mm the Gladiator is much longer than our beat-up, plastic Triton but not quite as long at the Ram 1500 (5833mm). The length isn't a problem but the wheelbase gave us one issue. With 249mm of ground clearance, the 3488mm wheelbase is just a little too long to avoid dragging the high-strength steel skidplates that help protect key components like the fuel tank and transfer case over sand dunes and some water drains. It never caused us to get bogged but the sound of steel on rock was like listening to your Year 8 geography teacher drag her nails down a chalk board.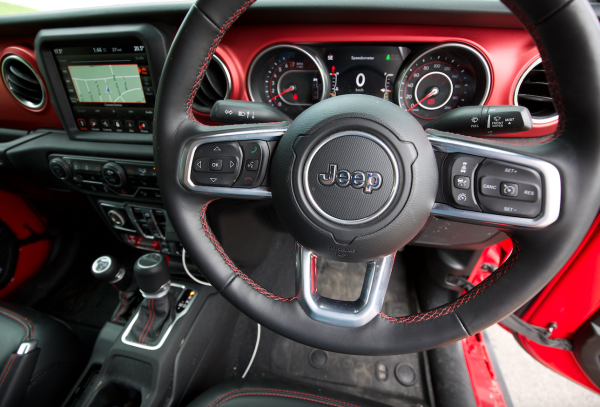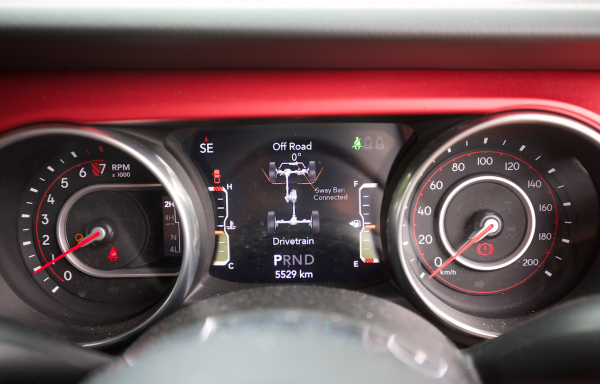 SLICK BACK
Most of the utes we've tested have come with a hard lid on the tray that we needed to remove, or a tonneau cover that clips to the side of the tub using elastic rope. Both of these options are a pain in the arse to get on and off and require us to store them somewhere when carrying bikes. Jeep uses a clever roll-up tonneau that you can lock in position for secure coverage and a clean look, or roll it like a Roman blind and strap it down near the cab. When fully extended it tightly but easily clips into place without any hassle. In all the rain we had on the east coast we didn't get a drop inside the tray.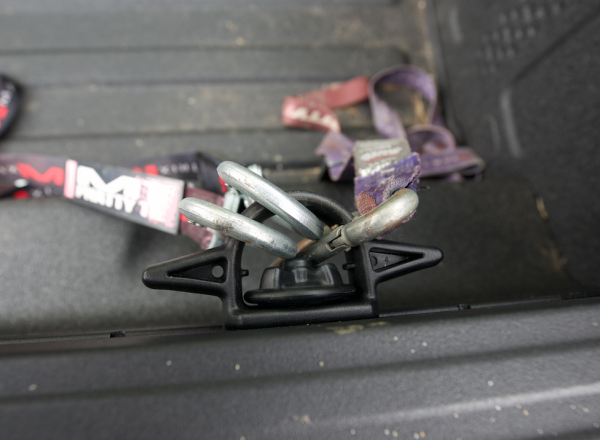 Driving the Gladiator Rubicon for a week was a pleasure. It made carting bikes around fun again and, like the Panel Van, it turned heads everywhere I went. While we were hoping they might offer a V8 or the 3.0-litre V6 diesel that's available in the US it looks like Jeep is going to stick with the petrol option in the ADR version for the foreseeable future. So, if you're looking to have fun in your next whip, with great bike hauling capacity and more tech than the latest 1200cc adventure bike than get your hands on one of America's finest exports.