TRAIL TEST I 2019 Beta Xtrainer 300 | Bike Reviews
The Beta Xtrainer has been getting a lot of attention lately in Australia and has become a bit of a legend due to its easy-to-ride nature.
It features a 300cc two-stroke engine with electronic 2T-oil injection, an adjustable power valve and electric start as well as the six-spring clutch featured on the RR models.
The Xtrainer is not just a low-compression engine stuffed into a standard Beta chassis. It is purpose built with a quality Nissin brake system, a smaller frame, lower seat height and an engine built specifically to suit the chassis.
It also features soft-compound enduro tyres, a nickel-plated exhaust, ADR lighting package, plastic skidplate, push-button seat release and quick-access air filter. The power delivery is soft and linear, making it extremely easy to ride, while the Beta Progressive Power Valve allows easy external adjustment with a 5mm hex spanner. The seat height is 910mm making it 20mm lower than the RR range at 930mm, so shorties can be confident.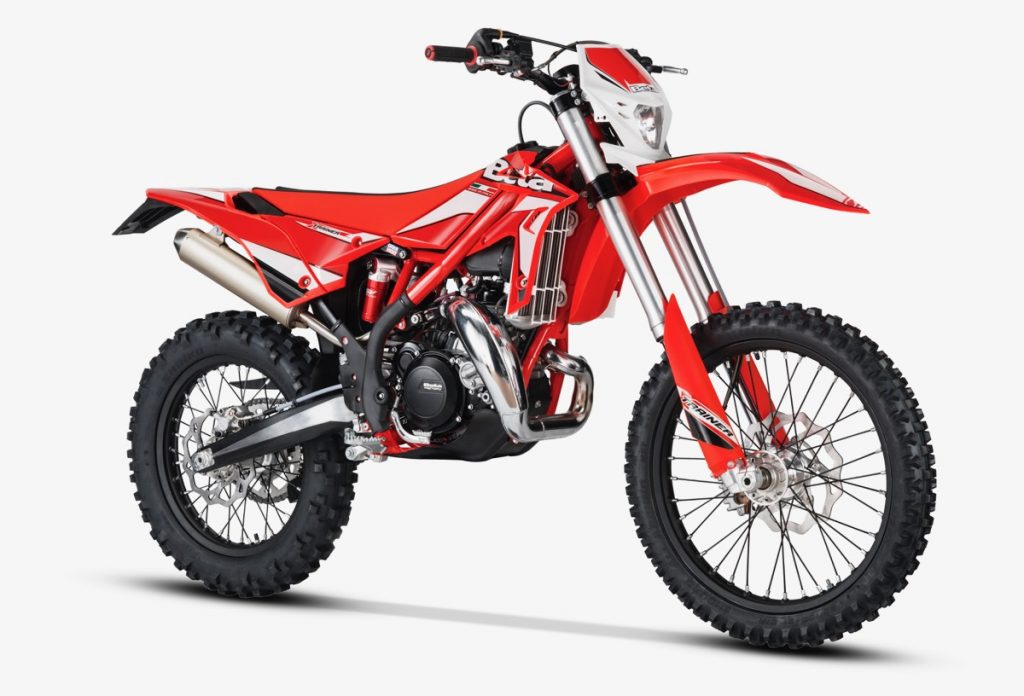 The bike is only 99kg dry, despite the oil injection, which eliminates the messy task of mixing fuel. The chrome-moly frame is coupled with a 43mm Ollé R16V fork and gas-oil monoshock from the same manufacturer, which specialises in trials and enduro suspension.
We got the chance to take one for a spin on a property in northern NSW that was a slice of heaven for dirtbike enthusiasts like us. It was full of flowing singletrack winding up and down hills with irrigation channels to jump off and banks to launch up and down. There were streams and creeks running everywhere, with more logs and rocks to jump off than you could ever dream about.
Because the Xtrainer hasn't received any major updates for 2019 we decided we wouldn't bore you with a launch report but would tackle some of the questions we get asked about the Xtrainer.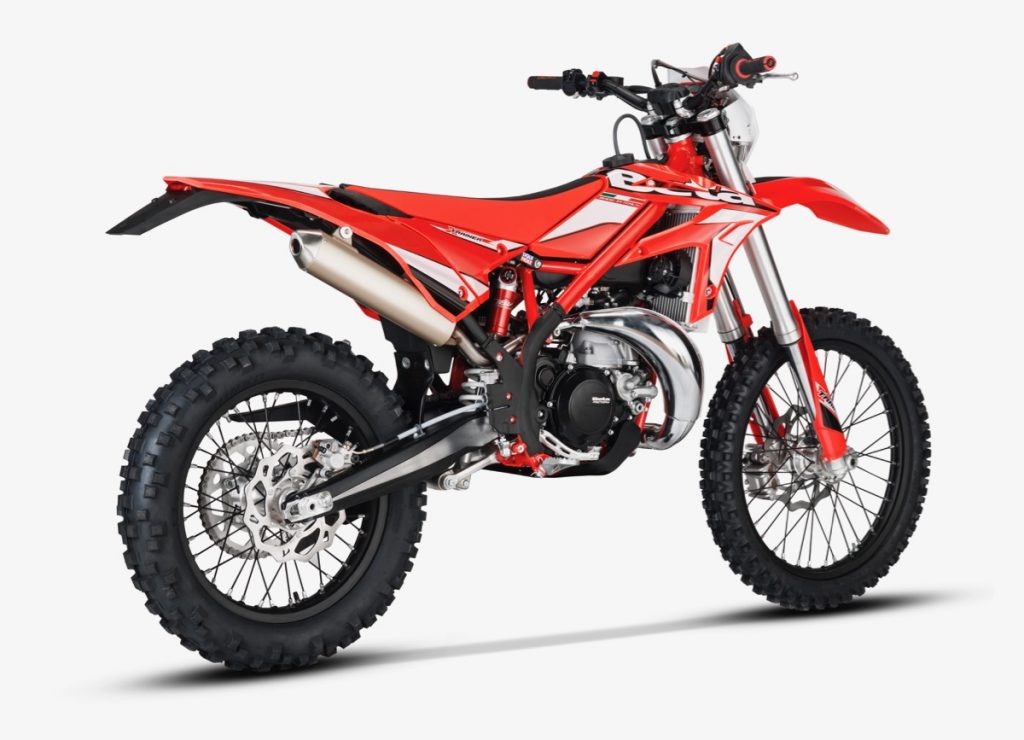 WHY BUY ONE?
I'll start my answer by saying that you'd buy an Xtrainer for the same reason you would buy any dirtbike, because dirtbikes are awesome and every household should have at least one. The second thing I would like you to know is that every time I go to Europe for a test or some kind of launch I come home wanting one of these things.
This is because all the European enduro riders have one that they pull out and play around on and share epic stories about what they are doing on them and I sit there like a stunned mullet with nothing to say and no stories to tell. I will share one story about a certain European friend whose name I won't mention who's a retired freestyle motocrosser.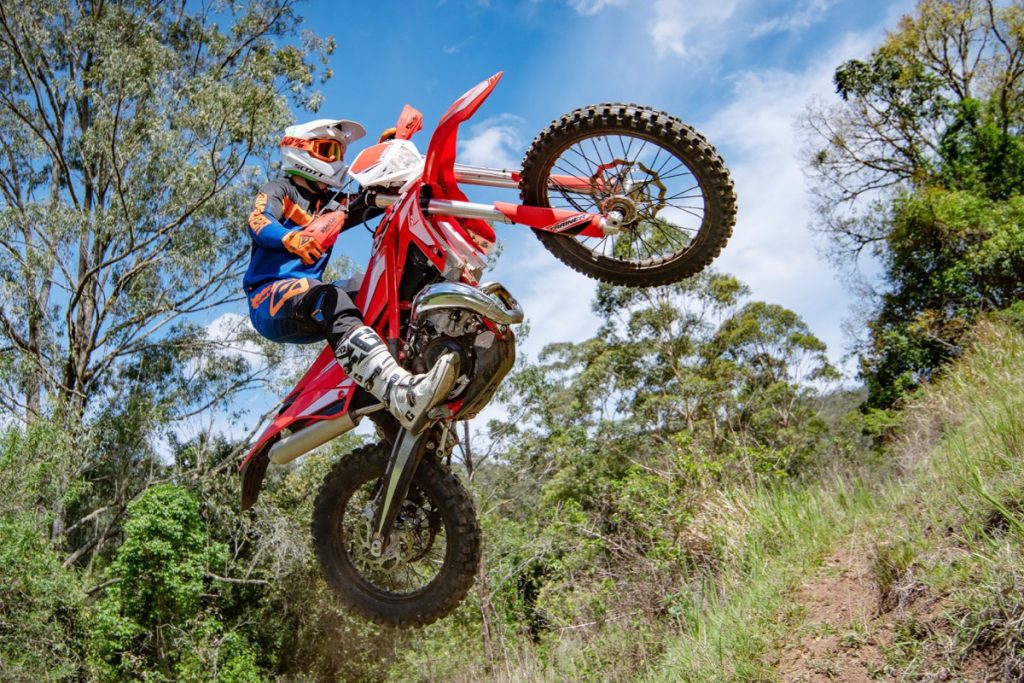 Turns out he rode his play bike to the letterbox and, on the way back, decided to practice some slow wheelies which resulted in a skinned backside and a trip to the hospital. If I happened to have an Xtrainer in my garage then maybe I could share some stories about missing skin.
Following on from that story, I would like to point out that quite a few top-level extreme enduro riders use these things as practice bikes when they can't be bothered fully gearing up and heading out into the forest. Instead, they throw on a set of boots and a helmet and play around on some logs or in a rock garden for practice.
While this bike fits the brief for several types of riders, the reason I would buy one is as a fun bike. I wouldn't have it as my only bike trailride it or race it but I would most definitely pull it out to jump some logs and boost off some rocks. It is a bike you can have a loads of fun on.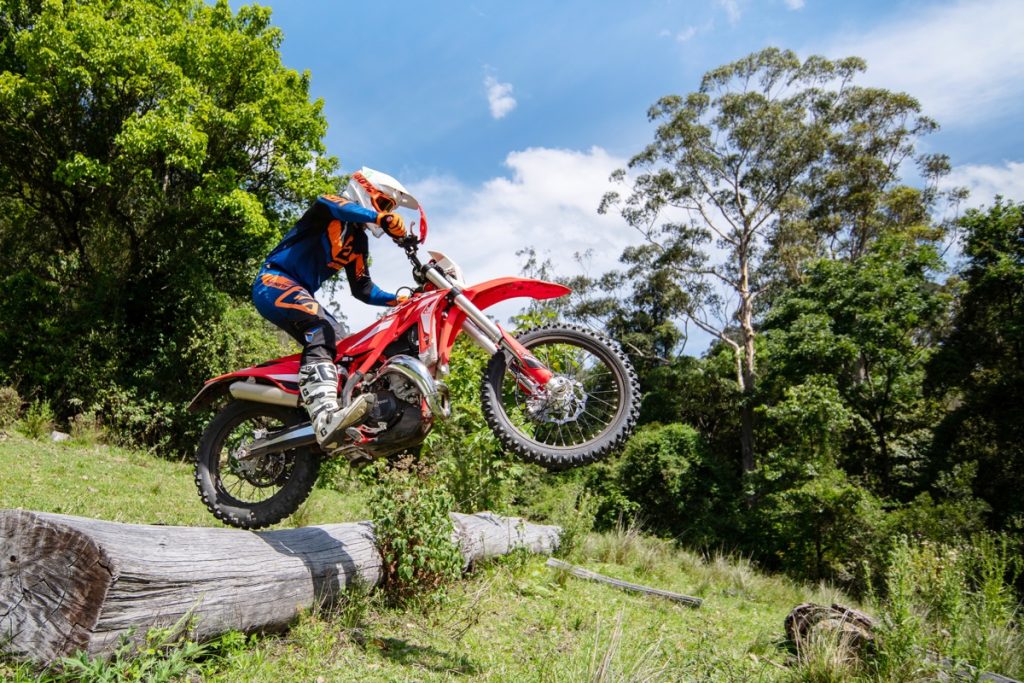 It's light, nimble, well balanced and has enough torque off the bottom to boost you over anything. It is certainly not overly slow. It's not as fast as an RR300 but it's still a 293cc two-stroke so it does have enough snap to be fun.
I'm 90kg and, without blowing my own trumpet too loudly, I am an experienced rider with the skills to be able to throw around an enduro bike quite easily. For this reason, I see the Xtrainer as a fun bike that I can get out and play with and have a great deal of fun with but, when it comes time to a full-day trailride, I will put it away and choose a big bike.
That being said, the Xtrainer does have a place as a full-time trailbike in the right crowd. For smaller people, less experienced riders or even teenagers the Xtrainer is perfect. While being only an inch shorter than a giraffe and weighing 50kg with house bricks in each hand, Digital Editor Olly Malone says it's one of the best bikes he has ridden and loved having one as a long-term test bike.
He trail rode the thing everywhere and thoroughly enjoyed it. He has even been heard saying he felt more confident on it and found it easier and more enjoyable to ride than a full-size bike. For someone like Olly this bike is perfect. Low seat, lightweight, more manageable power, less intimidation and easy to drag out of a tight spot if you get stuck, even when carrying house bricks in each hand.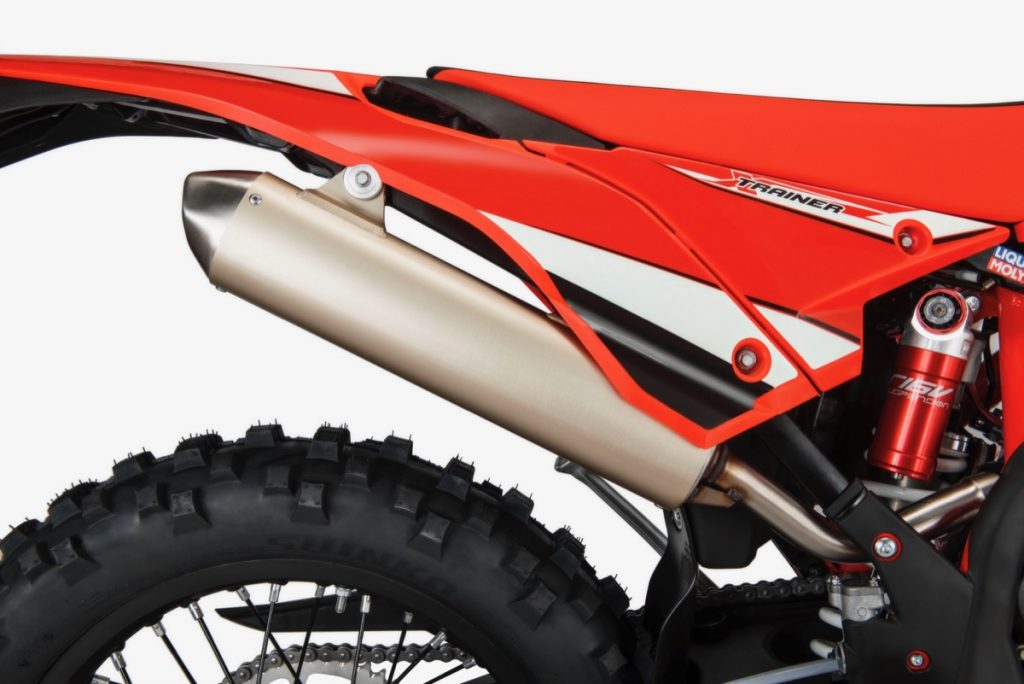 WILL IT MAKE ME BETTER?
This is where it gets tricky because the answer to this question isn't necessarily clear cut. I was able to boost over a log quite easily on all the Betas at the Aussie launch. None of them had a great deal of trouble doing that, nor did any really feel better than any others.
But when it came to hoping up on a log and balancing on top of it while I rode along I found it much more difficult to do so on the four-strokes and only on the RR200 and the Xtrainer did I feel I was able to balance and ride the whole way along the log without slipping off or getting off balance.
The Xtrainer has great balance and is really easy to ride slowly on while maintaining balance and control. So in this case, yes the Xtrainer made me a better rider because I was able to do something on it that I found much more difficult on full-size bikes.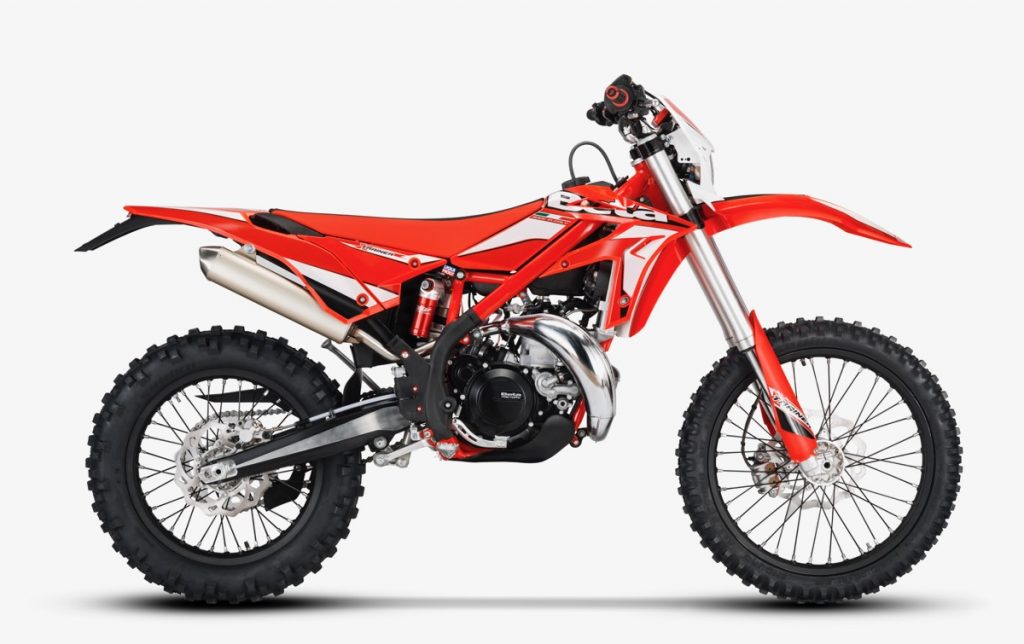 The next scenario was spinning the bike around on singletrack. I would pop the Xtrainer up on the back wheel in a wheelie and spin it on the spot so that I was facing the direction that I wanted to go. This is such an easy task on this bike. A small pop of the clutch and the front wheel is in the air and you can just pivot the bike on the spot and drop the front back down.
Doing this on a big four-stroke takes much more effort and if you get it wrong you'll have to go chasing the bike to dig it out of the scrub. So in this case again, yes the Xtrainer made me a better rider. I was able to enjoy the singletrack and could ride the Xtrainer fast and get it through the tight trails with ease but what I found was I wasn't able to carry as much speed over the rough bumps when the trails started to chop out.
The Xtrainer didn't handle bumps and g-outs as well and I would have to slow down a little more and pay much more attention to my line selection. This did not mean I was losing time on the Xtrainer nor did it mean that I was riding worse but I did find it a little more difficult to ride fast when the trails got rough.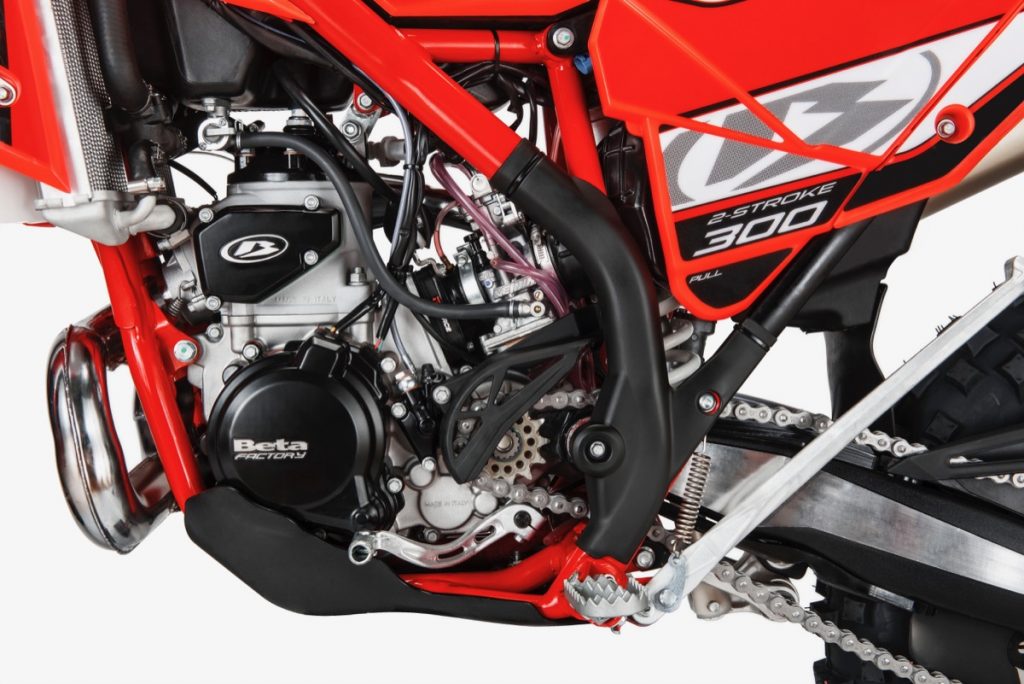 DOES IT GET BORING?
Well I rode it for hours and, in the end, I had to be kicked off it to catch a plane so I can't say that I got bored. I would even go as far as saying I would have loved to ride longer. I found it so much fun and, in the end, I found myself riding around barely going over 20kmh looking for logs, rocks and cliffs to ride up or jump off. Everywhere I turned I found a new challenge to throw at the Xtrainer and I'm happy to say the bike far exceeded my expectations.
Before the day I kind of looked at it as a beginner's bike and thought I wouldn't get a whole lot of entertainment out of it. I wasn't actually expecting to fall in love with it and end up wanting one. But here is the part that I want to make clear. I feel that the bike left me wanting a little more on the trails.
Not more power because the engine still provides plenty of speed but I felt like I wanted more bike between my legs. I felt that the chassis was great for slow-speed riding and boosting technical cliffs and logs but my 90kg frame wanted more bike underneath me when I was travelling at speed and I wanted more from the Spanish-built suspension in rough conditions. No surprise really.
It certainly has its place in the market. And in that market niche it is a tough bike to beat. I certainly wouldn't go recommending the Xtrainer to anyone interested in racing the Australian Off-Road Championship but for anyone wanting a play bike to hit up some techo sections it is perfect whether you are a beginner or a pro.
A pro is going to want stiffer suspension out in the bush but beginners to intermediate riders will love this thing out on the trail. It's easy-to-manage characteristics make it a dream for smaller riders or someone not quite fit enough or strong enough to hang onto a fire-breathing 500 all day long. If you can get a chance to ride one then, beginner or pro, I think you will be pleasantly surprised. Mat Boyd
Beta Xtrainer 300 Spec
Engine
Type Reed-valve, piston port
Displacement 293.1cc
Bore & STROKE 72 x 72mm
Cooling Liquid
Compression ratio N/A
Fuel metering Keihin PWK 36
Tank capacity 8.5L
Transmission Six-speed, constant-mesh
Clutch Wet multiplate
Dimensions
Wheelbase 1467mm
Seat height 910mm
Ground clearance 320mm
Weight 99kg dry
Suspension
FRONT Olle R16V 43mm USD fork, 270mm travel
REAR Olle R16V monoshock, 270mm travel
Brakes
Front Nissin twin-piston, 260mm wave disc
Rear Nissin single-piston, 240mm wave disc
Running Gear
Handlebar Tapered alloy
Front tyre Shinko Enduro 80/100-21
Rear tyre Shinko Enduro 140/80-18
Price & Contacts
Price $10,495rrp
Web betamotor.com.au
Phone (07) 5520 2483
Warranty Six months parts and labour