We catch up with Daniel Milner to talk off-road racing, injuries and living in the US.
Daniel Milner's 2016 US off-road racing season was on track to be one his best. The 25-year-old was leading the Kenda Full Gas Sprint Enduro and held a solid position inside the top-10 of the Grand National Cross Country (GNCC) series' premier XC1 class. Milner's season was then derailed when the Yamaha rider tweaked his leg at Round 4 of the Kenda Full Gas Sprint Enduro with scans later revealing a broken fibula.
The injury ruled Milner out for at least two months, so he returned home to recover.  We checked in with Doogs to talk injuries, the US off-road scene and what it's like to live with Josh Strang.
ADB: Thanks for taking the time to talk to us, Doogs. It's bad news about your leg, you were on track for a solid result. What are your plans now for the rest of the year?
DM: It's a real of a bummer, but oh well that's racing. The injury happened at Round 4 of the Kenda Full Gas Sprint Enduro. I tucked the front-end on an off-camber turn and as I put my foot down it clipped a root and that impact was enough to cause the break.
I arrived home the other day so I'm just going to kick back and chill out. It'll give me time to work out what I'm doing for next year.
ADB: You had placed inside the top-10 at the first six rounds of the GNCC and managed second at the opening round. What's the level of competition like over in the US at the moment?
DM: The level of competition over there is crazy. There are 10 guys at every round that are good enough to win and all of them put in 100% through the week in training and on race day.
ADB: The US off-road racing schedule is busy, how did you go racing weekend after weekend?

DM: It's intense how many races they have over there in the US. The racing schedule doesn't give you too many weekends off and you don't get much time to go out and do other things on weekends.
Your results in the Kenda Full Gas Enduro series have been better than your GNCC results. Do you think the style of the Kenda series fits your riding style better?
DM: The Kenda Full Gas Sprint Enduro is a sprint series and that is what I have grown up racing in Australia. We also have GNCC style cross-country races in Australia but nothing like how they race in the US. The tracks are so hard and cut-up because the quad bikes race on the same track all day on the Saturday then we come out on bikes on Sunday.
ADB: What's it like racing in the US compared to Australia? Could a top-5 Australian Off Road Championship rider cut it in the US, specifically the GNCC?
DM: We don't understand how good we have it back home in Australia with fresh cut tracks that never get too rough and awesome teams that support us. I think it would be hard for any AORC rider to head over to the US and straight away start getting good results. Just looking back at past riders coming from New Zealand or Australia it takes them two or three years to get the hang of racing in the US.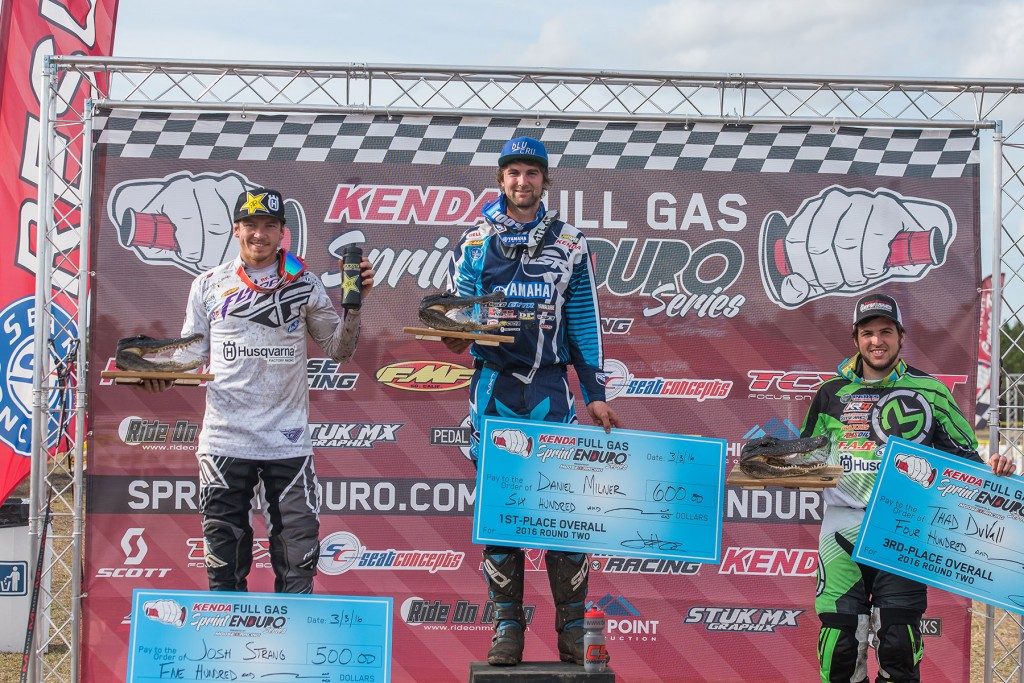 ADB: What do you think has been your biggest challenge as you've adapted to the US off-road racing scene?
DM: The biggest challenge for me adapting to the US racing scene has been keeping my diabetes to stay level racing such long events in the GNCC. I find it a lot easier to ride a three-hour race in Australia because our food is so much better than what is available in the US. For me, eating better makes it easier to keep my diabetes under control.
ADB: You raced the odd GNCC and Kenda round in 2014 and 2015, has it always been your goal to lock in a full season in the US?
DM: To be honest it hasn't really been my goal to race a full season in the US. I have always dreamed about going to Europe to race in the FIM Enduro World Champion but never had a good enough offer. Then the opportunity to race in the US came up and it was too good to refuse.
ADB: You're racing for the N-Fab/AmPro/Yamaha bLU cRU Off-Road Motorcycle Racing Team, tell us how the opportunity to race for this team came about?
DM: The offer to ride for the N-Fab Yamaha team in America came through Yamaha Australia. I wanted to go racing around the world, I told Yamaha Australia my ambitions to race overseas and shortly after they came to me with this amazing offer to race in the US. Yamaha Australia really looked after me with this deal, they've been very supportive and are a great company to ride for.
ADB: You were living with Josh Strang in the US, what are the worst things about living with him?
DM: Where do we start! Just joking, to be honest we get along great. We never seemed to clash and never to have a problem with each other. The only problem Josh and I had was the coffee shop down the road that we went to almost everyday. Between the two of us we would have paid that place off! 
I can't thank Josh enough for all the help he gave me this year while I was living and training there with him.
ADB: You have beaten Josh Strang in the every round of the Kenda series, how does he feel about that?
DM: I guess that makes it even because he seemed to smash me at every round of the GNCC!
ADB: What are your expectations for the rest of the year?
Now that I have broken my leg it is just a waiting game. All my focus will go towards the International Six Days Enduro and maybe even the Australian Four Day Enduro.
ADB: Thanks for taking the time to talk to us, mate.
No worries, thanks for the opportunity.