If you've already made up your mind about the LDV T60 Mega Tub because of its country of origin, wait one second and hear me out.
"Chinese made?" I hear you say. I'm going to stop you right there. If you've already made up your mind about the LDV T60 Mega Tub dual-cab ute because of its country of origin, wait one second and hear me out. That computer you're using to research your next dirtbike purchase, yep – made in China. That Japanese or American dual-cab ute you're driving to pick up your new bike – sorry, but it has more Chinese parts than that laptop!
And that iPhone you're using to call your wife to tell her not to check the credit card statement – yep, made in China. Like it or not, just about everything you use in your life comes from China. LDV is just cutting out the middle man, so they can sell you a dual-cab ute at a ridiculously good price. Yes we'd love to buy an Aussie-made ute but are there any?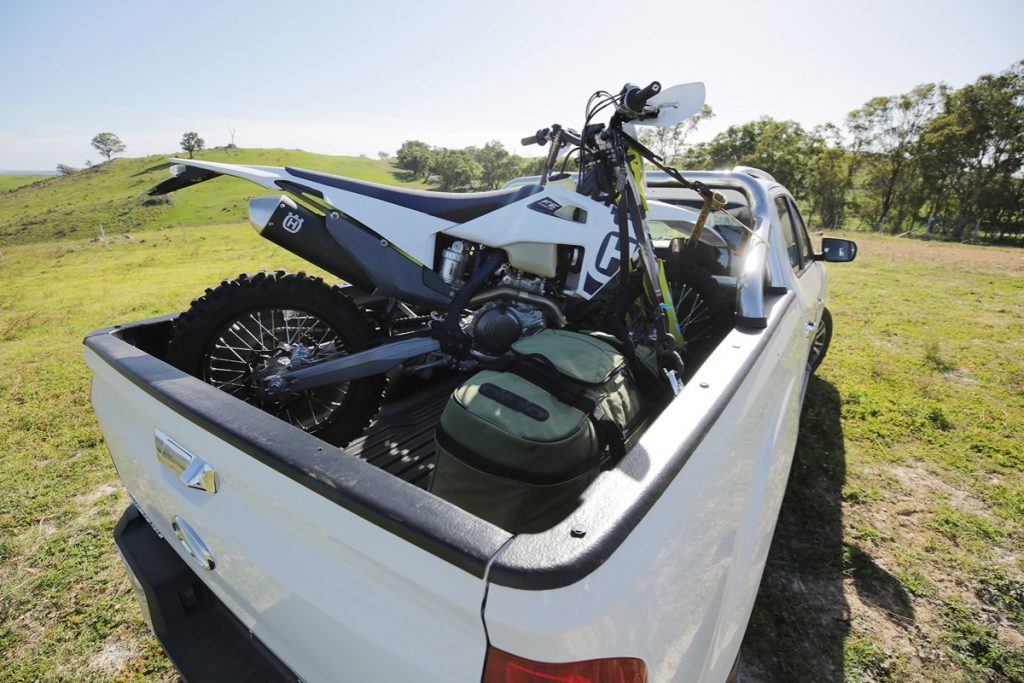 When LDV entered the market bragging about a dual-cab ute that could fit a dirtbike in the tub with the tailgate up we cried bullshit! So LDV called us out on our slander and challenged us to test one. LDV seem intent on cracking the dirtbike market and market the T60 directly at riders.
The LDV T60 Mega Tub manual starts at $34,990 drive-away for ABN holders (private buyers $36,831 drive-away, manual). The auto we tested starts at $36,990 drive-away for ABN holders (or $38,937 for privateers). Plus you get a five-year/130,000km warranty.
Don't assume by looking at that price that the LDV is lacking in creature comforts or safety. Standard equipment includes proximity key and push-button start, 10.0-inch infotainment display with Android Auto and Apple CarPlay, 360-degree camera, adaptive LED headlights, heated leather seats, lane-departure warning, tyre-pressure monitoring, leather covered steering wheel, auto-dimming rear-view mirror, 19-inch alloys and blind-spot monitoring. Plus, the Mega Tub has an ANCAP five-star safety rating.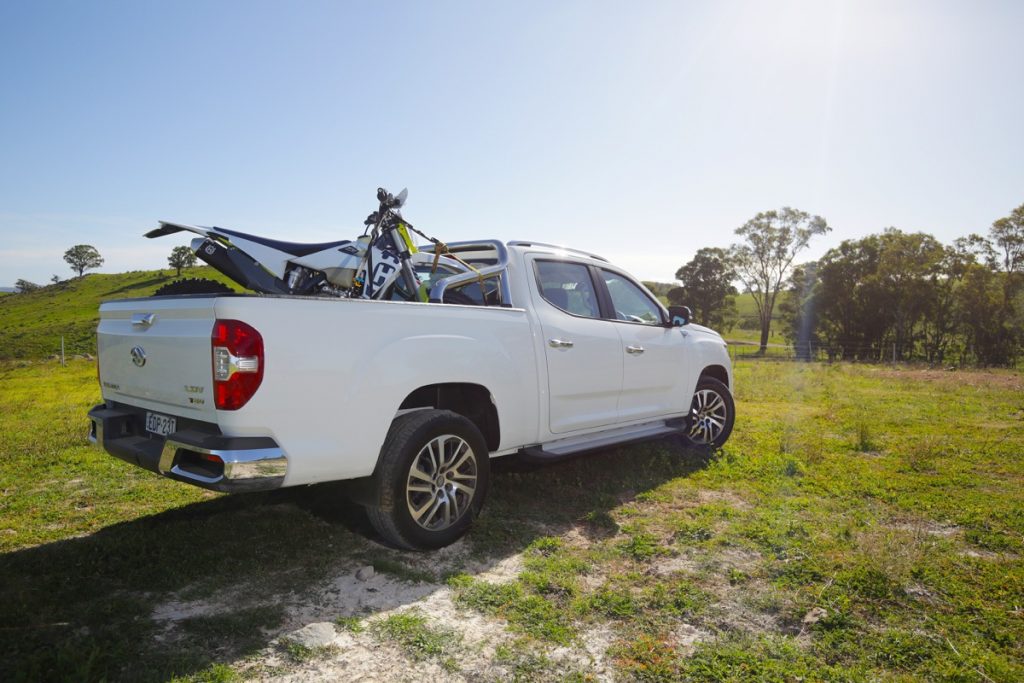 The 2.8-litre four-cylinder turbo-diesel engine, with 110kW at 3400rpm and 360Nm of torque (from 1600-2800rpm), is down on power compared to its competition. For example, the 2.0L twin-turbo diesel in the Ford Ranger puts out 157kW and 500Nm. You certainly notice the LDV's modest output but if you're not planning to tow a house with the 2060kg beast it's not a major problem. The Mega Tub feels like it was designed to transport dirtbikes, which takes us to its crown jewel, the tub.
Besides having a fun name – just imagine a boxing announcer saying it before a fight – the Mega Tub makes one hell of a bike hauler thanks to its tub dimensions; 1.8m-long, 275mm more than the standard T60. The extra length comes from a 310mm extension to the wheelbase. By comparison, the Aussie tradie's current dual-cab ute of choice, the Ford Ranger Wildtrak, has a tub length of 1549mm. Not to mention the $70K price tag. But, hey! That's what finance is for isn't it?
The Mega Tub is long enough to get one full-size bike in corner to corner with the tailgate up. You'll be hard-pressed to find another dual-cab for the same money that can accomplish this feat. The soon-to-be released VW Amarok XL and XXL with Aussie-fitted implants for 1865mm and 2205mm tubs will fetch a rumoured $15,000 more than standard, making the base model XL or XXL around $60k, a fair whack more than the Mega Tub's drive-away price. Only the SsangYong Musso XLV ELX sneaks in under the LDV with its base manual at about $33k, but its tub is 190mm shorter.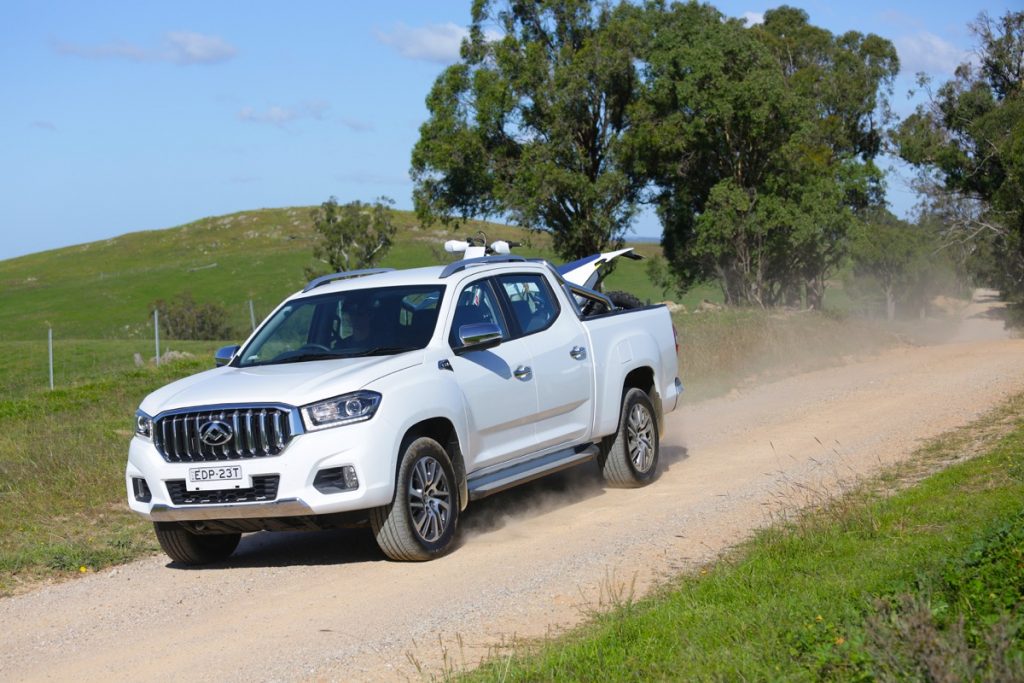 Unlike the Amarok XXL, you can't fit two full-size dirtbikes in the LDV with the tailgate up, it's just a little too short. But it's possible to get one plus a fun bike in with the tailgate up, which we did with a Husqvarna FE501 and the KTM SX-E5 tested in this issue.
HAULING
The Mega Tub is crammed with features that 10 years ago would have only been seen in a $150,000 German luxury car. But all these whiz bang features don't mean much if the LDV can't do what dirtbike riders demand. We put the Mega Tub through some thorough testing, flogging it along NSW country roads, river crossings, corrugated dirt tracks and highways and, by the end, we wanted to trade in the ADB Mitsubishi Triton for one.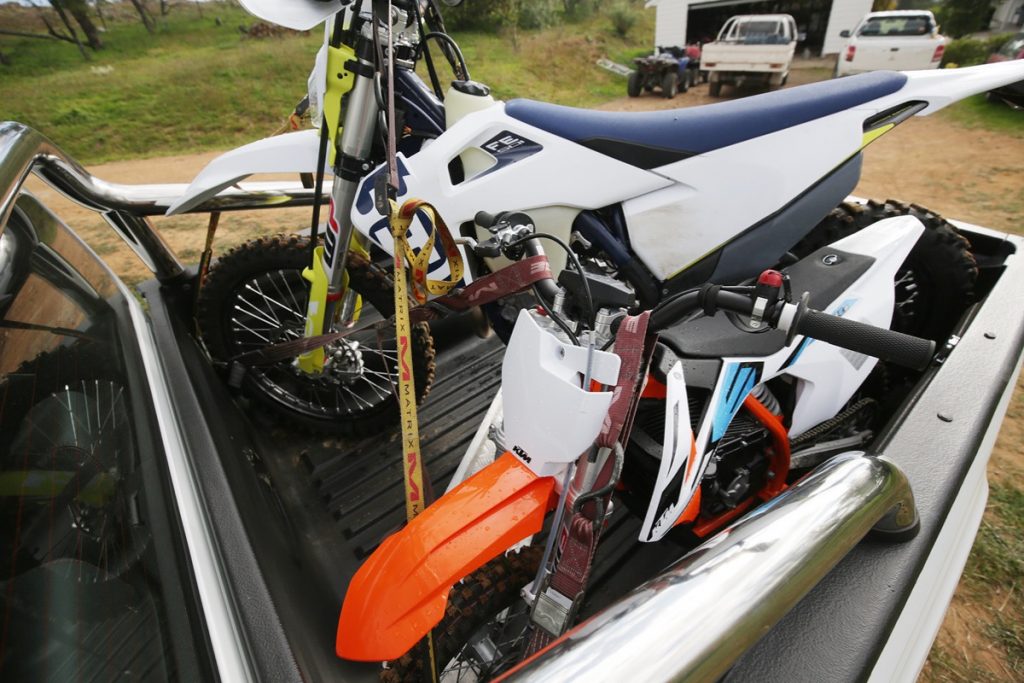 The drive is what you would expect from a nearly six-metre dual-cab in terms of its handling but all we care about is comfort, which the Mega Tub delivers in spades. I drove the LDV for eight hours in one day and felt fresher than I do after flying one hour in Economy. The high seated position is more comfortable over long distances compared to the lower position you find in something like a Holden Commodore ute.
As mentioned, the Mega Tub isn't short on features, all of which make eating up the kilometres that much easier. Lane departure warning screams at you when you drift near the white line and Apple Car Play takes the frustration out of trying to enter your destination letter by letter into an inbuilt GPS system. Obviously it has cruise control and auto everything, so there really isn't much to worry about other than whether you'll get the 10-pack or 20-pack of nuggets when you stop at Maccas.
Where the Mega Tub falls short is when picking up speed to overtake on the freeway. Mash your foot to the floor and the six-speed automatic knocks back a few gears but not a lot else happens. Then the turbo-diesel slowly picks up revs and you start to make ground on the grey nomads towing the Jayco with their 200 Series. Don't expect to blow their doors off, as they'll have enough time to finish the cryptic crossword. There are reports of a V6 diesel version being on its way for 2021 but that has not been confirmed.
The engine has to work hard and fuel consumption isn't anything to write home about. Over almost a thousand kays on the L60 we averaged around 10.5L/100km, more than the claimed 9.6L/100km for the auto.
The tray comes with six tie-down points and they are well positioned to secure dirtbikes. Plus it comes standard with a plastic tub liner. If you ride with a group of mates who like to scab a lift, the Mega Tub will handle them with ease. There is loads of leg room in the back for those slow on the shotgun call, without pushing the driver and front passenger's knees into the dash.
And with the LDV's 750kg un-braked or 3000kg braked towing capacity, transporting their bikes won't be a problem either. Three in the trailer and one plus gear in the tub with the tailgate shut and you'll be good to go. Just keep it under the gross combination mass of 5950kg for this spec, and gross vehicle mass of 2900kg.
The tub is 1510mm wide (1131mm between the wheel arches), which is about average for a dual cab so you can't expect to get a quad bike in without riding up on the wheel arches. At 530mm the tub is nice and deep for a load of dirt compared with our Triton's 475mm.
If you plan on navigating the Mega Tub through shopping centre carparks then you'll like the cameras mounted on the front, sides and tailgate. Plus, through some computer trickery, the images from the four cameras are combined to produce a bird's eye view around the car, making parking a lot easier. Picture quality isn't great but it's good enough to ensure you don't reverse over anyone.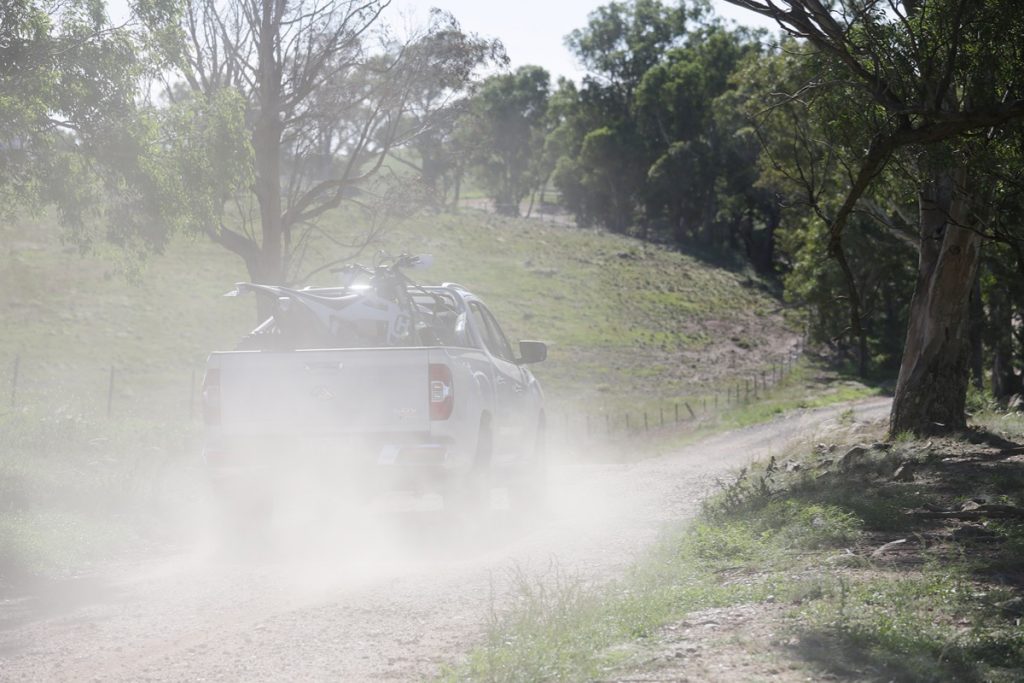 REMOTE ACCESS
The T60 Mega Tub is a ridgy-didge 4X4 with 2WD high-range, 4WD high and 4WD low, which you select using a dial in the centre console. We didn't have time to nip up to Cape York and throw the Mega Tub over Gunshot but we did tackle some river crossings and steep, rutted dirt tracks, the type of stuff you might encounter if you like to drive deep into the state forest before unloading the bodies, I mean bikes. It was hard to fault the Mega Tub anywhere we drove it. The ride is fairly plush over rough dirt roads but, like all dual-cabs, it can be a little harsh over sharp-edged bumps and corrugations. The ride is made a lot smoother when you have a load on.
It's not going to be amazing at hardcore four-wheel driving because the long wheelbase will cause it to bottom out easier than something shorter. But if that's not on your agenda, you won't face any issues.
VERDICT – LDV T60 Mega Tub
The T60 Mega Tub is a lot of ute for the money and LDV hasn't skimped on features to get there. It's well equipped to haul dirtbikes all over the country and it'll do it in comfort too. If you're after a dual cab ute with a little extra length in the tub while still having plenty of room for passengers don't overlook this one.
WORDS // OLLY MALONE PHOTOS // OM & miTCH LEES
LDV T60 Mega Tub Specs
ENGINE
TYPE DOHC, 16-valve turbo-diesel inline-four with intercooler
DISPLACEMENT 2776cc
BORE/STROKE 94 x 100mm
COMPRESSION RATIO 17:1
FUELLING EFI
TANK CAPACITY: 75L
POWER 110kW at 3400 rpm
TORQUE 360Nm at 1600-2800 rpm
TRANSMISSION Six-speed manual/auto
STEERING, SUSPENSION, BRAKES
STEERING Power-assisted rack and pinion
Front Suspension Double-wishbone
Rear Suspension Leaf spring
Brakes Front and rear discs
Wheels and Tyres 19" x 7.5" alloy wheels with 255/55-19 tyres
DIMENSIONS
Ground Clearance 215mm
Length 5680mm
Width 2145mm
Wheelbase 3470mm
Tub Width 1510mm
Tub Length 1800mm
Tub Height 530mm
Kerb Weight 2050kg
Towing Capacity Braked trailer 3000kg, unbraked trailer 750kg
Payload 850kg
PRICE & CONTACTS
PRICE $36,990 as tested, for ABN holders ($38,937 RRP for private buyers)
WEB ldvautomotive.com.au
PHONE 1800 538 538
WARRANTY Five year/130,000km