Project Splitfire Kawasaki KX250 Part 1 | Features
Every Thursday night, there's a secret meeting to discuss a classified project. It involves bikes and beer.
Somewhere in a shed in an undisclosed location, a top-secret project is underway. A painter, who we can only refer to as Matt, is building a weapon with the codename Splitfire.
On Thursday nights, he gathers in the shed with his team of advisors and they discuss secret men's business, like who won supercross on the weekend, or whether or not VB is decent beer.
But they also work on the secret project. The project is a 2000 Splitfire Pro Circuit Kawasaki KX250 replica and it's been nearly 12 months in the making.
Matt's main reason for choosing this particular bike is that he loves the mid-to-late '90s motocross era. "The bikes were just cool back then," he explains. "They had all the cool colours and it was a bit of a party era; everything was happening."
SIMPLE PLAN
Matt had designs on a 1996 KX250. He went to purchase one but changed his mind when he saw the seller's 2000 Splitfire model. "I saw that and just loved it," he said. "I ended up with a 2000 KX250 and decided to base it on the bike that Pro Circuit ran in supercross back in 2000."
Matt's plan was simple. "The idea was to spend $1500 on a KX250 with a working motor and then strip it down, rebuild the engine, put in some decent suspension, powder-coat the frame and chuck a sticker kit on it," he says. "But being me, I get excited and find one piece and then another piece, and then it escalates into where we're at now."
Where we're at now, is a bike that it is as close you can get to an exact replica without being exact. While the bike isn't entirely finished, it is very close and it has been a long and eventful process.
Once the bike had been acquired the first step was to strip it. With the bike in pieces, Matt checks everything and throws away anything he doesn't need. Very little makes the cut. "The wheels and all of that go in the bin, they're usually garbage."
The initial aim, explains Matt, is to get the bike rolling. He has the frame powder-coated and cleans up the swingarm. He then orders wheels and hubs. "I get the wheels from John Titman Racing. All their stuff is grouse and with vintage stuff, they are probably the best people to go to."
Once the bike is rolling, the next stage is to figure out what to do with the suspension. The idea that they came up with was to buy a 2008 KX450F front end with a Pro Circuit triple-clamp and springs and modify it to fit the 2000 KX250 frame. Matt used a stock KX250 shock absorber but has used Kashima and titanium nitrate coatings to trick it up.
The suspension is not the same that was used in the actual KX Splitfire, but Matt believes that today's suspension is much better than the A-kit back then. "I want to ride it and suspension is the best modification you can make to a motorbike."
Sourcing the right parts is tough, but Matt says that finding carbon-fibre parts for these older models is especially difficult. Fortunately, Matt's got a keen eye and he was able to find a carbon factory skidplate and carbon water pump guard.
PIECED TOGETHER
With the frame, wheels and suspension pieced together, Matt now had a rolling bike. His next goal was to get Pro Circuit magnesium clutch and ignition covers.
An overseas mate was able to source them for him. He also obtained a factory Kawasaki clutch actuator that has a BLC coated shaft and billet arm.
Matt then sent the cylinder to Pro Circuit. "The cylinder was buggered so I sent it to Millennium Coatings over in America and had it recoated. They then sent it to Pro Circuit who did all their work."
Once the cylinder was done it was just a simple rebuild to finish off the engine.
One difficult aspect of a build like this is trying to work out what parts are needed. But Matt says that the trick is to go on E-bay and buy magazines from the era. "I just read old mags like ADB and look at all the old tests and just work our what parts are on the bike."
The bike is not finished, but Matt anticipates he will have it finished within months.
There have been a few setbacks, but Matt is on the home stretch. Once the bike is complete, the plan is to put a professional rider on it and get them to test it. We could tell you who, where and when, but then we'd have to kill you.
Stay tuned!
WORDS & PHOTOS // DYLAN RUDDY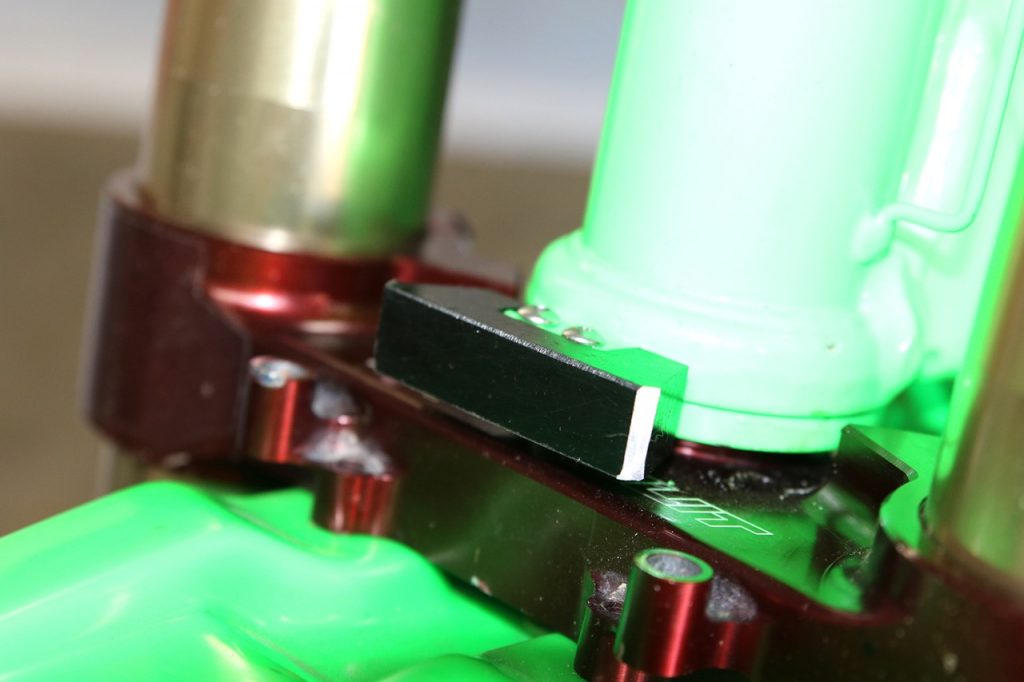 See the full feature in ADB issue #450