TESTED! Penrite Honda CRF450LX Limited Edition | Bike Reviews
Take one look at the Penrite Factory Honda CRF450LX Limited Edition and you have to wonder what might have been for a model that's been withdrawn from the local market after less than two years.
Certainly, this CRF450LX is more like what many Red Riders were expecting to replace the popular and long-departed CRF450X when the six-speed CRF450L was announced.
Perhaps it's also more like what Honda Australia was expecting, but they're not telling. Instead, the distributor was left scrambling to put together an CRF450LX Enduro Kit featuring an FMF pipe and Vortex ignition, plus graphics, to uncork the beast. We tested the $2600 kit on our CRF450L long-termer for six months from last December (ADB #483), reporting that throttle response and power were so much better that it was "like night and day".
We did a heap of stuff with our build (as reported in #489) but the boys at Penrite Factory Honda went even further with their jaw-dropping CRF450LX LE for team boss Yarrive Konsky, with the father/son combination of team mechanics Mick and Scott Lillis twirling the spanners on this job.
CRF450LX Build
They started with the $12,990 stock CRF450L that, despite its lineage, is really meant for a mixture of bitumen and dirt, with a bit of singletrack thrown in, while providing a super comfy ride. But with a wet weight of 131kg and horsepower readings right on 29hp it was fair to say that the Penrite boys had their work cut out turning this trailbike into a fire-breathing enduro weapon. The first order of business was to figure out what needed to be taken off the bike and what needed to be added. It was decided that the chassis would take priority before tweaking the engine to push it along.
There were two main goals with the chassis, firstly to remove as much weight as possible and, secondly, to make it handle the rigors of enduro plus full-on motocross jumps and whoops. One of the first jobs was to send the frame off to be power-coated in satin black. The standard fork and shock were replaced with state-of-the-art Showa A-Kit units, complete with the coolest Kashima and ti-nitrate coatings that you've ever seen. Krooztune got the job of re-valving the suspension to suit the weight of the bike.
The standard swingarm was tossed in favour of a shorter one straight from one of the team's race bikes. The relatively small footpegs were replaced with brutal titanium boot eaters and a Renthal Fat Bar was fitted. Completing the build was a set of wheels from EZE Products. A killer-looking set of graphics was created by SK Designs, who also did the milder ones feature as part of the CRF450LX kit, completed the look.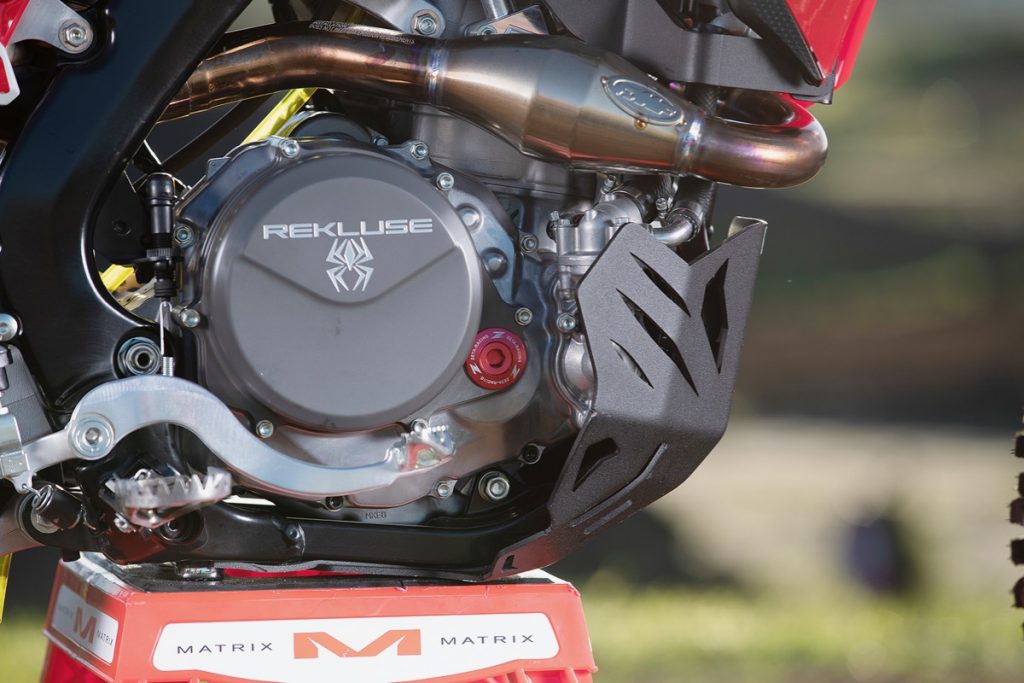 To get an engine from 29 horsepower up to a "friendly" mid-50 ponies, the expected amount for an enduro race weapon, was always going to be a big task. Finding the horsepower was not going to be a huge job from an engine based on the motocross mill, but keeping it smooth and torquey was.
Penrite Honda commissioned Phil Tainton to come up with a cylinder head that would nail that brief and it was combined with a Penrite Honda camshaft, piston, flywheel, throttle body and airbox mods along with a Vortex ignition, as used in the CRF450LX kit but with custom mapping. A Rekluse clutch was bolted in and an FMF titanium exhaust system and the heart of the bike had taken shape.
While nearly all of my riding and racing over the years has consisted of motocross and supercross, I have tested some amazing off-road machines over the years but have also ridden a stock CRF450L. So I knew I had to remember what this machine was designed to do and to judge it accordingly.
Thanks to the pandemic, I wasn't at an AORC venue. The track I had at my disposal for this test was Park4MX in Broadford, Vic. It's a state-of-the-art circuit with big jumps, plenty of ruts and basically everything you could hope for on a motocross track but you might not know that it also has a bunch of logs and some big boulders left on the premises from an endurocross event.
How It Rides
I honestly can't say exactly what I was expecting when I took off but I certainly wasn't expecting what I got! The power was enormous, and I mean mind blowing, but in a smooth way. And the first bike that came to mind in that regard was my own CRF450R. Nobody expects a 450L to be on the same planet as a 450R when it comes to brute horsepower but I felt some major similarities.
The first thing I noticed was a huge amount of torque which allowed me to pull a very tall gear. Next I felt the huge hit as I revved out third gear until it whacked the rev limiter, just to see what it had to give. And this was swiftly followed by an enormous amount of engine braking as I shut off the throttle entering a corner.
It had been quite a few years since I'd ridden a 450 with quite this much engine braking. I presumed this was due to both the high compression and the flywheel.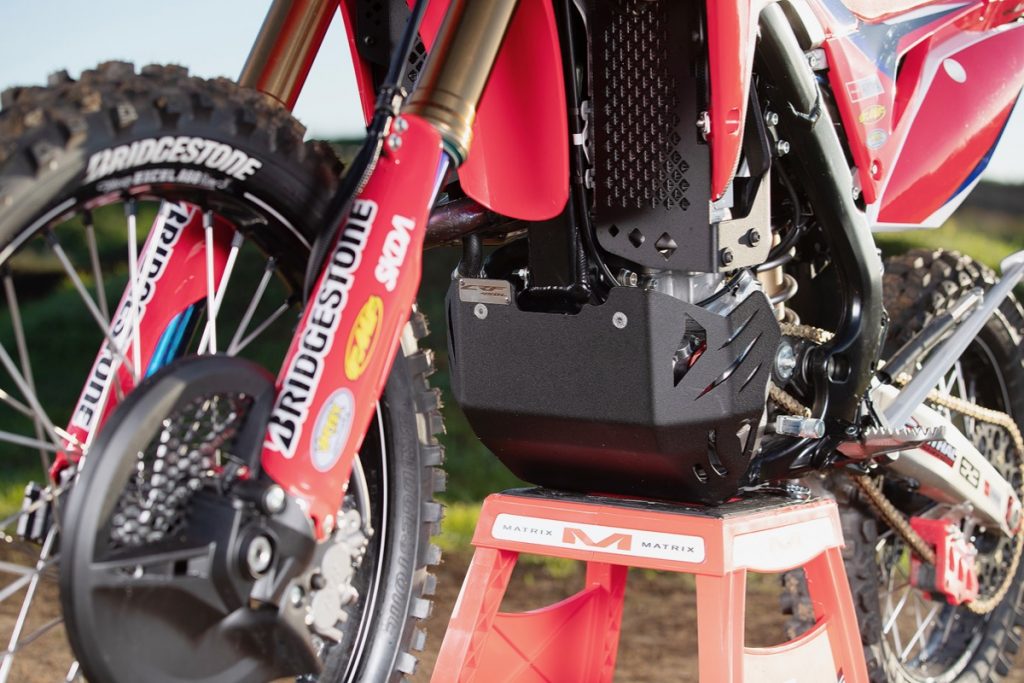 Without a doubt the highlight of the bike for me was the Showa A-Kit fork and shock. It performed exceptionally well in all conditions. The only thing I found was that the excessive engine braking meant that quite often the extra weight of the bike would transfer to the fork when entering corners. And it was just not possible to tune the fork so it handled the small bumps nicely while also dealing with the engine braking and the weight transfer to the front. It was a small sacrifice to make but once I wrapped my head around the power characteristics I was able to carry a taller gear entering corners to try to minimise this effect.
The fork would soak up the small, chattery stuff amazingly well which is extremely important for a bike that has been built for smashing across tree roots, logs, rocks and whatever else an enduro loop can throw at it. The shock seemed to do the impossible by holding up nicely in the stroke on the big hits while also absorbing the small hits without any major problems, which is a characteristic of Showa's A-Kit unit.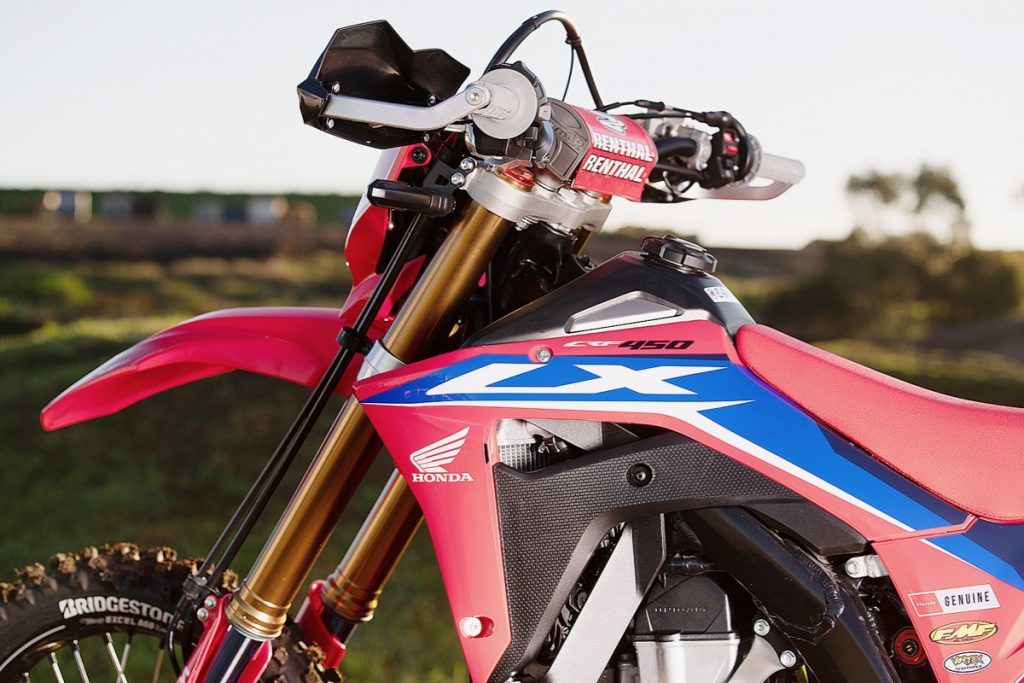 Adventure Ride
After riding a stock Honda CRF450L in Qld on a Daryl Beattie Adventures tour, I already had a fair idea of what to expect from a production 450L in both the suspension and engine. At the start of that ride from Cairns I found myself still in motocross mode, wondering how I was going to deal with a bike with so little horsepower.
But once we were a day and a half into it I realised just how user-friendly and fun the CRF450L was in its natural habitat and quickly realised that the last thing you want in these situations is snappy horsepower.
The moment I hopped on the LE I realised that we were dealing with a motor that was a work of art. Not only did it have an abundance of power but it came on so smoothly. You could pull a taller gear and lug it around the track, or you could let it rev out and you'd still be rewarded with smooth power. The only little reminder not to rev the bike out too much was a quick smack to the back of the head with the engine braking.
The clutch action was smooth, with a light pull, and not once did I feel that the clutch was slipping. Even after forcing the bike to pull a taller gear than it would have liked for quite a few laps. Let's be honest, this bike looks damn cool. From the exotic A-Kit suspension with all its colours, to the well thought out graphics kit, the FMF exhaust with its different shades of blue and the little details such as titanium footpegs and Renthal Fat Bars. This bike demands your attention and wants to be ridden hard. The black frame gives a stealth look to the machine while the EZE hubs just seemed to finish the bike off nicely.
I couldn't help but wonder just how much more fun this bike would be if it was a little lighter. Understandably, Honda wanted to have each and every one of its bolt-on parts on this machine to showcase what they'd gone to the trouble of providing. This is all very cool for the right type of customer but, like Editor Mitch Lees, I just wanted to strip her down and let her do her thing on the track in race trim.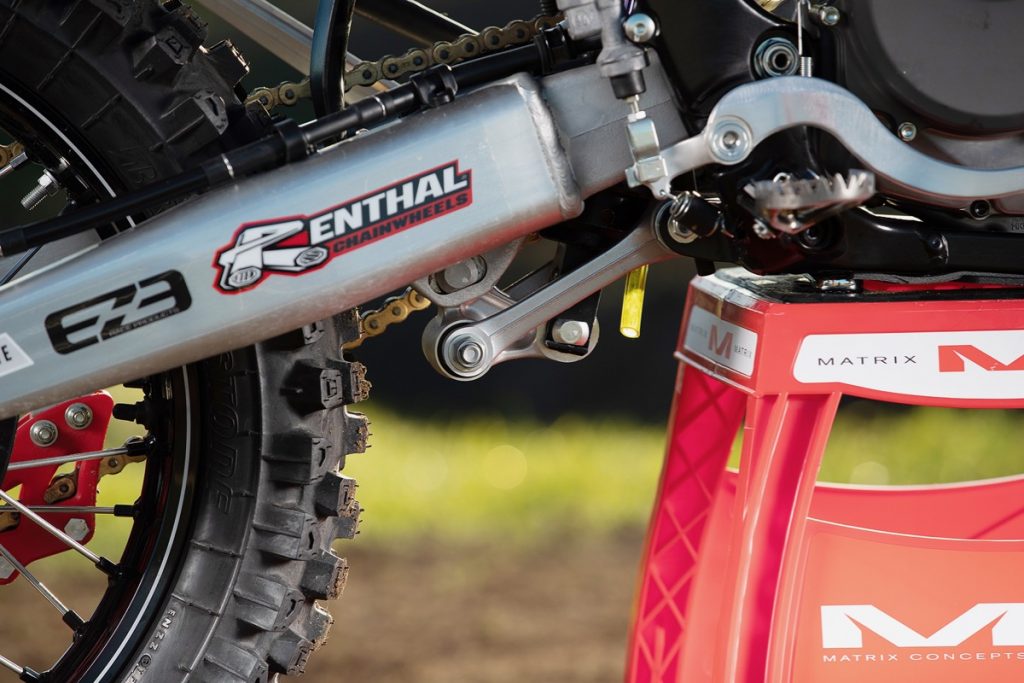 If it was my bike I'd also be finding a way to reduce the engine braking. The first thing I'd look at would be a little less flywheel weight and maybe a bit less compression. It already has a truckload of bottom-end power so it wouldn't miss a bit. By reducing engine braking you'll make life so much easier whether in the bush with your mates, on a motocross track railing some ruts, or smashing over logs in an enduro. But, I'm nitpicking, this thing is epic!
Verdict
It's amazing how different that stock CRF450L I rode in FNQ is compared to this one; it blows my mind! A build like this is not for the faint of heart, or for someone with shallow pockets. However, this just shows what can be done with the right resources. To turn a bulletproof trailbike into an AORC-caliber enduro weapon is no easy task. Well done to all involved!
CRF450LX Parts Counter
Suspension: Showa A-Kit front and rear
Wheels: EZE Race Products
Tyres: Bridgestone Battlecross
Protection: Honda Genuine handguards,
radiator braces and bashplate
Engine: Penrite Honda-spec ported head,
camshaft, piston, flywheel, throttle body.
Ignition: Vortex
Clutch: Rekluse
Exhaust: FMF Q4 full system
Handlebar: Renthal alloy
Grips: Renthal Half Waffle
Sprockets: Renthal
Chain: DID
Graphics: SK Designs
Total $$$: Over $40k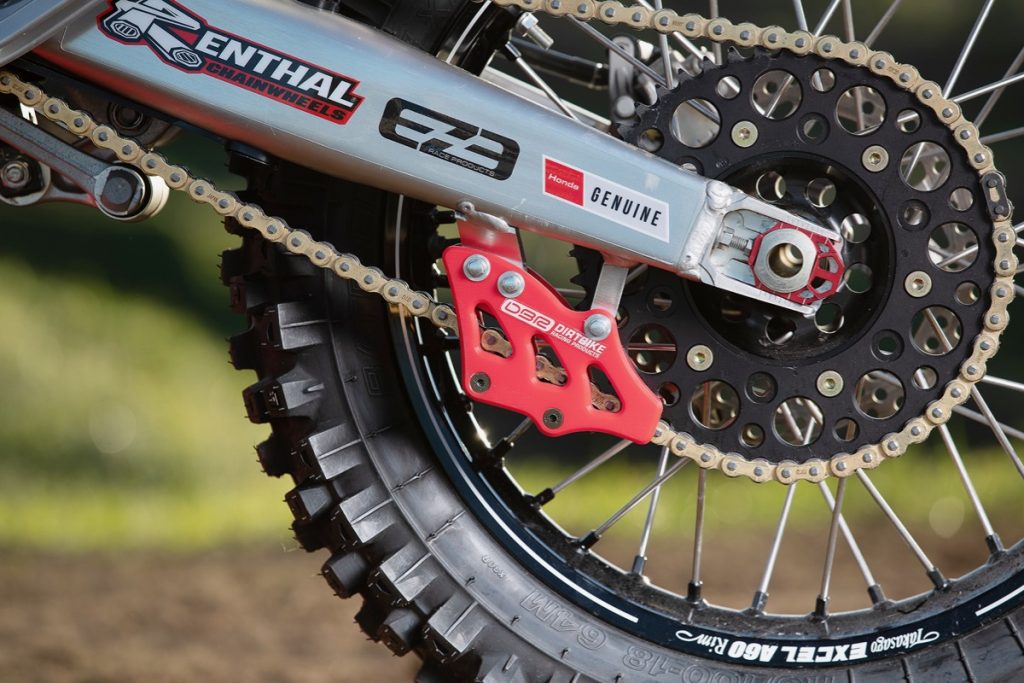 Gone so soon…
For a market like Australia that's obsessed with supermodels it's not hard to see where Honda Japan went wrong with the CRF450L, its weight. Packing 131kg wet, it was always going to struggle on the catwalk up against something like the KTM 450EXC-F at about 112kg (with 1.6 litres more fuel on board), while its low oil capacity was seen as a drawback for dualsport work.
Putting the CRF450L in the FCAI's "Enduro" category suggests that Honda Australia had high expectations and was confused about the models intended purpose. Despite that, it sold 423 examples in the first six months of this year, which put the bike fourth in that sector, but that was with sales incentives like offering the LX Enduro kit included in the recommended price and, more recently, the RRP dropped to $11,258 rideaway on 2019 stock.
Clearly the Australian enduro market is a tough one to crack back into. Despite what you might have heard, the Yanks and Euros continue to get what appears to be a very similar package, with the 2021 version, now called the RL and sporting red sideplates, weighing a claimed 291lb wet (132kg)! The Yanks also get a non-road legal CRF450X six-speeder weighing 125kg wet, plus the CRF450RX version of the motocrosser at 114kg. Neither of those appear to be coming here. Honda Australia was approached for comment.
WK
Scott Lillis
When the Honda CRF450L came out everyone was really excited. Honda hadn't really had a true off-road, yet road-legal bike for years so we were so stoked. As soon as we saw pictures of the bike we were like "wow, we need one of these". Yarrive was totally on board with the idea and said "yes let's do it!" So the decision was made and we built a 450L the way we'd do for racing.
We started with a stock package and built it the way I'd build a race bike for Kyle (Webster). The package is solid but it's not a race bike, it's a trailbike. For us to breathe some fire into it we really went to town on the motor! In stock trim its built to ride to work and back, or ride to the Cape and back.
We started off with compression and went from there. It is still a CRF450L head but we went with some crazy porting like the 450R and then threw in a camshaft to match. Getting the gearing right was quite tricky because the standard six-speed gearbox has quite a wide spread, but we settled on gearing that worked well with the power curve. The 450L swingarm is quite heavy and longer than the current model 450R so we went with an older-model CRF450R swingarm that gave us the length that we wanted and was much lighter. We didn't want to bolt on as many after-market parts as possible, so we've used genuine Honda parts wherever we could, particularly in the engine.
WORDS // LEE HOGAN || PHOTOS // MARC JONES