Wilson and Evans fight through challenges at Aus SX opening round | News
The opening round of the 2019 Australian Supercross Championship proved a challenging day for the Yamalube Yamaha Team of Jay Wilson and Richie Evans.
Wilson, the current SX2 (250cc) champion, started the day strongly, posting the 2nd fastest lap in Qualifying and finishing second in his heat race, giving him a direct transfer to the 2 x 10 lap main events.
But not getting the jump at the drop of the gate in final one saw Wilson and several other riders locking handlebars and elbows down the short start straight. At the 10 rider field converged on the first turn, Wilson was sent flying from his bike and three riders went down in the carnage. He picked up his bike and returned to the race well behind the pack but was able to scramble his way back to seventh place by race end.
Race two faired a little better and despite not getting a great start, he stayed on two wheels and got through the first lap safely. He was then able to make passes and move forward as the race progressed to eventually wind up in fourth position and his combined 7-4 results were good enough for fifth overall on the night.
"Fifth isn't ideal but I'm in the mix and left round one healthy but determined to do better. I didn't get the middle rhythm section as good as I would have liked all night and it proved a little costly. It was the one section of the track where I let myself down but I will be better next weekend.
"My bike is good and the team were great again so we will take the positives from the weekend, work on a few things and come out swinging in Adelaide where we are back to a more traditional format of racing with a 15 lap main event.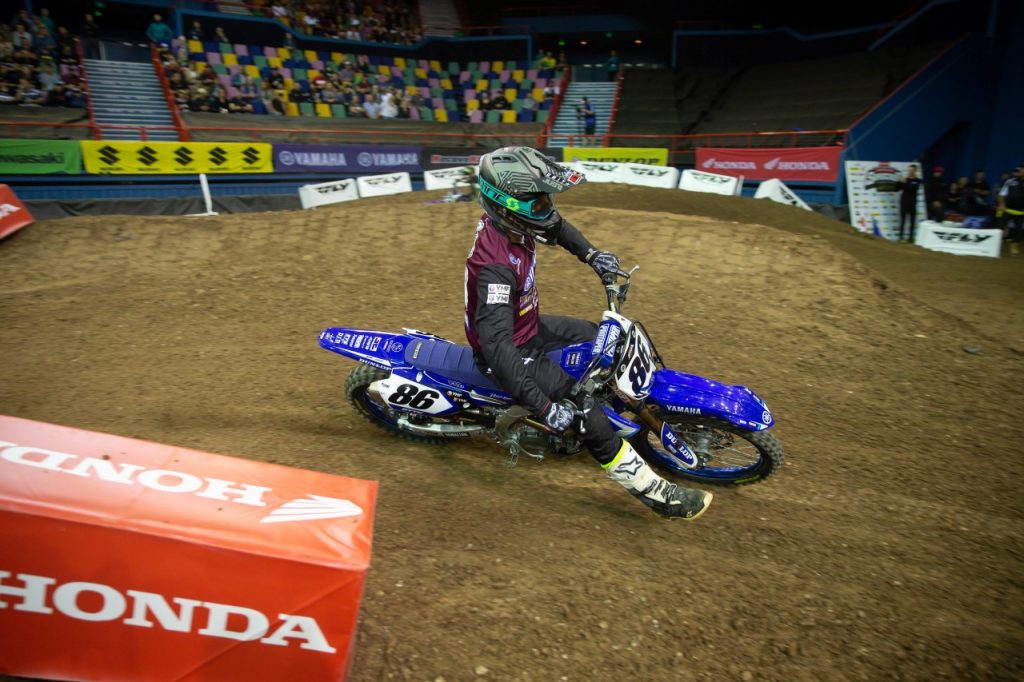 Richie Evans raced his supercross event on a 450cc machine and claimed a very respectable eighth place finish by nights end. Evans raced under duress after injury his shoulder a few weeks back but showed plenty of spirit on the night.
In his heat race, Evans was in a qualifying position until the last half a lap where he ran wide in a turn and allowed another rider to sneak underneath him. But he bounced back strongly to take the win in the B Main and move into the 10 rider, SX1 final.
He finished with 8-8 results in the two finals and took eighth overall. His highlight was a booming holeshot in the last main from the outside gate but it quickly turned sour for the North Queensland rider when he fell from his bike on the opening lap.
"Considering my preparation and the injury I had, I'm happy with eighth and look forward to getting stringer and back to good health in the coming weeks.
"I have never raced on a track as tight and small as this so the whole night was a real learning experience for me. I had a good time and the team were great in passing on advice and helping me through. Riding a 450 in there is a lot to handle and it's a big bike for a small track but the bike was awesome and as my shoulder gets better, hopefully the results can continue to improve," Evans said.