When were the good ol' days, the times you look back on with such fondness that you wish you could go back?
Dirtbikes have a way of triggering happy memories and, for a lot of riders who might be going grey on top, a bike like the 1996 KTM 550 M/XC brings them flooding back. The problem with the good ol' days is, you never really know you're in them until they're over.
The '96 550 M/XC represents the dying days of the big-bore two-stroke era. Its smaller motocross brother was setting the world on fire in the Motocross World Championship with Kiwi Shayne King earning KTM its first 500cc motocross world championship on a KTM 500 M/XC that year. Like dinosaurs, big-bores were a victim of their own size and, in 2003, the FIM ushered in a new MX1 class for 450cc four-strokes and 250cc two-strokes while the big bores became a side-show in MX3. Now if you want to race or watch real big bores you need to attend events specifically for them, like the Mt Kembla Two-Stroke Cup or the keenly anticipated ADB Australian Big-Bore Classic.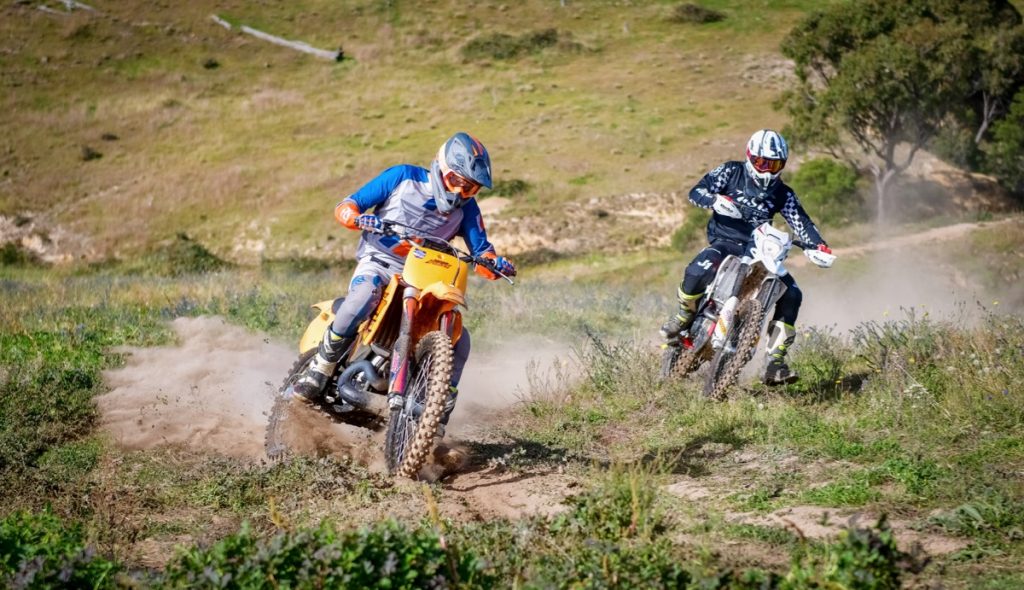 I was just off to school when the '96 550 was in its prime so my good ol' days could be right now. If I had to choose a modern equivalent of the 550 M/XC it would have to be one of the 500Fs going around. The problem is, they don't command the same level of respect old-skool smokers do. You might even argue they've become soft, but that doesn't mean slow, no way. There aren't many riders in the world who'd be faster around a Special Test on an M/XC than a modern 500F.
You're spoilt for choice if you're in the market for a 500F, with my Beta RR480 long-termer up against Kato, Husky, Sherco and SWM in this capacity class. If you ask me, modern 500Fs are miles better than any rattly old two-stroke from the '90s but a lot of you might disagree. ADB reader Bernie den Hertog sure does. Stunned by my lack of respect for the old skool, he organised for me to be re-programmed in Taralga.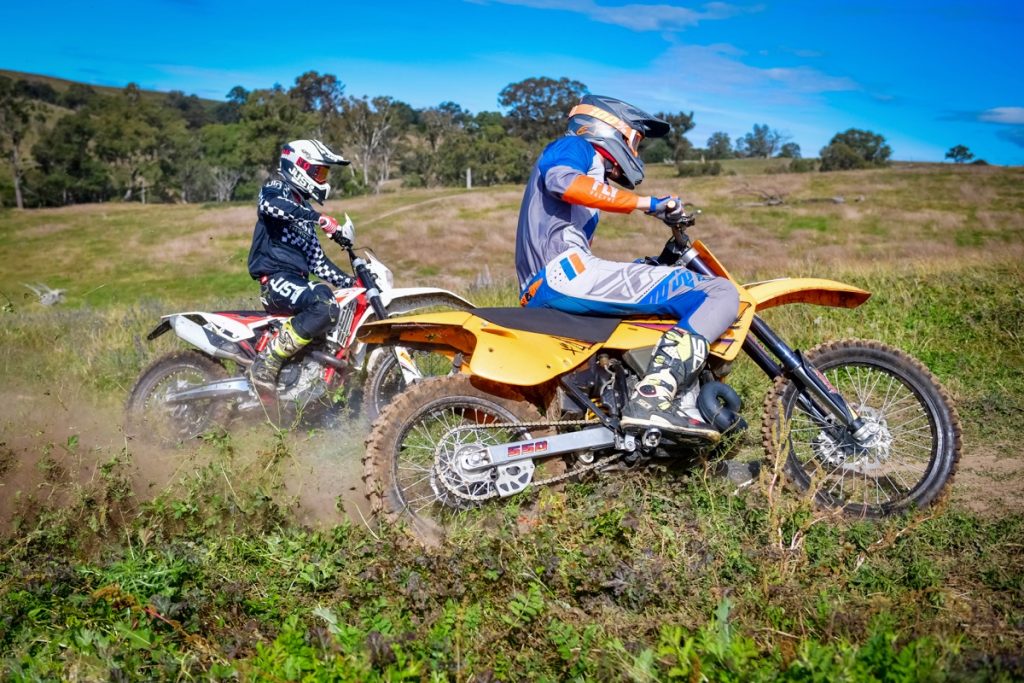 NEWER IS BETA
Bernie wheeled the 550 M/XC out of his van and, without providing any instruction, ordered me to start it. I went looking for the lever and came up empty handed. This was a stitch up if I'd ever seen one. The M/XC has a left-side kickstart, something Bernie neglected to tell me, but he still found it hilarious.
After 10 minutes sweating up a storm trying to start this old relic, Bernie pushed me aside, gave it one almighty kick and I was away. This is one point in favour of modern bikes in my book. Even Bernie, king of kickstarting, can't deny pressing a button is a hell of a lot faster, easier and less rage-inducing than trying to kick over that 550 with its ridiculous left-side kickstarter. To my surprise, riding the 550 was far easier than starting it but I still wouldn't be lining up for Romaniacs on the thing.
The torque is unbelievable. It hits like a tsunami right off idle and then the mid-range kicks in as you approach Mach2. Just when you think the engine has no more left to give the top-end arrives and breaks all the laws of physics. I later found out the engine was from a Finke race bike and the stock 550 M/XC doesn't have nearly as much top-end. The 550 is traditionally known for its meaty mid-range and strong bottom-end but not much up top.
Hop on the RR480 and it's a completely different beast, no surprise there. Forget the modern creature comforts for a moment, the power alone is night and day. The powerband of the 480 is much wider and comes on more smoothly. It has a good amount of torque off the bottom but it likes to be revved out and pulls like a V8 all the way to redline. Both produce gobs of power but where the RR480 might be considered a bit soft due to its predictable nature, Bernie's race-spec 550 is definitely not. I'm all for the predictable power of the RR480, but I get that smooth, predictable grunt is not for everyone. Just like I get that some people drink Corona.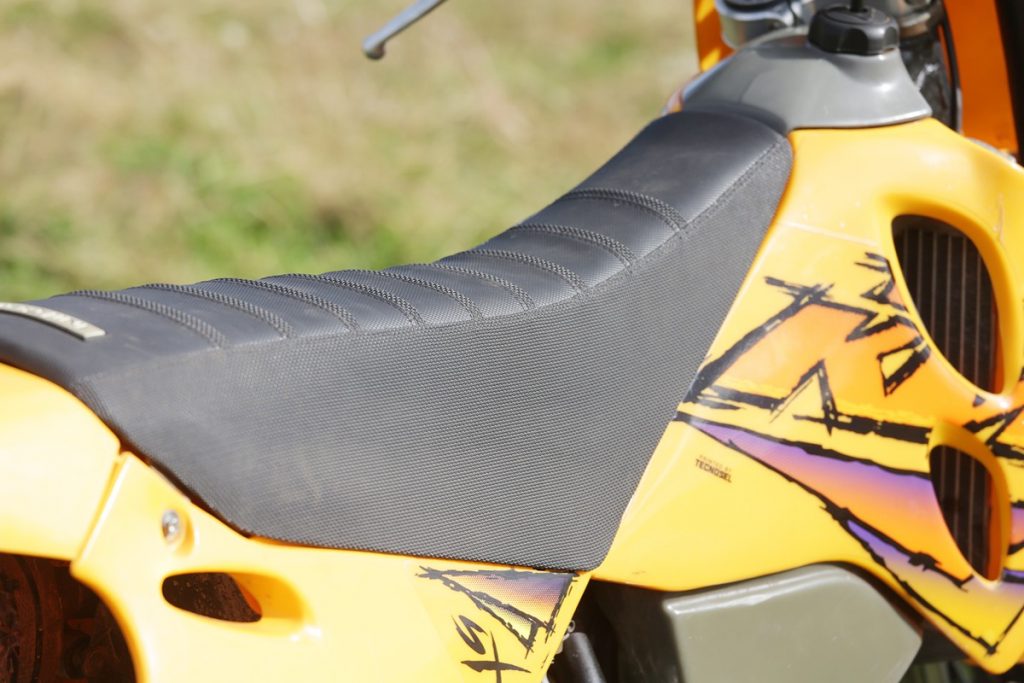 Neither bike requires much shifting, both will plug around in third gear all day. The 480's hydraulic clutch makes shifting even less necessary because you can abuse the clutch for hours without hand-crippling arm pump, the same can't be said for the stiff cable clutch on the 550.
OLDER IS COOLER
Old bikes, like classic cars, have something about them. They are cool and full of character. Modern bikes have become boring but I'd argue they are only boring because they are so bloody good! Someone of my ability only has to try half as hard to get the same performance out of a modern bike as I did with Bernie's 550.
Suspension and braking are two departments where a modern bike should shine over something from the '90s. Bernie has left no bolt unturned in his mods to the 550, so the suspension and braking are better than stock.
Still, even with his modifications, the way these two bikes handle is night and day. The four-stroke Beta actually feels more nimble, mostly due to the difference in reciprocating mass. Although the 550 has a smaller piston shooting up and down, the size of the massive crankshaft makes it feel heavier. It's rock solid though, as I found out when I gave it a good old top-gear fireroad test. It's a rocketship.
The way you sit in the KTM, rather than on top of the Beta, makes it harder to get your weight forward. The lowest part of the seat where you naturally slide to is over the swingarm pivot, whereas the flat seat on the Beta allows you to more easily shift your weight forward, helping the front tyre grip in turns. Bernie has packed the seat with extra foam to level it out but there's still a noticeable scoop where the seat meets the tank. The Beta is a better handling bike thanks to this, but so it should be, it's only a young pup.
WORDS // OLLY MALONE || PHOTOS // MITCH LEES & BERNIE DEN HERTOG