Let's face it, if you sit in an office chair from Monday to Friday you probably don't have the strength or fitness to hang on to a 450.
Here's where I reintroduce you to the 2019 Husqvarna FC350. It's the SX-F's fancy brother and I'm sure you've heard plenty about it but, for some reason or another, you've decided it isn't for you. For shame. Let me tell you all about it and then just maybe your opinion will change.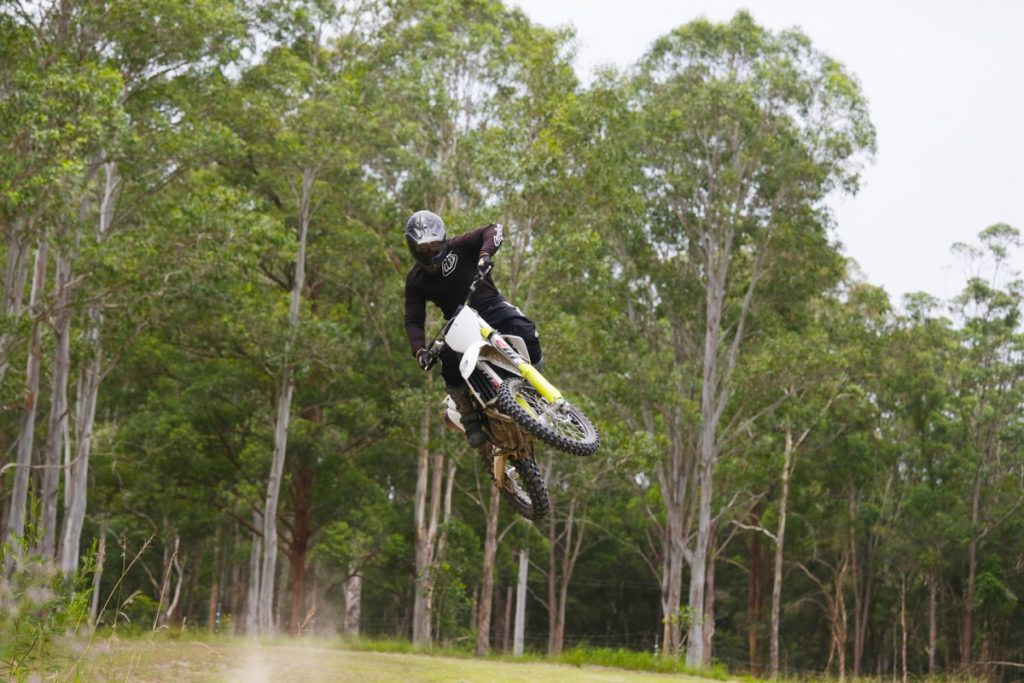 ENGINE
The engine weighs only 27.2 kg and churns out 58hp. Husqvarna also claims it is one of the lightest engines in its class, whichever class that is. For this year, the FC350 features an updated cylinder head casting process, which saves 200g. The head feature polished camshafts and DLC-coated finger followers, that allow the engine to rev to 13,400rpm.
The 88mm bridged-box piston can handle a compression ratio of 14:1 while the crankshaft features plain big-end bearings with force-fit shells that Husqvarna says are good for 100 hours.
The 2019 features new bodywork, refined ergonomics and a slimmer profile. A new seat reduces height by 10mm and is combined with a gripper cover. The WP-manufactured chromoly frame is engineered with "calculated parameters of longitudinal and torsional flex". So there.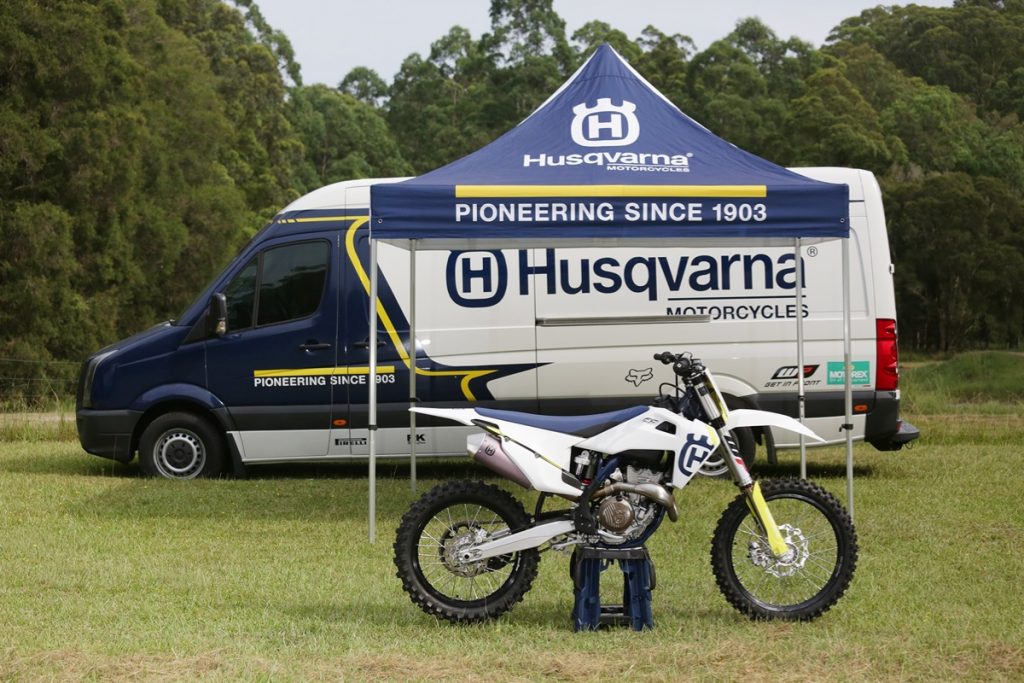 The two-piece (down from three) subframe is 70% polyamide and 30% carbon-fibre, shaving 250g off the weight. The hollow, cast-aluminium swingarm is designed to offer optimal stiffness and reliability at the lowest possible weight. This year, the chain adjustment slots were lengthened by 5mm to allow increased wheelbase adjustment.
The $12,695 FC350 comes standard with a map switch. This allows riders to select between two engine maps, activate the launch control or toggle the traction control feature. The Keihin engine management system is designed to be smaller, lighter and faster at processing data for the 44mm throttle body. The FC starts easily on the button, with a new lithium-ion battery helping to keep the weight penalty down.
ON TRACK
On the track the 2019 Husqvarna 350 is very surprising. The power is much stronger than anticipated. The bike no longer has the feeling of being a fast 250. The engine now produces far more power and torque than a 250 and the gap between the 350 and 450 is closer than ever. In fact the 350 can best be described as a tamer, more mellow version of the 450.
The biggest difference is how you ride it. A 450 still has more torque and can be ridden lower in the rev range and the rider can use the torque to drive it around the track. While the FC350 engine is much improved and now has much more torque it still likes to be revved. If you try to torque-drive the bike around the track you will find yourself not going as quickly as if you rev it hard.
This tells me that the 350 would make a great bike for someone trying to bridge the gap between a 250 and 450. If you are a rider who likes to rev your bike to redline everywhere then you are going to potentially get yourself in trouble on a 450 and the 350 would be the perfect option.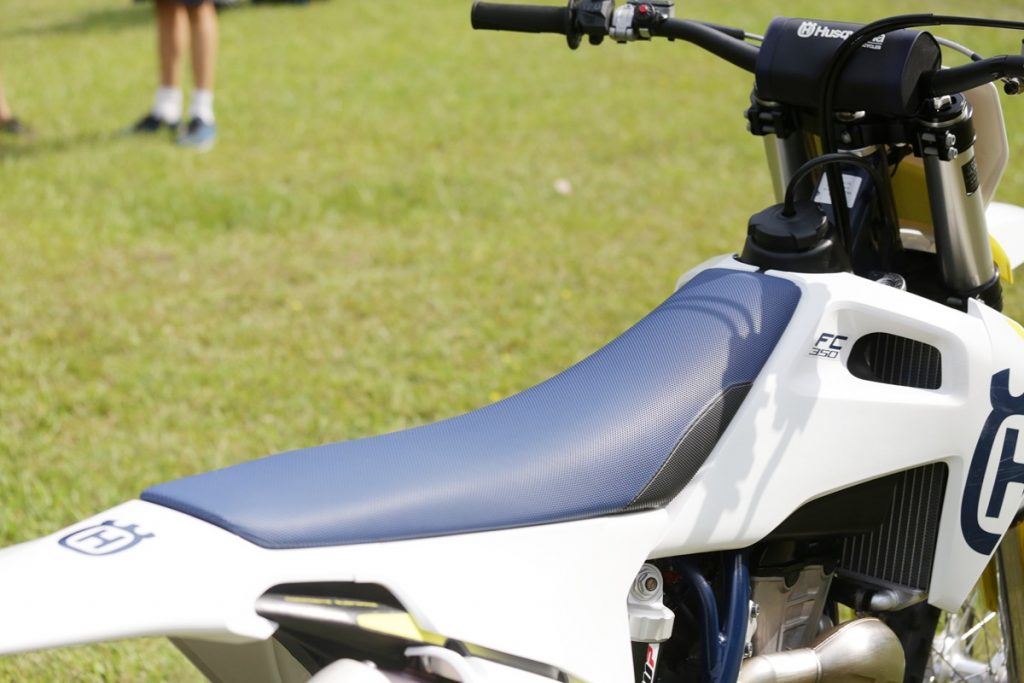 The chassis and handling on the 2019 Husqvarna FC350 is where it excels. It took me a few minutes to get comfortable but once I did I had enough confidence to dive hard into inside ruts or peel it off sideways from the lip of a few big tabletops. It is a very easy bike to manage and does not feel like a big bike to ride at all.
It's light and nimble to throw around and one of the big things I noticed quickly was that I could pull it up much quicker or change directions in an instant if I needed to. I also felt I could ride the bike harder for longer without my forearms becoming fatigued.
The Magura hydraulic clutch and brakes are top quality and work exceptionally well. I found I preferred the aggressive engine map the most and I actually found the AER 48 fork to be too stiff and harsh in standard form so we let a few pounds of air out to make it plusher and handle the bumps with a smoother action.
Overall the 350 is a great option and I see it best suiting riders who are a little smaller or who don't get to ride often. It is a much easier bike to manage but, surprisingly, can be ridden just as fast as a 450. It is certainly worth a test ride.
2019 Husqvarna FC350 Specs
Engine
Type DOHC, four-valve
Displacement 349.7cc
Bore & STROKE 88 x 57.5mm
Cooling Liquid
Compression ratio N/A
Fuel metering Keihin 44mm EFI
Tank capacity 7L
Transmission Five-speed, constant-mesh
Clutch Magura, wet multiplate
Dimensions
Wheelbase 1485mm
Seat height 950mm
Ground clearance 370mm
Weight 100kg dry
Suspension
Front WP AER 48 USD, 310mm travel
rear WP DCC monoshock, 300mm travel
Brakes
Front Brembo twin-piston, 260mm wave
Rear Brembo single-piston, 220mm wave
Running Gear
Handlebar Pro Taper aluminium alloy
Front TYRE Dunlop MX3S 80/100-21
Rear TYRE Dunlop MX3S 110/90-19
Price & Contacts
PRICE $12,695
web husqvarna-motorcycles.com.au
phone 1800 644 771
Warranty Three months parts only
THE FEATURE WAS PUBLISHED IN ADB ISSUE #477 – JUNE 2019. WORDS: MAT BOYD, PHOTOS: MITCH LEES