2020 KTM 300 EXC TPI Review | Bike Reviews
For as long as I can remember, the KTM 300 EXC has been the go-to model among the two-stroke enduro bikes.
Back when I was 14, I remember going to the Australian Four-Day Enduro in Gympie. I still remember how excited I was, knowing I would get to see the current A4DE champion, Shane Watts, race.
Back then, there was no social media, so I couldn't pick up my mobile and watch him racing in the Enduro World Championship like kids can now and I actually enjoyed that, as it definitely built more anticipation leading up to big events.
It was pretty common knowledge that Wattsy could race whatever capacity KTM he wanted, so when he chose a 300 and won the A4DE outright I started looking at them as the pinnacle of the two-stroke enduro world.
Fast forward a handful of years to when I made Senior and was racing off-road, I often found myself coming up against KTM's leading off-road rider Brad 'Wonka' Williscroft, who could also choose any model in the range and chose a KTM 300 EXC.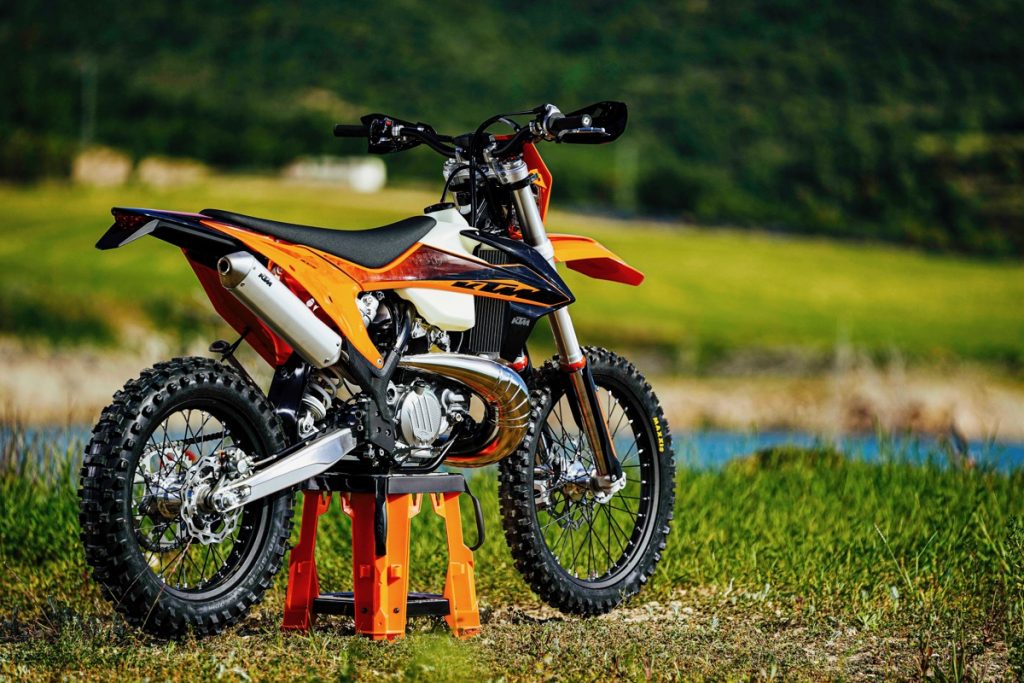 ANOTHER DECADE
As another decade passed and the new-generation four-strokes started taking over the dirtbike world, the 300 still held sway and proved to be the bike of choice for some of Australia's fastest off-road riders.
Daniel Sanders was impossible to get off his and I learnt this first hand, when I was KTM's enduro team manager. I had no reason to want him off a 300 either, as he won all but one weekend of AORC racing in 2016 when he won the championship outright.
The following year, up-and-comer Lyndon Snodgrass signed with KTM and put a KTM 300 EXC to good use by winning the E3 class and finishing second outright.
The introduction of KTM's transfer-port fuel injection changed all that. I believe the switch to TPI lost the 300EXC hardcore, fit enduro riders that the carburettor version used to attract. KTM salesmen would argue different, but the fact that none of KTM's leading off-road riders raced a KTM 300 EXC TPI in the AORC or A4DE (when they had one) is enough proof for me.
I rode the first TPI models after they were introduced in 2018 and totally understood why racers were choosing other models. Previously, you could carry around a handful of jets and power-valve springs and, in a matter of minutes, either have a docile torque monster or a snappy light switch of an engine that wanted to rip your arms off.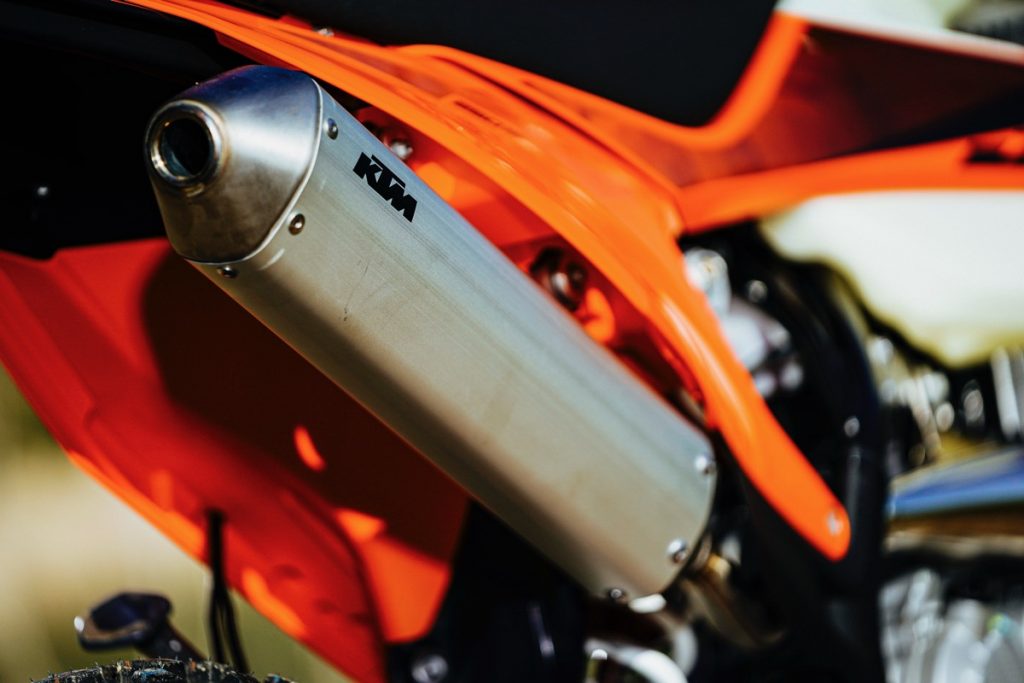 The first few TPI models pretty much sat bang in the middle, with very limited tuning available in either direction, so it was easy to understand that a fussy racer wouldn't be able to find what he wanted.
During the 2019 ADB 300T enduro shootout, I felt the KTM 300 EXC TPI was making some progress in the way the engine produced power. So when KTM claimed it had made massive gains with the 2020 model, I was keen to find out if that was true.
KTM is giving a lot of credit to the addition of an ambient pressure sensor so, straight up, my main focus was to find out what this sensor had done to the engine. It only took me a matter of minutes on the trails to find out the KTM engineers were telling the truth when they said they'd found something good.
For me, the engine now has more of the zing and feel that I used to expect from a KTM 300 EXC, while retaining the smoothness the TPI brought to it. No longer does the engine sign off just above mid-range, it keeps revving more like I'd expect a 250EXC to.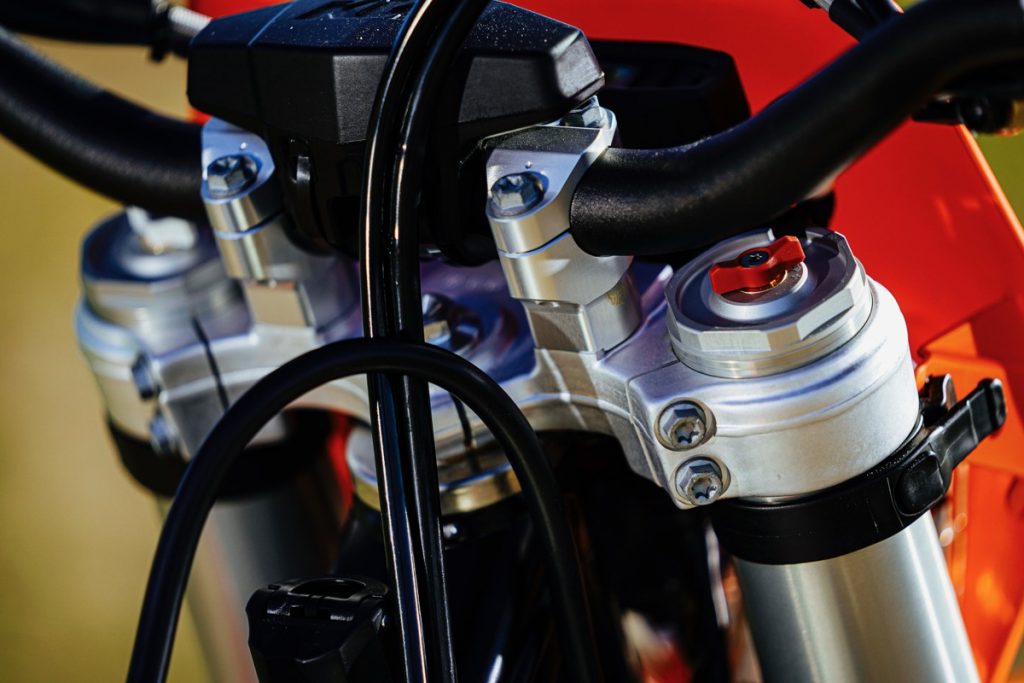 TOTAL CREDIT
The power gains KTM has made make this engine versatile again. I won't give total credit to the sensor though, as KTM also has made some big changes to the cylinder. It has fully machined exhaust port windows, giving enhanced port-timing precision. The exhaust pipe is also new, made using a 3D stamping process which produces a ribbed expansion chamber. KTM says this is stronger and I believe them, as I saw some of the hits they took without scoring a dent.
Dodging trees, the first thing I noticed was that the radiator shrouds seemed low and that the 300 was easier than ever to flip-flop between trees and that makes sense as KTM has moved the radiators 12mm lower.
The chromoly frame has been revised, the lateral engine headstays are now aluminium and the engineers have also rotated the motor forwards by one degree, around the swingarm pivot to put more weight on the front. I found the feel had improved, especially when entering turns. I could tell exactly what the front wheel was doing. All of these changes have made the bike more settled, a bit like I expect a four-stroke to feel like.
In the suspension department, the WP Xplor 48 fork has a re-calibrated mid-valve piston and new caps and clickers. For trailriding this fork is great. It feels super plush over all kinds of terrain, it's only on bigger-style bumps and hits that I would start to find it a bit soft.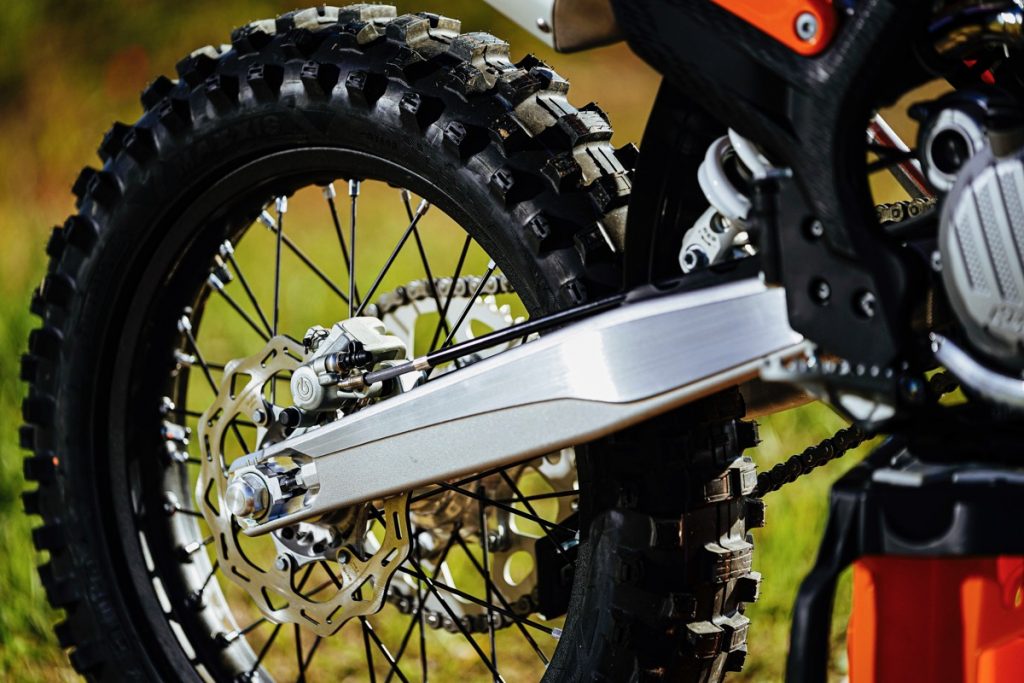 The WP Xplor PDS shock has a reworked secondary piston to increase resistance to bottoming. I have always liked the lively, plush feeling you generally get from the PDS rear-end, so it was good to find the same feeling.
If anything, I felt the rear-end is capable of taking a bit more of a beating than the fork would, as I never bottomed the rear-end to the point I noticed.
There isn't that much to say about the Brembo brakes, they tick all the boxes just like they have done for the last few years. Both ends have more than enough power to stop the 300's 103.4kg (without fuel) in a hurry and both ends have great feel with more than enough adjustability to keep any sized rider happy.
Overall, I rate this KTM 300 EXC TPI a great bike. I like the direction KTM has taken in developing this model and it will suit a very wide variety of riders and terrains. My only whinge is that I'd like to see a lower price tag than the current $14,695.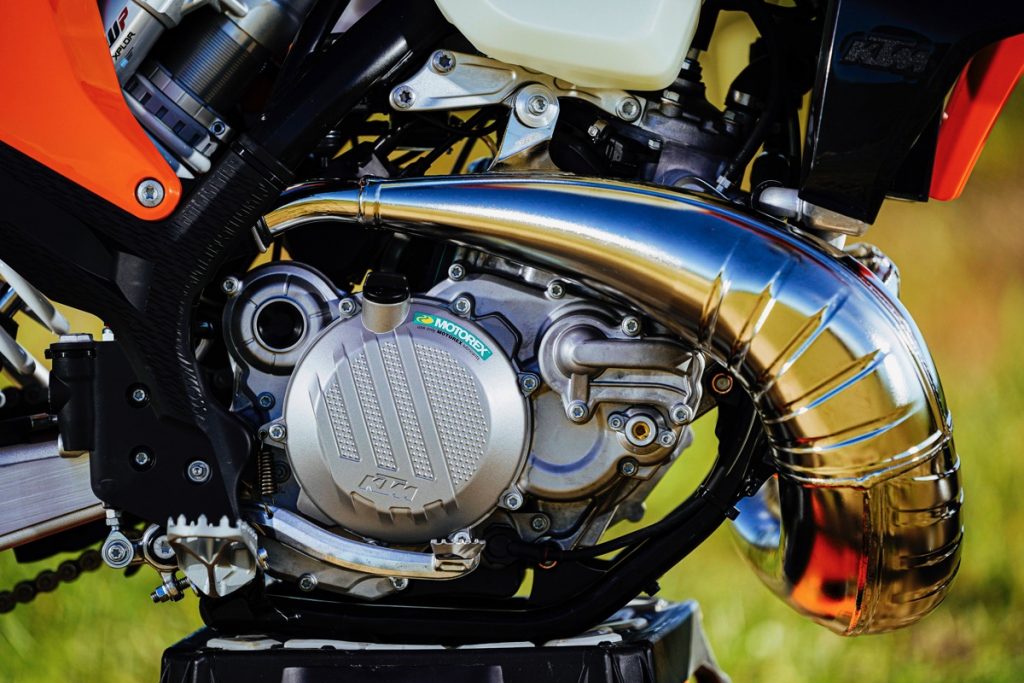 The tracks I rate it on
I would like to see some of the top guns in Australian enduro give this 300 a chance again, as I feel the MY20 package is pretty capable.
No doubt it's strengths are in hard enduro, and you only need to look at Manuel Lettenbichler's results in last year's WESS series to confirm this.
I know if I had one in the garage I would definitely be looking at what rounds of the Grassroots Hard Enduro Series I could get too.
One place I never used to think I would want to race a 300T is Finke but with the new planted feel and added power, I would be happy to ride one in the desert. Trailriding is a no brainer. Just like the previous model, this bike is totally at home on the trail and with the engine and chassis gains, I feel you would have more fun than ever.
WORDS // BEN GRABHAM || PHOTOS // KTM MEDIA
KTM 300 EXC TPI
Engine
Type Piston port, reed-valve
Displacement 293.2cc
Bore & stroke 72 x 72mm
Cooling Liquid
Compression ratios N/A
Fuel metering Dellorto 39mm EFI
Tank capacity 9.0L
Transmission Six-speed, constant-mesh
Clutch Brembo hydraulic, wet multiplate
Dimensions
Wheelbase 1482mm
Seat height 960mm
Ground clearance 370mm
Weight 103.4kg without fuel
Suspension
Front WP 48mm Xplor, 300m travel
Rear WP Xplor PDS, 310mm travel
Brakes
Front Brembo twin-piston, 260mm wave disc
Rear Brembo single-piston, 220mm wave disc
Running Gear
Handlebar Neken tapered alloy
Front Maxxis Maxx EnduPro, 80/100-21
Rear Maxxis Maxx EnduPro, 140/80-18
Price & Contacts
PRICE $14,695 rrp
Web ktm.com.au
Phone 1800 644 771
Warranty Six months parts and labour
Like The Look?
For this test, Ben Grabham was wearing;
Scott 550 Helmet – Hatch – Black/Orange
RRP $299.95
Link – https://issuu.com/ficedaaccessories/docs/scott_offroad_v20-1/13?fr=sMWYwZjEzODk0NzM
Scott Enduro Jersey – Black/Orange
RRP $69.95
Link – https://issuu.com/ficedaaccessories/docs/scott_offroad_v20-1/34?fr=sNzRjZDEzODk0NzY
Scott Enduro Pants – Black/Orange
RRP $219.95
Link – https://issuu.com/ficedaaccessories/docs/scott_offroad_v20-1/34?fr=sNzRjZDEzODk0NzY
Scott Enduro Gloves – Black/Orange
RRP $44.95
Link – https://issuu.com/ficedaaccessories/docs/scott_offroad_v20-1/43?fr=sMDU3ZTEzODk0ODA