Paul Evans bought his 1978 DT175 Yamaha second-hand from a mate back in 1981 and says for an old bike it goes surprisingly well
Paul Evans' 1978 DT175 Yamaha
WHY DID YOU BUY IT?
I had a Yamaha XT500 and it was getting tough to ride through the singletrack on Lue Station (now Louee Enduro and Motocross Complex in NSW) so I looked around for a smaller bike.
Lue was a different place back in the '70s and '80s when you didn't need a full-on enduro bike to enjoy riding there.
WHAT DID YOU DO TO IT?
I put fuel and oil in and replaced a few drive chains. When the original 'grips started to split, I added some electrical tape to hold them on. Oh – and it had a new piston about 20 years ago.
HOW DOES IT GO?
For an old bike it goes surprisingly well. It climbs into the powerband more than you would expect and, just pottering around, it will climb anything.
It probably wouldn't impress anyone under 50 because the suspension is a bit lightweight by today's standards. And probably 1978 standards, too, come to think of it.
WOULD HE RECOMMEND IT?
I would recommend it to anyone who wants to potter around the bush.
Modern bikes seem to be built to go fast, but the DT wasn't and it's a real pleasure to throw a leg over it, kickstart it and fill the bush with blue smoke. Plus it has low maintenance costs.
I've proven that…You can chuck this bike in the shed and forget it. The pre-mix oiler still works, too.
FIVE THINGS PAUL SAYS ABOUT HIS YAMAHA DT175
1. Paul gave the bike to his daughter when she got big enough to ride it.
2. As an adult she put road tyres on it and used it as a commuter bike in the eastern suburbs of Sydney for a decade.
3. She frequently got airborne down Crown Street, Darlinghurst.
4. It is rumoured that Paul and the DT once held off '80s enduro champs Steve and Greg Pritchard for a few minutes, dep in the Lue bush.
5. It is now retired to a five-acre property, seeing out its years in a stable next to a Yamaha ST660R and a BMW R1200GS.
FEATURES: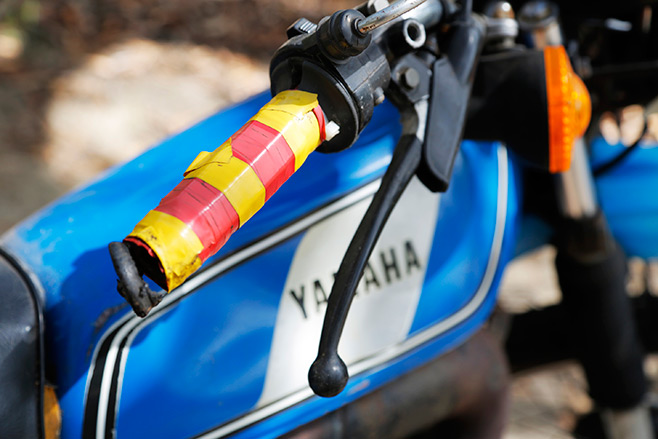 Two-tone handgrips probably won't catch on…
World-leading crossbrace pad was crafted from polystyrene and more electrical tape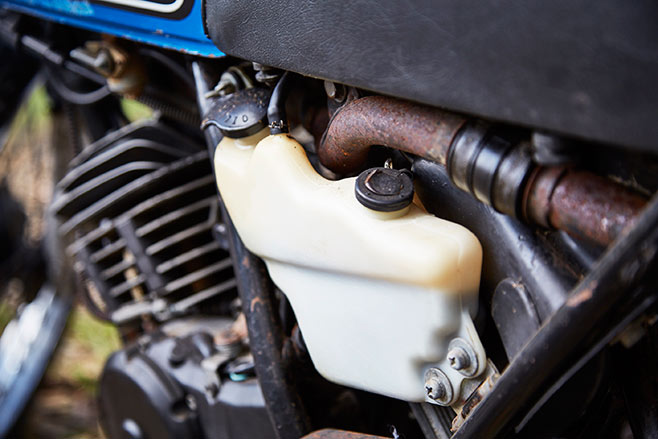 Good old two-stroke tank and pump still feed life blood to unbreakable 16.5hp engine
To receive the latest news, reviews and video highlights from the world of dirt bikes, sign up to our weekly newsletter here.