We take a look at Nathan Trigg's 2023 Sherco 450SE-F Factory he had built to race the desert. It's a pretty impressive rig!
THE BIKE – Nathan Trigg's 2023 Sherco 450SE-F Factory
THE RIDER – NATHAN TRIGG.
I have been racing the Sherco 450SE-F Factory since 2018, so I know the bike well and am very confident on it in any situation. I like to ride over the rear of the bike and have a smooth, flowing style. Therefore, my set-up is tailored to that, being a little bit raked out/lower in the rear and slightly softer than some of the other guys. I have worked with refining my suspension set-up with Chad from Chad's Offroad Setups over the years as the track seems to get rougher each time, so you must keep developing and trying new settings or else you will get left behind.
When it comes to desert racing, confidence and comfort are key to getting the best performance out of yourself as a rider. I know our bike is as good as anyone else's, and I feel comfortable on it at race pace. The last thing you need at these speeds is not to be 'at one' with the bike.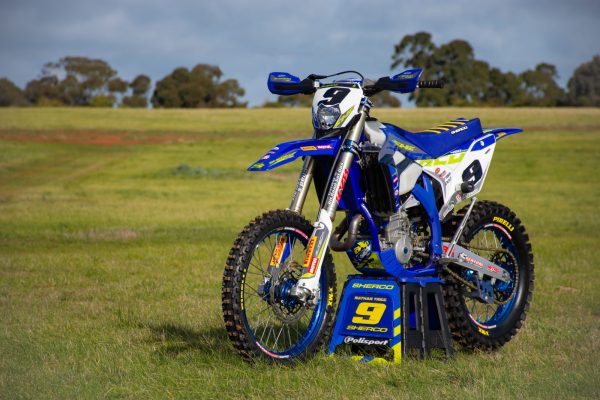 THE MECHANIC 
DEREK GRUNDY
For the 2023 Hattah Desert Race, we will have Nathan on the Sherco 450 SE-F Factory and Jonte Reynders on the 500 SE-F Factory. The setup between the two bikes is not massively different.
Starting from the front of the bike, Nathan Trigg's 2023 Sherco 450SE-F Factory runs an oversized MotoMaster flame brake disc that is out of the Sherco genuine accessory catalogue. Chad's Offroad Setups handles the suspension duties and has come up with a revised setting for this year's race. The springs are one rate firmer than standard. Naturally, the forks are pushed down in the clamps as stability is more important than turning sharpness in desert racing.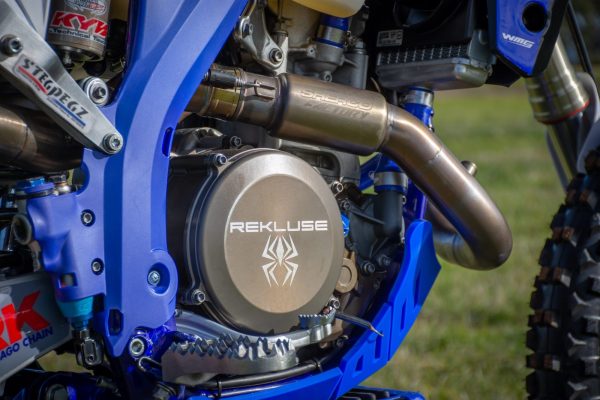 On Nathan Trigg's 2023 Sherco 450SE-F Factory we run X-Trig triple clamps with PHDS bar mounts which allow the front forks to work at their best whilst minimising vibration transmitted to the rider. We have a Scotts steering damper, although both riders have it on very low settings for Hattah as our chassis is very stable. Although he is quite tall, he likes to run a low handlebar with the McGrath bend Renthal FatBar which is also fitted with foam grips. Triggy runs the standard Sherco fuel tank for Saturday's prologue and then switches to a larger Safari tank for the Sunday race for a two-lap fuel-stop strategy. The tank is also fitted with a dry-break receiver for superfast refuelling.
Nathan's preferred gearing is lower than standard (and Jonte's), running 14/49, which is only one tooth more on the rear than stock. For Hattah, we run a taller 'desert' seat foam and matching seat cover by Strike Seats. We have custom Stegpegz for Nathan, which are further back than the standard ones. At the rear of the bike, we have a shortened titanium Akrapovic silencer and an adjustable linkage, however, both of our riders chose to run with the standard ratio.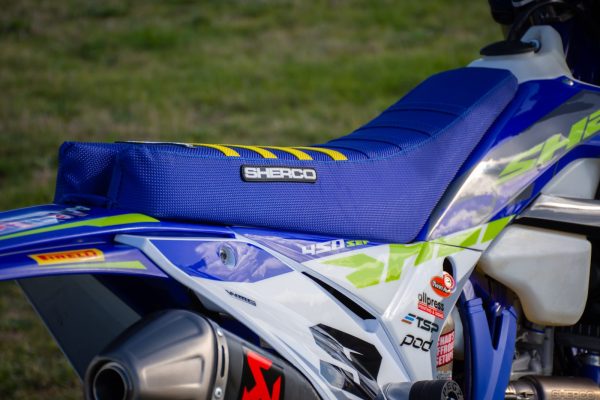 THE MANAGER – DEREK GRUNDY
Nathan has been with Sherco since 2018 and has continued to be a regular front-runner year after year and spearheads our desert racing program. We have achieved much success together, with several class victories and numerous top-10 and top-5 finishes at events like Hattah and Finke over the years. Nathan is a pleasure to work with; he is calculated and smart with his approach to racing and is a fan-favourite both on and off the bike.