When most people consider getting into the mid-cap market they think of the KTM 350EXC-F or, more recently, the white version (Husky FE350) but many forget about the Beta RR350.
According to Beta Australia importer Patrick Lowry, the RR300, X-Trainer, RR200, RR480 and RR390 are all more popular than the 350 among Aussie buyers. In fact, the Beta RR350 came seventh out of the top eight MY20 Betas sold.
That seems strange given the KTM 350EXC-F and Husky FE350 are the second most popular models in their respective ranges, which both feature seven enduro bikes, and the Sherco 300SEF Factory is the most popular bike in the Frenchie's range, which also has seven enduro models. For some reason the RR350 does not draw the attention of prospective Beta buyers that the other brands do.
Maybe it's because Beta's DNA is from trials, so those buying Betas are more likely to want a bike better at hard enduro, like the RR300 or RR250. Or maybe it's because the Beta range is better suited to trailriding than racing so they figure the RR390 and RR480 are sweet bikes for that.
If that is the case, where does the RR350 fit then and where is it best? I rounded up regular ADB testers Ben Grabham, Geoff Braico and Olly Malone for a good cross-section of skills to put the MY20 RR350 through its paces before the MY21 arrives sometime around when you'll be reading this.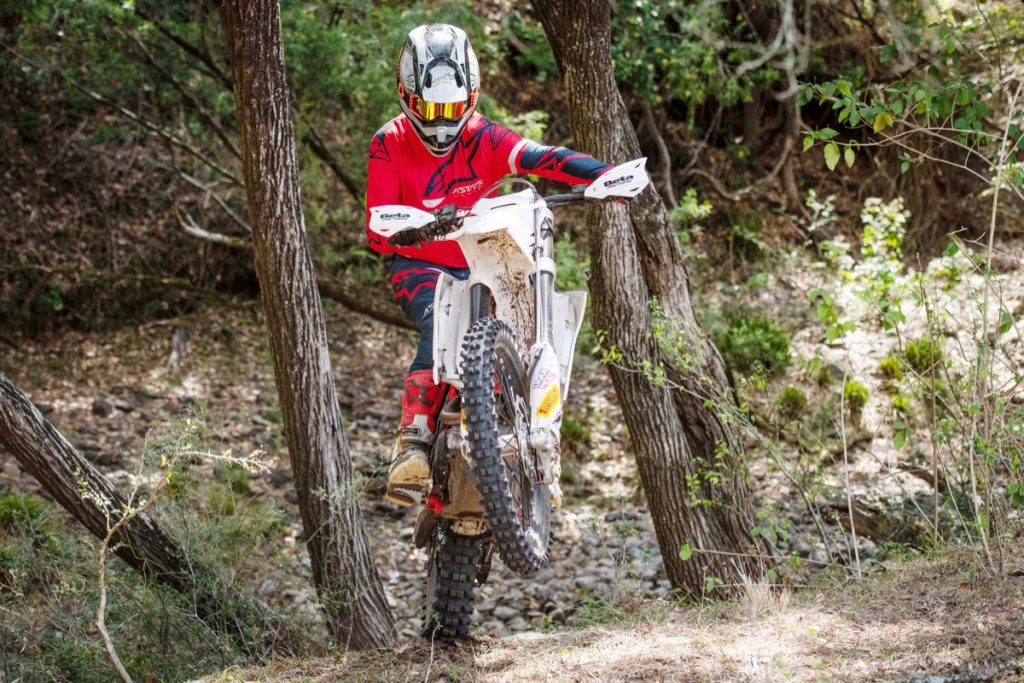 RIDER IMPRESSION: OLLY MALONE
Occupation: ADB Digital Editor, Matrix hacker
Greatest dirtbike achievement: Finished Hattah, crossed Tassie on dirt and never broken a bone despite wafer-thin frame.
Pace: Fast trailrider, loves techo stuff
Favourite bike: GasGas EC300 GP
The Beta RR350 strikes a good balance between handling and power that makes it hard to overlook if you're in the market for an all-round trailbike. Four-fifties are overpowered for most mere mortals and a long day in the saddle wrestling one through technical singletrack will leave most trailriders exhausted. There aren't many situations where weekend warriors need that extra 100cc, if any, and any sacrifice you make in straight-line speed is compensated for in corners.
A 350F stops and turns easier than a 450 and you can rev the guts out of it without having to hold on as tight. The only downside of the RR350 is the fact that Beta also offers a RR390, which is also a brilliant trailbike and picking between the two ain't easy. If you like the handling of a 250F but your mates all ride 300cc two-strokes or 450Fs then a 350 is a good compromise. The engine loves to be revved and packs some serious punch but it's never overly aggressive.
Standard equipment on Betas is excellent and the RR350 is no different. The map switch is a nice touch and drastically changes the nature of the engine. Beta worked hard to improve the ergonomics of the 2020 models, they made the cockpit more aggressive and the seating position more on-top of the bike, which I like. If I owned an RR350 the only improvements I'd make would be to the suspension. It's not that it's too plush but the ZF Sachs fork is too soft in the initial part of the stroke. I'd sort that out with a good suspension tune from someone like Terry Hay's Shock Treatment and it would be a near-perfect, revvy trailbike.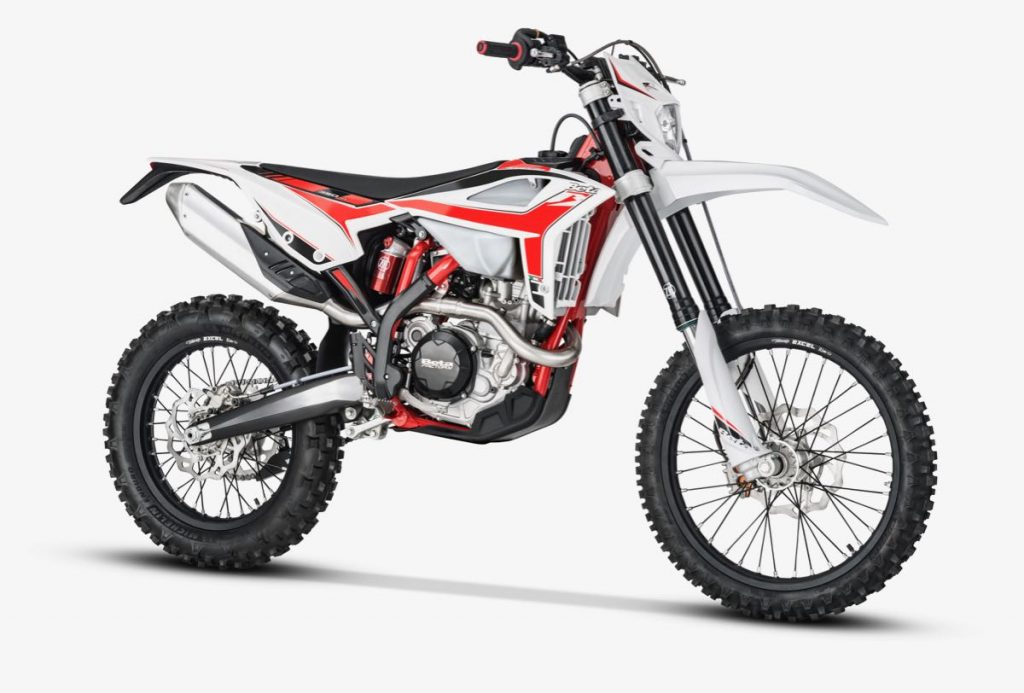 RIDER IMPRESSION: GEOFF BRAICO
Occupation: Tiler and professional piss-taker
Greatest dirtbike achievement: One million likes for Instagram rut king videos, fastest bloke on a practice track.
Pace: Former national off-road champ, very fast
Favourite bike: Anything that's free
The 2020 RR350 is probably my favourite four-stroke in the Beta fleet. That's because the mid-size thumper has a light feel and revvy engine. Beta went to town on the four-strokes for this year and I believe the 350 is the bike that benefitted the most. The previous RR350s that I'd ridden had always been super mellow and kind of underpowered but the MY20 is different, it's all about holding it on.
It has a strong, torquey feel throughout the rev range and enjoys being either trail ridden for a day or cutting laps on a test track with the throttle pegged for a few hours. It's not a "rip out of your hands aggressive" engine but it is potent and will easily give you a smile from ear to ear.
The one gripe I have with the RR350 and well, the entire standard range is the ZF Sachs fork. It is too soft for me. It may be great for the slower, technical stuff but as I rarely spend my time riding in first gear, I find the ZF package a little too unpredictable and divey. The Racing version, with its KYB suspension, is a totally different animal. Give me a Beta RR350 Racing model any day!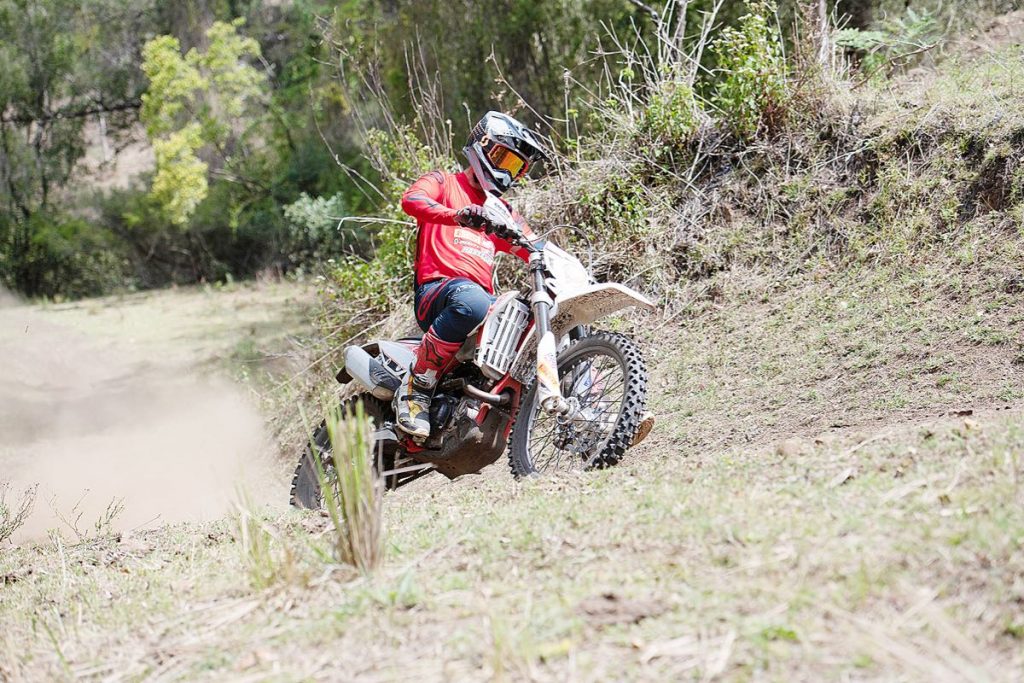 RIDER IMPRESSION: BEN GRABHAM
Occupation: No one actually knows
Greatest dirtbike achievement: Owned desert racing for nearly a decade, never injured himself as badly as when he fell off a ladder.
Pace: Fast, accurate and never makes a mistake (see above)
Favourite bike: Suzuki DR-Z400E
The first thing that comes to mind when someone asks me what I thought of the Beta RR350 is that it is bulletproof. During the last five years I've had two as my personal bikes and last year I had ADB's RR350 long-termer for a large chunk of the year and I never had a problem with any of them. During that time I logged countless hours in all kinds of terrain all over the country and, apart from a dead battery on ADB's Beta, I never had a single issue or had to get spanners out for any kind of unscheduled maintenance.
My experience with the Betas is that if you keep fresh oil and air filters up to them they just keep going and going no matter how rough you treat them. Reliability aside, I do enjoy riding them. I find the engine is very smooth, almost to the point it feels a tad down on power compared to other 350cc enduro bikes, but that is not the case. You just need to keep twisting the throttle a tad longer and it keeps building power very similarly to its competition.
Beta uses Synerject EFI and the way that delivers power at low revs when I am on and off the throttle is so smooth and easy to control. The handling feels a bit soft on an AORC-style race track but the deeper I took it into hard enduro terrain the better it felt. A low seat, sharp turning and powerful brakes are the features I really like about this bike. My only real complaint is with the ZF fork and shock. They just don't have the progressive damping I know is possible from the KYB gear on the Racing version and they give a slightly spiky, harsh ride at high speed.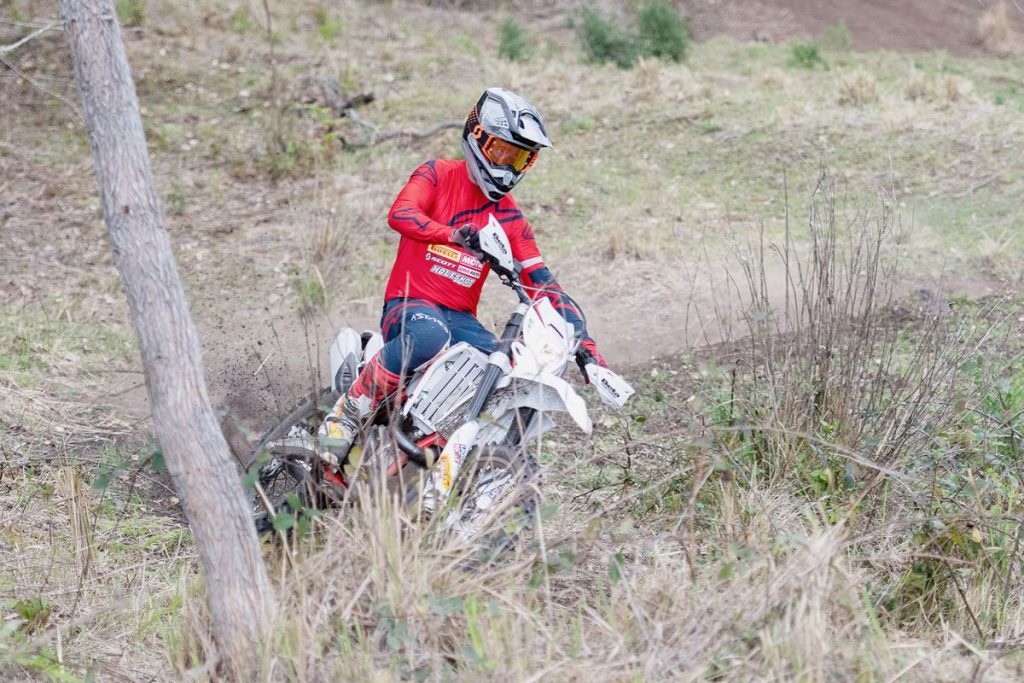 ADB Ed: Mitch Lees
After a few hours slicing singey on the RR350 I agree with the comments the three amigos made. The RR350 is a revvy mid-cap so it will suit riders who like to twist the wrist and leave it there. We had no problems with our test unit while we had it and MY19 the long-termer we rode for 12 months was also mostly fine.
The bike feels a little more compact than other 350s which makes it great for tight, technical terrain while the ergos, brakes and finish are exceptional. The ZF Sachs suspension is better suited to trailriding as it tends to feel soft and dive under brakes more than the other mid-cap four-strokes. It worked well in slow, rocky creeks but probably needs more resistance when pushing the pace.
When I asked the guys why the RR350 isn't as popular in the Beta range as other models we all agreed it's not because it's inferior but because Beta offers other capacities better suited to what Beta blokes tend to do, which is trailride.
The RR300 is one of the best trailbikes and hard-enduro weapons and the RR390 is a purpose-built trailbike with incredibly broad, torquey power, completely different to the power the RR350 puts out.
If Beta's mantra was all about racing then the clients might turn that trend around, but it isn't. Beta is all about producing rideable and affordable trailbikes and the RR300 and RR390 nail that brief. But, if you're in the market for a light, more racey Beta to carve up your local grasstrack event or timecard enduro but that is still easy to trailride, then the RR350 is probably the bike for you.
2020 Beta RR350 Specs
Engine
Type: DOHC, four-valve
Displacement: 349.1cc
Bore/Stroke: 88 x 57.4mm
Cooling: Liquid
Compression: 13.19:1
FuelLing: Synerject twin injectors
Tank Capacity: 9.0L
Transmission: Six-speed constant mesh
Clutch: Magura hydraulic, wet multiplate
Dimensions
Wheelbase: 1490mm
Seat Height: 940mm
ClearAnce: 320mm
Weight: 107.5kg dry
Suspension
Front: ZF 48mm spring-cartridge USD, 295mm
Rear: ZF gas-oil monoshock, 290mm travel
Brakes
Front: Nissin twin-piston, 260mm wave disc
Rear: Nissin single-piston, 240mm wave disc
Running Gear
Front Tyre: Michelin Enduro, 90/90-21
Rear Tyre: Michelin Enduro, 140/80-18
Price & Contacts
RRP: $13,295
Web: https://www.betamotor.com.au/
Phone: (07) 3518 4000
WORDS // Mitch Lees || PHOTOS // ML & Beta